Evel woulda been proud
June, 7, 2008
06/07/08
9:12
PM ET
FORT WORTH, Texas -- Even wind gusts of 34 mph didn't stop Robbie Knievel, the world's oldest daredevil, from doing his dangerous job Saturday night.
[+] Enlarge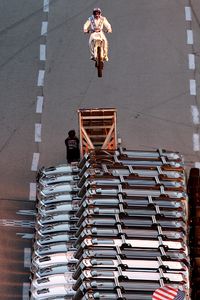 AP Photo/Matt SlocumIt's not the Snake River Canyon, but jumping 21 Hummers at Texas Motor Speedway is no easy task, either.
The second-generation motorcycle jump master thrilled the crowd at Texas Motor Speedway, clearing 21 Hummers in a high-flying, high-speed jump at the start-finish line.At age 46, Knievel admits he's getting a little long in the tooth for this stuff, but he easily cleared the Hummers, coming back to earth halfway down the landing ramp.Knievel had planned to increase his jump from 20 to 25 Hummers, but the strong winds forced him to reduce the number to 21. The final three Hummers were covered by part of the landing ramp, but Knievel easily cleared all 21 vehicles."I'm a grandpa now and I'm not going to be able to do this much longer," Knievel told the crowd before his jump. "But I'll outjump any grandpa you can find. The main thing I want to say is something my father [Evel Knievel] always said: a Knievel always keeps his word."Knievel kept his word on the gusty night, but it wasn't quite as smooth as he would have liked. The winds caused his motorcycle to drift to the left in the air. The bike landed awkwardly near the left edge of the ramp, but Knievel managed to control it and keep the motorcycle upright.The IndyCar Series drivers, who were to compete in the Bombardier Learjet 550 an hour later, were watching Knievel's effort. Helio Castroneves gave the biggest cheer, raising both arms and yelling for Knievel when he completed the jump.One daredevil showing respect to another. But Castroneves plans to limit his risky non-racing activities to ballroom dancing.