Category archive:

Matt Kenseth
July, 18, 2013
07/18/13
1:30
PM ET
Take a deep breath. This weekend is the last time Sprint Cup goes "raceless" until the end of the season in November -- 17 consecutive weeks of action, starting with the Brickyard 400 on July 28.
Here's a list of six things to watch for (and in some cases, hope for) in the four-month stretch from midsummer to the final weekend of racing at Homestead-Miami Speedway:
[+] Enlarge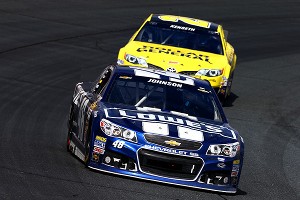 Jonathan Ferrey/Getty ImagesJimmie Johnson's biggest obstacle to a sixth Sprint Cup championship could be Matt Kenseth.
1. Johnson and Kenseth slugging it out for the title -- Other drivers can get in the fight before it's done, but this is shaping up as a classic championship battle between the two guys who have dominated things this season.
Each man has four victories. Jimmie Johnson wants that sixth Cup title. Matt Kenseth wants his second crown, but his first at Joe Gibbs Racing and his first in the Chase format.
And all you Chase haters should be thankful Cup has a playoff. Johnson is 120 points ahead of Kenseth in the season standings. Any realistic chance of some championship drama between them would be lost without the Chase.
2. Back to the future on dirt -- The show so many NASCAR fans have been waiting to see is only a few days away: the Camping World Truck Series race on the dirt track at Eldora (Rossburg, Ohio) on July 24.
No one really knows what will happen, but almost everyone with the slightest interest in NASCAR wants to watch and find out. As Brad Keselowski said: "It's either the smartest things we've ever done or the dumbest."
I'm guessing the former, going back to NASCAR's roots on a dirt short track in the boonies. It's probably the most anticipated race of the season. If it's a success, maybe there's a place in NASCAR's future for dirt tracks once again on a limited basis.
But don't expect the Cup series to start adding dirt tracks to the schedule. The dirt days are long gone for the big boys.
3. The boiling Chase bubble -- Throw about 10 guys in a hat, shake it up and see what you get. This race to the Chase is up grabs like never before.
Only 42 points (fewer than a driver can make up in one race) separate ninth-place Brad Keselowski from 20th place Joey Logano. Kasey Kahne in 10th is only 25 points in front of Jeff Burton in 17th.
Kahne has the advantage of one victory, which might earn him a wild-card spot if he falls below 10th. Right now, Martin Truex Jr. in 12th and Tony Stewart in 13th hold down the two wild-card berths with one victory each, but several drivers could change their playoff fate by winning in the last seven races before the Chase.
So you have the points battle of trying to finish in the top 10 and earn a guaranteed spot, along with the wild-card spots that likely will change a couple of times over the next two months based on who wins or who doesn't.
4. Watching to see where Newman, Busch, Vickers and Dinger end up -- Silly Season speculation will get crazier by the week with the future of several quality drivers still unknown.
Ryan Newman is officially out at Stewart-Haas Racing, Kurt Busch is weighing his options, Brian Vickers raised his stock with his victory at New Hampshire and AJ Allmendinger is the comeback story of the season.
The question isn't so much "Where will they go?" as it is "Where can they go?" Quality options are limited, and as always, any spot depends on sponsorship.
Austin Dillon probably will move up to Cup (likely in the No. 3) to replace Kevin Harvick at Richard Childress Racing. But Richard Childress, and Jack Roush, could add a fourth car if the money is there for the driver they want. Maybe Newman is that guy.
Or maybe Newman could drive for Kyle Busch's Truck team next year. Just kidding.
Roger Penske could add a third car and Allmendinger might get a full-time ride there, or possibly the spot at JTG/Daugherty Racing in the No. 47 Toyota. Maybe Sam Hornish Jr. gets another shot in Cup with Penske.
Vickers appears to be a lock now for the No. 55 Toyota at Michael Waltrip Racing, but most of these unknowns will become clear over the second half of the season.
[+] Enlarge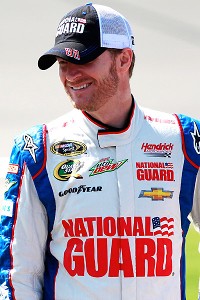 Geoff Burke/Getty ImagesWill Dale Earnhardt Jr. reach Victory Lane in 2013? Stay tuned.
5. Will Dale Jr. win this season? -- Frankly, I'm tired of asking this question, but Junior Nation wants to know. Anyone who runs in the top 10 as often as Dale Earnhardt Jr. has this season could win a race. And his best track -- Michigan -- is coming up next month.
Whether or not he wins in 2013, Earnhardt probably will make the Chase. Is he a contender to win the Chase? Probably not.
The fact that Earnhardt is ahead of Kenseth in the standings shows the points system still needs some tweaking. Kenseth and Earnhardt each have four top-5s and 10 top-10s. Kenseth has a 4-0 advantage in wins, but Earnhardt is fifth with 578 points and Kenseth is sixth with 576 points.
It won't matter come Chase time (drivers are seeded by wins), but it's still wrong.
6. Nationwide could have a winless champion -- With Kyle Busch and other Cup stars dominating Victory Lane again in the Nationwide Series, it's possible that the eventual 2013 champ could be winless.
Six of the top eight drivers in the standings haven't won this season. The top two (Regan Smith and Hornish) have a victory, but Austin Dillon is only 12 points back in third, Justin Allgaier is 20 back in fourth and Elliott Sadler is 24 back in fifth. All three are serious title contenders without a win.
I almost hope this does happen in order to force NASCAR to do something about Cup stars taking all the glory -- and most of the purse money -- in Nationwide.
Allow Blount to be blunt on a few things.
---
NASCAR got a message this week: Loosen up and chill out.
Major penalty reductions came for Joe Gibbs Racing and Penske Racing after NASCAR had basically thrown the book at both organizations.
The JGR reversal Wednesday was a stunner, from a six-race suspension for Jason Ratcliff, Matt Kenseth's crew chief, to only one race. And a huge change to Kenseth's points penalty, from 50 down to 12. He also gets the three Chase bonus points for the win at Kansas reinstated.
This move was the right call, but highly unusual to see the three-person appeals panel (the first level of the NASCAR appeals process) make such a surprising reversal. The one connecting rod that was barely too light (about three grams, the approximate weight of two paper clips) in Kenseth's car was no performance advantage and didn't come from JGR. It was a part from Toyota Racing Development.
Nevertheless, a major penalty revision for any engine violation doesn't happen, until now. It's an indication that NASCAR needs to re-evaluate the severity of some of its punishment decisions.
The JGR decision came one day after chief appellate officer John Middlebrook reduced the suspensions for the Penske Racing team members from six championship races to only two for the rear-suspension violations at Texas.
Losing Ratcliff for only one race is a big help to Kenseth, but losing crew chief Paul Wolfe for only two championship points races instead of six is a much bigger break for Brad Keselowski. Few drivers are as reliant on their crew chief as Keselowski is with Wolfe, arguably the best man on the box in the sport today.
The decision by Middlebrook to reduce the lengths of the suspensions for all the Penske brain trust is much bigger than reducing the lost points or the fines, which he didn't do for Keselowski or Joey Logano's team. The 25-point penalty and the $100,000 hit to each team will remain, but Keselowski and all the Penske guys should be thrilled about the partial reprieve on suspensions.
Middlebrook is proving to be a fair man. When he eliminated most of the penalties on Jimmie Johnson and the No. 48 Chevy team last year after the body violations at Daytona, some people accused him of playing favorites with his old buddy, team owner Rick Hendrick. Nonsense.
Middlebrook carefully studies each appeal and listens intently to the arguments being presented. He is not a shill for NASCAR or any team owner. He simply wants to come to a reasonable conclusion.
Middlebrook is not toeing the party line for NASCAR. Neither did the three-person appeals panel Wednesday on the JGR penalties.
No one can claim NASCAR'S appeals process is a kangaroo court. To the contrary, this week's penalty reductions are a message that NASCAR needs to lighten up on its draconian penalties.
---
No driver has finished on the lead lap of every race this season, which shows how difficult it is to do.
Paul Menard was the only one left until failing to do so Sunday at Talladega. Four drivers have done it in nine of 10 events -- Johnson, Keselowski, Aric Almirola and Menard, but Menard and Almirola are the only drivers in the top 10 who don't have a top-5 finish.
Amirola ranks seventh in the standings after posting four consecutive top-10s, but the one lap he led at Talladega is his only lap led this season. Menard is eighth in the standings with only three laps led.
What does that tell us? Both Almirola and Menard are racing consistently and not making mistakes, but they aren't serious contenders until they can challenge for victories.
---
Kyle Busch is doing things in the opposite fashion of Menard and Almirola. Busch has an average starting position of 6.4, but an average finishing spot of 16.9, a minus-10.5 and the worst ratio of any full-time driver in Cup.
Busch can win races, as he has proven twice this season. But consistency is lacking. Some of it's bad luck and some of it isn't.
The best start/finish among top-10 drivers is Dale Earnhardt Jr. at plus-5.8 (17.6 to 11.8). Carl Edwards (16.1-10.5) and Almirola (20.4-14.8) are plus-5.6.
By the way, Danica Patrick is a plus-5 with an average starting spot of 31.1 and an average finish of 26.1. But the farther back you start, the easier it is to move up.
Take J.J. Yeley, for example. He's at a plus-7.8 (the best among full-time Cup drivers), starting 37.0 and finishing 29.2.
---
Futility, thy name is Kvapil. Travis Kvapil has the fewest points of any driver who has made all 10 starts this season. His average finish is 33.7.
Kvapil ranks 37th in the standings, two spots behind AJ Allmendinger, who has only four starts. Kvapil is the only driver to start all 10 races without finishing on the lead lap.
February, 20, 2013
02/20/13
3:20
PM ET
DAYTONA BEACH, Fla. -- Before NASCAR kicks off 2013 with the Daytona 500, here are a few interesting statistics that might surprise you:
Bad news for bad Brad: If Brad Keselowski wins the Daytona 500 on Sunday, he'll be the first defending Cup champion in 13 years to accomplish the feat. The last man to do it was Dale Jarrett in 2000, three months after winning the 1999 title.
Bad news for popular Danica: It's also been over a decade since the Daytona 500 pole winner went on to win the race. That also was Jarrett in 2000. Does DJ know something everyone else doesn't?
Menard is No. 1: Yes he is, as far as laps completed. Paul Menard was winless last season and finished 16th in the standings with only one top-5, but he completed more laps than any other driver -- 10,406, or 13,676.386 miles.
Obviously, Menard was on the track a lot. He had only one DNF. No wonder my eyes hurt after seeing that neon yellow Chevy lap after lap.
JJ led almost everything in 2012: Except the one category that counted the most: Winning the championship. But Jimmie Johnson and the No. 48 Chevy team should feel good about their 2013 chances when they look at the stat book.
Five-Time was No. 1 in laps led (1,744), times led (78), races led (26), top-5s (18), top-10s (24) and driver rating (109.5). He also tied for the top spot in victories (5) and poles (4).
So how in the world did Johnson not win the title? He had six DNFs, the most of any driver in the top 20 in the standings.
Expect a close finish Sunday: Restrictor-plate races usually end one of two ways -- a side-by-side finish for the victory or a big wreck that brings out a caution.
Last year's Daytona 500 had the closest finish of the season when Matt Kenseth edged Dale Earnhardt Jr. by .21 of a second. The Talladega spring race was won by Keselowski by .304 of a second over Kyle Busch.
The other two plate races ended under caution because of last-lap crashes.
All that could change this year with the introduction of the "Gen 6" to the series, but expect some craziness at the end to continue.
By the way, 17 of 36 races last year ended with a margin of victory that was less than a second. Nine of those were less than half a second.
The low man on the points stand: That would be Landon Cassill in 2012, a category no one wants to lead in 2013, but someone will. Cassill had the fewest points of 26 drivers who started all 36 Cup events.
He also had fewer points than five drivers who didn't start all 36 events -- Earnhardt, Mark Martin, Regan Smith, Travis Kvapil and Kurt Busch.
Start-and-park perfection: The trophy went to Scott Riggs in 2012. Riggs started 20 events last season. How many did he finish? Zero. He completed 8.2 percent of the laps and made $1.5 million. Nice work if you can get it.
The S&Pers will make a little less this season since NASCAR adjusted the purse money to pay less for the bottom feeders, but it's still good money for running a few laps.
December, 7, 2012
12/07/12
3:54
PM ET
If you are looking for a couple of things to ponder in the offseason, here are two big ones that should get your attention.
The new car will be a new world for NASCAR. And Matt Kenseth may do something that hasn't been done in more than 30 years.
Both topics are good conversation items as you look ahead to the 2013 season when it kicks off on Feb. 24 with the Daytona 500.
1) The new Cup car: First, let's have a collective "Amen" to the end of the COT. The Car of Tomorrow now is the COY -- the Car of Yesterday. I'm confident the vast majority of fans will give a "Hallelujah" to its ending.
[+] Enlarge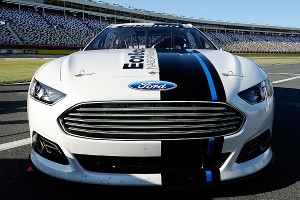 Jared C. Tilton/Getty Images for NASCARFans will find out soon how the 2013 Ford Fusion and the other new Sprint Cup cars work on the track.
Most fans never liked it from the beginning with its ugly rear wing (which later was eliminated) and its boxy appearance. But let's give credit where credit is due. The COT is the safest race car ever built.
Its larger greenhouse, centered driver's seat and extended crush panels all helped produced a car that without question saved lives and greatly reduced injuries.
All those improvements remain a part of the new car, which for the first time in a long time, looks like a real car, one you might drive off the showroom floor.
That aspect alone makes this car far better than the COT. The nose and the tail of the cars are similar to the actual production models, something that hasn't been true in Cup for three decades.
Manufacturers like it and fans will, as well. But it will take more than a pretty face for fans to fall in love with these cars. The key question is whether it will race better than the COT.
NASCAR officials are confident that it will. After a year of accumulating testing data on the cars, NASCAR finally gave the teams the initial rules package for 2013. The rules were distributed to the Cup teams Dec. 5.
The teams will test the rules package at Charlotte next week (Dec. 11-12), Daytona next month (Jan. 10-12) and then Charlotte again the next week (Jan. 17-18) before the season begins.
The goal is to make it easier to run side by side and easier to pass by eliminating some of the problems with aero push, a wave of air that makes it difficult for the trailing car to get beside the lead car even if the trailing car is faster.
If it doesn't limit aero push, teams can make adjustments to the car, a gigantic difference to the rules under the COT model. Adjustments to the body have been almost non-existent in recent seasons.
The old idea was to make the cars the same and cut down on cheating, but crew chiefs were frustrated, feeling it went too far by limiting creativity and ingenuity.
NASCAR officials want to open things up a little with the new car. And that could lead to some old-school complaining about Chevy being better than Ford or Toyota being better than Chevy, and so on.
That's not necessarily a bad thing. A little more infighting among manufacturers and teams makes things more interesting.
The truth is no one really knows yet how the car will race and how much leeway NASCAR will allow on adjustments. It's probably a moving target that will change as teams and officials learn more about it.
Whatever happens, it's bound to be more exciting and more fun to watch than the COT was.
2) Matt Kenseth: He will try to accomplish something that hasn't been done in 32 years. Kenseth wants to become the first driver since Darrell Waltrip in 1981 to win the title in his first year with a new organization.
[+] Enlarge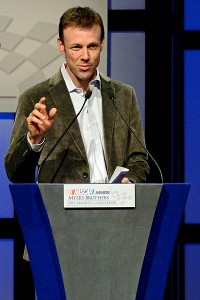 Jeff Bottari/Getty Images for NASCARWill Matt Kenseth be a title contender in 2013?
Waltrip won his first Cup championship in 1981, his first season driving for Junior Johnson's team and the first of back-to-back titles for Waltrip. He left DiGard Motorsports to race for Johnson.
Kenseth left Roush Fenway Racing, where he won the 2003 title, to join Joe Gibbs Racing and drive the No. 20 Toyota. That car hasn't made the Chase since 2008, when Tony Stewart was the driver and Greg Zipadelli was the crew chief.
So winning the title in his first season driving the 20 is asking a lot, but if anyone can do it, Kenseth can. Experience could be the difference. He turns 41 in March, racing in his 14th Sprint Cup season.
It also depends on how Kenseth and crew chief Jason Ratcliff interact. No doubt Kenseth can tell Ratcliff things to improve the car that 22-year-old Joey Logano couldn't do consistently.
Kenseth's composed nature and lead-by-example style should rub off on JGR teammates Kyle Busch and Denny Hamlin, making the entire organization better.
The 2013 Cup season will have a lot of interesting changes to contemplate. But a new car with a retro look, and hopefully, racier results, along with a big-name driver trying to achieve a rare feat, are a good place to start.
September, 13, 2012
09/13/12
3:39
PM ET
I don't know about us reading palms or being psychic, but when it comes to predicting the Chase participants, the ESPN.com boys did OK. You can even check it out on the chart at the bottom.
Getting it right on 10 out of 12 isn't so bad. Maybe we're not so dumb after all.
Our overall preseason predictions on the drivers who would make the playoff were 83.3 percent correct. We missed on Carl Edwards (who didn't?) and Kyle Busch.
The guys we didn't predict overall were Clint Bowyer and Martin Truex Jr. Clearly, we underestimated the improvement at Michael Waltrip Racing.
Marty Smith and David Newton outsmarted the rest of us on that one. They picked Bowyer to make the playoff, but he didn't total enough points to make our overall top 12. None of us picked Truex.
AJ Allmendinger was selected as a Chase-qualifier by Ed Hinton and Ryan McGee. Obviously, there were sad circumstances on that one, but he didn't appear headed to a playoff spot before the drug-test downfall.
Newt thought Joey Logano would make the Chase, and he was one victory from being right.
But overall, the seven of us -- K. Lee Davis, Joe Breeze, Smith, Newton, Hinton, McGee and me -- did pretty well.
It remains to be seen whether we get it right on our overall preseason choice as the Sprint Cup champion, Jimmie Johnson. Four of us picked him to win his sixth title: Davis, Breeze, Newton and yours truly. Marty and Easy Ed picked him second. McGee listed JJ third.
Ed selected Brad Keselowski as the 2012 champ, Marty picked Matt Kenseth and McGee chose Kevin Harvick. So we're all still in the running to get it right from our preseason choice.
Surprisingly, none of us picked Edwards to win the championship even though all of us thought he would make the Chase. Maybe we believed in that runner-up jinx stuff.
However, I changed my mind on the champ in my Chase predictions Sunday, listing Denny Hamlin as my selection now to win the title.
K. Lee and Joe are sticking with Johnson to win it all. Ed is staying with Keselowski. Marty is confident Kenseth's lame-duck status won't hurt him a bit, so he's hanging with Matt as the champ.
McGee thinks it's a two-man battle between Hamlin and JJ, but he went with Johnson. And Newt is convinced Gordon has what it takes after watching Jeff's amazing drive through the pack Saturday night to get in the playoff.
That means there's a 41.7 percent chance at least one of us is right. We've picked five different drivers between the seven of us -- three for Johnson and one each for Hamlin, Kenseth, Keselowski and Gordon.
We'll revisit this after Homestead and see if any of us got it right. Bonus points if the guys who stuck with their preseason pick end up with the champ.
Not every driver who received a vote made the top-12 cut. Here are the other drivers who received at least one nod.
December, 7, 2010
12/07/10
9:13
PM ET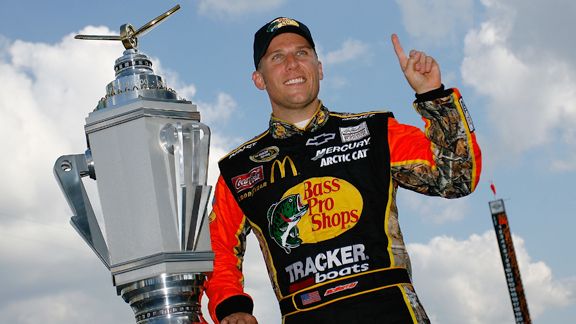 Jason Smith/Getty ImagesJamie McMurray may well be celebrating after the Daytona 500 and Brickyard 400 again in 2011, but if he does, you can bet he makes the Chase this time.
Some things are going to change for NASCAR in 2011. Things you saw in 2010 will not repeat next season.
Did anyone really think we would see Jeff Gordon and Jeff Burton do their weak Ali-Frazier impression on the track at Texas?
That's one example of things you won't see again in 2011, at least not from those two unlikely combatants. Here's a list of other things that took place in 2010, but aren't happening in 2011:
Dale Earnhardt Jr. finishing 21st in the Cup standings: Junior will crack the top 20 next season and possibly contend for the Chase, which won't be too tough if the playoff is expanded to 15 drivers.
Steve Letarte on the pit box and moving to the No. 48 shop will make Earnhardt competitive again.
A driver winning both the Daytona 500 and the Brickyard 400 without making the Chase: That bizarre quirk happened for Jamie McMurray in 2010, but Halley's Comet will make another pass by Earth before that scenario comes around a second time.
Roush Fenway Racing failing to contend for the Cup title: RFR put three drivers in the 2010 Chase, but never seriously contended for the championship and didn't win a race until August.
It was clear by the end of the season that Jack's boys had figured things out and the new Ford engine was strong. Carl Edwards won the last two races and teammates Greg Biffle and Matt Kenseth will join him as title contenders in 2011.
The blindingly ugly front splitter: Like a teenager finally getting the steel removed from his mouth, the braces on the splitter will be gone and the overall look for the front of the cars becomes much smoother and more stylish.
Jeff Gordon going winless for a season: Not with Alan Gustafson calling the shots. Gordon will return to Victory Lane in 2011 and seriously contend for a fifth championship.
A full-time Cup driver winning the Nationwide title: Not officially, anyway. A real Nationwide driver will win it in 2011 because of rules changes coming soon that will keep the Cup big boys from racing for the crown in Nationwide.
However, Edwards or Brad Keselowski still could win the most races and unofficially tally the most points if they run all the Nationwide races as planned.
And a former Cup regular could win the title if Elliott Sadler gets it done while racing full-time in Kevin Harvick's Nationwide car.
A pothole during the Daytona 500: Daytona has shiny new pavement that will be smooth as glass. Drivers will get a first test next week, but the new asphalt could make a big difference in how things look for restrictor-plate wildness in the season-opener on the 2.5-mile oval.
[+] Enlarge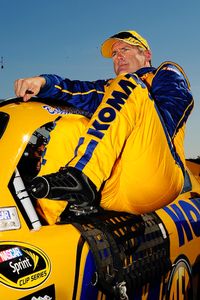 Rusty Jarrett/NASCAR/Getty ImagesThere will be better days ahead for Bobby Labonte.
Bobby Labonte having to start and park: It was sad watching the former Cup champion forced to sometimes make meaningless laps and go to the garage. But he'll have a real ride in 2011 and a chance for some decent finishes with the No. 47 Toyota for JTG/Daugherty Racing.
Richard Petty Motorsports trying to survive week to week: After the financial crash of George Gillett's empire, Petty managed to regain control of the team by finding new investors and placing RPM on solid footing in what will be a new-and-improved two-car operation with A.J. Allmendinger and Marcos Ambrose.
Two Cup races at Fontana: Auto Club Speedway has one Cup race next year, which comes in March. Hopefully, most of the seats will be filled for the first time in a long time.
The Chase opener in New Hampshire: The playoff starts at Chicagoland Speedway in 2011, adding another 1.5-mile oval to the Chase.
A Sunday afternoon race at Texas in April: For the first time, the spring Cup race at Texas Motor Speedway will be a Saturday night show.
Jimmie Johnson winning the Cup championship: Five-Time won't become Six-Time in 2011. Too many other teams and drivers are nipping at his heels now. No one stays on top forever, although it's hard to remember the last time someone besides JJ won this thing.
August, 25, 2010
08/25/10
1:52
PM ET
As far as the bookmakers in Las Vegas are concerned, Jimmie Johnson remains the man to beat for the Sprint Cup.
Johnson's recent woes on the track haven't dropped him from the top of the betting line in Vegas.
Johnson is ninth in the points standings. He has fallen seven spots after posting finishes of 22nd or worse in five of the last seven races.
But the summer slump hasn't stopped bookmakers from placing Johnson as the favorite to win his fifth consecutive title.
Heading into the open weekend, two races before the start of the Chase, Johnson is listed at 7-to-2 at the Las Vegas Hilton. Kevin Harvick is second at 9-to-2.
[+] Enlarge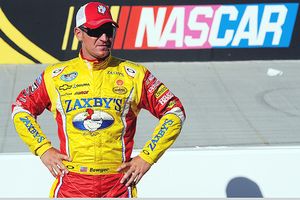 John Harrelson/Getty Images for NASCARClint Bowyer is the least-favored driver in the top 12 by Las Vegas oddmakers, but 20-to-1 isn't too bad.
Why is Johnson favored, you ask? Two reasons. First, Johnson's won four in a row. That alone is a darn good reason to keep him on top.
But there's also a statistical reason. If the Chase started today, Johnson would begin the playoff on top, tied with Denny Hamlin. Both drivers have a series-best five victories. Hamlin is 5-to-1 on the betting line.
Harvick and Kyle Busch, each with three victories, would start the playoff 20 points back. Busch is listed at 5-to-1 with Hamlin.
Jeff Gordon, winless this season but second in the points standings, is next on the betting list at 7-to-1. Rounding out the top six is winless Tony Stewart at 10-to-1.
Kurt Busch, who has two wins and will be the only Dodge driver in the Chase, is 12-to-1.
Greg Biffle, the only other Chase contender with a victory this season, is listed at 15-to-1. Roush Fenway Racing teammate Carl Edwards is slightly better at 12-to-1, and RFR driver Matt Kenseth is 18-to-1.
Jeff Burton, Harvick's teammate at Richard Childress Racing, is also 18-to-1. RCR driver Clint Bowyer, who is hoping to hold on to a 100-point advantage in the 12th-place bubble spot, is the long shot of the Chase boys at 20-to-1.
But 20-to-1 isn't much of a long shot. What it means, at least in the eyes of the bookies, is the 2010 Chase is wide open.
Johnson remains the favorite for now, but not by much. If the Vegas oddsmakers are right, this is going to be a fun Chase to watch.
June, 26, 2010
06/26/10
1:22
PM ET
Jack Roush is looking for something, anything really, that will give his teams a spark and get his Ford drivers in Victory Lane.
Change set-ups, change strategy, change crew chiefs, whatever it takes.
The latest big move is a new crew chief for Matt Kenseth, his third this season.
It isn't desperation. Roush doesn't operate that way. He's the most calculating guy you could ever meet.
Other than Stephen Hawking, you would be hard pressed to find a more technically knowledgeable man than Roush. He can turn one simple question into a five-paragraph answer that sounds like text from an engineering manual.
[+] Enlarge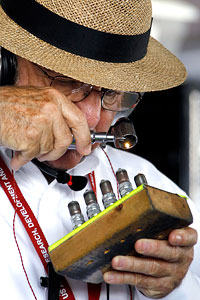 AP Photo/Matt SlocumJack Roush, inspecting spark plugs, would likely be one of the few owners in the garage that really knows what he's looking for.
For example, on Friday, Roush was asked how practice went at New Hampshire.
"We tried to organize for kinematics on the front suspension," he said. "We hoped we would find a solution to the worst problem we've had all year, which is getting the cars to turn in the middle of the corner. I haven't been debriefed by each driver or crew chief, but, by all appearances, we've still got some of the same problem. There has not been an immediate solution."
And that's the short version, folks. But Roush is searching for answers in a winless first-half of the Cup season for the four Roush Fenway Racing drivers -- Kenseth, Carl Edwards, Greg Biffle and David Ragan.
Roush made an executive decision this week in swapping spots with Todd Parrott and Jimmy Fennig, putting Fennig on the pit box with Kenseth. Parrott takes over as the manager of the RFR Research and Development Dept.
"We're continually looking for the best chemistry between driver and crew chief," Roush said. "A crew chief needs to get all the energy that's in the driver and everything the driver recognizes he needs, and sometimes, the things he doesn't recognize he needs."
Obviously, Roush didn't think that was happening with Parrott, who replaced Drew Blickensderfer in February after the Daytona 500.
Kenseth is the highest ranking RFR driver. He's seventh in the standings with four top-5s and eight top-10s. But Roush sees that as underachieving for a driver as skilled as Kenseth.
Roush felt a change was necessary after the No. 17 team had issues in the inspection process last weekend at Sonoma.
"We had difficulty getting through tech and that fell on the crew chief's head," Roush said Friday. "We were a little slow in the garage area. The direction was not well-defined. Except for Matt stepping in and begging forgiveness, we may not have gotten our car in the qualifying line to make the deadline.
"So the combination of the plan not working and the strategies not working as well as they had in the first few races with Todd resulted in our making the decision that the team wasn't where it needed to be."
The truth is things haven't been the same for Kenseth since Robbie Reiser left the No. 17 pit box at the end of 2007 to take over as the general manager at RFR. Kenseth now is on his fourth crew chief since Reiser moved up.
"It does seem like I'm pretty hard on crew chiefs lately, that's for sure," Kenseth said Friday.
Does he want Reiser back?
"Robbie had a chance to come back," Kenseth said. "But the problem is, Robbie wants to do everything. He didn't want to leave his post at the front office. I think he probably would have come and filled in for the rest of the year if he could try to do both, but there just are not enough hours in a day."
So Kenseth will try to make it work with Fennig, who has seen it all from the pit box. Fennig has worked as a crew chief for Bobby Allison, Mark Martin and Kurt Busch, among others, in his 25-year career.
"Matt and I worked together on a Nationwide car a few years ago," Fennig said. "I think we've got a good relationship, so we'll see what happens. Maybe the direction I was heading in R&D will help turn things around. We might try some of that stuff with Matt."
Roush went in a long and detailed explanation of RFR's problems -- simulation issues, aero mapping, front-end geometry, etc.
But the bottom line is the RFR guys need to find a spark.
"I'm sure people wonder how my mind works," Roush said. "It's the same as I look at other folks that are in decision-making positions and wonder how their minds work."
August, 26, 2009
08/26/09
3:08
PM ET
Kenseth versus Kenseth, Saturday night.
The Kenseth family bragging rights will be on the line when Matt Kenseth races his son, Ross, for the first time.
Ross is 16 and a budding racer. Dad is a Cup champion and the 2009 Daytona 500 winner.
But Ross might have an advantage when they face each other in a late-model race at Madison International Speedway in Matt's home state of Wisconsin.
"I've never run that type of car out there," Matt said. "I've watched many limited late-model races since Ross started, and they're very competitive.
"It's a great series with a lot of great drivers. I'm sure it will be a lot of fun and a great learning experience."
The Kenseth boys will compete in a 50-lap feature event. Ross is doing things the way his dad did, learning his craft on short tracks in the Midwest. He has won two consecutive races and leads the Big 8 Late Model Series standings.
"To compare me at 16 and him at 16, there's honestly no comparison," Matt said of his son on Ross' Web site. "He's so far ahead of where I was it is unbelievable. He's having a lot of fun with it and I've been really proud of him."
Ross is 6-foot-2, 4 inches taller than his dad. Ross got his driver's license two months ago, but he's been racing for 11 years.
"And I've been in the late models for about two years now," Ross said on the Web site. "I just love to race."
Dad has one requirement for Ross's racing career. Ross must maintain a 3.5 grade-point average in high school.
"He surprised us with a 3.7 grade average," Matt said. "So he's been doing all the things he needs to do to be able to race."
Matt has a few things he needs to do in the next two Cup races to earn a spot in the 2009 Chase. He's on the bubble in the 12th spot heading for the Labor Day weekend race at Atlanta, only 34 points ahead of Kyle Busch.
Kenseth and Jimmie Johnson are the only drivers who have competed in all five previous Chase playoffs.
For now, Matt will worry about trying to outrace his son Saturday night.
"I don't know," Matt said. "That's probably why we haven't raced against before. I'm afraid he'll beat me."