Category archive:

Tony Stewart
June, 27, 2013
06/27/13
4:57
PM ET
SPARTA, Ky. -- Churchill Downs might be a little dirtier, and it's ancient compared to Bluegrass State neighbor Kentucky Speedway. But the 1.5-mile oval is downright gnarly compared to most racetracks in NASCAR.
And that's just how most drivers like it. Good drivers tend to want rough and bumpy rather than smooth and untarnished for a racing surface.
"This track really suits me," said Brad Keselowski, who won this race one year ago. "When it's rough, I tend to do better."
The bumpier the track, the less grip it has and the more it brings driver skill into play. Kentucky Speedway is as rough as they come.
"I love how much character that racetrack has," Jimmie Johnson said. "It's so rough. The groove moves around, and you really are just trying to dodge the big swells and bumps to find grip for your race car.
"It's a track I didn't have a lot of success at in the Nationwide Series, or even going there to test before my Cup career really started. We tested there a lot, and I crashed all the time. When the racetrack was back on the [Cup] schedule, I got pretty nervous about things, but I've had a couple of good runs."
Kentucky is one of only four oval tracks where Johnson has yet to win. Of course, this is only his third chance at Kentucky. He was sixth last year and third in the inaugural Kentucky Cup race.
[+] Enlarge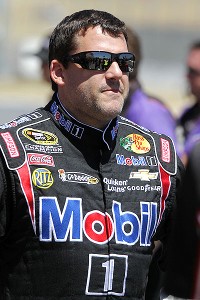 Jerry Markland/Getty ImagesTony Stewart said he's still trying to figure Kentucky Speedway out.
Tony Stewart considers Kentucky one of his two home tracks, along with Indianapolis. Kentucky Speedway is only 65 miles from his hometown of Columbus, Ind. But he failed to post a top-10 finish in the first two Kentucky races.
"We're still figuring it out," Stewart said. "It's got a lot of bumps, so that makes it very challenging. Trying to figure out exactly where to be, where to try to get around some of the bumps, how to get through them better, how to get the car to go through them better -- those are challenges that kind of make it fun, because it's not easy to get around."
All three NASCAR series are racing here this weekend, so the added rubber on the asphalt will supplement the racing groove if wet conditions don't wash it away.
"This track creates a lot of side-by-side racing," Greg Biffle said. "It's flatter than most 1.5-mile ovals and has sweeping corners."
So drivers who consider themselves "wheel men" tend to be the ones who race up front on a track like Kentucky. One of those is Kyle Busch, who won the first Kentucky Cup race in 2011.
Busch and Keselowski are running all three races this weekend because they consider additional track time more important here than at any other track.
"The biggest thing with the extra track time is figuring out the bumps," Kyle said. "It helps if you need your guys to give you a better setup to get through some of those bumps."
Martin Truex Jr., coming off his first victory in six years with his win last weekend at Sonoma, thinks he has a legitimate shot to make it two in a row.
While a road-course win means little on this track, Truex has been at his best this season on the 1.5-mile ovals. He has posted top-10s at all four 1.5-mile oval races this season, including second at Texas, where he led 142 laps.
"But this track is so different," said Truex, who finished eighth at Kentucky last year. "Even though it's a mile and a half, it's unique with the layout and the way it arcs into the corners, but the bumps are the big thing.
"It's just gotten super rough. I guess it's always been rough. They fixed it a few times, and it keeps going back. You have to find ways through the bumps and find ways around them. And that makes it fun to drive."
September, 13, 2012
09/13/12
3:39
PM ET
I don't know about us reading palms or being psychic, but when it comes to predicting the Chase participants, the ESPN.com boys did OK. You can even check it out on the chart at the bottom.
Getting it right on 10 out of 12 isn't so bad. Maybe we're not so dumb after all.
Our overall preseason predictions on the drivers who would make the playoff were 83.3 percent correct. We missed on Carl Edwards (who didn't?) and Kyle Busch.
The guys we didn't predict overall were Clint Bowyer and Martin Truex Jr. Clearly, we underestimated the improvement at Michael Waltrip Racing.
Marty Smith and David Newton outsmarted the rest of us on that one. They picked Bowyer to make the playoff, but he didn't total enough points to make our overall top 12. None of us picked Truex.
AJ Allmendinger was selected as a Chase-qualifier by Ed Hinton and Ryan McGee. Obviously, there were sad circumstances on that one, but he didn't appear headed to a playoff spot before the drug-test downfall.
Newt thought Joey Logano would make the Chase, and he was one victory from being right.
But overall, the seven of us -- K. Lee Davis, Joe Breeze, Smith, Newton, Hinton, McGee and me -- did pretty well.
It remains to be seen whether we get it right on our overall preseason choice as the Sprint Cup champion, Jimmie Johnson. Four of us picked him to win his sixth title: Davis, Breeze, Newton and yours truly. Marty and Easy Ed picked him second. McGee listed JJ third.
Ed selected Brad Keselowski as the 2012 champ, Marty picked Matt Kenseth and McGee chose Kevin Harvick. So we're all still in the running to get it right from our preseason choice.
Surprisingly, none of us picked Edwards to win the championship even though all of us thought he would make the Chase. Maybe we believed in that runner-up jinx stuff.
However, I changed my mind on the champ in my Chase predictions Sunday, listing Denny Hamlin as my selection now to win the title.
K. Lee and Joe are sticking with Johnson to win it all. Ed is staying with Keselowski. Marty is confident Kenseth's lame-duck status won't hurt him a bit, so he's hanging with Matt as the champ.
McGee thinks it's a two-man battle between Hamlin and JJ, but he went with Johnson. And Newt is convinced Gordon has what it takes after watching Jeff's amazing drive through the pack Saturday night to get in the playoff.
That means there's a 41.7 percent chance at least one of us is right. We've picked five different drivers between the seven of us -- three for Johnson and one each for Hamlin, Kenseth, Keselowski and Gordon.
We'll revisit this after Homestead and see if any of us got it right. Bonus points if the guys who stuck with their preseason pick end up with the champ.
Not every driver who received a vote made the top-12 cut. Here are the other drivers who received at least one nod.
November, 23, 2011
11/23/11
4:06
PM ET
NASCAR won the lottery with the final race of its dreams Sunday at Homestead-Miami Speedway, a championship fight that came down to a dead heat in the standings when Tony Stewart won the race and Carl Edwards finished second.
As incredible as it was, NASCAR also came perilously close to a controversial ending that would have caused many fans to doubt the fairness of the outcome.
NASCAR was only one point from that happening. Stewart and Edwards tied in the point standings, a first in NASCAR history. Stewart won the title by virtue of more victories than Edwards.
Stewart won five of the 10 playoff races. However, had he finished just one spot worse in any of the five Chase races he didn't win, Edwards would have won the championship.
Smoke would have fallen one point short even though he won five Chase races to none for Edwards.
It worked out perfectly this time and the right man won the title, but NASCAR should consider what could have happened. One or two more points for winning might be a good idea.
Inside the numbers
On a six-hour flight home from Miami, I passed the time by poring over the Cup stat book for 2012. Hey, it was either that or listening to the guy next to me snore.
I uncovered some interesting tidbits.
One statistic that tells me a lot is the plus or minus number for a driver, showing how many times he improved his starting position in the 36 races.
Topping the list is Kevin Harvick at plus-8 for drivers who started every event. David Gilliland was plus-7, but you need to factor in that he started near the back in most races. The same is true for Dave Blaney, who was a plus-7 in 35 starts.
Of the drivers who finished in the top 25 in the standings, Cup champ Stewart was a plus-6. And this one will surprise you: Dale Earnhardt Jr. was a plus-5.
Two first-time winners in 2011 were on the other end. Regan Smith was a minus-6, and Paul Menard was a minus-5.
Big year for RPM
The most disappointed team of 2012 has to be Earnhardt Ganassi Racing. Juan Pablo Montoya dropped four spots from 2010 and Jamie McMurray dropped 13 positions, going winless after three victories in 2010.
But the team that should feel good about its performance is Richard Petty Motorsports. After coming so close to folding at the end of the 2010 season, RPM cut back to two cars and placed both drivers in the top 20 in the standings -- AJ Allmendinger in 15th and Marcos Ambrose in 19th, including a victory for Ambrose at Watkins Glen.
Bright future
NASCAR put on quite a show for the Nationwide and Camping World Truck Series teams Monday night during the awards banquet at the Miami Beach Loews Hotel.
A crowd of more than 600 attended. What stood out for me as I watched the drivers take the stage was the feeling that the future is in good hands with all the young racers who had stellar seasons. Nationwide champ Ricky Stenhouse Jr. was one.
Austin Dillon, the youngest Truck series champ ever at age 21, is a polished young man who gave an impressive speech. He will race the No. 3 in Nationwide next year, and I kept thinking, "If anyone is going to race Dale Earnhardt's number in Cup again someday, this is the right guy for the job."
September, 27, 2011
09/27/11
9:43
AM ET
Greg Biffle was winless entering the 2008 Chase, but he made the playoff in the ninth position.
Tony Stewart was winless entering the 2011 Chase, but he made the playoff in the ninth position.
Biffle won the first two races of the 2008 Chase. Stewart has won the first two races of the 2011 Chase.
Sound familiar?
But here's the part that Stewart doesn't want to repeat: Biffle didn't win in the final eight races of 2008 and finished third in the championship.
Biffle's average finish in the last eight events was 11.25. Not bad, but not near enough to catch Jimmie Johnson. Biffle finished 217 points back in the old points system.
[+] Enlarge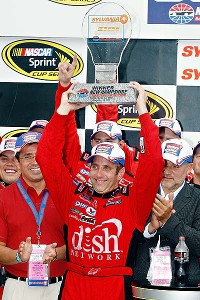 Jason Smith/Getty ImagesGreg Biffle won the first two races of the 2008 Chase but ended up third in the final Cup standings.
Stewart could fare better for several reasons. Biffle has yet to win a Cup title. Stewart has won two, including one in the Chase in 2005.
Stewart leads the standings after his two victories. Biffle never led the 2008 standings. Even after his two victories, he was 10 points behind leader Carl Edwards with eight races to go. Johnson was tied with Biffle after two Chase races.
Stewart's first victory this year came on a 1.5-mile oval at Chicagoland Speedway. Four more intermediate ovals are left in the Chase. Kansas Speedway, where the Cup teams race Oct. 9, is a limited-banked oval almost identical to Chicagoland.
Biffle's second win in 2008 came at Dover, a high-banked, 1-mile oval that isn't like any other track in the Chase. Of the final eight tracks in 2008, Biffle had won previously at four of them, including three wins at Homestead-Miami Speedway.
Stewart has won at all eight remaining tracks for a total of 12 victories, including two each at Dover, Kansas, Martinsville and Homestead.
Stewart and the No. 14 Chevy team also have done their homework this year and learned how to win fuel-mileage races, something that wasn't as necessary in 2008 for Biffle as it is in 2011 for Stewart. It will happen again.
Stewart had fuel left in the tank two weeks in a row when others near the front ran dry. Clint Bowyer was leading Sunday at New Hampshire when his engine sputtered and Stewart zoomed by him, the complete opposite of what happened between those two drivers one year ago.
"We actually were two laps to the good at the end this time," said Darian Grubb, Stewart's crew chief, after the race. "I pushed the window from the run before longer than most people and pitted two laps later than the 33 [Bowyer] to make sure I had a little bit of a cushion. And Tony did a great job saving when he needed to."
Stewart has momentum on his side, but so did Biffle, and it wasn't enough.
"That race car doesn't know anything about momentum," Stewart said Sunday. "It knows what you put in it. It knows how we drive it. It doesn't know stats. It doesn't know anything other than just what's put in it.
"Momentum deals with people. It's not just these first two races of the Chase. It was the two weeks leading before it, too. We haven't finished outside the top seven now in the last four weeks. That's huge for us. It's huge for our guys."
Stewart had 11 top-10s entering the 2011 Chase, same as Biffle in 2008. But Biffle had eight top-5s compared to three for Stewart in the regular season.
"Up to the Chase, we couldn't do anything right," Stewart said Sunday. "We couldn't get it clicking. We couldn't get through all the bad luck. It seemed like every week something would happen and we'd have to try to dig ourselves out of a hole the rest of the day. I'm hoping and praying that we're through that bad string now, and things are going to click the next eight weeks."
It appears Stewart is in a better position to capitalize on his early Chase success than Biffle was three years ago. However, Stewart might need another break down the stretch.
Here's the key question: Can a driver who is leasing engines from another organization beat that organization if it still has its own driver (or drivers) in contention for the title at the end?
Stewart-Haas Racing leases engines for Hendrick Motorsports. Everyone involved will tell you there is absolutely no difference in motors between the ones Johnson, Jeff Gordon and Dale Earnhardt Jr. are using in the Chase and the ones Stewart and SHR teammate Ryan Newman are using in the playoff races.
Maybe so, but it will be interesting to watch if Stewart and one or more of the Hendrick drivers are fighting for the championship in November.
September, 9, 2011
09/09/11
12:41
PM ET
RICHMOND, VA. -- Fourteen drivers enter the final Chase qualifying race Saturday night still uncertain about their playoff status.
Here's my take on the odds of whether they stay in or get in after the 400-lap show on the Richmond short track.
First, the three drivers inside the Chase cutoff who haven't clinched a spot:
[+] Enlarge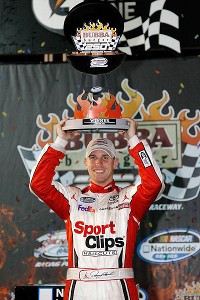 Todd Warshaw/Getty ImagesYou've got to like Denny Hamlin's chances Saturday night at Richmond, where he's won the past two September Cup series races and the April 2011 Nationwide race.
• Dale Earnhardt Jr. -- Odds he falls out: 30-1. Earnhardt is ninth in the standings, 25 points ahead of 11th-place Brad Keselowski (who has clinched a spot with three wins). Junior is in if he finishes 20th or better, even if Keselowski wins.
• Tony Stewart -- Odds he falls out: 25-1. Stewart is 10th, the final points-qualifying spot, 23 points ahead of Keselowski. He is in if he finishes 18th or better. He's done that in 12 of his past 13 Richmond starts.
• Denny Hamlin -- Odds he falls out: 15-1. He holds down the final wild-card spot with one victory and is 12th in the standings.
Wild-card ties are decided on points. AJ Allmendinger (13th) and Clint Bowyer (14th) are winless, but might pass Hamlin in the standings if they win. Allmendinger is 11 points behind Hamlin and Bowyer is 12 points back.
A win by Paul Menard would knock out Hamlin. Menard would have two victories. Marcos Ambrose and David Ragan can get a second victory Saturday, but they also need to gain enough points to move into the top 20. Only drivers ranked in the top 20 are eligible for a wild-card spot.
Eleven drivers are outside the Chase but still have a chance to get in. All the winless drivers still eligible could get in by winning if Keselowski moves up to the top 10 without winning. Highly unlikely.
Here are the odds, otherwise:
• Paul Menard -- Odds he gets in: 15-1. The best shot of anyone, even though he's 20th in the standings. Win and he's in. Since he's one of 15 guys who have won this year, he has a shot, but not a good shot
• Clint Bowyer -- Odds he gets in: 20-1. Bowyer is one point below Allmendinger in the standings, but he won at Richmond in 2008. If he wins Saturday, he needs Hamlin to finish outside the top 10.
• Marcos Ambrose -- Odds he gets in: 25-1. A win probably would do it if he makes up the seven points on Menard he needs to get in the top 20. But Ambrose never has won on an oval track.
• AJ Allmendinger -- Odds he gets in: 30-1. AJ. Needs to win, something he has yet to do in Cup. But one of the themes this season has been first-time winners. Maybe AJ will be the next one at the best possible time.
• Greg Biffle -- Odds he gets in: 50-1. Biffle is 15th and winless, so he needs to win the race and hope Hamlin has a terrible night. Biffle is 28 points behind Hamlin and each position in a race is worth one point.
• David Ragan -- Odds he gets in: 50-1. A victory would give Ragan his second win, but he also has to make up 20 points on Menard to get back in the top 20.
• Martin Truex Jr. -- Odds he gets in: 60-1. Pretty much the same scenario as Biffle, except Truex (16th) is five points behind Biffle.
• Kasey Kahne -- Odds he gets in: 100-1. Kahne (17th) is winless and 42 points behind Hamlin. A driver can make up a maximum of 47 points in one race. You get the picture.
• Joey Logano -- Odds he gets in: 200-1. Logano (18th) has to win, lead the most laps and have Hamlin finish last.
• Mark Martin -- Odds to get in: 1,000-1. Talk about a long shot. Martin (19th) has one chance: Win and have Keselowski move into the top 10 without winning. Good luck with that.
• Juan Pablo Montoya -- Odds he gets in: 1,010-1. The same boat as Martin, but JPM also has to make up seven points to get back in the top 20.
Forrest Gump could have said interviews with race car drivers are like a box of chocolates. You never know what you're gonna get.
In case you haven't noticed, drivers can be a little surly at times. Sometimes they're condescending and sometimes just totally uninterested. They also can be funny and engaging.
Sprint Cup is a long season and no one is on his A-game every day, including reporters. And occasionally, there's a disconnect between the two.
Last weekend at New Hampshire had a few good examples. Let's start with Tony Stewart.
Even on what he described as a perfect day for Stewart-Haas Racing -- Tony finished second and SHR teammate Ryan Newman won the Lenox Industrial Tools 301 -- Stewart still let out his evil twin for a few moments afterward.
The top three finishers of each race are required to come to the media center for questions. Stewart was there as the second-place finisher, but he also could have stayed as the team owner of the winning car.
So a reporter asked Stewart if he was going to stay for the owner's portion of the postrace interviews.
"This is the owner's portion, just so you know," Stewart said. "It never ceases to amaze me how much of a rocket scientist you are. I'm honored to be in your presence."
The reporter then said he meant it as a joke, but added, "Maybe your jokes are better."
"I'm pretty sure," Stewart said. "We'll take a poll and it will be overwhelming."
Oh Tony, no need to get all riled up on such a big day.
And then we had Kyle Busch, who was interviewed in the garage after he blew a right-front tire. Busch was asked if contact with the No. 88 Chevy of Dale Earnhardt Jr. caused his tire problem.
"There's been contact with everybody out there," Busch said. "So nice try making a story."
Busch was implying that the reporter wanted to stir up bad blood between Kyle and Junior. Not true. This was a legitimate question.
A couple of laps before Busch's tire came apart, Kyle's right-front tire made contact with Earnhardt's left-rear tire, causing smoke to fly off Busch's tire well.
Busch said a bead melted on the tire, which Goodyear officials later confirmed. But asking him about the contact with Earnhardt was a legitimate question.
At least Busch was feisty. Earnhardt was anything but feisty in his interview session Friday morning at his hauler.
For a guy who hears questions over and over again every week, it gets monotonous at times. And it was obvious from the start Friday that Earnhardt would prefer a root canal without anesthetic to standing around talking to a media cluster.
The last two questions were mail-it-in time for Junior:
What was the feeling he had the first time he went down the frontstretch at Indy?
"I don't remember," Earnhardt said, barely above a whisper.
What does it take to be successful at Indy?
"Be leading," he said.
Allrighty then. And with that, interview time was over.
But for every moment like those, there's also some answers from drivers that make up for it.
Clint Bowyer was asked the same question about his thoughts on his first lap at the Brickyard:
"'What the hell? It's way too big.' That's what I thought," Bowyer said. "And you think back in the day cars would run only 80 mph around here. Can you imagine watching that race? Those straightaways must have seemed pretty long."
Even dead tired after a tough race, some guys make it fun.
After 301 laps on a hot day at New Hampshire, Carl Edwards was asked why he was standing on pit road while all the other guys were sitting on the pit wall.
"We don't sit down, come on," Edwards said. "I think Jimmie [Johnson] was sitting down because he is intimidated by our points lead."
Now that was good. In the world of interviewing drivers, you just never know what you're gonna get.
January, 24, 2011
01/24/11
4:36
PM ET
CHARLOTTE, N.C. -- The day started with an entrance by the Energizer Bunny. The afternoon session ended with a new energized Tony Stewart.
Earnhardt Ganassi Racing got things started to open the annual NASCAR Media Tour with a luncheon followed by a bus trip to Stewart-Haas Racing.
Here are a few opening-day highlights and lowlights:
Funniest moment: The Energizer Bunny, banging his drum and heading to the stage during the EGR luncheon. Energizer Batteries has been a sponsor of Chip Ganassi's race teams for 16 years.
Funny quote: Ryan Newman, one of the many new fathers among the NASCAR drivers: "Now there's a big influx of mass-production of kids. And some guys are doubling up. It changes the conversation in the garage from car set-ups to baby cribs."
He said what?: Felix Sabates, partner with Ganassi at EGR: "I asked Juan [Pablo Montoya] today, 'Do they have extradition in Venezuela and Columbia. He said, 'Why?' I said, 'Well, I haven't gotten through my divorce settlement, so I may need to be extradited to Columbia.' "
Best story: Sabates explaining the close relationship Dale Earnhardt had with Bill France Jr.
"Bill had a lot of respect for Earnhardt,'' Sabates said. "He had a radio so he could talk to Earnhardt during races. Bill's [radio] name was Captain Jack.
"If drivers were worried about debris in Turn 3, Bill would ask Earnhardt on the radio, 'Is there anything in Turn 3? Earnhardt would say, 'No Captain Jack. It's good.'
"And Earnhardt never once took advantage of that situation. Bill knew he would tell him the truth. But if Earnhardt was two laps down, they talked about fishing."
[+] Enlarge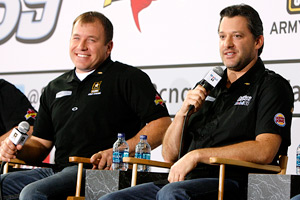 HHP ImagesRyan Newman and Tony Stewart proved to be entertaining on Monday for different reasons.
Today's stunner: The new chiseled look of Tony Stewart. OK, chiseled is a slight exaggeration, but he does looks fit.
Smoke has gone to a five-meal-a-day program instead of two meals a day. Five small meals, with some salad tossed in, as opposed to two big meals.
Mark Martin was Stewart's inspiration, but Stewart isn't eating Martin's diet of goji berries and other weird stuff.
"I still like my Burger Kings and pizza and chili,'' Stewart said. "But eating only twice a day is bad for you."
So does Stewart have a workout routine?
"Well, not really," Stewart said. "I used my left hand for the volume on the remote and my right hand for the channel."
Today's non-stunner: Teresa Earnhardt was not in attendance for the Earnhardt Ganassi Racing presentation.
Happiest guy: Chip Ganassi, who celebrated a big NFL victory back in his hometown Sunday: "If you guys catch me yawning it's because I was at a football game last night in Pittsburgh."
The flattest moment: NASCAR broadcaster Larry McReynolds going off script at the end of the Earnhardt Ganassi Racing program to chastise the media and tell everyone to write "positive" stories.
Most surprising comment: Jamie McMurray, who won the Daytona 500 and the Brickyard 400 in 2010, saying what his favorite moment was last season:
"Other than the birth of my son, it was walking in the media center at Charlotte [after winning in October]," McMurray said. "Everybody just looked at me and like, 'Oh, it's Jamie.' That was the coolest feeling ever that you guys weren't shocked I was in there."
No interest in Indy: Former Indy 500 winner Juan Pablo Montoya doesn't care how much bonus money is offered to win the Indy 500 and Coca-Cola 600 on the same day, he wouldn't do it.
"It would be a nightmare," Montoya said. "I race 39 weekends a year with Cup and the 24 Hours [of Daytona]. Add another month for Indy and I'd be looking for a new family. I don't have to prove myself there. I'm happy where I am."
August, 25, 2010
08/25/10
1:52
PM ET
As far as the bookmakers in Las Vegas are concerned, Jimmie Johnson remains the man to beat for the Sprint Cup.
Johnson's recent woes on the track haven't dropped him from the top of the betting line in Vegas.
Johnson is ninth in the points standings. He has fallen seven spots after posting finishes of 22nd or worse in five of the last seven races.
But the summer slump hasn't stopped bookmakers from placing Johnson as the favorite to win his fifth consecutive title.
Heading into the open weekend, two races before the start of the Chase, Johnson is listed at 7-to-2 at the Las Vegas Hilton. Kevin Harvick is second at 9-to-2.
[+] Enlarge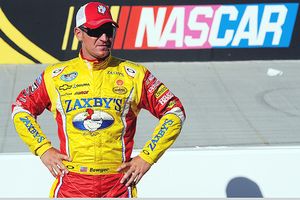 John Harrelson/Getty Images for NASCARClint Bowyer is the least-favored driver in the top 12 by Las Vegas oddmakers, but 20-to-1 isn't too bad.
Why is Johnson favored, you ask? Two reasons. First, Johnson's won four in a row. That alone is a darn good reason to keep him on top.
But there's also a statistical reason. If the Chase started today, Johnson would begin the playoff on top, tied with Denny Hamlin. Both drivers have a series-best five victories. Hamlin is 5-to-1 on the betting line.
Harvick and Kyle Busch, each with three victories, would start the playoff 20 points back. Busch is listed at 5-to-1 with Hamlin.
Jeff Gordon, winless this season but second in the points standings, is next on the betting list at 7-to-1. Rounding out the top six is winless Tony Stewart at 10-to-1.
Kurt Busch, who has two wins and will be the only Dodge driver in the Chase, is 12-to-1.
Greg Biffle, the only other Chase contender with a victory this season, is listed at 15-to-1. Roush Fenway Racing teammate Carl Edwards is slightly better at 12-to-1, and RFR driver Matt Kenseth is 18-to-1.
Jeff Burton, Harvick's teammate at Richard Childress Racing, is also 18-to-1. RCR driver Clint Bowyer, who is hoping to hold on to a 100-point advantage in the 12th-place bubble spot, is the long shot of the Chase boys at 20-to-1.
But 20-to-1 isn't much of a long shot. What it means, at least in the eyes of the bookies, is the 2010 Chase is wide open.
Johnson remains the favorite for now, but not by much. If the Vegas oddsmakers are right, this is going to be a fun Chase to watch.
July, 31, 2009
07/31/09
3:27
PM ET
LONG POND, Pa. -- Would you quit your job for $100 million?
I'm guessing 99.99 percent of us would answer yes to that question.
But what if you are on the cusp of making history, close to doing something that's never been done?
Now that's a little more interesting, right Jimmie Johnson?
Johnson was asked that question (ridiculously hypothetical, of course) on Friday.
He has a chance to become the first driver to win four consecutive Cup titles, guaranteeing him a future spot in the NASCAR Hall of Fame and sealing his legacy as one of the best drivers of all time.
Would he walk away for $100 million?
"Man, I don't know," Johnson said, chuckling. "That would be a tough one to consider. That's a lot of dough. Tax-free?"
Yep. You take it all. Uncle Sam doesn't get a dime.
"I guess I would have to seriously consider $100 million tax-free," Johnson said.
Now that we've established price, would the other drivers start a fund to get Johnson and the No. 48 Chevy off the track?
"If [Johnson] is not here, I don't consider it a win," Denny Hamlin said. "You want to know you can beat the best."
So count Hamlin out as far as donating to the cause. But who else might take $100 million to walk away and give up on beating Johnson?
"It would take more than 100 million for me to do it," Carl Edwards said.
For guys like Edwards, that's not as much as it sounds. It's about 10 years of income, give or take a year.
Nevertheless, put $100 million in the bank and you should be good to go as long as you don't call Bernie Madoff.
Johnson had fun with it, but he'll stick to reality and concentrate on the task at hand.
"I've got a great drive to succeed," he said. "But inside my own head, there are a lot of doubts every time I climb in the race car.
"As I get older I become more aware of history and more interested in it. So the fact that I could be a part of history in our sport, who wouldn't want that legacy?"
Of course, but what about that $100 million?
"OK,'' he said. "We could talk."
July, 24, 2009
07/24/09
4:09
PM ET
It's time for the past champions' provisional to pass away into the sunset.
Nothing against Terry Labonte, as classy and respectful a gentleman as you could ever meet, but he doesn't deserve a guaranteed spot in the second-biggest event of the year.
Labonte has raced one time this season, competing in the season-opening Daytona 500. He will compete in his second 2009 event Sunday in the Allstate 400 at the Brickyard.
And all he has to do is show up and say, "Hi, I'm Terry Labonte."
That's good enough to make the field for the two biggest events of the year.
Well, he does have to make a meaningless qualifying lap Saturday. Although if it rains (there's a 50 percent chance of thunderstorms), he doesn't have to do that, either.
As the most recent past Cup champion who hasn't qualified on time or points, Labonte has a free pass into the 43-car field.
Ten other drivers, some of whom attempt to qualify at every event, have to fight for seven available spots.
No free ride. They have to make the race on qualifying speed. Labonte does not.
You can't blame Labonte or the No. 08 Toyota team for his being the team's old-timer version of a hired gun. Last place at Indy in 2008 paid $139,494 to Michael Waltrip.
But a driver shouldn't have access to a big payday simply because he won a Cup title 13 years ago.
"It's a way of rewarding a champion and making sure they get in the field," said two-time Cup champion and season points leader Tony Stewart. "Terry Labonte is an important figure in NASCAR racing.
"I'm not saying that everybody else who is trying to make the race isn't, but a guy like Terry has been around a long time and is very important to us."
Stewart was in position to benefit from the rule at the start of this season when he became an owner/driver in a car that didn't have a guaranteed spot.
Stewart didn't need the free pass. Qualifying wasn't rained out, and he made it in on speed for the first five events.
But Stewart is a serious competitor racing full time. If a past champion is a full-time driver, the rule makes a little more sense than when it benefits someone who pops in for just one or two big events.
"Not sure I disagree with you totally on that," Stewart said Friday. "But it really doesn't matter to me."
The odds already are stacked against the struggling go-or-go-home drivers because of the top-35 rule, which guarantees a spot to the top 35 teams in owners' points.
Some of the drivers without a guaranteed spot also are part-time competitors -- Max Papis and Regan Smith, for example. And some are start-and-parkers (such as Dave Blaney and Joe Nemechek), but at least they show up every race and take their chances.
In the case of all four drivers mentioned above, they race for teams trying to build legitimate Cup operations.
Labonte's presence means one of them could lose a spot in the field this weekend, and a huge payday, to a guy who has showed up twice and no longer has any interest in racing as a serious competitor.
Again, I don't blame Labonte or the team. That's the rule, so you take advantage of it.
But the rule needs to go away.