Category archive:

Dale Earnhardt Jr.
February, 20, 2013
02/20/13
3:20
PM ET
DAYTONA BEACH, Fla. -- Before NASCAR kicks off 2013 with the Daytona 500, here are a few interesting statistics that might surprise you:
Bad news for bad Brad: If Brad Keselowski wins the Daytona 500 on Sunday, he'll be the first defending Cup champion in 13 years to accomplish the feat. The last man to do it was Dale Jarrett in 2000, three months after winning the 1999 title.
Bad news for popular Danica: It's also been over a decade since the Daytona 500 pole winner went on to win the race. That also was Jarrett in 2000. Does DJ know something everyone else doesn't?
Menard is No. 1: Yes he is, as far as laps completed. Paul Menard was winless last season and finished 16th in the standings with only one top-5, but he completed more laps than any other driver -- 10,406, or 13,676.386 miles.
Obviously, Menard was on the track a lot. He had only one DNF. No wonder my eyes hurt after seeing that neon yellow Chevy lap after lap.
JJ led almost everything in 2012: Except the one category that counted the most: Winning the championship. But Jimmie Johnson and the No. 48 Chevy team should feel good about their 2013 chances when they look at the stat book.
Five-Time was No. 1 in laps led (1,744), times led (78), races led (26), top-5s (18), top-10s (24) and driver rating (109.5). He also tied for the top spot in victories (5) and poles (4).
So how in the world did Johnson not win the title? He had six DNFs, the most of any driver in the top 20 in the standings.
Expect a close finish Sunday: Restrictor-plate races usually end one of two ways -- a side-by-side finish for the victory or a big wreck that brings out a caution.
Last year's Daytona 500 had the closest finish of the season when Matt Kenseth edged Dale Earnhardt Jr. by .21 of a second. The Talladega spring race was won by Keselowski by .304 of a second over Kyle Busch.
The other two plate races ended under caution because of last-lap crashes.
All that could change this year with the introduction of the "Gen 6" to the series, but expect some craziness at the end to continue.
By the way, 17 of 36 races last year ended with a margin of victory that was less than a second. Nine of those were less than half a second.
The low man on the points stand: That would be Landon Cassill in 2012, a category no one wants to lead in 2013, but someone will. Cassill had the fewest points of 26 drivers who started all 36 Cup events.
He also had fewer points than five drivers who didn't start all 36 events -- Earnhardt, Mark Martin, Regan Smith, Travis Kvapil and Kurt Busch.
Start-and-park perfection: The trophy went to Scott Riggs in 2012. Riggs started 20 events last season. How many did he finish? Zero. He completed 8.2 percent of the laps and made $1.5 million. Nice work if you can get it.
The S&Pers will make a little less this season since NASCAR adjusted the purse money to pay less for the bottom feeders, but it's still good money for running a few laps.
September, 13, 2012
09/13/12
3:39
PM ET
I don't know about us reading palms or being psychic, but when it comes to predicting the Chase participants, the ESPN.com boys did OK. You can even check it out on the chart at the bottom.
Getting it right on 10 out of 12 isn't so bad. Maybe we're not so dumb after all.
Our overall preseason predictions on the drivers who would make the playoff were 83.3 percent correct. We missed on Carl Edwards (who didn't?) and Kyle Busch.
The guys we didn't predict overall were Clint Bowyer and Martin Truex Jr. Clearly, we underestimated the improvement at Michael Waltrip Racing.
Marty Smith and David Newton outsmarted the rest of us on that one. They picked Bowyer to make the playoff, but he didn't total enough points to make our overall top 12. None of us picked Truex.
AJ Allmendinger was selected as a Chase-qualifier by Ed Hinton and Ryan McGee. Obviously, there were sad circumstances on that one, but he didn't appear headed to a playoff spot before the drug-test downfall.
Newt thought Joey Logano would make the Chase, and he was one victory from being right.
But overall, the seven of us -- K. Lee Davis, Joe Breeze, Smith, Newton, Hinton, McGee and me -- did pretty well.
It remains to be seen whether we get it right on our overall preseason choice as the Sprint Cup champion, Jimmie Johnson. Four of us picked him to win his sixth title: Davis, Breeze, Newton and yours truly. Marty and Easy Ed picked him second. McGee listed JJ third.
Ed selected Brad Keselowski as the 2012 champ, Marty picked Matt Kenseth and McGee chose Kevin Harvick. So we're all still in the running to get it right from our preseason choice.
Surprisingly, none of us picked Edwards to win the championship even though all of us thought he would make the Chase. Maybe we believed in that runner-up jinx stuff.
However, I changed my mind on the champ in my Chase predictions Sunday, listing Denny Hamlin as my selection now to win the title.
K. Lee and Joe are sticking with Johnson to win it all. Ed is staying with Keselowski. Marty is confident Kenseth's lame-duck status won't hurt him a bit, so he's hanging with Matt as the champ.
McGee thinks it's a two-man battle between Hamlin and JJ, but he went with Johnson. And Newt is convinced Gordon has what it takes after watching Jeff's amazing drive through the pack Saturday night to get in the playoff.
That means there's a 41.7 percent chance at least one of us is right. We've picked five different drivers between the seven of us -- three for Johnson and one each for Hamlin, Kenseth, Keselowski and Gordon.
We'll revisit this after Homestead and see if any of us got it right. Bonus points if the guys who stuck with their preseason pick end up with the champ.
Not every driver who received a vote made the top-12 cut. Here are the other drivers who received at least one nod.
August, 19, 2012
08/19/12
5:50
PM ET
BROOKLYN, Mich. -- The Pure Michigan 400 had some shocking moments Sunday, including a verbal feud between Hendrick Motorsports teammates Jeff Gordon and Dale Earnhardt Jr.
"Tell the f------ 88 he can thank me later for not wrecking him," Gordon said on his radio during the race. "That was f------ stupid."
Earnhardt had moved in front of Gordon midway through the race with a pass Gordon felt was a little risky. But Earnhardt was shocked when he heard Gordon's reaction.
"What's the deal with the 24?" Earnhardt said on his radio after passing Gordon. "Does he have a problem with me?"
A team member told Earnhardt that Gordon said he should have wrecked him.
"Wrecked me?!" Earnhardt yelled. "He was slower than me. I don't know what I did, but I'm sorry if I did something."
Team owner Rick Hendrick sided with Earnhardt: "Man, you didn't do anything. Just drive that thing to the front."
Earnhardt finished fourth. Gordon finished a disappointing 28th after an engine failure, but later talked about the incident in the garage.
"He took me four-wide, then slid up in front of me in Turn 2," Gordon said of Earnhardt's pass. "I had to check up and it could have wrecked all of us.
"It wasn't the smartest thing to do, especially to a teammate. But he chose to do it and it all worked out. I don't care who does it, I'm going to show my displeasure if they do something like that."
July, 23, 2012
07/23/12
2:44
PM ET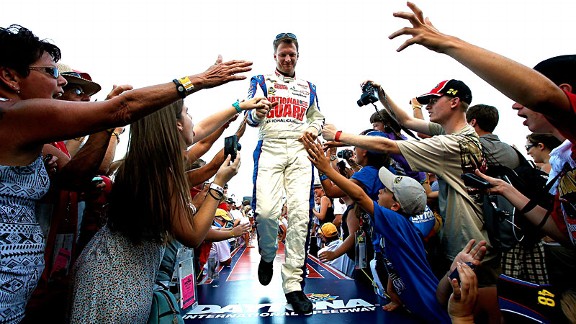 Chris Graythen/Getty ImagesDale Earnhardt Jr., NASCAR's most popular driver, has gained traction among Vegas oddsmakers.
Take a wild guess whom the Las Vegas oddsmakers list now as one of the top five favorites to win the 2012 Sprint Cup championship.
Dale Earnhardt Jr. has earned the respect of the folks in Sin City who want your money. Earnhardt was listed at 8-1 last week by the LVH Super Book. That's a big difference from where he started in the preseason odds. More on that later.
If you put your money on Jeff Gordon or Carl Edwards in a preseason bet at Vegas, you probably consider that wager a contribution to the Nevada economy.
If you were wise enough to place a little hard-earned cash in January on either of the juniors -- Earnhardt Jr. or Martin Truex Jr. -- you still have hope of a big payday coming in November.
It's fun to look back now at the preseason odds for the Cup title, seeing which drivers surprised the bookmakers.
Jimmie Johnson was the championship favorite back in January at 9-2. That's still looking pretty good. Johnson is fourth in the standings and has two victories.
However, Edwards was the No. 2 pick at 5-1. Not so good now. He's outside the Chase cutoff hoping to get in, winless and 11th in the standings.
Gordon was tied for third in the preseason list at 8-1. He's winless and 17th in the standings with seven races remaining before the 10-race Chase begins.
The man beating the odds more than anyone else at this point is Truex. He was 75-1 in January. He hasn't won a race, but Truex is eighth in the standings and likely will make the playoff.
Truex is the only driver in the top 10 who was listed at more than 40-1 in January. And who was 40-1?
That was Dale Jr. Kudos to all those Junior fans who thought enough of their hero to put their money where their motor mouth is after New Year's. He's second in the standings, is tied with Johnson for the most top-10s with 14 and ended his long losing streak last month at Michigan.
Brad Keselowski probably was the best pick back in January. Bad Brad was 20-1. He would join Tony Stewart at the top of the Chase standings if the playoff started today as the only drivers with three victories. Stewart was listed at 8-1 two months after he won his third Cup title.
Of the 12 drivers who have won a race this year, Joey Logano had the worst odds of being a title contender, at 75-1.
And who's the favorite now, a week before the Brickyard 400? The same man who started the year as the favorite. Johnson is 3-1.
Stewart and Denny Hamlin are 7-1 now. Points leader Matt Kenseth is 8-1 with Earnhardt.
Who would have thought that 19 races into the 2012 season Earnhardt would be one of the top five favorites to win the championship?
Obviously not the bookmakers, but they weren't alone.
June, 2, 2012
06/02/12
11:45
AM ET
DOVER, Del. -- Dale Earnhardt Jr. agrees with Rusty Wallace that a shortened Sprint Cup Series schedule is the right thing to do, but Earnhardt doesn't see it happening.
"A shorter schedule is probably the last thing I would expect to happen," he said Friday. "I can imagine lot of crazy things happening before that would.
"There's just too much money involved. The politics are too much for anything like that to occur. But I know there's not enough demand at the current time for what we run."
In a perfect world, Earnhardt would reduce the schedule from its current number of 36 points races and two all-star events. That's 38 weekends of racing over a 40-week span from mid February until the season finale at Homestead, Fla., on Nov. 18. He didn't specify how many races he would cut.
"Shortening the season would be a good thing and definitely change things for the better," Earnhardt said. "But I think it's a daydream more than anything else. It's never going to be a reality, I believe."
Earnhardt, a big Washington Redskins fan, believes the NFL gets it right with a 16-week regular season (after four or five preseason games) and four weeks of playoff games.
"The model the NFL uses is pretty productive," Earnhardt said. "They seem to have it about right. You can't wait for the season to start, and when it's here, it's gone just as fast and you can't wait for the next one. "
May, 3, 2012
05/03/12
10:15
AM ET
How would you feel about a winless champion in NASCAR? And what if that champion was Dale Earnhardt Jr.?
Even in an era with increased emphasis (still not enough) on winning, a driver could win the Sprint Cup championship without winning a race.
At the quarter pole of the 2012 season, winless Earnhardt is only five points behind Greg Biffle for the top spot in the standings.
[+] Enlarge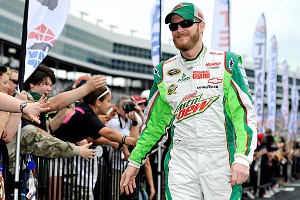 Jerome Miron/US PresswireWin or lose, Dale Earnhardt Jr. remains the most popular driver in NASCAR.
Earnhardt is one of five drivers in the top 10 who haven't won through the first nine races. The others are Martin Truex Jr., Jimmie Johnson, Kevin Harvick and Carl Edwards.
I'll take a wild guess and say that your feelings on a winless champ would vary greatly depending on who did it.
Junior? No problem. He is NASCAR's most popular driver, even though readers who comment on our stories love to rip him. But media attention would reach a Tim Tebow- or Jeremy Lin-type frenzy if Earnhardt was heading toward a championship down the playoff stretch, regardless of whether he won a race.
However, take almost anyone else and make that driver a winless champion, and many fans (along with many reporters) would scream for a new points system. Edwards was one point short of being a one-win champion last year.
A one-win champ was a factor in starting the Chase playoff system after Matt Kenseth won the last pre-Chase title with one victory in 2003.
Kurt Busch won the first Chase with only three victories for the season, but every champion since 2005 has won at least five races, including last year, when Tony Stewart became the first driver to win five Chase races.
The closest any driver has come to a winless championship in the Chase era was Harvick in 2008, when he was a distant fourth, 276 points behind champ Johnson.
But it's not impossible, even though winless drivers start the Chase below the drivers who have won races. Each victory is worth three points, so even if the man on top has five wins, a 15-point deficit isn't much to make up for the driver who starts the playoff without a win.
It's 15 spots in one race, not counting bonus points -- one for leading a lap, one for leading the most laps and three for winning.
So what are the odds of seeing a winless champ? Not good, but I would say the chances of it are better than two guys finishing the season tied for the top spot in the points, which we saw last year.
For those of you who predict Earnhardt never will win again, I disagree, but you could be right. He also could win the title while fulfilling your prediction.
March, 23, 2012
03/23/12
6:24
PM ET
FONTANA, Calif. -- If you think Brad Keselowski might have changed his opinion this week on reconfiguring Bristol Motor Speedway, think again.
Keselowski, who won the race at Bristol last weekend, is more adamant than ever about leaving the half-mile oval the way it is.
"I think the racetrack is as good or better as it has ever been," he said Friday. "The whole reconfiguration story doesn't go very far with me. Personally, I think it's irresponsible, misinformed and, at best, self-serving for any driver or media member who goes out there and criticizes the track.
"I don't think that's right. I think there are drivers that struggle there as the track has been reconfigured and have ulterior motives to point the finger at the surface reconfiguration instead of their own teams' performance."
Several drivers were asked Friday if they thought Bristol Motor Speedway owner Bruton Smith should change the track to try to bring about more bumping and banging like the old Bristol.
Keselowski said he wants to call Smith.
"But I never got his cell number,'' Keselowski said. "That's why he hasn't heard from me."
The half-mile oval was repaved and reconfigured in 2007 to add progressive banking, something Smith said he opposes. Dale Earnhardt Jr. would like Smith to give him a call before making a decision.
"There are some drivers he ought to talk to about it," Earnhardt said. "There were some things about that racetrack before that I liked. One of the reasons why it was so good was because the yellow line was about a foot off the apron. That provided grip for the left-front tire.
"Whatever he decides to do, talk to the drivers. We are the ones out there running on it and can provide some insight. We don't have all the answers, but I'm sure we can give him some things they can improve on if that's what they want to do. It's not just the [progressive] banking. It isn't ever just one thing."
Denny Hamlin doesn't think it's possible to make Bristol what it used to be.
"I don't know how they'll do it," Hamlin said. "The old Bristol was the old Bristol because it was old. It's hard to duplicate that. If they're going to repave it, make it asphalt and not concrete."
Kevin Harvick said he doesn't know if Smith can make Bristol what it used to be, but Harvick said he misses it.
"I enjoyed the old Bristol," he said. "I like that rough-and-tumble type of racing. I know a lot of the car owners and some of the drivers don't like that style of racing. That's what made Bristol what it was.
"People don't want to watch cars ride around with no donuts on the doors and no caved-in fenders at Bristol. They don't want to see a 200-lap green-flag run. That's not what they come to Bristol for, and that's why they quit coming."
September, 9, 2011
09/09/11
12:41
PM ET
RICHMOND, VA. -- Fourteen drivers enter the final Chase qualifying race Saturday night still uncertain about their playoff status.
Here's my take on the odds of whether they stay in or get in after the 400-lap show on the Richmond short track.
First, the three drivers inside the Chase cutoff who haven't clinched a spot:
[+] Enlarge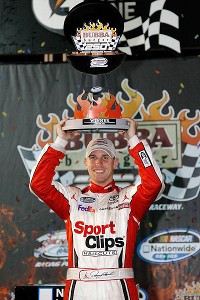 Todd Warshaw/Getty ImagesYou've got to like Denny Hamlin's chances Saturday night at Richmond, where he's won the past two September Cup series races and the April 2011 Nationwide race.
• Dale Earnhardt Jr. -- Odds he falls out: 30-1. Earnhardt is ninth in the standings, 25 points ahead of 11th-place Brad Keselowski (who has clinched a spot with three wins). Junior is in if he finishes 20th or better, even if Keselowski wins.
• Tony Stewart -- Odds he falls out: 25-1. Stewart is 10th, the final points-qualifying spot, 23 points ahead of Keselowski. He is in if he finishes 18th or better. He's done that in 12 of his past 13 Richmond starts.
• Denny Hamlin -- Odds he falls out: 15-1. He holds down the final wild-card spot with one victory and is 12th in the standings.
Wild-card ties are decided on points. AJ Allmendinger (13th) and Clint Bowyer (14th) are winless, but might pass Hamlin in the standings if they win. Allmendinger is 11 points behind Hamlin and Bowyer is 12 points back.
A win by Paul Menard would knock out Hamlin. Menard would have two victories. Marcos Ambrose and David Ragan can get a second victory Saturday, but they also need to gain enough points to move into the top 20. Only drivers ranked in the top 20 are eligible for a wild-card spot.
Eleven drivers are outside the Chase but still have a chance to get in. All the winless drivers still eligible could get in by winning if Keselowski moves up to the top 10 without winning. Highly unlikely.
Here are the odds, otherwise:
• Paul Menard -- Odds he gets in: 15-1. The best shot of anyone, even though he's 20th in the standings. Win and he's in. Since he's one of 15 guys who have won this year, he has a shot, but not a good shot
• Clint Bowyer -- Odds he gets in: 20-1. Bowyer is one point below Allmendinger in the standings, but he won at Richmond in 2008. If he wins Saturday, he needs Hamlin to finish outside the top 10.
• Marcos Ambrose -- Odds he gets in: 25-1. A win probably would do it if he makes up the seven points on Menard he needs to get in the top 20. But Ambrose never has won on an oval track.
• AJ Allmendinger -- Odds he gets in: 30-1. AJ. Needs to win, something he has yet to do in Cup. But one of the themes this season has been first-time winners. Maybe AJ will be the next one at the best possible time.
• Greg Biffle -- Odds he gets in: 50-1. Biffle is 15th and winless, so he needs to win the race and hope Hamlin has a terrible night. Biffle is 28 points behind Hamlin and each position in a race is worth one point.
• David Ragan -- Odds he gets in: 50-1. A victory would give Ragan his second win, but he also has to make up 20 points on Menard to get back in the top 20.
• Martin Truex Jr. -- Odds he gets in: 60-1. Pretty much the same scenario as Biffle, except Truex (16th) is five points behind Biffle.
• Kasey Kahne -- Odds he gets in: 100-1. Kahne (17th) is winless and 42 points behind Hamlin. A driver can make up a maximum of 47 points in one race. You get the picture.
• Joey Logano -- Odds he gets in: 200-1. Logano (18th) has to win, lead the most laps and have Hamlin finish last.
• Mark Martin -- Odds to get in: 1,000-1. Talk about a long shot. Martin (19th) has one chance: Win and have Keselowski move into the top 10 without winning. Good luck with that.
• Juan Pablo Montoya -- Odds he gets in: 1,010-1. The same boat as Martin, but JPM also has to make up seven points to get back in the top 20.
Forrest Gump could have said interviews with race car drivers are like a box of chocolates. You never know what you're gonna get.
In case you haven't noticed, drivers can be a little surly at times. Sometimes they're condescending and sometimes just totally uninterested. They also can be funny and engaging.
Sprint Cup is a long season and no one is on his A-game every day, including reporters. And occasionally, there's a disconnect between the two.
Last weekend at New Hampshire had a few good examples. Let's start with Tony Stewart.
Even on what he described as a perfect day for Stewart-Haas Racing -- Tony finished second and SHR teammate Ryan Newman won the Lenox Industrial Tools 301 -- Stewart still let out his evil twin for a few moments afterward.
The top three finishers of each race are required to come to the media center for questions. Stewart was there as the second-place finisher, but he also could have stayed as the team owner of the winning car.
So a reporter asked Stewart if he was going to stay for the owner's portion of the postrace interviews.
"This is the owner's portion, just so you know," Stewart said. "It never ceases to amaze me how much of a rocket scientist you are. I'm honored to be in your presence."
The reporter then said he meant it as a joke, but added, "Maybe your jokes are better."
"I'm pretty sure," Stewart said. "We'll take a poll and it will be overwhelming."
Oh Tony, no need to get all riled up on such a big day.
And then we had Kyle Busch, who was interviewed in the garage after he blew a right-front tire. Busch was asked if contact with the No. 88 Chevy of Dale Earnhardt Jr. caused his tire problem.
"There's been contact with everybody out there," Busch said. "So nice try making a story."
Busch was implying that the reporter wanted to stir up bad blood between Kyle and Junior. Not true. This was a legitimate question.
A couple of laps before Busch's tire came apart, Kyle's right-front tire made contact with Earnhardt's left-rear tire, causing smoke to fly off Busch's tire well.
Busch said a bead melted on the tire, which Goodyear officials later confirmed. But asking him about the contact with Earnhardt was a legitimate question.
At least Busch was feisty. Earnhardt was anything but feisty in his interview session Friday morning at his hauler.
For a guy who hears questions over and over again every week, it gets monotonous at times. And it was obvious from the start Friday that Earnhardt would prefer a root canal without anesthetic to standing around talking to a media cluster.
The last two questions were mail-it-in time for Junior:
What was the feeling he had the first time he went down the frontstretch at Indy?
"I don't remember," Earnhardt said, barely above a whisper.
What does it take to be successful at Indy?
"Be leading," he said.
Allrighty then. And with that, interview time was over.
But for every moment like those, there's also some answers from drivers that make up for it.
Clint Bowyer was asked the same question about his thoughts on his first lap at the Brickyard:
"'What the hell? It's way too big.' That's what I thought," Bowyer said. "And you think back in the day cars would run only 80 mph around here. Can you imagine watching that race? Those straightaways must have seemed pretty long."
Even dead tired after a tough race, some guys make it fun.
After 301 laps on a hot day at New Hampshire, Carl Edwards was asked why he was standing on pit road while all the other guys were sitting on the pit wall.
"We don't sit down, come on," Edwards said. "I think Jimmie [Johnson] was sitting down because he is intimidated by our points lead."
Now that was good. In the world of interviewing drivers, you just never know what you're gonna get.
April, 1, 2011
04/01/11
9:58
AM ET
Winning a PGA tournament means a lot more than winning a Sprint Cup race -- monetarily speaking, that is. But it's sure worth a lot more to be bad in Cup than it is in golf.
Allow me to explain. Let's compare the purse from last weekend's Auto Club 400 at Fontana to the purse from the Arnold Palmer Invitational last weekend in Orlando.
The total amount paid is similar -- $5.7 million at Fontana to $6 million at the PGA event. But the way the money is distributed among the competitors is drastically different.
Success brings a much bigger reward for a professional golfer. Martin Laird, who won at Orlando, earned $1.08 million. Kevin Harvick, who won the race at Fontana, received only $331,961.
Laird earned 18 percent of the total purse. Harvick received only 5.8 percent of the purse.
The top 11 finishers in the PGA event earned 52.6 percent of the purse compared to 33.6 percent of the purse for the top 11 finishers at Fontana.
The golfers who tied for 11th at Orlando received $162,000. Greg Biffle, who finished 11th at Fontana, received $108,675. That's not a huge difference, so it proves the winner in Cup is the guy not getting his fair share compared to golf.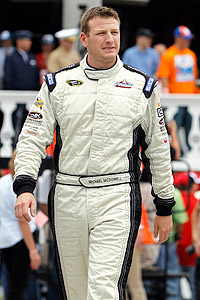 AP Photo/Matt Slocum)Michael McDowell took home a pretty good payday for finishing last at Fontana.
The second-place finisher in a PGA tourney also takes home a much larger check. Orlando runner-up Steve Marino earned $648,000. Jimmie Johnson claimed $240,786 for finishing second to Harvick.
However, a bad day in Cup is a money train compared to a bad tournament for a golfer.
Michael McDowell, who raced all of 32 laps of the 200-lap race at Fontana before calling it a day and finishing 43rd, got a check for $75,769. The guys who tied for 43rd in Palmer's tourney received only $23,400.
A 43rd-place finish in the PGA event was worth less than half of 1 percent of the total purse. But finishing 43rd in Fontana was worth triple the amount of money by comparison.
And one other thing: The golfers who placed 43rd at Orlando had to finish the entire event.
This better explains why NASCAR has start-and-park competitors. Too much money is paid at the bottom of the field and not enough at the top.
The PGA tournament paid 72 golfers out of its $6 million purse, but the bottom half of the field received only $234,000, about 4 percent. The bottom 21 spots of the Cup race at Fontana received about $1.8 million or 31 percent of the purse.
And I won't even try to explain the fact Denny Hamlin, who finished 39th, earned $123,880, while Dale Earnhardt Jr., who finished 12th, received $101,325. It's about contingency awards and bonuses, but that doesn't happen in golf. The person who finishes ahead of you will earn more money, as it should be.
In the Palmer event, the winner received 46 times as much money as the golfers who tied for 43rd.
Going by points, Harvick's advantage over McDowell was almost the same. Harvick received 47 times as many points as McDowell (47 points to 1 point), but only 4.4 times as much money.
Shouldn't the purse distribution be more in line with the championship points earned?
One thing drivers often say is that giving more points or paying more money to the winner won't make them race any harder. Everyone is racing as hard as he can (except start-and-parkers, of course) to try to win.
Isn't the same thing true in the PGA? Every golfer is trying his best to win, but the person who does win earns a much larger reward.
Granted, it costs more for a race team to show up and compete (we'll use that term loosely for start-and-parkers) than it does a pro golfer to compete in a PGA event.
But NASCAR still should give a bigger financial reward to the driver and team that wins the race, and far less of a financial incentive for the team that finishes last.