Category archive:

Kurt Busch
February, 20, 2013
02/20/13
3:20
PM ET
DAYTONA BEACH, Fla. -- Before NASCAR kicks off 2013 with the Daytona 500, here are a few interesting statistics that might surprise you:
Bad news for bad Brad: If Brad Keselowski wins the Daytona 500 on Sunday, he'll be the first defending Cup champion in 13 years to accomplish the feat. The last man to do it was Dale Jarrett in 2000, three months after winning the 1999 title.
Bad news for popular Danica: It's also been over a decade since the Daytona 500 pole winner went on to win the race. That also was Jarrett in 2000. Does DJ know something everyone else doesn't?
Menard is No. 1: Yes he is, as far as laps completed. Paul Menard was winless last season and finished 16th in the standings with only one top-5, but he completed more laps than any other driver -- 10,406, or 13,676.386 miles.
Obviously, Menard was on the track a lot. He had only one DNF. No wonder my eyes hurt after seeing that neon yellow Chevy lap after lap.
JJ led almost everything in 2012: Except the one category that counted the most: Winning the championship. But Jimmie Johnson and the No. 48 Chevy team should feel good about their 2013 chances when they look at the stat book.
Five-Time was No. 1 in laps led (1,744), times led (78), races led (26), top-5s (18), top-10s (24) and driver rating (109.5). He also tied for the top spot in victories (5) and poles (4).
So how in the world did Johnson not win the title? He had six DNFs, the most of any driver in the top 20 in the standings.
Expect a close finish Sunday: Restrictor-plate races usually end one of two ways -- a side-by-side finish for the victory or a big wreck that brings out a caution.
Last year's Daytona 500 had the closest finish of the season when Matt Kenseth edged Dale Earnhardt Jr. by .21 of a second. The Talladega spring race was won by Keselowski by .304 of a second over Kyle Busch.
The other two plate races ended under caution because of last-lap crashes.
All that could change this year with the introduction of the "Gen 6" to the series, but expect some craziness at the end to continue.
By the way, 17 of 36 races last year ended with a margin of victory that was less than a second. Nine of those were less than half a second.
The low man on the points stand: That would be Landon Cassill in 2012, a category no one wants to lead in 2013, but someone will. Cassill had the fewest points of 26 drivers who started all 36 Cup events.
He also had fewer points than five drivers who didn't start all 36 events -- Earnhardt, Mark Martin, Regan Smith, Travis Kvapil and Kurt Busch.
Start-and-park perfection: The trophy went to Scott Riggs in 2012. Riggs started 20 events last season. How many did he finish? Zero. He completed 8.2 percent of the laps and made $1.5 million. Nice work if you can get it.
The S&Pers will make a little less this season since NASCAR adjusted the purse money to pay less for the bottom feeders, but it's still good money for running a few laps.
September, 25, 2012
09/25/12
11:39
AM ET
Going from one second-tier team to another one is not what Kurt Busch had in mind for 2013 when he was out of options at the start of the 2012 season.
That's how it played out with the news that Busch is moving from Phoenix Racing to Furniture Row Racing next season.
Busch had hoped he could spend one season rebuilding his image and prove his worth so he could land a ride with a major team is 2013. The bottom line is he didn't do enough to get there.
[+] Enlarge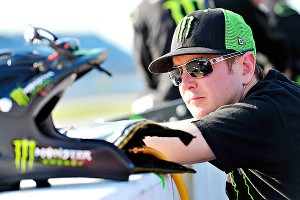 Rob Grabowski/US PresswireFormer Sprint Cup champ Kurt Busch will replace Regan Smith in the Furniture Row Racing No. 78 Chevrolet in 2013.
Even if a top team owner wanted him -- and Richard Childress indicated he did -- no sponsor was willing to foot the bill and take the chance, hoping Busch would represent them in a respectful and responsible manner.
Busch, 34, needed to get through this season quietly without any incidents, but that didn't happen.
He served a one-week NASCAR suspension in June for verbally abusing a media member. Busch, already on probation, told the reporter it kept him from "beating the s--- out of you right now because you ask me stupid questions."
Busch was on probation from an incident at Darlington in May, doing a burnout through Ryan Newman's pit box and endangering crew members.
When the race ended and the cars were coasting onto pit road, Busch bumped into Newman's car, which was directly in front of Busch. He was fined $50,000 for the Darlington situation.
Busch just couldn't do what he needed to do after his falling-out with Roger Penske at the end of 2011 (which cost him his ride in the No. 22 Dodge) over continuing bad behavior and an inability to work well with his teammates.
Busch didn't have to win this season. He didn't have to compete for the Chase. All he had to do was mind his manners and stay out of trouble.
He couldn't do it, so this is the result -- another year with a single-car team that isn't likely to compete at the highest level.
Busch will replace Regan Smith in the No. 78 Chevy, a car that ranks only two spots higher in the standings than Busch is now (23rd instead of 25th), but that comes with one more start.
Sponsorship is not an issue on the 78 team because the owner (Barney Visser) is the sponsor. It's the only Sprint Cup team based in Colorado.
Smith gave the 78 team everything he had, winning at Darlington in 2011 for the team's only victory. Smith represented the organization with class and dignity. He's a decent driver, but he's not Kurt Busch, the 2004 Cup champion who has 24 victories.
Only a handful of drivers have Busch's talent, but it takes more than talent to get a top ride in NASCAR. Busch continues to learn that lesson.
October, 14, 2011
10/14/11
4:50
PM ET
LAS VEGAS -- Team owner Roger Penske said Friday he was surprised to read a report that Steve Addington, crew chief for the No. 22 Dodge driven by Kurt Busch, plans to leave at the end of the season.
The Charlotte Observer reported Thursday that Addington is not expected to return in 2012.
"First, we never discuss contract situations with personnel until after the season," Penske said. "Second, Steve hasn't said anything to me about leaving. He has done a fantastic job for us and I hope to keep him here long term."
Penske is at Las Vegas Motor Speedway this weekend to watch the IndyCar Series season finale on Sunday (3 p.m. ET, ABC). Will Power, one of Penske's three IndyCar drivers, is battling Dario Franchitti for the 2011 IndyCar championship.
Penske said he fears the talk of Addington's possible departure will damage Kurt Busch's chances at winning the Sprint Cup championship. Busch is sixth in the standings, only 16 points behind leader Carl Edwards entering the race Saturday night at Charlotte (7:30 p.m. ET, ABC).
"I don't know how this stuff gets started,'' Penske said. "But it's unfortunate because it's a big distraction to the team in the middle of the Chase."
August, 25, 2010
08/25/10
1:52
PM ET
As far as the bookmakers in Las Vegas are concerned, Jimmie Johnson remains the man to beat for the Sprint Cup.
Johnson's recent woes on the track haven't dropped him from the top of the betting line in Vegas.
Johnson is ninth in the points standings. He has fallen seven spots after posting finishes of 22nd or worse in five of the last seven races.
But the summer slump hasn't stopped bookmakers from placing Johnson as the favorite to win his fifth consecutive title.
Heading into the open weekend, two races before the start of the Chase, Johnson is listed at 7-to-2 at the Las Vegas Hilton. Kevin Harvick is second at 9-to-2.
[+] Enlarge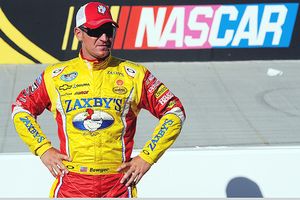 John Harrelson/Getty Images for NASCARClint Bowyer is the least-favored driver in the top 12 by Las Vegas oddmakers, but 20-to-1 isn't too bad.
Why is Johnson favored, you ask? Two reasons. First, Johnson's won four in a row. That alone is a darn good reason to keep him on top.
But there's also a statistical reason. If the Chase started today, Johnson would begin the playoff on top, tied with Denny Hamlin. Both drivers have a series-best five victories. Hamlin is 5-to-1 on the betting line.
Harvick and Kyle Busch, each with three victories, would start the playoff 20 points back. Busch is listed at 5-to-1 with Hamlin.
Jeff Gordon, winless this season but second in the points standings, is next on the betting list at 7-to-1. Rounding out the top six is winless Tony Stewart at 10-to-1.
Kurt Busch, who has two wins and will be the only Dodge driver in the Chase, is 12-to-1.
Greg Biffle, the only other Chase contender with a victory this season, is listed at 15-to-1. Roush Fenway Racing teammate Carl Edwards is slightly better at 12-to-1, and RFR driver Matt Kenseth is 18-to-1.
Jeff Burton, Harvick's teammate at Richard Childress Racing, is also 18-to-1. RCR driver Clint Bowyer, who is hoping to hold on to a 100-point advantage in the 12th-place bubble spot, is the long shot of the Chase boys at 20-to-1.
But 20-to-1 isn't much of a long shot. What it means, at least in the eyes of the bookies, is the 2010 Chase is wide open.
Johnson remains the favorite for now, but not by much. If the Vegas oddsmakers are right, this is going to be a fun Chase to watch.
August, 6, 2010
08/06/10
4:02
PM ET
WATKINS GLEN, N.Y. -- Kurt Busch says he's no pretty boy, not like those drivers at Hendrick Motorsports.
"The Hendrick guys are pretty boys," Busch said Friday.
That response came when Busch was asked about the personality side versus the racing side of the sport. He said the Hendrick drivers get the magazine covers.
I'm guessing that's the first time 51-year-old grizzled veteran Mark Martin has ever been lumped in the pretty-boy category, although I'm sure Busch was referring to Jimmie Johnson, Jeff Gordon and Dale Earnhardt Jr.
[+] Enlarge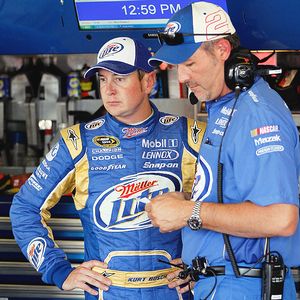 Kevin C. Cox/Getty ImagesKurt Busch doesn't seem very happy with his Hendrick Motorsports rivals, and Jimmie Johnson in particular.
And Busch added this little dig at the newest member of the Hendrick clan.
"Even if I had a shot at the [No.] 5 car, pretty boy Kasey Kahne got picked over me," Busch said.
Busch's disdain for the handsome gentlemen at Hendrick was obvious. And Johnson is No. 1 on his dislike-list after getting punted by JJ last week at Pocono.
Johnson said he called Busch on Monday to explain he didn't bump him intentionally in the incident that caused a big wreck and led to Elliott Sadler's dangerous crash.
Johnson also said they joked on the phone. Busch wasn't laughing Friday.
"We've been wrecked by Johnson quite a few times," Busch said. "He says it's not intentionally. Johnson and I are fine, but it's tough when it's three [wrecked cars] against nothing out there."
Johnson wants to settle any differences with Busch, saying: "I hope everything goes away. I have nothing against him."
Johnson left the media center Friday just as Busch was arriving. And Busch had a message for Johnson.
"I asked him, 'Do I need a dust pan and a broom to clean up your mess?' ''