Category archive:

Kevin Harvick
September, 13, 2012
09/13/12
3:39
PM ET
I don't know about us reading palms or being psychic, but when it comes to predicting the Chase participants, the ESPN.com boys did OK. You can even check it out on the chart at the bottom.
Getting it right on 10 out of 12 isn't so bad. Maybe we're not so dumb after all.
Our overall preseason predictions on the drivers who would make the playoff were 83.3 percent correct. We missed on Carl Edwards (who didn't?) and Kyle Busch.
The guys we didn't predict overall were Clint Bowyer and Martin Truex Jr. Clearly, we underestimated the improvement at Michael Waltrip Racing.
Marty Smith and David Newton outsmarted the rest of us on that one. They picked Bowyer to make the playoff, but he didn't total enough points to make our overall top 12. None of us picked Truex.
AJ Allmendinger was selected as a Chase-qualifier by Ed Hinton and Ryan McGee. Obviously, there were sad circumstances on that one, but he didn't appear headed to a playoff spot before the drug-test downfall.
Newt thought Joey Logano would make the Chase, and he was one victory from being right.
But overall, the seven of us -- K. Lee Davis, Joe Breeze, Smith, Newton, Hinton, McGee and me -- did pretty well.
It remains to be seen whether we get it right on our overall preseason choice as the Sprint Cup champion, Jimmie Johnson. Four of us picked him to win his sixth title: Davis, Breeze, Newton and yours truly. Marty and Easy Ed picked him second. McGee listed JJ third.
Ed selected Brad Keselowski as the 2012 champ, Marty picked Matt Kenseth and McGee chose Kevin Harvick. So we're all still in the running to get it right from our preseason choice.
Surprisingly, none of us picked Edwards to win the championship even though all of us thought he would make the Chase. Maybe we believed in that runner-up jinx stuff.
However, I changed my mind on the champ in my Chase predictions Sunday, listing Denny Hamlin as my selection now to win the title.
K. Lee and Joe are sticking with Johnson to win it all. Ed is staying with Keselowski. Marty is confident Kenseth's lame-duck status won't hurt him a bit, so he's hanging with Matt as the champ.
McGee thinks it's a two-man battle between Hamlin and JJ, but he went with Johnson. And Newt is convinced Gordon has what it takes after watching Jeff's amazing drive through the pack Saturday night to get in the playoff.
That means there's a 41.7 percent chance at least one of us is right. We've picked five different drivers between the seven of us -- three for Johnson and one each for Hamlin, Kenseth, Keselowski and Gordon.
We'll revisit this after Homestead and see if any of us got it right. Bonus points if the guys who stuck with their preseason pick end up with the champ.
Not every driver who received a vote made the top-12 cut. Here are the other drivers who received at least one nod.
April, 1, 2011
04/01/11
9:58
AM ET
Winning a PGA tournament means a lot more than winning a Sprint Cup race -- monetarily speaking, that is. But it's sure worth a lot more to be bad in Cup than it is in golf.
Allow me to explain. Let's compare the purse from last weekend's Auto Club 400 at Fontana to the purse from the Arnold Palmer Invitational last weekend in Orlando.
The total amount paid is similar -- $5.7 million at Fontana to $6 million at the PGA event. But the way the money is distributed among the competitors is drastically different.
Success brings a much bigger reward for a professional golfer. Martin Laird, who won at Orlando, earned $1.08 million. Kevin Harvick, who won the race at Fontana, received only $331,961.
Laird earned 18 percent of the total purse. Harvick received only 5.8 percent of the purse.
The top 11 finishers in the PGA event earned 52.6 percent of the purse compared to 33.6 percent of the purse for the top 11 finishers at Fontana.
The golfers who tied for 11th at Orlando received $162,000. Greg Biffle, who finished 11th at Fontana, received $108,675. That's not a huge difference, so it proves the winner in Cup is the guy not getting his fair share compared to golf.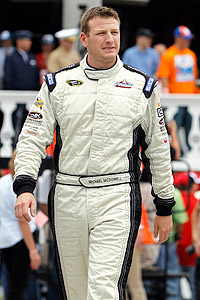 AP Photo/Matt Slocum)Michael McDowell took home a pretty good payday for finishing last at Fontana.
The second-place finisher in a PGA tourney also takes home a much larger check. Orlando runner-up Steve Marino earned $648,000. Jimmie Johnson claimed $240,786 for finishing second to Harvick.
However, a bad day in Cup is a money train compared to a bad tournament for a golfer.
Michael McDowell, who raced all of 32 laps of the 200-lap race at Fontana before calling it a day and finishing 43rd, got a check for $75,769. The guys who tied for 43rd in Palmer's tourney received only $23,400.
A 43rd-place finish in the PGA event was worth less than half of 1 percent of the total purse. But finishing 43rd in Fontana was worth triple the amount of money by comparison.
And one other thing: The golfers who placed 43rd at Orlando had to finish the entire event.
This better explains why NASCAR has start-and-park competitors. Too much money is paid at the bottom of the field and not enough at the top.
The PGA tournament paid 72 golfers out of its $6 million purse, but the bottom half of the field received only $234,000, about 4 percent. The bottom 21 spots of the Cup race at Fontana received about $1.8 million or 31 percent of the purse.
And I won't even try to explain the fact Denny Hamlin, who finished 39th, earned $123,880, while Dale Earnhardt Jr., who finished 12th, received $101,325. It's about contingency awards and bonuses, but that doesn't happen in golf. The person who finishes ahead of you will earn more money, as it should be.
In the Palmer event, the winner received 46 times as much money as the golfers who tied for 43rd.
Going by points, Harvick's advantage over McDowell was almost the same. Harvick received 47 times as many points as McDowell (47 points to 1 point), but only 4.4 times as much money.
Shouldn't the purse distribution be more in line with the championship points earned?
One thing drivers often say is that giving more points or paying more money to the winner won't make them race any harder. Everyone is racing as hard as he can (except start-and-parkers, of course) to try to win.
Isn't the same thing true in the PGA? Every golfer is trying his best to win, but the person who does win earns a much larger reward.
Granted, it costs more for a race team to show up and compete (we'll use that term loosely for start-and-parkers) than it does a pro golfer to compete in a PGA event.
But NASCAR still should give a bigger financial reward to the driver and team that wins the race, and far less of a financial incentive for the team that finishes last.
August, 25, 2010
08/25/10
1:52
PM ET
As far as the bookmakers in Las Vegas are concerned, Jimmie Johnson remains the man to beat for the Sprint Cup.
Johnson's recent woes on the track haven't dropped him from the top of the betting line in Vegas.
Johnson is ninth in the points standings. He has fallen seven spots after posting finishes of 22nd or worse in five of the last seven races.
But the summer slump hasn't stopped bookmakers from placing Johnson as the favorite to win his fifth consecutive title.
Heading into the open weekend, two races before the start of the Chase, Johnson is listed at 7-to-2 at the Las Vegas Hilton. Kevin Harvick is second at 9-to-2.
[+] Enlarge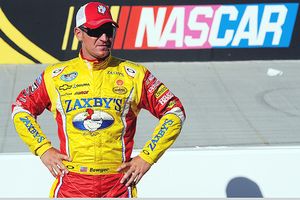 John Harrelson/Getty Images for NASCARClint Bowyer is the least-favored driver in the top 12 by Las Vegas oddmakers, but 20-to-1 isn't too bad.
Why is Johnson favored, you ask? Two reasons. First, Johnson's won four in a row. That alone is a darn good reason to keep him on top.
But there's also a statistical reason. If the Chase started today, Johnson would begin the playoff on top, tied with Denny Hamlin. Both drivers have a series-best five victories. Hamlin is 5-to-1 on the betting line.
Harvick and Kyle Busch, each with three victories, would start the playoff 20 points back. Busch is listed at 5-to-1 with Hamlin.
Jeff Gordon, winless this season but second in the points standings, is next on the betting list at 7-to-1. Rounding out the top six is winless Tony Stewart at 10-to-1.
Kurt Busch, who has two wins and will be the only Dodge driver in the Chase, is 12-to-1.
Greg Biffle, the only other Chase contender with a victory this season, is listed at 15-to-1. Roush Fenway Racing teammate Carl Edwards is slightly better at 12-to-1, and RFR driver Matt Kenseth is 18-to-1.
Jeff Burton, Harvick's teammate at Richard Childress Racing, is also 18-to-1. RCR driver Clint Bowyer, who is hoping to hold on to a 100-point advantage in the 12th-place bubble spot, is the long shot of the Chase boys at 20-to-1.
But 20-to-1 isn't much of a long shot. What it means, at least in the eyes of the bookies, is the 2010 Chase is wide open.
Johnson remains the favorite for now, but not by much. If the Vegas oddsmakers are right, this is going to be a fun Chase to watch.
June, 12, 2010
06/12/10
4:35
PM ET
BROOKLYN, Mich. -- Kevin Harvick has bigger things to worry about this weekend than Tom Logano. Like trying to figure out why a Richard Childress Racing car hasn't gone to Victory Lane at Michigan in 20 years.
The last time an RCR Chevrolet took the checkered flag on the 2-mile Michigan oval was in 1990, when Dale Earnhardt was on his way to his fourth Cup championship.
Harvick, who leads the standings, could be on his way to his first Cup title. Maybe breaking a long RCR slump at Michigan would be a good omen.
But Harvick will need to go from the back to the front to do it Sunday. He starts 31st after a poor qualifying effort.
"We didn't have as much speed in qualifying trim, but our race-trim speed was good, so that's all that matters,'' Harvick said. "I'm happy with the way my car feels. It feels good every week lately, so it's been the same way."
But something about this type track -- a wide racing surface with minimal banking -- hasn't brought out the best in the RCR drivers. Childress cars also are winless at Auto Club Speedway, the Fontana, Calif., track that is almost identical to Michigan.
The RCR trio, including Jeff Burton and Clint Bowyer, are much improved this season, with all three drivers ranking in the top 12. But winning races remains elusive.
Harvick has the team's only victory this season with his win at Talladega, which was his first victory since the 2007 Daytona 500. The last time Harvick won a non-restrictor-plate race was at Phoenix in November 2006.
RCR's last win outside the two restrictor-plate tracks was October 2008 when Burton won at Charlotte. Burton ranks eighth in the 2010 standings, but he's one of seven drivers inside the top 12 this season who doesn't have a victory.
Burton starts fifth Sunday, but he admits Michigan has the RCR boys stumped.
"This is a track where we've struggled the last few years and haven't performed the way we've wanted to," Burton said Friday. "It's a big challenge for us to try and run well and be competitive here.
"For whatever reason, it's one of our weaker tracks, which is kind of surprising to me. We're looking to come in and step that up and run the way we've been running everywhere else, and I feel like we can."
Bowyer also is confident, but his last Cup victory was more than two years ago at Richmond in 2008.
"We've had some bumps in the road," Bowyer said. "But I had a good feeling we could get back because of the speed in our race cars. We're slowly but surely getting back where we've needed to be. I feel like we're going to have another good run."
The RCR guys shouldn't feel too bad about their winless streak at Michigan. Jimmie Johnson is 0-for-16 racing in the Irish Hills.
But Johnson led the most laps at both Michigan races last year before running out of gas in both events.
"Hopefully we won't do that again," Johnson said Friday. "I think we're close, very close. But as a driver, I know I don't get good fuel mileage. It's just my style and the way I use the throttle to turn the car."
All three of Johnson's Hendrick Motorsports teammates -- Mark Martin, Jeff Gordon and Dale Earnhardt Jr. -- have won at Michigan.
But RCR's 20-year drought here is the worst in Cup. Even Wood Brothers Racing, who has only three victories in the last 20 years, has a shorter losing streak at Michigan than RCR. Dale Jarrett won a 1991 race here while driving for the Wood Brothers.
Harvick doesn't put much stock in the numbers.
"I think all of the stats from the past are out the window, considering how everything has gone this year," Harvick said. "With the way our cars are running, we can run in the top five on any given weekend. And that's what you have to do to win a race in this series."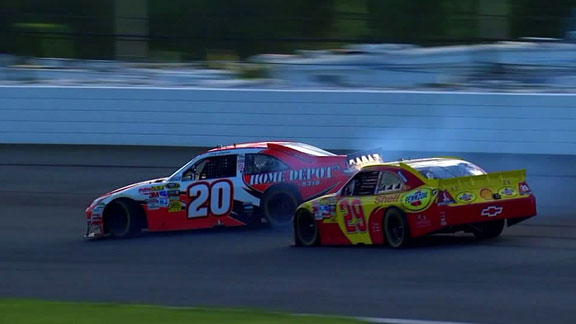 November, 12, 2009
11/12/09
5:09
PM ET
AVONDALE, Ariz. -- Maybe you haven't noticed, but Richard Childress Racing is improving. And Sunday's race could gauge just how far RCR has come.
Everyone at RCR is disappointed about the organization's lackluster results in 2009, no victories this season and failing to place a driver in the Chase for the first time.
But things are looking up. The Dickies 500 at Texas Motor Speedway last weekend was the first time in more than a year that RCR had three drivers finish in the top 10 on the same day.
[+] Enlarge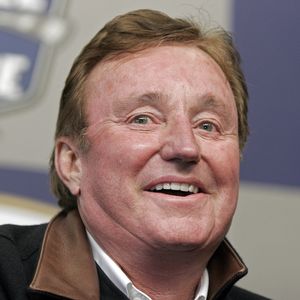 AP Photo/Bob JordanRichard Childress has been scrambling to put his Sprint Cup teams on more competitive footing.
Fuel strategy played a part in how things sorted out at the end, but the Childress boys ran well all day.
Kevin Harvick's fifth-place showing was his best finish in the last two months. Clint Bowyer was seventh, his fourth top-10 in the eight Chase races. And Jeff Burton finished ninth in his backup car after wrecking the primary car in practice two days earlier.
"What a heck of a run by our team," Burton said after the race. "These guys fought hard after we had to load up our primary No. 31 Chevy. Todd [Berrier, crew chief] did a great job dialing in our backup for the race."
The TMS event was the first time RCR had three top-10s in a race since the Dover fall event last year. The cars are more competitive and the guys on the pit box are making smart decisions at key moments.
"Our car was tight all day," Bowyer said after the TMS race. "But Shane [Wilson, crew chief] made a call to short pit for fuel in order to make it to the end. The cards fell in our favor and it was another good result."
The four RCR drivers, including Casey Mears, have posted 11 top-10s in the eight Chase races. At least one RCR driver has finished in the top 10 in each of the last five races.
But this weekend is a big test. RCR was awful at Phoenix in April. Burton was the only RCR drivers to finish on the lead lap, and he was 15th. Mears ended up 20th, Bowyer was 26th and Harvick was 30th.
"Yeah, that's when we knew we needed to start doing some work on our cars," Harvick said earlier this week. "What made it really evident was that we actually ran 30th.
"It wasn't like something happened to put us back there, like contact with another car or brushing the wall. Then I could see us running back there."
It was only the eighth race of the season, but Harvick and everyone else at RCR knew they had serious problems, and those problems weren't solvable overnight.
A week later, Childress announced that Harvick and Mears were swapping crews. It was the first of many changes that have transpired this season for the RCR teams.
Harvick says he's leaving after his contract expires next year. RCR may go back to three cars next season because Jack Daniel's is leaving as the sponsor of the No. 07 Chevy, so Mears probably is out of a ride.
But the last few weeks have been encouraging for the RCR folks. The results have improved dramatically and all signs point to a possible resurgence in 2010.
June, 19, 2009
06/19/09
5:15
PM ET
SONOMA, Calif. -- What's wrong with
Richard Childress
Racing?
It's a question I get on every chat, and in e-mails I receive almost daily. Fans want to know what the heck is going on at RCR.
Of course, if the RCR folks knew the answer to that question, they would fix it. But Jeff Burton gave some detailed insight about the problem Friday.
"The brunt of it is we didn't do a good job this past winter," Burton said. "We didn't prepare well, and now we're behind. We all have different problems, but fundamentally, you look at the speed chart on most Fridays and we're not in the top 10."
Burton said it isn't a horsepower issue.
"On the engine side, we're making enough power," he said. "But we don't go through the corner as well as the competition because we have less handling. That's the problem."
The first step in correcting a problem is understanding what the problem is. So can RCR get it corrected soon?
"There is no magic wand to wave to make it all better," Burton said. "But we are not in panic mode. It's important in this situation not to panic by trying to play Pin the Tail on the Donkey. Everyone is working hard to get better. You just immediately get on it and address it."
Burton is the only RCR driver in the top 12 (barely) entering the Toyota/SaveMart 350 this weekend. Burton is 12th, only three points ahead of David Reutimann.
Clint Bowyer ranks 16th, and Casey Mears is 21st. But the real shocker is Kevin Harvick in 23rd.
"Kevin is concerned, the same as we all are about where we're at," Burton said. "But Kevin has handled it in a positive manner. Everybody is on pins and needles. Our sponsors know we should be better, and Richard knows we should be better. It's been disappointing."
All three drivers who were at RCR last year are worse off than they were one year ago. Burton ranked second in the standings last June. Harvick was 10th, Bowyer 12th.
Whatever handling issues RCR has had on the ovals this season, it might be a non-factor this weekend on the Sonoma road course. Bowyer finished fourth here last year. Harvick was second in 2007, one spot ahead of Burton.
"It's a little bit of a stressful weekend because it's so easy to make a mistake here," Burton said. "You have a bunch of different agendas out there. Some people here race only a couple of times a year, so they have nothing to lose.
"For us, you have to measure the risk. My strategy is to survive it."
Come to think of it, that's the overall strategy at RCR for the moment.