Category archive:

Jimmie Johnson
July, 18, 2013
07/18/13
1:30
PM ET
Take a deep breath. This weekend is the last time Sprint Cup goes "raceless" until the end of the season in November -- 17 consecutive weeks of action, starting with the Brickyard 400 on July 28.
Here's a list of six things to watch for (and in some cases, hope for) in the four-month stretch from midsummer to the final weekend of racing at Homestead-Miami Speedway:
[+] Enlarge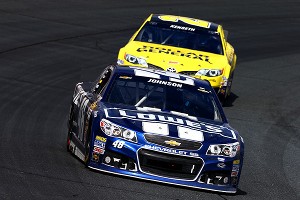 Jonathan Ferrey/Getty ImagesJimmie Johnson's biggest obstacle to a sixth Sprint Cup championship could be Matt Kenseth.
1. Johnson and Kenseth slugging it out for the title -- Other drivers can get in the fight before it's done, but this is shaping up as a classic championship battle between the two guys who have dominated things this season.
Each man has four victories. Jimmie Johnson wants that sixth Cup title. Matt Kenseth wants his second crown, but his first at Joe Gibbs Racing and his first in the Chase format.
And all you Chase haters should be thankful Cup has a playoff. Johnson is 120 points ahead of Kenseth in the season standings. Any realistic chance of some championship drama between them would be lost without the Chase.
2. Back to the future on dirt -- The show so many NASCAR fans have been waiting to see is only a few days away: the Camping World Truck Series race on the dirt track at Eldora (Rossburg, Ohio) on July 24.
No one really knows what will happen, but almost everyone with the slightest interest in NASCAR wants to watch and find out. As Brad Keselowski said: "It's either the smartest things we've ever done or the dumbest."
I'm guessing the former, going back to NASCAR's roots on a dirt short track in the boonies. It's probably the most anticipated race of the season. If it's a success, maybe there's a place in NASCAR's future for dirt tracks once again on a limited basis.
But don't expect the Cup series to start adding dirt tracks to the schedule. The dirt days are long gone for the big boys.
3. The boiling Chase bubble -- Throw about 10 guys in a hat, shake it up and see what you get. This race to the Chase is up grabs like never before.
Only 42 points (fewer than a driver can make up in one race) separate ninth-place Brad Keselowski from 20th place Joey Logano. Kasey Kahne in 10th is only 25 points in front of Jeff Burton in 17th.
Kahne has the advantage of one victory, which might earn him a wild-card spot if he falls below 10th. Right now, Martin Truex Jr. in 12th and Tony Stewart in 13th hold down the two wild-card berths with one victory each, but several drivers could change their playoff fate by winning in the last seven races before the Chase.
So you have the points battle of trying to finish in the top 10 and earn a guaranteed spot, along with the wild-card spots that likely will change a couple of times over the next two months based on who wins or who doesn't.
4. Watching to see where Newman, Busch, Vickers and Dinger end up -- Silly Season speculation will get crazier by the week with the future of several quality drivers still unknown.
Ryan Newman is officially out at Stewart-Haas Racing, Kurt Busch is weighing his options, Brian Vickers raised his stock with his victory at New Hampshire and AJ Allmendinger is the comeback story of the season.
The question isn't so much "Where will they go?" as it is "Where can they go?" Quality options are limited, and as always, any spot depends on sponsorship.
Austin Dillon probably will move up to Cup (likely in the No. 3) to replace Kevin Harvick at Richard Childress Racing. But Richard Childress, and Jack Roush, could add a fourth car if the money is there for the driver they want. Maybe Newman is that guy.
Or maybe Newman could drive for Kyle Busch's Truck team next year. Just kidding.
Roger Penske could add a third car and Allmendinger might get a full-time ride there, or possibly the spot at JTG/Daugherty Racing in the No. 47 Toyota. Maybe Sam Hornish Jr. gets another shot in Cup with Penske.
Vickers appears to be a lock now for the No. 55 Toyota at Michael Waltrip Racing, but most of these unknowns will become clear over the second half of the season.
[+] Enlarge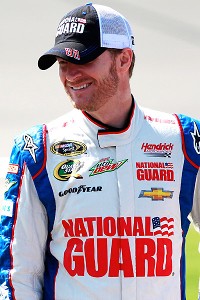 Geoff Burke/Getty ImagesWill Dale Earnhardt Jr. reach Victory Lane in 2013? Stay tuned.
5. Will Dale Jr. win this season? -- Frankly, I'm tired of asking this question, but Junior Nation wants to know. Anyone who runs in the top 10 as often as Dale Earnhardt Jr. has this season could win a race. And his best track -- Michigan -- is coming up next month.
Whether or not he wins in 2013, Earnhardt probably will make the Chase. Is he a contender to win the Chase? Probably not.
The fact that Earnhardt is ahead of Kenseth in the standings shows the points system still needs some tweaking. Kenseth and Earnhardt each have four top-5s and 10 top-10s. Kenseth has a 4-0 advantage in wins, but Earnhardt is fifth with 578 points and Kenseth is sixth with 576 points.
It won't matter come Chase time (drivers are seeded by wins), but it's still wrong.
6. Nationwide could have a winless champion -- With Kyle Busch and other Cup stars dominating Victory Lane again in the Nationwide Series, it's possible that the eventual 2013 champ could be winless.
Six of the top eight drivers in the standings haven't won this season. The top two (Regan Smith and Hornish) have a victory, but Austin Dillon is only 12 points back in third, Justin Allgaier is 20 back in fourth and Elliott Sadler is 24 back in fifth. All three are serious title contenders without a win.
I almost hope this does happen in order to force NASCAR to do something about Cup stars taking all the glory -- and most of the purse money -- in Nationwide.
June, 27, 2013
06/27/13
4:57
PM ET
SPARTA, Ky. -- Churchill Downs might be a little dirtier, and it's ancient compared to Bluegrass State neighbor Kentucky Speedway. But the 1.5-mile oval is downright gnarly compared to most racetracks in NASCAR.
And that's just how most drivers like it. Good drivers tend to want rough and bumpy rather than smooth and untarnished for a racing surface.
"This track really suits me," said Brad Keselowski, who won this race one year ago. "When it's rough, I tend to do better."
The bumpier the track, the less grip it has and the more it brings driver skill into play. Kentucky Speedway is as rough as they come.
"I love how much character that racetrack has," Jimmie Johnson said. "It's so rough. The groove moves around, and you really are just trying to dodge the big swells and bumps to find grip for your race car.
"It's a track I didn't have a lot of success at in the Nationwide Series, or even going there to test before my Cup career really started. We tested there a lot, and I crashed all the time. When the racetrack was back on the [Cup] schedule, I got pretty nervous about things, but I've had a couple of good runs."
Kentucky is one of only four oval tracks where Johnson has yet to win. Of course, this is only his third chance at Kentucky. He was sixth last year and third in the inaugural Kentucky Cup race.
[+] Enlarge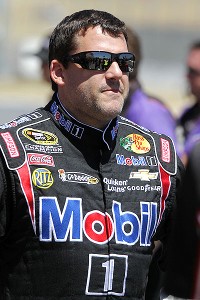 Jerry Markland/Getty ImagesTony Stewart said he's still trying to figure Kentucky Speedway out.
Tony Stewart considers Kentucky one of his two home tracks, along with Indianapolis. Kentucky Speedway is only 65 miles from his hometown of Columbus, Ind. But he failed to post a top-10 finish in the first two Kentucky races.
"We're still figuring it out," Stewart said. "It's got a lot of bumps, so that makes it very challenging. Trying to figure out exactly where to be, where to try to get around some of the bumps, how to get through them better, how to get the car to go through them better -- those are challenges that kind of make it fun, because it's not easy to get around."
All three NASCAR series are racing here this weekend, so the added rubber on the asphalt will supplement the racing groove if wet conditions don't wash it away.
"This track creates a lot of side-by-side racing," Greg Biffle said. "It's flatter than most 1.5-mile ovals and has sweeping corners."
So drivers who consider themselves "wheel men" tend to be the ones who race up front on a track like Kentucky. One of those is Kyle Busch, who won the first Kentucky Cup race in 2011.
Busch and Keselowski are running all three races this weekend because they consider additional track time more important here than at any other track.
"The biggest thing with the extra track time is figuring out the bumps," Kyle said. "It helps if you need your guys to give you a better setup to get through some of those bumps."
Martin Truex Jr., coming off his first victory in six years with his win last weekend at Sonoma, thinks he has a legitimate shot to make it two in a row.
While a road-course win means little on this track, Truex has been at his best this season on the 1.5-mile ovals. He has posted top-10s at all four 1.5-mile oval races this season, including second at Texas, where he led 142 laps.
"But this track is so different," said Truex, who finished eighth at Kentucky last year. "Even though it's a mile and a half, it's unique with the layout and the way it arcs into the corners, but the bumps are the big thing.
"It's just gotten super rough. I guess it's always been rough. They fixed it a few times, and it keeps going back. You have to find ways through the bumps and find ways around them. And that makes it fun to drive."
March, 13, 2013
03/13/13
5:56
PM ET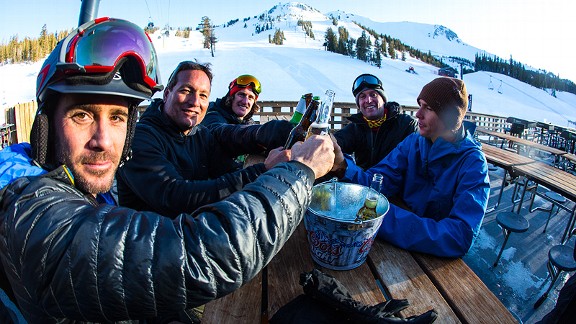 Peter Morning/Mammoth MountainJimmie Johnson and the gang share some drinks on the Main Lodge Sundeck at Mammoth Mountain.
LAS VEGAS -- Radical, man.
That about sums it up for Jimmie Johnson and four extreme athletes who managed to do more sports craziness in one day than most people will do in a lifetime.
This wasn't your typical Monday at the office. In fact, it probably was an unofficial record for trichotomous physical activity over the course of nine hours.
Johnson and his posse of champions -- snowboarder Eddie Wall, ski racer Chris Benchetler, surfer Ian Walsh and standup paddler Dave Kalama -- tackled some of California's epic venues from dawn to dusk last week.
It started with surfing in Huntington Beach -- known as Surf City, USA. Next up was 200-mph action at Auto Club Speedway in Fontana. And the daredevils closed it out with skiing and snowboarding on Mammoth Mountain. Their mode of transportation between venues: Johnson's private plane.
"I met some great athletes," Johnson said. "Only in my home state can you do all three of those cool things in one day. I'm proud of that."
Johnson held his own on the two disciplines that aren't his specialty. Let's start with surfing, which Johnson admits isn't his best sport.
"I was most nervous about the surfing," Johnson said. "There are no guarantees of catching a wave and I didn't want to lay a big goose egg there. I don't think the other guys felt I could catch a wave and ride it, but I did. It wasn't the prettiest thing."
Maybe not, but he got in the swing of things without much trouble.
"I was a little rusty," Johnson said. "It took me two or three tries to catch a wave and remember the right angle so you can ride it. I had three or four good rides.
"The hardest part is you ride the wave in, and then you have to paddle out through all that stuff again. That's tough. We were in the water for an hour and a half. At the end, my arms felt like they were going to fall off."
Johnson just was happy to get through the first phase without an injury.
"The way the waves were breaking would take you right up by the pier," Johnson said. "I was a little nervous I'd get caught in the pillars.
"And I fell off a couple of times in the water. You always wonder where the board is when you fall. It's hooked to your foot, so you know it's going to come back after you."
After holding his own in the surf, Johnson got his chance to shine on the 2-mile oval at Fontana, a track where he has five Sprint Cup victories.
"It was fun to see how excited those guys were to drive a race car," Johnson said. "They were so thrilled to ride around and make laps on their own."
A couple of guys also did their Brad Keselowski impression by tweeting a little in the car.
"If you're not first, you're last. Racing NASCAR with Jimmie Johnson," Benchetler tweeted.
Walsh was fired up in his tweet: "Funnest thing ever. No. 1 hands down."
For the final venue, everyone hopped back on Johnson's plane and flew to Mammoth Mountain (about 165 miles south of Reno) to take on the slopes.
"I feel like I'm a far better skier than a surfer," Johnson said. "So the day went from really nervous, completely comfortable, then pretty comfortable again."
Johnson is no novice on a pair of skis.
"I started going with a good friend of mine from school whose dad was into [snow] skiing," Johnson said. "We went to Big Bear Mountain, a couple of hours away from my parents' house [in El Cajon]. I learned to ski there. I loved it and skied a lot from my mid-teens on."
And Johnson is no stranger to snowboarding, either.
"My wife [Channi] is into snowboarding, so I switched to snowboarding,'' he said. "But I was on skis for this thing.
"We went through some gates and they timed us, which was fun. We did some small little jumps, too, but those guys just fly. It was fun just zipping down the mountain with them."
Fellow NASCAR racer Brendan Gaughan was a little jealous.
"Sure, won't ski with me anymore," Gaughan tweeted to Jimmie. "I see where I rate."
All in all, it was quite a day for everyone involved.
"A Monday I'll remember for a long time,'' Walsh tweeted after a rare tripleheader of sports fun.
February, 22, 2013
02/22/13
4:20
PM ET
DAYTONA BEACH, Fla. -- You want to know why Danica Patrick matters?
Listen to these stories:
Carl Edwards' daughter, Anne, turns 3 next week.
"Carl brought her over [to Patrick's motor coach] to meet me this week," Patrick said Friday. "I've known since last year that she's a huge fan of mine. Carl said he wanted her to meet me in person because she sees me as some mythical person who doesn't exist."
Anne was wearing green Go Daddy (Patrick's sponsor) shoes when she met Danica.
"A little later, Jimmie Johnson brought his daughter [2-year-old Genevieve] to meet me," Patrick said. "That's very flattering."
Jeff Gordon's daughter, 5-year-old Ella, told her dad she wanted a picture with Patrick in Victory Lane after Patrick won the pole for the Daytona 500. Gordon starts on the front row with Patrick.
Patrick also said she was working out at a gym recently when a man asked her to watch a short video.
"It was his two daughters," she said. "They were young, maybe 2 and 4. Their dad showed them a magazine cover with me on it. He asked them, 'Who is that?' They both said my name. The guy told me, 'I have no idea how they know who you are.' Something about this is impacting kids."
And that's why Danica matters.
The debate about how good a race car driver she is misses the point. Patrick matters because she inspires young girls to reach for the stars and do something most people see only men doing. And she brings people to auto racing who wouldn't have an interest without her presence.
"I have handed out more lug nuts to little girls this week than anyone else," said Tony Gibson, Patrick's crew chief on the No. 10 Chevy. "It's great to see all the little girls in Go Daddy hats and shirts."
The Daytona Cup garage has windows where fans can see the cars and crews. The windows also have a slot where fans can pass a piece of paper and pen to drivers for autographs. And the crews can pass things back, such as lug nuts.
"I take a Sharpie and write '10' on the lug nuts I give to them," Gibson said. "Kids are writing on our window. Seeing all this is really cool for our sport."
And that's why Danica matters.
February, 20, 2013
02/20/13
3:20
PM ET
DAYTONA BEACH, Fla. -- Before NASCAR kicks off 2013 with the Daytona 500, here are a few interesting statistics that might surprise you:
Bad news for bad Brad: If Brad Keselowski wins the Daytona 500 on Sunday, he'll be the first defending Cup champion in 13 years to accomplish the feat. The last man to do it was Dale Jarrett in 2000, three months after winning the 1999 title.
Bad news for popular Danica: It's also been over a decade since the Daytona 500 pole winner went on to win the race. That also was Jarrett in 2000. Does DJ know something everyone else doesn't?
Menard is No. 1: Yes he is, as far as laps completed. Paul Menard was winless last season and finished 16th in the standings with only one top-5, but he completed more laps than any other driver -- 10,406, or 13,676.386 miles.
Obviously, Menard was on the track a lot. He had only one DNF. No wonder my eyes hurt after seeing that neon yellow Chevy lap after lap.
JJ led almost everything in 2012: Except the one category that counted the most: Winning the championship. But Jimmie Johnson and the No. 48 Chevy team should feel good about their 2013 chances when they look at the stat book.
Five-Time was No. 1 in laps led (1,744), times led (78), races led (26), top-5s (18), top-10s (24) and driver rating (109.5). He also tied for the top spot in victories (5) and poles (4).
So how in the world did Johnson not win the title? He had six DNFs, the most of any driver in the top 20 in the standings.
Expect a close finish Sunday: Restrictor-plate races usually end one of two ways -- a side-by-side finish for the victory or a big wreck that brings out a caution.
Last year's Daytona 500 had the closest finish of the season when Matt Kenseth edged Dale Earnhardt Jr. by .21 of a second. The Talladega spring race was won by Keselowski by .304 of a second over Kyle Busch.
The other two plate races ended under caution because of last-lap crashes.
All that could change this year with the introduction of the "Gen 6" to the series, but expect some craziness at the end to continue.
By the way, 17 of 36 races last year ended with a margin of victory that was less than a second. Nine of those were less than half a second.
The low man on the points stand: That would be Landon Cassill in 2012, a category no one wants to lead in 2013, but someone will. Cassill had the fewest points of 26 drivers who started all 36 Cup events.
He also had fewer points than five drivers who didn't start all 36 events -- Earnhardt, Mark Martin, Regan Smith, Travis Kvapil and Kurt Busch.
Start-and-park perfection: The trophy went to Scott Riggs in 2012. Riggs started 20 events last season. How many did he finish? Zero. He completed 8.2 percent of the laps and made $1.5 million. Nice work if you can get it.
The S&Pers will make a little less this season since NASCAR adjusted the purse money to pay less for the bottom feeders, but it's still good money for running a few laps.
January, 8, 2013
01/08/13
1:47
PM ET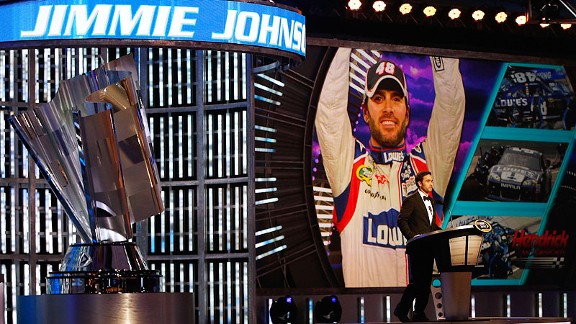 Tom Pennington/Getty ImagesOne Vegas bookmaker has Jimmie Johnson as a 4-1 favorite to win the 2013 Sprint Cup championship.
A well-known online bookmaker has spoken, and Jimmie Johnson is the 2013 favorite to win the Sprint Cup. In the betting game, it's not even close.
Johnson is listed at 4-1 by Bovada (@BovadaLV). Next comes a three-way tie for No. 2 with defending champ Brad Keselowski, Denny Hamlin and Kyle Busch all at 17-2.
Even though Busch failed to make the 2012 Chase, he is viewed as the second-most likely driver to win the 2013 title.
But Johnson is the runaway favorite. Bovada sees JJ as twice as likely to win a sixth championship in 2013 as they do Keselowski winning two in a row or Hamlin or Busch winning a first title.
Fourth on the list is Kasey Kahne at 9-1, followed by three former champions at 12-1 -- Jeff Gordon, Matt Kenseth and Tony Stewart, the 2011 champ.
Carl Edwards, the 2011 runner-up when he tied Stewart for the points total but had fewer wins, gets a decent betting line despite finishing 15th last season and going winless. He's 14-1 along with Dale Earnhardt Jr., Clint Bowyer and Greg Biffle.
Bovada sees Edwards and Dale Jr. just as likely to win the crown this year as Bowyer, who finished second last season.
Martin Truex Jr. is 16-1, and Kevin Harvick has the longest odds among the 2012 Chase drivers at 20-1, probably because he's a lame-duck driver at Richard Childress Racing. Harvick moves to Stewart-Haas Racing in 2014.
If you want to pick a real long shot, Ryan Newman is listed at 50-1 along with Juan Pablo Montoya. Jamie McMurray, Montoya's teammate at Earnhardt Ganassi Racing, is substantially better at 33-1.
If you like Joey Logano's chances in his first year at Penske Racing, you can get him at 40-1.
But Johnson remains the star for this bookmaker. He finished third last season, falling one spot in the final race when he failed to finish due to mechanical problems.
JJ was the 7-2 favorite in November at the Las Vegas Wynn, so bookmakers still love him. Whom are you betting on?
September, 13, 2012
09/13/12
3:39
PM ET
I don't know about us reading palms or being psychic, but when it comes to predicting the Chase participants, the ESPN.com boys did OK. You can even check it out on the chart at the bottom.
Getting it right on 10 out of 12 isn't so bad. Maybe we're not so dumb after all.
Our overall preseason predictions on the drivers who would make the playoff were 83.3 percent correct. We missed on Carl Edwards (who didn't?) and Kyle Busch.
The guys we didn't predict overall were Clint Bowyer and Martin Truex Jr. Clearly, we underestimated the improvement at Michael Waltrip Racing.
Marty Smith and David Newton outsmarted the rest of us on that one. They picked Bowyer to make the playoff, but he didn't total enough points to make our overall top 12. None of us picked Truex.
AJ Allmendinger was selected as a Chase-qualifier by Ed Hinton and Ryan McGee. Obviously, there were sad circumstances on that one, but he didn't appear headed to a playoff spot before the drug-test downfall.
Newt thought Joey Logano would make the Chase, and he was one victory from being right.
But overall, the seven of us -- K. Lee Davis, Joe Breeze, Smith, Newton, Hinton, McGee and me -- did pretty well.
It remains to be seen whether we get it right on our overall preseason choice as the Sprint Cup champion, Jimmie Johnson. Four of us picked him to win his sixth title: Davis, Breeze, Newton and yours truly. Marty and Easy Ed picked him second. McGee listed JJ third.
Ed selected Brad Keselowski as the 2012 champ, Marty picked Matt Kenseth and McGee chose Kevin Harvick. So we're all still in the running to get it right from our preseason choice.
Surprisingly, none of us picked Edwards to win the championship even though all of us thought he would make the Chase. Maybe we believed in that runner-up jinx stuff.
However, I changed my mind on the champ in my Chase predictions Sunday, listing Denny Hamlin as my selection now to win the title.
K. Lee and Joe are sticking with Johnson to win it all. Ed is staying with Keselowski. Marty is confident Kenseth's lame-duck status won't hurt him a bit, so he's hanging with Matt as the champ.
McGee thinks it's a two-man battle between Hamlin and JJ, but he went with Johnson. And Newt is convinced Gordon has what it takes after watching Jeff's amazing drive through the pack Saturday night to get in the playoff.
That means there's a 41.7 percent chance at least one of us is right. We've picked five different drivers between the seven of us -- three for Johnson and one each for Hamlin, Kenseth, Keselowski and Gordon.
We'll revisit this after Homestead and see if any of us got it right. Bonus points if the guys who stuck with their preseason pick end up with the champ.
Not every driver who received a vote made the top-12 cut. Here are the other drivers who received at least one nod.
March, 22, 2012
03/22/12
3:05
PM ET
FONTANA, Calif. -- A few interesting things that might happen this weekend at Auto Club Speedway:
First awkward moment: When the No. 48 Chevy rolls into the inspection area Friday morning -- sort of like taking your free-pass gold card into the forbidden zone.
No C-post jokes allowed. No high-fiving by 48 crew guys in front of the inspectors. And no team shirts that read: John Middlebrook For President.
Bad crowd comparisons: A half-full Bristol Motor Speedway this past weekend still is more people than you probably will see at Fontana on Sunday, but empty seats at ACS won't be headline news because it isn't unusual.
Nevertheless, some people will say NASCAR should stop racing at Fontana because it can't sell out one Cup event a year. Not going to happen.
NASCAR races at ACS because it's in the second-largest market in the country. It's good for sponsors and driver appearances to spend a few days in SoCal. No one will admit it, but the number of people who actually attend the event is a secondary consideration.
A Danica improvement: Danica Patrick should be better than the first two times she raced at ACS, which isn't saying much. She finished 31st, three laps down, in her first Nationwide race at Fontana in February 2010. Patrick finished 30th after a crash later that year at ACS, but she was running 14th before the accident late in the race. She needs a top-10, something she hasn't done yet this season.
A fifth consecutive Nationwide race without a Cup winner: A seemingly impossible thought before the season started, but it could happen. Only three Cup regulars are on the entry list at Fontana -- Brad Keselowski, Joey Logano and Kyle Busch.
Granted, one of those three easily could win. Busch won it last year at ACS, but he was in Joe Gibbs Racing equipment then. Kyle's in his own car now, and that hasn't looked so hot.
The cream to rise to the top Sunday: The past nine winners (and 11 of the past 12) were drivers who made the 2011 Chase. And the past nine winners also were guys who finished in the top six last season. Cup champions have won fourteen of 22 Cup races at Fontana.
Bad luck for the Lap 1 leader: Note to pole winner: You may want to back off on that first lap. Here's the weird stat of the week. No driver has ever won the ACS Cup race if he led the first lap of the event.
Bad luck for Joe Gibbs Racing: Fontana is the only track where JGR is winless in Cup. What makes that seem so crazy is the fact that a JGR driver has won the past seven Nationwide races at ACS.
Rick Hendrick gets that elusive 200th victory: The Hendrick Motorsports quartet has gone 10 consecutive Cup races (dating back to last season) without a win. But Hendrick's drivers have won nine of 22 races at ACS, including four of the past eight by Jimmie Johnson.
Second awkward moment: Postrace inspection if Johnson wins it. Under that scenario, crew chief Chad Knaus may want to take a restroom break before heading over to the room of doom. That inspection might take awhile.
July, 15, 2011
07/15/11
2:29
PM ET
LOUDON, N.H. -- I have one quick message for Seattle Seahawks receiver Golden Tate:
If you want a doughnut so much that you sneak into a doughnut shop in the middle of the night after it's closed, you might want to skip questioning Jimmie Johnson's athleticism.
Back to that later, but Tate stirred up a firestorm Thursday when he tweeted comments saying race car drivers are not athletes.
He felt Johnson didn't belong as a nominee in the ESPY category for Best Male Athlete of the Year, which was won by Dallas Mavericks forward Dirk Nowitzki.
"Jimmy Johnson up for best athlete????," Tate tweeted under his Twitter name, Showtime Tate "Um nooo .. Driving a car does not show athleticism."
First, Golden, be glad they don't have an ESPY for spelling. It's Jimmie, not Jimmy.
Johnson handled the situation with his usual class when asked about Tate on Friday at New Hampshire Motor Speedway, saying he didn't know who Tate was until Thursday.
"But I'd like to show him around and see if we can show him what our sport is about and change his mind," Johnson said. "There might be other athletes out there who think the same and they're all welcome to come out. We'd all love to host them and show them around.
"I have no hard feelings. Everybody has an opinion. I don't like it when people express their opinion without knowing. So if he comes out and has a different opinion if he attends a race, that's fine"
NASCAR's Twitter nation was outraged and lit into Tate on Thursday, but he kept going.
"I've driven a car on unknown roads at night at 90 mph,'' he tweeted. "No big deal. No sign of athleticism. Guarantee [Johnson] couldn't in million year play any SPORT."
But Tate, a former Notre Dame star and a second-round pick by the Seahawks last year, is convinced he could drive a race car.
"Give me 6 months of training and I bet I could compete," he tweeted.
I'll take that bet Golden. And by the way, as someone who lives in the Seattle area, you didn't exactly set the world on fire as a Seahawks rookie last year -- 21 catches and no touchdowns.
Hey, doughnuts come first, right Golden?
Last summer, police were called to Top Pot Doughnuts shop in Bellevue, Wash., at 3 a.m. after two men were found entering the store after hours.
It seems Tate and a friend couldn't resist the aroma of freshly baked maple bars. Waiting four hours for the store to open apparently didn't cross their minds.
No word on whether Johnson likes doughnuts, but the man is in pretty good shape.
"I would challenge anyone to compete with Jimmie," said NASCAR driver Carl Edwards, whose washboard stomach was shown on the cover of ESPN The Magazine two years ago. "There are people in this garage who are very good athletes.
Edwards said he found Tate's tweets "hilarious" and added, "Until you've tried [racing], I think it's extremely arrogant to knock it."
But it's the age-old question. Are race car drivers athletes?
"I guess I was impersonating an athlete at the ESPYs," Johnson said, chuckling. "As race car drivers, this is something we have fought all along. It wasn't anything new. I didn't take great offense to it."
Who knows? Maybe one day soon Tate will ask Johnson to share a maple bar. Just be sure the "Open" sign is lit in the window.
We'll see which "athlete" does his job better this year. I'll bet a box of doughnuts on Johnson.
April, 1, 2011
04/01/11
9:58
AM ET
Winning a PGA tournament means a lot more than winning a Sprint Cup race -- monetarily speaking, that is. But it's sure worth a lot more to be bad in Cup than it is in golf.
Allow me to explain. Let's compare the purse from last weekend's Auto Club 400 at Fontana to the purse from the Arnold Palmer Invitational last weekend in Orlando.
The total amount paid is similar -- $5.7 million at Fontana to $6 million at the PGA event. But the way the money is distributed among the competitors is drastically different.
Success brings a much bigger reward for a professional golfer. Martin Laird, who won at Orlando, earned $1.08 million. Kevin Harvick, who won the race at Fontana, received only $331,961.
Laird earned 18 percent of the total purse. Harvick received only 5.8 percent of the purse.
The top 11 finishers in the PGA event earned 52.6 percent of the purse compared to 33.6 percent of the purse for the top 11 finishers at Fontana.
The golfers who tied for 11th at Orlando received $162,000. Greg Biffle, who finished 11th at Fontana, received $108,675. That's not a huge difference, so it proves the winner in Cup is the guy not getting his fair share compared to golf.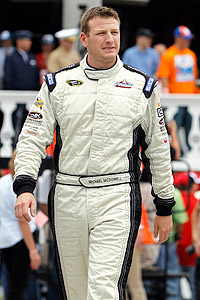 AP Photo/Matt Slocum)Michael McDowell took home a pretty good payday for finishing last at Fontana.
The second-place finisher in a PGA tourney also takes home a much larger check. Orlando runner-up Steve Marino earned $648,000. Jimmie Johnson claimed $240,786 for finishing second to Harvick.
However, a bad day in Cup is a money train compared to a bad tournament for a golfer.
Michael McDowell, who raced all of 32 laps of the 200-lap race at Fontana before calling it a day and finishing 43rd, got a check for $75,769. The guys who tied for 43rd in Palmer's tourney received only $23,400.
A 43rd-place finish in the PGA event was worth less than half of 1 percent of the total purse. But finishing 43rd in Fontana was worth triple the amount of money by comparison.
And one other thing: The golfers who placed 43rd at Orlando had to finish the entire event.
This better explains why NASCAR has start-and-park competitors. Too much money is paid at the bottom of the field and not enough at the top.
The PGA tournament paid 72 golfers out of its $6 million purse, but the bottom half of the field received only $234,000, about 4 percent. The bottom 21 spots of the Cup race at Fontana received about $1.8 million or 31 percent of the purse.
And I won't even try to explain the fact Denny Hamlin, who finished 39th, earned $123,880, while Dale Earnhardt Jr., who finished 12th, received $101,325. It's about contingency awards and bonuses, but that doesn't happen in golf. The person who finishes ahead of you will earn more money, as it should be.
In the Palmer event, the winner received 46 times as much money as the golfers who tied for 43rd.
Going by points, Harvick's advantage over McDowell was almost the same. Harvick received 47 times as many points as McDowell (47 points to 1 point), but only 4.4 times as much money.
Shouldn't the purse distribution be more in line with the championship points earned?
One thing drivers often say is that giving more points or paying more money to the winner won't make them race any harder. Everyone is racing as hard as he can (except start-and-parkers, of course) to try to win.
Isn't the same thing true in the PGA? Every golfer is trying his best to win, but the person who does win earns a much larger reward.
Granted, it costs more for a race team to show up and compete (we'll use that term loosely for start-and-parkers) than it does a pro golfer to compete in a PGA event.
But NASCAR still should give a bigger financial reward to the driver and team that wins the race, and far less of a financial incentive for the team that finishes last.