Category archive:

Brian Vickers
January, 28, 2013
01/28/13
2:07
PM ET
After 12 full seasons as a Sprint Cup driver, Elliott Sadler made the unusual move of leaving Cup in 2011 to become a full-time Nationwide Series driver. He was the title runner-up the past two seasons.
Obviously, it worked out well, but it also made him a bit of a trendsetter.
After five years in Cup, Regan Smith is running full time for JR Motorsports this season in the Nationwide Series. Brian Vickers is back in the series full time for the first time since he won the title in 2003. Sam Hornish Jr. is racing his second consecutive full season in Nationwide after three full years in Cup.
"Maybe I set an example by coming back and competing for a championship," Sadler said during last week's NASCAR media tour in Charlotte, N.C. "Now we're seeing a lot of other guys doing it, like Sam, Regan and my teammate, Brian."
Sadler moved from Richard Childress Racing to Joe Gibbs Racing this season to run one of two full-time Nationwide cars for JGR. Vickers will drive the other one.
Sadler was asked who he thought was his biggest competition for the championship.
"Vickers is, by far," Sadler said.
Sadler didn't know Vickers was standing right behind him when he said it.
"Oh, never mind," Sadler said when he saw Vickers. "Scratch all that."
"Too late," Vickers said.
NASCAR made a rule change two years ago that a driver had to declare in which series he wanted to run for a championship. It was a move that eliminated full-time Cup drivers from winning the Nationwide title, which happened for five consecutive season before the rule was changed.
"When they first changed the rules, no one knew whether it was going to help the series or hurt the series," Sadler said. "But now that it's had time to marinate, it's clearly helped the series.
"It made it healthier. It made the Nationwide people happier to have their own drivers winning the title and their own brand. It's brought different sponsors and more sponsors in. It's a win-win. Everybody in NASCAR has to be happy with it."
November, 1, 2012
11/01/12
4:13
PM ET
While we all contemplate who will win a close championship battle between Jimmie Johnson and Brad Keselowski, let me give a little love to a few non-Chasers.
Topping the list is Kyle Busch. Rowdy has posted five top-10s, including four top-5s, in the seven Chase races.
Give him credit for acting like a pro and showing some class when he probably could have punted Johnson to win in the final laps at Martinsville last weekend.
"He's a five-time champion for a reason," Busch said of Johnson after the race. "I was getting into [Turn] 1 and got to his rear bumper. I didn't want to move him out of the way."
Busch knows Johnson is running for the title. It was not the time or place for the bump and run, and it will pay dividends if the situation is reversed in the future.
Joey Logano is another Chase outsider having a strong run down the stretch. Logano started the Chase with three consecutive top-10s and has four in the seven playoff races. The crazy last lap at Talladega, where he ended up 32nd, caused his only finish worse than 19th.
It bodes well in two ways. First, it's a positive sign for Roger Penske that Logano can get the job done next season when he moves into the No. 22 Ford. Second, it's great news for Matt Kenseth that he is taking over a No. 20 Toyota team at Joe Gibbs Racing that is capable of contending for the title.
Both Logano and Busch have more top-10s in the Chase than JGR teammate Denny Hamlin, who fell out of title contention with a 33rd-place finish at Martinsville. Busch's average finish in the Chase is 11.4, compared to 12.4 for Hamlin.
The car that some people may have overlooked is the one with three drivers -- the No. 55 Toyota at Michael Waltrip Racing. Mark Martin and Brian Vickers have combined for four top-10s in the Chase, but that doesn't tell the whole story.
It appeared Waltrip was headed to victory at Talladega before Tony Stewart tried to block him on the last lap and started the big one at the end.
Martin was third at Dover and sixth at Charlotte. Vickers was ninth at New Hampshire and eighth at Martinsville.
A lot of the credit goes to crew chief Rodney Childers. He has done a remarkable job keeping the car running up front with three drivers, all of whom do things differently and want different setups.
The No. 55 is 14th in owner points this season with 15 top-10s. The same trio will share the driving duties on the 55 next season, but you have to wonder how good that car could be with the same driver at the wheel every week.
February, 7, 2009
02/07/09
4:32
PM ET
Some people believe 2009 will be the breakout year for Brian Vickers, the veteran driver for a Red Bull Racing Team that keeps improving.
But a few people close to Vickers must wonder how different his life would have turned out if he had followed his scholastic abilities.
[+] Enlarge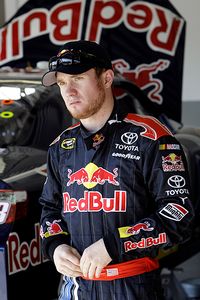 AP Photo/John RaouxBrian Vickers was valedictorian at his high school with a whopping 4.43 grade-point average.
Vickers was the valedictorian of Trinity High School in North Carolina in 2002. He had a 4.43 grade-point average (on a scale of 4.0) despite spending most of his non-class time at a racetrack.
Vickers qualified for the Nationwide event at Lowe's Motors Speedway on a Friday in May, rushed home to attend his high school graduation, and drove back to the speedway to compete in the race Saturday afternoon. He finished 26th that day, but won the series championship the following season.
Vickers also missed his high school prom because he was racing at Bristol that night.
So what would Vickers be doing if he had taken the academic route instead of the racing route? Becoming an astronaut was his first choice.
"That's definitely something I've always been fascinated with," Vickers said Thursday in Daytona Beach, Fla. "It's something I've always wanted to be involved in -- so-called rocket science. I think the perspective of actually going into space is what always intrigued me the most.
"I took engineering classes when they were available in school and always enjoyed engineering. There's something about exploring the unknown, and exploring space, that always intrigued me when I was younger."
Vickers continues to explore the unknown, pushing a four-wheel machine to the limit and making a lot more money than he would have as an astronaut.
"Obviously, people wondered why I decided to drive race cars," Vickers said. "But I had been racing cars for many years, through high school and before, so it wasn't a big surprise."
Vickers remains a bit of a Renaissance man with varied interest, including world travel. He spent part of his offseason in Europe doing charity work for Red Bull.
"I enjoy traveling and experiencing new things and new cultures," he said. "I've traveled a lot over the years and have been very fortunate. I've seen a lot of stuff and met a lot of people. This year I was in Austria and Germany.
"I also like Europe because of its architectural history and the things that have taken place there over time that have a lot to do with history. America has history, but it's measured in hundreds of years, and theirs is in thousands of years."
His favorite place to visit in the States is New York City, but he doesn't just go to see the sights.
"Wherever I go, I want to experience the local culture," Vickers said. "I want to experience what they experience, the way they live their lives and the things they believe in and why they believe in them. It's amazing what the world has to offer if you just go look."