Category archive:

Martin Truex Jr.
June, 27, 2013
06/27/13
4:57
PM ET
SPARTA, Ky. -- Churchill Downs might be a little dirtier, and it's ancient compared to Bluegrass State neighbor Kentucky Speedway. But the 1.5-mile oval is downright gnarly compared to most racetracks in NASCAR.
And that's just how most drivers like it. Good drivers tend to want rough and bumpy rather than smooth and untarnished for a racing surface.
"This track really suits me," said Brad Keselowski, who won this race one year ago. "When it's rough, I tend to do better."
The bumpier the track, the less grip it has and the more it brings driver skill into play. Kentucky Speedway is as rough as they come.
"I love how much character that racetrack has," Jimmie Johnson said. "It's so rough. The groove moves around, and you really are just trying to dodge the big swells and bumps to find grip for your race car.
"It's a track I didn't have a lot of success at in the Nationwide Series, or even going there to test before my Cup career really started. We tested there a lot, and I crashed all the time. When the racetrack was back on the [Cup] schedule, I got pretty nervous about things, but I've had a couple of good runs."
Kentucky is one of only four oval tracks where Johnson has yet to win. Of course, this is only his third chance at Kentucky. He was sixth last year and third in the inaugural Kentucky Cup race.
[+] Enlarge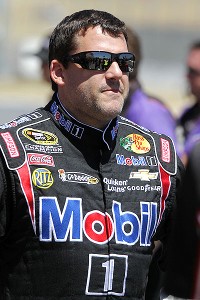 Jerry Markland/Getty ImagesTony Stewart said he's still trying to figure Kentucky Speedway out.
Tony Stewart considers Kentucky one of his two home tracks, along with Indianapolis. Kentucky Speedway is only 65 miles from his hometown of Columbus, Ind. But he failed to post a top-10 finish in the first two Kentucky races.
"We're still figuring it out," Stewart said. "It's got a lot of bumps, so that makes it very challenging. Trying to figure out exactly where to be, where to try to get around some of the bumps, how to get through them better, how to get the car to go through them better -- those are challenges that kind of make it fun, because it's not easy to get around."
All three NASCAR series are racing here this weekend, so the added rubber on the asphalt will supplement the racing groove if wet conditions don't wash it away.
"This track creates a lot of side-by-side racing," Greg Biffle said. "It's flatter than most 1.5-mile ovals and has sweeping corners."
So drivers who consider themselves "wheel men" tend to be the ones who race up front on a track like Kentucky. One of those is Kyle Busch, who won the first Kentucky Cup race in 2011.
Busch and Keselowski are running all three races this weekend because they consider additional track time more important here than at any other track.
"The biggest thing with the extra track time is figuring out the bumps," Kyle said. "It helps if you need your guys to give you a better setup to get through some of those bumps."
Martin Truex Jr., coming off his first victory in six years with his win last weekend at Sonoma, thinks he has a legitimate shot to make it two in a row.
While a road-course win means little on this track, Truex has been at his best this season on the 1.5-mile ovals. He has posted top-10s at all four 1.5-mile oval races this season, including second at Texas, where he led 142 laps.
"But this track is so different," said Truex, who finished eighth at Kentucky last year. "Even though it's a mile and a half, it's unique with the layout and the way it arcs into the corners, but the bumps are the big thing.
"It's just gotten super rough. I guess it's always been rough. They fixed it a few times, and it keeps going back. You have to find ways through the bumps and find ways around them. And that makes it fun to drive."
September, 13, 2012
09/13/12
3:39
PM ET
I don't know about us reading palms or being psychic, but when it comes to predicting the Chase participants, the ESPN.com boys did OK. You can even check it out on the chart at the bottom.
Getting it right on 10 out of 12 isn't so bad. Maybe we're not so dumb after all.
Our overall preseason predictions on the drivers who would make the playoff were 83.3 percent correct. We missed on Carl Edwards (who didn't?) and Kyle Busch.
The guys we didn't predict overall were Clint Bowyer and Martin Truex Jr. Clearly, we underestimated the improvement at Michael Waltrip Racing.
Marty Smith and David Newton outsmarted the rest of us on that one. They picked Bowyer to make the playoff, but he didn't total enough points to make our overall top 12. None of us picked Truex.
AJ Allmendinger was selected as a Chase-qualifier by Ed Hinton and Ryan McGee. Obviously, there were sad circumstances on that one, but he didn't appear headed to a playoff spot before the drug-test downfall.
Newt thought Joey Logano would make the Chase, and he was one victory from being right.
But overall, the seven of us -- K. Lee Davis, Joe Breeze, Smith, Newton, Hinton, McGee and me -- did pretty well.
It remains to be seen whether we get it right on our overall preseason choice as the Sprint Cup champion, Jimmie Johnson. Four of us picked him to win his sixth title: Davis, Breeze, Newton and yours truly. Marty and Easy Ed picked him second. McGee listed JJ third.
Ed selected Brad Keselowski as the 2012 champ, Marty picked Matt Kenseth and McGee chose Kevin Harvick. So we're all still in the running to get it right from our preseason choice.
Surprisingly, none of us picked Edwards to win the championship even though all of us thought he would make the Chase. Maybe we believed in that runner-up jinx stuff.
However, I changed my mind on the champ in my Chase predictions Sunday, listing Denny Hamlin as my selection now to win the title.
K. Lee and Joe are sticking with Johnson to win it all. Ed is staying with Keselowski. Marty is confident Kenseth's lame-duck status won't hurt him a bit, so he's hanging with Matt as the champ.
McGee thinks it's a two-man battle between Hamlin and JJ, but he went with Johnson. And Newt is convinced Gordon has what it takes after watching Jeff's amazing drive through the pack Saturday night to get in the playoff.
That means there's a 41.7 percent chance at least one of us is right. We've picked five different drivers between the seven of us -- three for Johnson and one each for Hamlin, Kenseth, Keselowski and Gordon.
We'll revisit this after Homestead and see if any of us got it right. Bonus points if the guys who stuck with their preseason pick end up with the champ.
Not every driver who received a vote made the top-12 cut. Here are the other drivers who received at least one nod.