Category archive:

Kasey Kahne
September, 13, 2012
09/13/12
3:39
PM ET
I don't know about us reading palms or being psychic, but when it comes to predicting the Chase participants, the ESPN.com boys did OK. You can even check it out on the chart at the bottom.
Getting it right on 10 out of 12 isn't so bad. Maybe we're not so dumb after all.
Our overall preseason predictions on the drivers who would make the playoff were 83.3 percent correct. We missed on Carl Edwards (who didn't?) and Kyle Busch.
The guys we didn't predict overall were Clint Bowyer and Martin Truex Jr. Clearly, we underestimated the improvement at Michael Waltrip Racing.
Marty Smith and David Newton outsmarted the rest of us on that one. They picked Bowyer to make the playoff, but he didn't total enough points to make our overall top 12. None of us picked Truex.
AJ Allmendinger was selected as a Chase-qualifier by Ed Hinton and Ryan McGee. Obviously, there were sad circumstances on that one, but he didn't appear headed to a playoff spot before the drug-test downfall.
Newt thought Joey Logano would make the Chase, and he was one victory from being right.
But overall, the seven of us -- K. Lee Davis, Joe Breeze, Smith, Newton, Hinton, McGee and me -- did pretty well.
It remains to be seen whether we get it right on our overall preseason choice as the Sprint Cup champion, Jimmie Johnson. Four of us picked him to win his sixth title: Davis, Breeze, Newton and yours truly. Marty and Easy Ed picked him second. McGee listed JJ third.
Ed selected Brad Keselowski as the 2012 champ, Marty picked Matt Kenseth and McGee chose Kevin Harvick. So we're all still in the running to get it right from our preseason choice.
Surprisingly, none of us picked Edwards to win the championship even though all of us thought he would make the Chase. Maybe we believed in that runner-up jinx stuff.
However, I changed my mind on the champ in my Chase predictions Sunday, listing Denny Hamlin as my selection now to win the title.
K. Lee and Joe are sticking with Johnson to win it all. Ed is staying with Keselowski. Marty is confident Kenseth's lame-duck status won't hurt him a bit, so he's hanging with Matt as the champ.
McGee thinks it's a two-man battle between Hamlin and JJ, but he went with Johnson. And Newt is convinced Gordon has what it takes after watching Jeff's amazing drive through the pack Saturday night to get in the playoff.
That means there's a 41.7 percent chance at least one of us is right. We've picked five different drivers between the seven of us -- three for Johnson and one each for Hamlin, Kenseth, Keselowski and Gordon.
We'll revisit this after Homestead and see if any of us got it right. Bonus points if the guys who stuck with their preseason pick end up with the champ.
Not every driver who received a vote made the top-12 cut. Here are the other drivers who received at least one nod.
August, 6, 2010
08/06/10
4:02
PM ET
WATKINS GLEN, N.Y. -- Kurt Busch says he's no pretty boy, not like those drivers at Hendrick Motorsports.
"The Hendrick guys are pretty boys," Busch said Friday.
That response came when Busch was asked about the personality side versus the racing side of the sport. He said the Hendrick drivers get the magazine covers.
I'm guessing that's the first time 51-year-old grizzled veteran Mark Martin has ever been lumped in the pretty-boy category, although I'm sure Busch was referring to Jimmie Johnson, Jeff Gordon and Dale Earnhardt Jr.
[+] Enlarge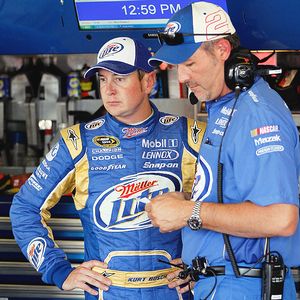 Kevin C. Cox/Getty ImagesKurt Busch doesn't seem very happy with his Hendrick Motorsports rivals, and Jimmie Johnson in particular.
And Busch added this little dig at the newest member of the Hendrick clan.
"Even if I had a shot at the [No.] 5 car, pretty boy Kasey Kahne got picked over me," Busch said.
Busch's disdain for the handsome gentlemen at Hendrick was obvious. And Johnson is No. 1 on his dislike-list after getting punted by JJ last week at Pocono.
Johnson said he called Busch on Monday to explain he didn't bump him intentionally in the incident that caused a big wreck and led to Elliott Sadler's dangerous crash.
Johnson also said they joked on the phone. Busch wasn't laughing Friday.
"We've been wrecked by Johnson quite a few times," Busch said. "He says it's not intentionally. Johnson and I are fine, but it's tough when it's three [wrecked cars] against nothing out there."
Johnson wants to settle any differences with Busch, saying: "I hope everything goes away. I have nothing against him."
Johnson left the media center Friday just as Busch was arriving. And Busch had a message for Johnson.
"I asked him, 'Do I need a dust pan and a broom to clean up your mess?' ''
FORT WORTH, Texas -- A Monday NASCAR doubleheader happens about as often as a volcano in Iceland causes worldwide travel delays.
I guess the timing was right. For the second time in three races, rain forced NASCAR to race on Monday, but ticket holders at Texas Motor Speedway have a rare opportunity if they can stick around one more day.
But this is only the second time that Cup and Nationwide have run a Monday doubleheader. The first time was February 2008 at Auto Club Speedway in Fontana, Calif., but that wasn't 800 miles of racing. Part of the Cup race was run the previous night.
TMS has suffered through some weather-related issues in the past, but this marks only the second time since the track opened in 1997 that the Cup event was postponed until Monday.
That was in 2002, when the majority of fans with tickets decided to take Monday off. A crowd of more than 150,000 returned and watched Matt Kenseth win the race.
Don't expect 150,000 to show up this time, but it should be a decent crowd because of the two-for-one opportunity and the rare chance to see 800 miles of racing.
"Every ticket is good for both races," TMS president Eddie Gossage said Sunday after the postponement. "If you have a Nationwide ticket, you can come to the Cup race, and the Cup tickets are good for the Nationwide race."
That could cause some conflicts. People will have the same seat for different races: "Excuse me, sir, you're in my seat."
If they're being polite, that's resolvable. If not, watch out. Because the Cup race starts at noon ET, beer consumption probably won't factor into the compromise options, thankfully.
"I think it will be fine," Gossage said. "There'll be plenty of seats for people just to move over a few spots."
Gossage said he wanted to do what was best for all the fans who sat in a constant light drizzle Sunday. That's why NASCAR and TMS called it a day at 3:30 p.m. local time.
"It was going to take three hours to dry the track," Gossage said. "But the weather forecasters said the mist would continue to 7 or 8 p.m. We didn't feel it was fair to make all those people continue to wait. We felt the fan-friendly thing to do was to pull the plug."
Gossage admits it's a major financial drain to have to race both events on Monday.
"It cost us $15,000 an hour to open the gates here," he said. "It sucks, but what can you do?"
Look for NASCAR to throw a competition caution early in the Cup race Monday for the teams to check tires and make adjustments. Practice was rained out Saturday, so the Cup drivers haven't been on the track since Friday.
It's a major guessing game for the first spoiler race on a 1.5-mile oval.
April, 17, 2010
04/17/10
4:56
PM ET
FORT WORTH, Texas -- Kasey Kahne is saying all the right things. He wants to finish this season on a high note.
Kahne is an honorable guy. I'm sure he means it. Kahne will do everything in his power to get the No. 9 Ford in the Chase and leave Richard Petty Motorsports with good feelings all around before leaving for greener pastures at Hendrick Motorsports.
Finishing well is the plan, but historically speaking, lame-duck teams rarely do well. It's just human nature. For the crew and everyone working on the car, it's hard to have the same zeal for your job when you're unsure if you'll have a job soon.
Jeff Burton was honest enough to say that lame-duck situations are difficult to overcome.
"They've got to be looking at their other options and they've got to be looking at other opportunities,'' Burton said Friday. "And Kasey's got to be paying attention to not only what he's doing now, but what he's going to be doing in the future.
"I just think as hard as you try and as hard as you say you're going to be as good, it's difficult because it's a distraction."
It's a little like a husband and wife agreeing to an amicable split, but deciding to live in the same house until the divorce is final.
If any team can stay focused on the moment, Burton believes Kahne's team is the one.
"I think Kasey's in a little different situation," Burton said. "The group that's with Kasey has been with him for a long time. I think that they respect Kasey and they understand the situation Kasey is in.
"With [crew chief] Kenny Francis being there, I think they have a good rapport with each other and the team has a good rapport with the both of them. I think that's going to help. I just don't view that group as being bitter or upset about it. I may be wrong about that, but I believe it."
So Burton thinks the team has a chance to post some strong performances the rest of this season, but it's never easy when a group is breaking up.
"Kasey is going to continue to work hard," Burton said. "His car owner's going to continue to work hard, but you also have to be looking at the future."
Kahne went to dinner with his Richard Petty Motorsports team in Texas to tell them he will do everything he can to make the rest of this year productive.
"I want us to enjoy ourselves and win races," Kahne said. "And I still feel like we have a shot at the Chase."
Kahne ranks 26th in the Cup standings with two top-10s in the first seven races. But he made the Chase last year and finished 10th in the playoff.
"I've had six and a half years with those guys and we've had a great run," he said. "I have a lot of friends there and a lot of people that I really enjoy working with. Until this year, I'd never looked at another shop. I'd never been inside another building. But sometimes you just need some change and you need something different."
Something different starts next year. For now, he hopes to end this year with something good for the No. 9 team.
April, 13, 2010
04/13/10
4:58
PM ET
The rich just got richer. Kasey Kahne will drive for Hendrick Motorsports no later than 2012. I'll explain.
And the poor -- or at least the underfunded -- at Richard Petty Motorsports are left with an uncertain future.
Tony Stewart once was asked what Dale Earnhardt Inc. is without Dale Earnhardt Jr. "A museum," he said.
That proved to be more fact than fiction in some ways when Junior left DEI to join Hendrick in 2008. DEI lost sponsorship and later merged with Chip Ganassi Racing.
So what is RPM without Kahne? Not much, especially if Budweiser, his sponsor, leaves with him.
[+] Enlarge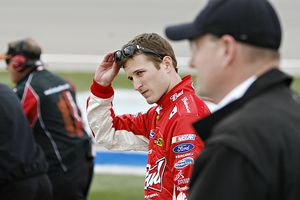 AP Photo/Isaac BrekkenWill Kasey Kahne take Budweiser with him when he eventually joins Hendrick Motorsports?
That remains to be seen, but Budweiser left DEI when Junior went to Hendrick. And Budweiser was a sponsor at Hendrick before moving to DEI when Earnhardt started in Sprint Cup.
The conspiracy theorists will have a field day with this one. Here's the first wild theory you'll hear:
Because Earnhardt has flopped at Hendrick, Kahne will replace Junior in the No. 88 Chevy.
Not going to happen. Although he hasn't won a race in almost two years, Earnhardt remains a sponsorship cash cow as the most popular driver in the sport. He also is only three years into a five-year deal at Hendrick.
And Jeff Gordon isn't retiring, either, in case that thought crossed your mind. Gordon, 38, said just last week that he has rethought his original plan of quitting by age 40. He plans to stay in the No. 24 Chevy for several more years.
Officially, Kahne probably won't drive for Hendrick until 2012, which leaves him in limbo for one year.
Not really. Look for Kahne to drive one season for Stewart-Haas Racing, which means he'll be driving for Hendrick. SHR leases its cars and engines from Hendrick.
Mark Martin is signed to drive the No. 5 Chevy through 2011, when he'll be 52. Martin could leave early, but he'll probably stick it out and Hendrick will farm Kahne to a third car with Stewart's team.
When Martin leaves, Kahne will take over in the No. 5 Chevrolet. That will give Rick Hendrick yet another version of NASCAR's Fearsome Foursome: Jimmie Johnson, Gordon, Earnhardt and Kahne.
And RPM? Losing Kahne is a crushing blow, but the organization never had much chance of keeping him. If the best team in NASCAR comes calling, what would you do?
Kahne, who turned 30 on Saturday at Phoenix, is one of the most talented drivers in NASCAR. But he's never had the best equipment since moving to Cup with Ray Evernham's Dodge team in 2004. People will see just how good Kahne really is in 2011.
RPM and team owner George Gillett (Petty is really just a figurehead) have some difficult decisions to make. The Sports Business Journal reported Tuesday that Gillett is in default on a $90 million loan and is trying to reorganize.
Things were looking up this season thanks to the merger with Yates Racing, which made RPM a Ford team that shares an engine program with Roush Fenway Racing. But can it continue to progress without Kahne?
AJ Allmendinger appears to have a bright future as the team's rising star, and Paul Menard also has showed improvement this year. But neither man is Kahne, a lead horse RPM could build around. Elliott Sadler, RPM's other driver, is in the last year of his deal after the team tried to fire him a year ago.
Hendrick's signing Kahne is similar to the New York Yankees' signing first baseman Mark Teixeira last year. They were good without him. But they are better with him, and he is better with them.
The same is true for Kahne. He just signed his ticket to stardom. Finally, someone will challenge Johnson and probably beat him. But Hendrick will keep on winning championships, and only the name on the Cup will change.
September, 11, 2009
09/11/09
3:29
PM ET
RICHMOND, Va. -- You never know what the future holds.
Kasey Kahne will drive for the manufacturer that once sued him. Richard Petty Motorsports is merging with Yates Racing to run Fords next season.
That makes Kahne a Ford driver in 2010, an oddity that proves that the cliché about never burning your bridges is a good idea in NASCAR.
"I wasn't a big fan, and they weren't a big fan of me," Kahne said Friday about Ford officials. "Time heals, and I think some of those [Ford] people are gone that caused all that. They have new people there."
Kahne was driving Fords in his Nationwide Series days, including a year with Robert Yates Racing in 2002. But he switched to Dodge when he signed with Ray Evernham to race in Cup as a rookie in 2004.
Ford officials said Kahne violated his contract and filed a lawsuit. An out-of-court settlement was reached, allowing Kahne to end his Ford deal and join Evernham's team, which became RPM this season.
So does Kahne expect Ford officials to welcome him back with open arms?
"I think it will be a bit different because of the way our relationship ended last time," Kahne said. "We'll have to figure out how to get through that and go on with it.
"What Ford's done in racing has been really good with Roush and Yates over the years. I'm happy with Dodge and what we've done here, but it will be a bit of a change next year."
Kahne is in good position to make the Chase, ranking sixth in the standings after his victory this past weekend at Atlanta. He's 96 points ahead of the Chase cutoff spot entering the final regular-season race Saturday night at Richmond.
Kahne hopes to give Richard Petty his first Chase driver in his final season with Dodge.
RPM's merger with Yates means it becomes part of the alliance with Roush Fenway Racing. The two teams share an engine program. Kahne bristled when asked whether the new arrangement made RPM a test team for Roush.
"I don't really know how it all works out, but we're definitely not their test team," Kahne said. "We have too many good people here. We're going there to work with Roush, help Roush, and Roush is going to be a part of Richard Petty Motorsports, or however all that works out."
All the details of the merger haven't been worked out, but RPM driver Reed Sorenson and Yates' Bobby Labonte are the odd men out. Kahne, Elliott Sadler and A.J. Allmendinger will join Yates driver Paul Menard to form the four-car operation.
"I think it's going to be beneficial for RPM," Kahne said. "I think we're going to help them out, too. We have some things that I feel are better than Roush-Yates have. I think their engines are really strong, and they have a lot of people to work hard on both programs. If we work hard, it could be a pretty cool deal." The move leaves Kahne and RPM in an awkward spot with Dodge when the Chase begins. Will it hinder Kahne's playoff run?
"I have a good relationship with Dodge," Kahne said. "It's not going to hurt us in the context of support. They still want to win races. I want to win races, and we want to run as well in the Chase as we can.
"Hopefully it doesn't affect us. It could, but I hope it doesn't. We've won some races and feel like we can win some more races before it's over."