Category archive:

Carl Edwards
February, 22, 2013
02/22/13
4:20
PM ET
DAYTONA BEACH, Fla. -- You want to know why Danica Patrick matters?
Listen to these stories:
Carl Edwards' daughter, Anne, turns 3 next week.
"Carl brought her over [to Patrick's motor coach] to meet me this week," Patrick said Friday. "I've known since last year that she's a huge fan of mine. Carl said he wanted her to meet me in person because she sees me as some mythical person who doesn't exist."
Anne was wearing green Go Daddy (Patrick's sponsor) shoes when she met Danica.
"A little later, Jimmie Johnson brought his daughter [2-year-old Genevieve] to meet me," Patrick said. "That's very flattering."
Jeff Gordon's daughter, 5-year-old Ella, told her dad she wanted a picture with Patrick in Victory Lane after Patrick won the pole for the Daytona 500. Gordon starts on the front row with Patrick.
Patrick also said she was working out at a gym recently when a man asked her to watch a short video.
"It was his two daughters," she said. "They were young, maybe 2 and 4. Their dad showed them a magazine cover with me on it. He asked them, 'Who is that?' They both said my name. The guy told me, 'I have no idea how they know who you are.' Something about this is impacting kids."
And that's why Danica matters.
The debate about how good a race car driver she is misses the point. Patrick matters because she inspires young girls to reach for the stars and do something most people see only men doing. And she brings people to auto racing who wouldn't have an interest without her presence.
"I have handed out more lug nuts to little girls this week than anyone else," said Tony Gibson, Patrick's crew chief on the No. 10 Chevy. "It's great to see all the little girls in Go Daddy hats and shirts."
The Daytona Cup garage has windows where fans can see the cars and crews. The windows also have a slot where fans can pass a piece of paper and pen to drivers for autographs. And the crews can pass things back, such as lug nuts.
"I take a Sharpie and write '10' on the lug nuts I give to them," Gibson said. "Kids are writing on our window. Seeing all this is really cool for our sport."
And that's why Danica matters.
January, 17, 2013
01/17/13
10:17
PM ET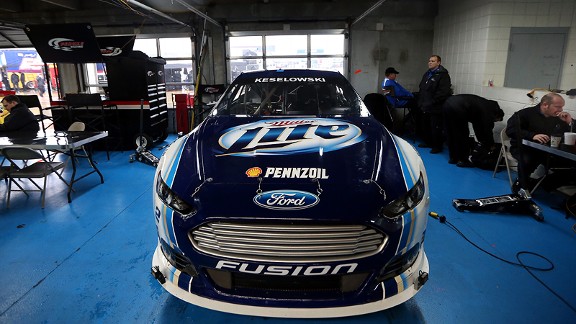 Streeter Lecka/Getty ImagesThe Blue Deuce won the championship with Brad Keselowski behind the wheel last year, but he was driving a Dodge, not a Ford. Keselowski and his Penske Racing team have switched to Fords this year, and a repeat title would be a rare feat.
It's not often a manufacturer inherits a championship team, but such is the case for Ford officials this season. The big question is this: Can everyone involved share the wealth?
Defending Cup champ Brad Keselowski, Ford's new golden boy, hopes so. He also hopes to do something that hasn't been done in 54 years.
You have to go back to 1958 to find the last time a driver won consecutive titles with two different auto manufacturers.
Lee Petty won the 1958 title in an Oldsmobile and the 1959 crown in a Plymouth. But Petty raced 17 events in the 1959 season in an Oldsmobile and ended the season in a Plymouth, which he drove in 27 races.
Buck Baker also won his two championships with different manufacturers -- a Chevrolet in 1957 and a Chrysler (officially) one year earlier. Baker also drove a Ford in four races and a Dodge in 14 others during the 1956 season.
Cale Yarborough was the last NASCAR driver to win back-to-back Cup titles in different makes of cars. He won his second of three consecutive titles in a Chevrolet but won the third championship driving an Oldsmobile in 1978. However, both cars fell under the General Motors banner.
So no driver in NASCAR history has won back-to-back Cup titles driving the full championship season for only one auto manufacturer and the next season for another.
Keselowski could become the first if he takes his No. 2 Ford to the 2013 title after winning his first championship last year in a Dodge. But it will take cooperation and collaboration with Ford's other teams to get it done.
Keselowski admits Penske Racing's move from Dodge to Ford is a big transition. It requires sharing technical information, at some level, with Roush Fenway Racing and Petty Motorsports, the two other Ford organizations.
"Some of that stuff is a work in progress," Keselowski said last week during the test at Daytona. "I think, so far, we all agree to the Ford approach of 'One Ford,' where we are going to share what we can where it's practical to do so.
"Those things are being defined daily as far as what is OK to share and what is not. I don't have great answers for you there. In order for that to work out, there has to be a level of cooperation. I think we all see that. It's just a matter of defining what that level is."
[+] Enlarge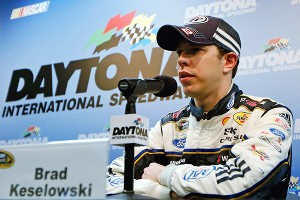 Chris Trotman/Getty Images for NASCARBrad Keselowski is ready and willing to share with his new Ford teammates, once he figures out where the line is.
Penske was the only team for Dodge. Roger Penske has ended his engine-building program to lease Roush-Yates engines this season.
Carl Edwards, coming off a disappointing, winless 2012 season in which he finished 15th in the standings in the No. 99 Ford for Jack Roush, hopes adding Penske's two-car operation (Keselowski and Joey Logano) to the Ford family will help all the Ford drivers.
"I'm looking forward to it and hope we get to share a lot of information," Edwards said. "It would help us a lot. The way Brad ran at the end of last year was spectacular.
"At the end of the day, I hope we have something to give them so they will reciprocate. The more teams you have working together, the more information you have and more ideas you have. It makes things better."
No one knows for certain how it will work out, but Keselowski likes what he sees in Ford officials, from top executives to design engineers to the people sweeping the floors.
"The level of engagement is remarkable," Keselowski said. "It shows the commitment Ford has. I've never experienced that before. It makes me feel very confident that any bit of adversity or any hurdle we have to climb, we can do it, because we have a dedication of resources and top-notch people."
Ford officials inherited the best of the best from 2012. Ford's last Cup title was nine years ago, when Kurt Busch won the inaugural Chase for Roush. That dry spell could end this year if everyone shares the wealth.
November, 23, 2011
11/23/11
4:06
PM ET
NASCAR won the lottery with the final race of its dreams Sunday at Homestead-Miami Speedway, a championship fight that came down to a dead heat in the standings when Tony Stewart won the race and Carl Edwards finished second.
As incredible as it was, NASCAR also came perilously close to a controversial ending that would have caused many fans to doubt the fairness of the outcome.
NASCAR was only one point from that happening. Stewart and Edwards tied in the point standings, a first in NASCAR history. Stewart won the title by virtue of more victories than Edwards.
Stewart won five of the 10 playoff races. However, had he finished just one spot worse in any of the five Chase races he didn't win, Edwards would have won the championship.
Smoke would have fallen one point short even though he won five Chase races to none for Edwards.
It worked out perfectly this time and the right man won the title, but NASCAR should consider what could have happened. One or two more points for winning might be a good idea.
Inside the numbers
On a six-hour flight home from Miami, I passed the time by poring over the Cup stat book for 2012. Hey, it was either that or listening to the guy next to me snore.
I uncovered some interesting tidbits.
One statistic that tells me a lot is the plus or minus number for a driver, showing how many times he improved his starting position in the 36 races.
Topping the list is Kevin Harvick at plus-8 for drivers who started every event. David Gilliland was plus-7, but you need to factor in that he started near the back in most races. The same is true for Dave Blaney, who was a plus-7 in 35 starts.
Of the drivers who finished in the top 25 in the standings, Cup champ Stewart was a plus-6. And this one will surprise you: Dale Earnhardt Jr. was a plus-5.
Two first-time winners in 2011 were on the other end. Regan Smith was a minus-6, and Paul Menard was a minus-5.
Big year for RPM
The most disappointed team of 2012 has to be Earnhardt Ganassi Racing. Juan Pablo Montoya dropped four spots from 2010 and Jamie McMurray dropped 13 positions, going winless after three victories in 2010.
But the team that should feel good about its performance is Richard Petty Motorsports. After coming so close to folding at the end of the 2010 season, RPM cut back to two cars and placed both drivers in the top 20 in the standings -- AJ Allmendinger in 15th and Marcos Ambrose in 19th, including a victory for Ambrose at Watkins Glen.
Bright future
NASCAR put on quite a show for the Nationwide and Camping World Truck Series teams Monday night during the awards banquet at the Miami Beach Loews Hotel.
A crowd of more than 600 attended. What stood out for me as I watched the drivers take the stage was the feeling that the future is in good hands with all the young racers who had stellar seasons. Nationwide champ Ricky Stenhouse Jr. was one.
Austin Dillon, the youngest Truck series champ ever at age 21, is a polished young man who gave an impressive speech. He will race the No. 3 in Nationwide next year, and I kept thinking, "If anyone is going to race Dale Earnhardt's number in Cup again someday, this is the right guy for the job."
August, 4, 2011
08/04/11
10:37
AM ET
All talk and no action.
That's how things will play out in the end with Carl Edwards telling Joe Gibbs, "Thanks, but no thanks" to a multimillion-dollar offer to switch teams.
Edwards surprised almost everyone by deciding to stay at Roush Fenway Racing, an unexpected change of heart after Ford officials reportedly tossed in a gigantic pot of cash to help keep him at RFR.
Jack Roush couldn't come close to what Joe Gibbs Racing was offering Edwards, reportedly in the neighborhood of $8 million a year and a $10 million signing bonus.
So Ford came to the rescue in an unprecedented move to salvage the negotiations. It was the right thing to do. Without Edwards, Ford's marketing potential in NASCAR would have decreased substantially.
Jimmie Johnson is the five-time Cup champion and Dale Earnhardt Jr. is the sport's most popular driver, but Edwards is a marketing machine, a prototypical modern-day driver who is as comfortable in front of a camera as he is behind the wheel.
Edwards is Ford's signature star. Every available dollar had to be spent to keep him.
The announcement Thursday also means that the No. 99 Ford is back in contention for the 2011 title. You may say, "When did he stop being a contender?"
Edwards leads in the standings, but had he announced he was going to Gibbs, he was done, as Jeff Gordon said last week. Lame-duck teams don't win championships. Now everyone on the 99 crew will approach the rest of the 2011 season with a renewed vigor to win the Cup title.
Edwards staying at Roush also probably means the other free agents stay put as well. Edwards was the kingpin in Silly Season. Had he left RFR, it could have caused a domino effect with other free agents making moves to fill in the pieces of the puzzle.
Edwards has effectively eliminated the options. Clint Bowyer probably will stay at Richard Childress Racing, assuming Childress can line up the funding. Juan Pablo Montoya is likely to stay at Earnhardt-Ganassi Racing. Ryan Newman probably stays at Stewart-Haas Racing.
Gibbs still has room for a fourth car, but that hinged on Edwards driving for Home Depot to challenge Johnson and Lowe's. No one else really fills that role for Home Depot the way Edwards would, and Gibbs officials have said repeatedly they wouldn't expand to a fourth car unless all the pieces were in place with the proper funding. Without Edwards, the proper pieces aren't there.
Joey Logano may stay in the No. 20 Home Depot Toyota after all, but there must be some leftover hard feelings on Logano's end and major disappointment for Home Depot officials. Making that work going forward won't be easy.
So don't look for major changes in the driver lineup now. A few things will change. No one knows what will happen with Red Bull. Maybe Mark Martin and Brian Vickers will be part of a new deal there, maybe not.
With Edwards returning to Roush, there's no place for others to go. It was all talk and no action.
Oh well, there's still Danica Patrick to talk about.
Forrest Gump could have said interviews with race car drivers are like a box of chocolates. You never know what you're gonna get.
In case you haven't noticed, drivers can be a little surly at times. Sometimes they're condescending and sometimes just totally uninterested. They also can be funny and engaging.
Sprint Cup is a long season and no one is on his A-game every day, including reporters. And occasionally, there's a disconnect between the two.
Last weekend at New Hampshire had a few good examples. Let's start with Tony Stewart.
Even on what he described as a perfect day for Stewart-Haas Racing -- Tony finished second and SHR teammate Ryan Newman won the Lenox Industrial Tools 301 -- Stewart still let out his evil twin for a few moments afterward.
The top three finishers of each race are required to come to the media center for questions. Stewart was there as the second-place finisher, but he also could have stayed as the team owner of the winning car.
So a reporter asked Stewart if he was going to stay for the owner's portion of the postrace interviews.
"This is the owner's portion, just so you know," Stewart said. "It never ceases to amaze me how much of a rocket scientist you are. I'm honored to be in your presence."
The reporter then said he meant it as a joke, but added, "Maybe your jokes are better."
"I'm pretty sure," Stewart said. "We'll take a poll and it will be overwhelming."
Oh Tony, no need to get all riled up on such a big day.
And then we had Kyle Busch, who was interviewed in the garage after he blew a right-front tire. Busch was asked if contact with the No. 88 Chevy of Dale Earnhardt Jr. caused his tire problem.
"There's been contact with everybody out there," Busch said. "So nice try making a story."
Busch was implying that the reporter wanted to stir up bad blood between Kyle and Junior. Not true. This was a legitimate question.
A couple of laps before Busch's tire came apart, Kyle's right-front tire made contact with Earnhardt's left-rear tire, causing smoke to fly off Busch's tire well.
Busch said a bead melted on the tire, which Goodyear officials later confirmed. But asking him about the contact with Earnhardt was a legitimate question.
At least Busch was feisty. Earnhardt was anything but feisty in his interview session Friday morning at his hauler.
For a guy who hears questions over and over again every week, it gets monotonous at times. And it was obvious from the start Friday that Earnhardt would prefer a root canal without anesthetic to standing around talking to a media cluster.
The last two questions were mail-it-in time for Junior:
What was the feeling he had the first time he went down the frontstretch at Indy?
"I don't remember," Earnhardt said, barely above a whisper.
What does it take to be successful at Indy?
"Be leading," he said.
Allrighty then. And with that, interview time was over.
But for every moment like those, there's also some answers from drivers that make up for it.
Clint Bowyer was asked the same question about his thoughts on his first lap at the Brickyard:
"'What the hell? It's way too big.' That's what I thought," Bowyer said. "And you think back in the day cars would run only 80 mph around here. Can you imagine watching that race? Those straightaways must have seemed pretty long."
Even dead tired after a tough race, some guys make it fun.
After 301 laps on a hot day at New Hampshire, Carl Edwards was asked why he was standing on pit road while all the other guys were sitting on the pit wall.
"We don't sit down, come on," Edwards said. "I think Jimmie [Johnson] was sitting down because he is intimidated by our points lead."
Now that was good. In the world of interviewing drivers, you just never know what you're gonna get.
December, 7, 2010
12/07/10
9:13
PM ET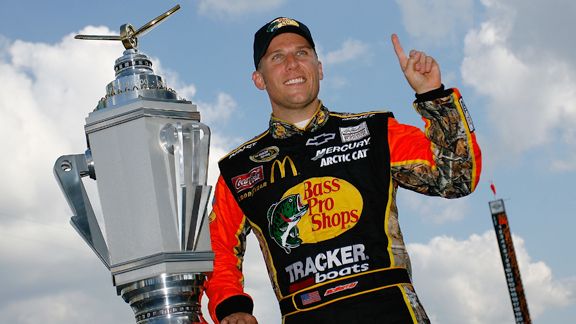 Jason Smith/Getty ImagesJamie McMurray may well be celebrating after the Daytona 500 and Brickyard 400 again in 2011, but if he does, you can bet he makes the Chase this time.
Some things are going to change for NASCAR in 2011. Things you saw in 2010 will not repeat next season.
Did anyone really think we would see Jeff Gordon and Jeff Burton do their weak Ali-Frazier impression on the track at Texas?
That's one example of things you won't see again in 2011, at least not from those two unlikely combatants. Here's a list of other things that took place in 2010, but aren't happening in 2011:
Dale Earnhardt Jr. finishing 21st in the Cup standings: Junior will crack the top 20 next season and possibly contend for the Chase, which won't be too tough if the playoff is expanded to 15 drivers.
Steve Letarte on the pit box and moving to the No. 48 shop will make Earnhardt competitive again.
A driver winning both the Daytona 500 and the Brickyard 400 without making the Chase: That bizarre quirk happened for Jamie McMurray in 2010, but Halley's Comet will make another pass by Earth before that scenario comes around a second time.
Roush Fenway Racing failing to contend for the Cup title: RFR put three drivers in the 2010 Chase, but never seriously contended for the championship and didn't win a race until August.
It was clear by the end of the season that Jack's boys had figured things out and the new Ford engine was strong. Carl Edwards won the last two races and teammates Greg Biffle and Matt Kenseth will join him as title contenders in 2011.
The blindingly ugly front splitter: Like a teenager finally getting the steel removed from his mouth, the braces on the splitter will be gone and the overall look for the front of the cars becomes much smoother and more stylish.
Jeff Gordon going winless for a season: Not with Alan Gustafson calling the shots. Gordon will return to Victory Lane in 2011 and seriously contend for a fifth championship.
A full-time Cup driver winning the Nationwide title: Not officially, anyway. A real Nationwide driver will win it in 2011 because of rules changes coming soon that will keep the Cup big boys from racing for the crown in Nationwide.
However, Edwards or Brad Keselowski still could win the most races and unofficially tally the most points if they run all the Nationwide races as planned.
And a former Cup regular could win the title if Elliott Sadler gets it done while racing full-time in Kevin Harvick's Nationwide car.
A pothole during the Daytona 500: Daytona has shiny new pavement that will be smooth as glass. Drivers will get a first test next week, but the new asphalt could make a big difference in how things look for restrictor-plate wildness in the season-opener on the 2.5-mile oval.
[+] Enlarge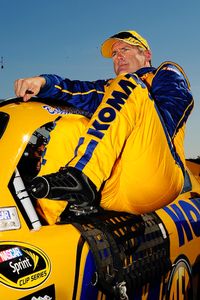 Rusty Jarrett/NASCAR/Getty ImagesThere will be better days ahead for Bobby Labonte.
Bobby Labonte having to start and park: It was sad watching the former Cup champion forced to sometimes make meaningless laps and go to the garage. But he'll have a real ride in 2011 and a chance for some decent finishes with the No. 47 Toyota for JTG/Daugherty Racing.
Richard Petty Motorsports trying to survive week to week: After the financial crash of George Gillett's empire, Petty managed to regain control of the team by finding new investors and placing RPM on solid footing in what will be a new-and-improved two-car operation with A.J. Allmendinger and Marcos Ambrose.
Two Cup races at Fontana: Auto Club Speedway has one Cup race next year, which comes in March. Hopefully, most of the seats will be filled for the first time in a long time.
The Chase opener in New Hampshire: The playoff starts at Chicagoland Speedway in 2011, adding another 1.5-mile oval to the Chase.
A Sunday afternoon race at Texas in April: For the first time, the spring Cup race at Texas Motor Speedway will be a Saturday night show.
Jimmie Johnson winning the Cup championship: Five-Time won't become Six-Time in 2011. Too many other teams and drivers are nipping at his heels now. No one stays on top forever, although it's hard to remember the last time someone besides JJ won this thing.
November, 20, 2010
11/20/10
4:18
PM ET
CORAL GABLES, Fla. -- Change is coming to the Nationwide Series, but you'll have to wait until January to hear officially what those changes are.
So let me tell you the big change that everyone in the garage knows is coming:
Sprint Cup drivers will not be eligible to race for the Nationwide championship in 2011.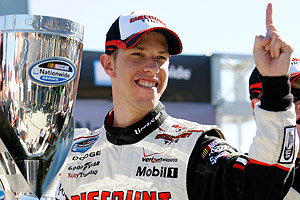 AP Photo/Tony GutierrezBrad Keselowski likely won't be allowed to run for the Nationwide title next year.
Allow me to express my feelings on this decision:
Hallelujah!
It's long overdue, but this is the right thing to make this series what it needs to be and was meant to be -- a developmental league that brings name recognition for future Cup stars, not current Cup stars.
NASCAR chairman Brian France discussed the issue Friday at Homestead-Miami Speedway, not wanting to reveal too much. But change is coming.
"We want the Nationwide Series to have its own identity," France said. "We want to make sure we are developing more stars. The idea is to see the Nationwide Series be more like what college football is for the NFL."
Great, except NFL players don't go back and play a few games for their alma maters.
NASCAR is different, obviously, and Cup drivers always have competed in the feeder series. That's OK. People want to see it.
But Cup drivers shouldn't compete in every Nationwide event and run for the championship, something that never happened until five years ago.
The Nationwide Series morphed into a glorified practice race for Cup regulars. Nationwide-only drivers trying to learn the ropes had no chance of competing on equal footing. They also couldn't find rides.
The Nationwide races had too many Cup stars using Cup crews and racing in equipment prepared by Cup teams. Cup drivers won 33 of 35 events this season.
Brad Keselowski is the fifth consecutive full-time Cup competitor to win the Nationwide crown.
That won't happen next year, at least not someone racing full time in the 2011 Cup season.
But the champ could be a former Cup driver. Elliott Sadler will race a full Nationwide schedule for Kevin Harvick Inc., but he won't race full time in Cup.
NASCAR probably will have a rule that drivers can compete for only one championship among the top three series. Drivers will need to declare which title they want to race for before the season begins.
At least two Cup drivers don't like it -- Carl Edwards and Keselowski -- because of their own selfish interests. Both drivers plan to run the entire Nationwide schedule again in 2011.
Edwards and team owner Jack Roush still are looking for additional sponsors, which is more difficult to obtain if he can't run for the title. That also could have a bearing on Keselowski's sponsorship deal with Discount Tire.
Too bad. What's best for Edwards and Keselowski in this case is not what's best for the series. If this change costs a few Cup drivers and teams some money, so be it.
Edwards' and Keselowski's decision to race every Nationwide event next season appears deliberately defiant, as if to say, "We can be the real champion no matter what the rules are."
It's wrong and shouldn't be allowed, but NASCAR has no intention of limiting the number of events a driver can race.
But a Cup regular won't win the title and neither will his sponsor. You want to win the championship? Sponsor a Nationwide-only driver. You'll be glad you did.
Team owners need to get used to telling sponsors, "We would love to have you on our Nationwide car, but you can't have a Cup driver running for the championship."
Some sponsors may walk away. Many won't.
However, sponsors can get an up-and-comer who is making a name for himself at the Triple-A level.
If fewer Cup drivers compete in Nationwide events, more Nationwide-only drivers will win races. The more they run up front and win races, the bigger names they become and the more popular they become with fans.
Drivers like Justin Allgaier, Trevor Bayne and others would become fan favorites.
That's what the Nationwide Series needs instead of Cup stars stealing all the glory.
October, 9, 2010
10/09/10
1:46
PM ET
FONTANA, Calif. -- If you didn't know about this Sprint Cup race changing from 500 miles to 400 miles, don't feel bad. Some of the drivers didn't know until they arrived at Auto Club Speedway.
Ryan Newman was caught off guard when asked Friday if his strategy would change for the shorter Pepsi Max 400.
"Is it? Is it a 400?" Newman asked. "Awesome."
Carl Edwards also didn't know, but he didn't think it was awesome.
"I can't believe I didn't know this was a 400-mile race," Edwards said Friday. "I work really hard to be as fit as I can be. We work hard to be prepared for long races. I feel that long races play into my strengths physically, and then I feel that from a handling standpoint and the way the car drives."
Don't classify Sunday's race as a short one. It's 200 laps around the giant 2-mile oval at the Inland Empire track with temperatures expected at 90 degrees.
"This racetrack just seems like one of the hottest we go to sometimes,'' Edwards said. "When the sun is out here, there is no escaping the heat. The hotter and slicker it is suits me and our team."
[+] Enlarge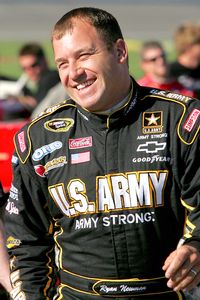 Jerry Markland/Getty ImagesRyan Newman was thrilled to learn Sunday's Cup race is 400 miles long.
Edwards has six top-5s at ACS, but his one victory came in cool conditions in a February race in 2008.
Jamie McMurray, who starts on the pole for the second consecutive time at ACS, said the wide surface has plenty of racing room, but it can be tricky.
"The trick to this place is the seams," he said. "It's really hard to explain, but when the car gets in the seams it feels like water and it's really slick. When you get stuck in them, you can't get out.
"It's almost like you're in a slot and you have to wait till you get to the straightaway to get your car off of it. It will slow your car down a half-second a lap if you get stuck in one of them real bad."
McMurray is talking about the tar that fills the grooves betweens the lanes of the racing surface.
"The key to this place is having a car you can drive across the seams and not get stuck in them," McMurray said. "The cars that handle well can miss the seams and they're faster. The guys whose cars are sliding around a bit more tend to find them."
Jimmie Johnson and the No. 48 Chevy team obviously have figured it out. He has won three of the last four races at ACS. Will 100 fewer miles make a difference for him?
"I think that the race distance at 400 miles is probably better for everyone," said Johnson, who starts ninth Sunday. "I don't have a lot of fears at this track because there's so much room. There are lanes you can use to pass."
Sunday will be the first time at ACS the Cup teams have raced a car with the rear spoiler instead of the wing.
"We've had so much time now with [the spoiler] that we pretty much have a feel for it," Kyle Busch said Friday. "It will be different than what it was in the spring, but our setups have evolved so much from when we were here the last time."
The fall event becomes extinct after Sunday. ACS will lose one of its two Cup events next year. The lone Cup event will take place on March 27. No more Chase races for ACS.
"Obviously, the attendance here hasn't been what everyone hoped it would be," Jeff Burton said Friday. "I think it is a good area for us and being on the West Coast is a good thing.
"I believe we have a lot of race fans out here. I also know the economy around the area is really bad. That has hurt the racetrack a lot. It's hard to say taking a race away is a good thing, but sometimes it is. You end up getting out more people for one race than you had for two races."
Whatever the crowd is Sunday, Johnson said he thinks they could see the best show ever at ACS.
"As a California native, I'm disappointed to hear that it's losing an event,'' Johnson said. "But the 400-mile race should make it more exciting, and restarts here can get pretty wild. It will entertain the viewers on television and the people in the stands. I think it'll be a good race."
October, 2, 2010
10/02/10
5:58
PM ET
KANSAS CITY, Kan. -- Picture this scenario. It's the last lap Sunday at Kansas Speedway and Carl Edwards is two car lengths behind the leader heading into Turn 3.
Are you getting a sense of déjà vu? You should.
So what does Edwards do? Go all-out to win or play it safe?
"If there is a giant risk to win this race that might cost us the championship, I would have to go for the championship," Edwards said.
Say what? That's not how we remember it in 2008, in the most dramatic moment ever on this 1.5-mile oval.
Entering Turn 3 of the last lap, Edwards gunned it and turned left down the track inside of Jimmie Johnson. Edwards zoomed by Johnson heading to Turn 4, but it came at a price.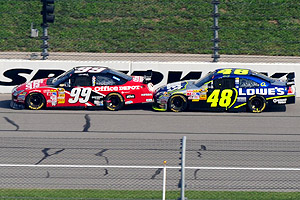 Mark J. Rebilas/US PresswireCarl Edwards was able to get past Jimmie Johnson on the final lap of the Kansas race in 2008, but he wasn't able to stay there.
The momentum and angle of the banzai move caused the car to slide back up the banking toward the wall. Edwards slammed into the wall, but kept control of the car as they headed down the frontstretch for the last time.
Johnson was shocked at what he saw, but kept his cool and easily slid underneath the No. 99 Ford and back into the lead, winning the race over Edwards by three car lengths.
"I was so in awe of how far he drove it in," Johnson said. "I watched him pound the wall and get back in the gas and thought, 'Man, he's serious about this win. I'd better get back in the gas myself.' "
Chase points be damned, Edwards decided to go for broke then. It didn't work out, but he was the hero of the day to his home-track fans. He gambled on trying to win, even if it meant wrecking and finishing 25th.
That was then, this is now. Things change.
"If I felt we weren't in a position to win [the title], I would probably go take some pretty big risks," Edwards said. "I feel like we are in a position to do it, so right now I am focused on that."
It's not an easy decision considering how much Edwards loves this place. He grew up just two hours away in Columbia, Mo.
"If I had to pick a race to win, this is the race I would pick over the Daytona 500 or the Brickyard 400," Edwards said Friday. "I'm not saying that because I'm sitting here [in the Kansas Speedway media center]. It's the truth."
The emotions of the moment can get the best of Edwards at times on the track. We saw that earlier this year when he deliberately wrecked Brad Keselowski twice in retaliation moves.
In the heat of the moment, Edwards will go over the edge to do what he deems necessary, whether it's for a chance to get even or a chance to win.
Edwards won't take a win-at-all-costs attitude on Sunday because he's convinced he can win the Chase.
If anyone can win the championship without winning a race, Edwards is the guy. He has nine top-10s over the last 11 races for an average finish of 6.0. That's better than the 6.8 Johnson averaged when he won the Chase last year.
Edwards' worse finish since July was 12th, but he still has ground to make up. He's sixth in the Chase standings, 73 points behind leader Denny Hamlin.
Kansas is the track at which he can make that up. Edwards has four top-10s in the last five races here, and he finished second earlier this year at Chicagoland Speedway, the track with the most similarities to Kansas.
The Chicagoland car isn't the car crew chief Bob Osborne elected to race this weekend.
"We have the car we ran at Indy and Michigan," Osborne said. "It was a new car at Indy, and we've had success with it [seventh at Indy and third at Michigan in August] both times it has run this year. We hope to come out of Kansas with at least a top-5 finish."
And possibly a victory, but not if the risk outweighs the reward.
"I never thought of that as a reasonable thing to do until that moment," Edwards said of his 2008 gamble. "The idea of being able to win here was big. But at this point in my career, I want that championship trophy. I want to see what that feels like."
August, 25, 2010
08/25/10
1:52
PM ET
As far as the bookmakers in Las Vegas are concerned, Jimmie Johnson remains the man to beat for the Sprint Cup.
Johnson's recent woes on the track haven't dropped him from the top of the betting line in Vegas.
Johnson is ninth in the points standings. He has fallen seven spots after posting finishes of 22nd or worse in five of the last seven races.
But the summer slump hasn't stopped bookmakers from placing Johnson as the favorite to win his fifth consecutive title.
Heading into the open weekend, two races before the start of the Chase, Johnson is listed at 7-to-2 at the Las Vegas Hilton. Kevin Harvick is second at 9-to-2.
[+] Enlarge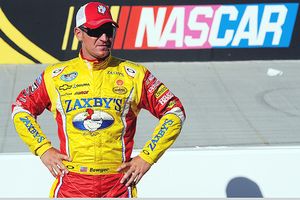 John Harrelson/Getty Images for NASCARClint Bowyer is the least-favored driver in the top 12 by Las Vegas oddmakers, but 20-to-1 isn't too bad.
Why is Johnson favored, you ask? Two reasons. First, Johnson's won four in a row. That alone is a darn good reason to keep him on top.
But there's also a statistical reason. If the Chase started today, Johnson would begin the playoff on top, tied with Denny Hamlin. Both drivers have a series-best five victories. Hamlin is 5-to-1 on the betting line.
Harvick and Kyle Busch, each with three victories, would start the playoff 20 points back. Busch is listed at 5-to-1 with Hamlin.
Jeff Gordon, winless this season but second in the points standings, is next on the betting list at 7-to-1. Rounding out the top six is winless Tony Stewart at 10-to-1.
Kurt Busch, who has two wins and will be the only Dodge driver in the Chase, is 12-to-1.
Greg Biffle, the only other Chase contender with a victory this season, is listed at 15-to-1. Roush Fenway Racing teammate Carl Edwards is slightly better at 12-to-1, and RFR driver Matt Kenseth is 18-to-1.
Jeff Burton, Harvick's teammate at Richard Childress Racing, is also 18-to-1. RCR driver Clint Bowyer, who is hoping to hold on to a 100-point advantage in the 12th-place bubble spot, is the long shot of the Chase boys at 20-to-1.
But 20-to-1 isn't much of a long shot. What it means, at least in the eyes of the bookies, is the 2010 Chase is wide open.
Johnson remains the favorite for now, but not by much. If the Vegas oddsmakers are right, this is going to be a fun Chase to watch.