Category archive:

Juan Pablo Montoya
January, 24, 2011
01/24/11
4:36
PM ET
CHARLOTTE, N.C. -- The day started with an entrance by the Energizer Bunny. The afternoon session ended with a new energized Tony Stewart.
Earnhardt Ganassi Racing got things started to open the annual NASCAR Media Tour with a luncheon followed by a bus trip to Stewart-Haas Racing.
Here are a few opening-day highlights and lowlights:
Funniest moment: The Energizer Bunny, banging his drum and heading to the stage during the EGR luncheon. Energizer Batteries has been a sponsor of Chip Ganassi's race teams for 16 years.
Funny quote: Ryan Newman, one of the many new fathers among the NASCAR drivers: "Now there's a big influx of mass-production of kids. And some guys are doubling up. It changes the conversation in the garage from car set-ups to baby cribs."
He said what?: Felix Sabates, partner with Ganassi at EGR: "I asked Juan [Pablo Montoya] today, 'Do they have extradition in Venezuela and Columbia. He said, 'Why?' I said, 'Well, I haven't gotten through my divorce settlement, so I may need to be extradited to Columbia.' "
Best story: Sabates explaining the close relationship Dale Earnhardt had with Bill France Jr.
"Bill had a lot of respect for Earnhardt,'' Sabates said. "He had a radio so he could talk to Earnhardt during races. Bill's [radio] name was Captain Jack.
"If drivers were worried about debris in Turn 3, Bill would ask Earnhardt on the radio, 'Is there anything in Turn 3? Earnhardt would say, 'No Captain Jack. It's good.'
"And Earnhardt never once took advantage of that situation. Bill knew he would tell him the truth. But if Earnhardt was two laps down, they talked about fishing."
[+] Enlarge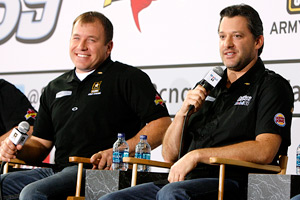 HHP ImagesRyan Newman and Tony Stewart proved to be entertaining on Monday for different reasons.
Today's stunner: The new chiseled look of Tony Stewart. OK, chiseled is a slight exaggeration, but he does looks fit.
Smoke has gone to a five-meal-a-day program instead of two meals a day. Five small meals, with some salad tossed in, as opposed to two big meals.
Mark Martin was Stewart's inspiration, but Stewart isn't eating Martin's diet of goji berries and other weird stuff.
"I still like my Burger Kings and pizza and chili,'' Stewart said. "But eating only twice a day is bad for you."
So does Stewart have a workout routine?
"Well, not really," Stewart said. "I used my left hand for the volume on the remote and my right hand for the channel."
Today's non-stunner: Teresa Earnhardt was not in attendance for the Earnhardt Ganassi Racing presentation.
Happiest guy: Chip Ganassi, who celebrated a big NFL victory back in his hometown Sunday: "If you guys catch me yawning it's because I was at a football game last night in Pittsburgh."
The flattest moment: NASCAR broadcaster Larry McReynolds going off script at the end of the Earnhardt Ganassi Racing program to chastise the media and tell everyone to write "positive" stories.
Most surprising comment: Jamie McMurray, who won the Daytona 500 and the Brickyard 400 in 2010, saying what his favorite moment was last season:
"Other than the birth of my son, it was walking in the media center at Charlotte [after winning in October]," McMurray said. "Everybody just looked at me and like, 'Oh, it's Jamie.' That was the coolest feeling ever that you guys weren't shocked I was in there."
No interest in Indy: Former Indy 500 winner Juan Pablo Montoya doesn't care how much bonus money is offered to win the Indy 500 and Coca-Cola 600 on the same day, he wouldn't do it.
"It would be a nightmare," Montoya said. "I race 39 weekends a year with Cup and the 24 Hours [of Daytona]. Add another month for Indy and I'd be looking for a new family. I don't have to prove myself there. I'm happy where I am."
October, 9, 2009
10/09/09
7:42
PM ET
FONTANA, Calif. -- All-in or not at all.
That's the message Juan Pablo Montoya and Jimmie Johnson had for Danica Patrick and her plan to give NASCAR a shot.
Patrick is hoping to work out a deal with JR Motorsports to run a few Nationwide races next season while continuing to race full-time in the IndyCar Series.
"I wouldn't be doing both cars, to be honest with you," Montoya said Friday. "That's my advice. The cars are so different. You will get comfortable [in the Nationwide car] and then go to the other thing, and every time you come back will be like night and day."
Johnson, who was listening when Montoya gave his opinion on Patrick's plan, shook his head in agreement.
"I think that's a valid point," Johnson said. "The overall thing she needs to accomplish is getting seat time. That's everything in learning these cars and these tracks. She may have raced at some of these tracks, but not in a closed-body vehicle. So it boils down to seat time."
One successful Sprint Cup driver made his NASCAR start while continuing to race Indy cars. Tony Stewart ran nine Nationwide races in 1996 and five Nationwide races in 1997 when he won the IRL championship.
Stewart raced 22 Nationwide events for Joe Gibbs Racing in 1998 while running the full IRL schedule before moving full-time to Cup in 1999.
Patrick visited the Stewart-Haas Racing shop earlier this year. Stewart was impressed with her attitude toward making the move to NASCAR.
"I know that she's serious about it," Stewart said last month at Atlanta. "I don't think she has some misguided idea that it's going to be easy. She wants to do it the right way."
Carl Edwards said Patrick shouldn't expect too much too soon.
"As far as advice to Danica, I guess the biggest thing would just be patience," Edwards said Friday. "The races are very long and the competition is so close that if you go out there and get impatient or try too hard, that's a surefire way to disaster.
"It's just patience. It will take time no matter how good someone is. I think coming from another discipline to this, that's a huge step."
Johnson thought Patrick should try to drive anything with a body on it, and accept the fact that she's going to have some accidents.
"Hit some walls," Johnson said. "Tear up equipment, make mistakes. You have to go through that. You can't shortcut it. It doesn't matter if you're Juan Pablo from F1 or the guy from the local short track. You have to go though those experiences to learn."