Category archive:

Kyle Busch
June, 27, 2013
06/27/13
4:57
PM ET
SPARTA, Ky. -- Churchill Downs might be a little dirtier, and it's ancient compared to Bluegrass State neighbor Kentucky Speedway. But the 1.5-mile oval is downright gnarly compared to most racetracks in NASCAR.
And that's just how most drivers like it. Good drivers tend to want rough and bumpy rather than smooth and untarnished for a racing surface.
"This track really suits me," said Brad Keselowski, who won this race one year ago. "When it's rough, I tend to do better."
The bumpier the track, the less grip it has and the more it brings driver skill into play. Kentucky Speedway is as rough as they come.
"I love how much character that racetrack has," Jimmie Johnson said. "It's so rough. The groove moves around, and you really are just trying to dodge the big swells and bumps to find grip for your race car.
"It's a track I didn't have a lot of success at in the Nationwide Series, or even going there to test before my Cup career really started. We tested there a lot, and I crashed all the time. When the racetrack was back on the [Cup] schedule, I got pretty nervous about things, but I've had a couple of good runs."
Kentucky is one of only four oval tracks where Johnson has yet to win. Of course, this is only his third chance at Kentucky. He was sixth last year and third in the inaugural Kentucky Cup race.
[+] Enlarge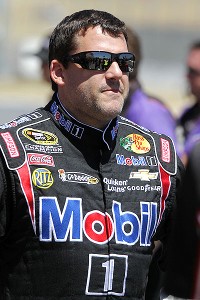 Jerry Markland/Getty ImagesTony Stewart said he's still trying to figure Kentucky Speedway out.
Tony Stewart considers Kentucky one of his two home tracks, along with Indianapolis. Kentucky Speedway is only 65 miles from his hometown of Columbus, Ind. But he failed to post a top-10 finish in the first two Kentucky races.
"We're still figuring it out," Stewart said. "It's got a lot of bumps, so that makes it very challenging. Trying to figure out exactly where to be, where to try to get around some of the bumps, how to get through them better, how to get the car to go through them better -- those are challenges that kind of make it fun, because it's not easy to get around."
All three NASCAR series are racing here this weekend, so the added rubber on the asphalt will supplement the racing groove if wet conditions don't wash it away.
"This track creates a lot of side-by-side racing," Greg Biffle said. "It's flatter than most 1.5-mile ovals and has sweeping corners."
So drivers who consider themselves "wheel men" tend to be the ones who race up front on a track like Kentucky. One of those is Kyle Busch, who won the first Kentucky Cup race in 2011.
Busch and Keselowski are running all three races this weekend because they consider additional track time more important here than at any other track.
"The biggest thing with the extra track time is figuring out the bumps," Kyle said. "It helps if you need your guys to give you a better setup to get through some of those bumps."
Martin Truex Jr., coming off his first victory in six years with his win last weekend at Sonoma, thinks he has a legitimate shot to make it two in a row.
While a road-course win means little on this track, Truex has been at his best this season on the 1.5-mile ovals. He has posted top-10s at all four 1.5-mile oval races this season, including second at Texas, where he led 142 laps.
"But this track is so different," said Truex, who finished eighth at Kentucky last year. "Even though it's a mile and a half, it's unique with the layout and the way it arcs into the corners, but the bumps are the big thing.
"It's just gotten super rough. I guess it's always been rough. They fixed it a few times, and it keeps going back. You have to find ways through the bumps and find ways around them. And that makes it fun to drive."
April, 4, 2013
04/04/13
5:18
PM ET
NASCAR went with a new points system in 2011 based on one point per finishing position. It's better than the old system, but it still results in way too big a penalty for a bad finish compared to a good one.
For example, Joey Logano has one top-10 finish in the first five races (third at Fontana) and ranks ninth in the standings. The California race was the only time this year Logano has finished better than 12th.
Ryan Newman has finished better than 12th three times. He has three top-10s (including a fifth in the Daytona 500) but ranks 20th overall.
Huh? Newman crashed at Phoenix and finished 40th and had an engine failure at Las Vegas and finished 38th. A DNF (did not finish) is a points disaster.
Greg Biffle ranks fourth in the standings, but doesn't have a top-5 so far this season. Kyle Busch has three top-5s, including a victory at Fontana and second-place at Bristol, but he ranks sixth.
Busch had an engine failure at Daytona and finished 34th. Biffle hasn't finished worse than 17th, which he did twice. But shouldn't the man with three top-5s and a victory in the first five races rank ahead of the guy with no top-5s?
Consider this oddity: A driver could win three times in the first five races and be lower in the standings than a driver who didn't post a top-10 in those five events.
Five finishes of 11th (without leading a lap) would give a driver 165 points.
Another driver could win three times and lead the most laps (good for 144 points), finish 34th in the other two (good for 20 more points), and be one point behind the driver who didn't post a top-10.
That's not going to happen, of course, but you get the point, no pun intended.
The good news is the wild-card format (basing the final two playoff spots on victories for those drivers 11th through 20th) means the driver who wins races is likely to make the Chase if he ranks in the top 20.
But the system should have more of a reward for finishing well or less of a punishment for having a bad day.
---
• Joe Nemechek is really racing: In 98 Cup starts over the previous three seasons, Nemechek was running at the finish only four times. He has equaled that amount in the first five races this season.
Nemechek's only DNF this season came in the Daytona 500. He isn't able to race competitively because he just doesn't have the funding or the personnel to do it. But he's racing until the end, giving it all he has, and that's good enough for me.
February, 20, 2013
02/20/13
3:20
PM ET
DAYTONA BEACH, Fla. -- Before NASCAR kicks off 2013 with the Daytona 500, here are a few interesting statistics that might surprise you:
Bad news for bad Brad: If Brad Keselowski wins the Daytona 500 on Sunday, he'll be the first defending Cup champion in 13 years to accomplish the feat. The last man to do it was Dale Jarrett in 2000, three months after winning the 1999 title.
Bad news for popular Danica: It's also been over a decade since the Daytona 500 pole winner went on to win the race. That also was Jarrett in 2000. Does DJ know something everyone else doesn't?
Menard is No. 1: Yes he is, as far as laps completed. Paul Menard was winless last season and finished 16th in the standings with only one top-5, but he completed more laps than any other driver -- 10,406, or 13,676.386 miles.
Obviously, Menard was on the track a lot. He had only one DNF. No wonder my eyes hurt after seeing that neon yellow Chevy lap after lap.
JJ led almost everything in 2012: Except the one category that counted the most: Winning the championship. But Jimmie Johnson and the No. 48 Chevy team should feel good about their 2013 chances when they look at the stat book.
Five-Time was No. 1 in laps led (1,744), times led (78), races led (26), top-5s (18), top-10s (24) and driver rating (109.5). He also tied for the top spot in victories (5) and poles (4).
So how in the world did Johnson not win the title? He had six DNFs, the most of any driver in the top 20 in the standings.
Expect a close finish Sunday: Restrictor-plate races usually end one of two ways -- a side-by-side finish for the victory or a big wreck that brings out a caution.
Last year's Daytona 500 had the closest finish of the season when Matt Kenseth edged Dale Earnhardt Jr. by .21 of a second. The Talladega spring race was won by Keselowski by .304 of a second over Kyle Busch.
The other two plate races ended under caution because of last-lap crashes.
All that could change this year with the introduction of the "Gen 6" to the series, but expect some craziness at the end to continue.
By the way, 17 of 36 races last year ended with a margin of victory that was less than a second. Nine of those were less than half a second.
The low man on the points stand: That would be Landon Cassill in 2012, a category no one wants to lead in 2013, but someone will. Cassill had the fewest points of 26 drivers who started all 36 Cup events.
He also had fewer points than five drivers who didn't start all 36 events -- Earnhardt, Mark Martin, Regan Smith, Travis Kvapil and Kurt Busch.
Start-and-park perfection: The trophy went to Scott Riggs in 2012. Riggs started 20 events last season. How many did he finish? Zero. He completed 8.2 percent of the laps and made $1.5 million. Nice work if you can get it.
The S&Pers will make a little less this season since NASCAR adjusted the purse money to pay less for the bottom feeders, but it's still good money for running a few laps.
January, 8, 2013
01/08/13
1:47
PM ET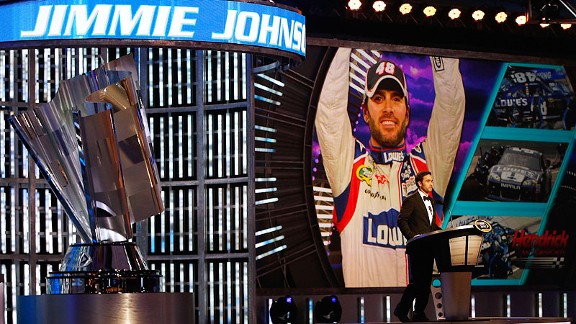 Tom Pennington/Getty ImagesOne Vegas bookmaker has Jimmie Johnson as a 4-1 favorite to win the 2013 Sprint Cup championship.
A well-known online bookmaker has spoken, and Jimmie Johnson is the 2013 favorite to win the Sprint Cup. In the betting game, it's not even close.
Johnson is listed at 4-1 by Bovada (@BovadaLV). Next comes a three-way tie for No. 2 with defending champ Brad Keselowski, Denny Hamlin and Kyle Busch all at 17-2.
Even though Busch failed to make the 2012 Chase, he is viewed as the second-most likely driver to win the 2013 title.
But Johnson is the runaway favorite. Bovada sees JJ as twice as likely to win a sixth championship in 2013 as they do Keselowski winning two in a row or Hamlin or Busch winning a first title.
Fourth on the list is Kasey Kahne at 9-1, followed by three former champions at 12-1 -- Jeff Gordon, Matt Kenseth and Tony Stewart, the 2011 champ.
Carl Edwards, the 2011 runner-up when he tied Stewart for the points total but had fewer wins, gets a decent betting line despite finishing 15th last season and going winless. He's 14-1 along with Dale Earnhardt Jr., Clint Bowyer and Greg Biffle.
Bovada sees Edwards and Dale Jr. just as likely to win the crown this year as Bowyer, who finished second last season.
Martin Truex Jr. is 16-1, and Kevin Harvick has the longest odds among the 2012 Chase drivers at 20-1, probably because he's a lame-duck driver at Richard Childress Racing. Harvick moves to Stewart-Haas Racing in 2014.
If you want to pick a real long shot, Ryan Newman is listed at 50-1 along with Juan Pablo Montoya. Jamie McMurray, Montoya's teammate at Earnhardt Ganassi Racing, is substantially better at 33-1.
If you like Joey Logano's chances in his first year at Penske Racing, you can get him at 40-1.
But Johnson remains the star for this bookmaker. He finished third last season, falling one spot in the final race when he failed to finish due to mechanical problems.
JJ was the 7-2 favorite in November at the Las Vegas Wynn, so bookmakers still love him. Whom are you betting on?
November, 1, 2012
11/01/12
4:13
PM ET
While we all contemplate who will win a close championship battle between Jimmie Johnson and Brad Keselowski, let me give a little love to a few non-Chasers.
Topping the list is Kyle Busch. Rowdy has posted five top-10s, including four top-5s, in the seven Chase races.
Give him credit for acting like a pro and showing some class when he probably could have punted Johnson to win in the final laps at Martinsville last weekend.
"He's a five-time champion for a reason," Busch said of Johnson after the race. "I was getting into [Turn] 1 and got to his rear bumper. I didn't want to move him out of the way."
Busch knows Johnson is running for the title. It was not the time or place for the bump and run, and it will pay dividends if the situation is reversed in the future.
Joey Logano is another Chase outsider having a strong run down the stretch. Logano started the Chase with three consecutive top-10s and has four in the seven playoff races. The crazy last lap at Talladega, where he ended up 32nd, caused his only finish worse than 19th.
It bodes well in two ways. First, it's a positive sign for Roger Penske that Logano can get the job done next season when he moves into the No. 22 Ford. Second, it's great news for Matt Kenseth that he is taking over a No. 20 Toyota team at Joe Gibbs Racing that is capable of contending for the title.
Both Logano and Busch have more top-10s in the Chase than JGR teammate Denny Hamlin, who fell out of title contention with a 33rd-place finish at Martinsville. Busch's average finish in the Chase is 11.4, compared to 12.4 for Hamlin.
The car that some people may have overlooked is the one with three drivers -- the No. 55 Toyota at Michael Waltrip Racing. Mark Martin and Brian Vickers have combined for four top-10s in the Chase, but that doesn't tell the whole story.
It appeared Waltrip was headed to victory at Talladega before Tony Stewart tried to block him on the last lap and started the big one at the end.
Martin was third at Dover and sixth at Charlotte. Vickers was ninth at New Hampshire and eighth at Martinsville.
A lot of the credit goes to crew chief Rodney Childers. He has done a remarkable job keeping the car running up front with three drivers, all of whom do things differently and want different setups.
The No. 55 is 14th in owner points this season with 15 top-10s. The same trio will share the driving duties on the 55 next season, but you have to wonder how good that car could be with the same driver at the wheel every week.
Forrest Gump could have said interviews with race car drivers are like a box of chocolates. You never know what you're gonna get.
In case you haven't noticed, drivers can be a little surly at times. Sometimes they're condescending and sometimes just totally uninterested. They also can be funny and engaging.
Sprint Cup is a long season and no one is on his A-game every day, including reporters. And occasionally, there's a disconnect between the two.
Last weekend at New Hampshire had a few good examples. Let's start with Tony Stewart.
Even on what he described as a perfect day for Stewart-Haas Racing -- Tony finished second and SHR teammate Ryan Newman won the Lenox Industrial Tools 301 -- Stewart still let out his evil twin for a few moments afterward.
The top three finishers of each race are required to come to the media center for questions. Stewart was there as the second-place finisher, but he also could have stayed as the team owner of the winning car.
So a reporter asked Stewart if he was going to stay for the owner's portion of the postrace interviews.
"This is the owner's portion, just so you know," Stewart said. "It never ceases to amaze me how much of a rocket scientist you are. I'm honored to be in your presence."
The reporter then said he meant it as a joke, but added, "Maybe your jokes are better."
"I'm pretty sure," Stewart said. "We'll take a poll and it will be overwhelming."
Oh Tony, no need to get all riled up on such a big day.
And then we had Kyle Busch, who was interviewed in the garage after he blew a right-front tire. Busch was asked if contact with the No. 88 Chevy of Dale Earnhardt Jr. caused his tire problem.
"There's been contact with everybody out there," Busch said. "So nice try making a story."
Busch was implying that the reporter wanted to stir up bad blood between Kyle and Junior. Not true. This was a legitimate question.
A couple of laps before Busch's tire came apart, Kyle's right-front tire made contact with Earnhardt's left-rear tire, causing smoke to fly off Busch's tire well.
Busch said a bead melted on the tire, which Goodyear officials later confirmed. But asking him about the contact with Earnhardt was a legitimate question.
At least Busch was feisty. Earnhardt was anything but feisty in his interview session Friday morning at his hauler.
For a guy who hears questions over and over again every week, it gets monotonous at times. And it was obvious from the start Friday that Earnhardt would prefer a root canal without anesthetic to standing around talking to a media cluster.
The last two questions were mail-it-in time for Junior:
What was the feeling he had the first time he went down the frontstretch at Indy?
"I don't remember," Earnhardt said, barely above a whisper.
What does it take to be successful at Indy?
"Be leading," he said.
Allrighty then. And with that, interview time was over.
But for every moment like those, there's also some answers from drivers that make up for it.
Clint Bowyer was asked the same question about his thoughts on his first lap at the Brickyard:
"'What the hell? It's way too big.' That's what I thought," Bowyer said. "And you think back in the day cars would run only 80 mph around here. Can you imagine watching that race? Those straightaways must have seemed pretty long."
Even dead tired after a tough race, some guys make it fun.
After 301 laps on a hot day at New Hampshire, Carl Edwards was asked why he was standing on pit road while all the other guys were sitting on the pit wall.
"We don't sit down, come on," Edwards said. "I think Jimmie [Johnson] was sitting down because he is intimidated by our points lead."
Now that was good. In the world of interviewing drivers, you just never know what you're gonna get.
October, 9, 2010
10/09/10
1:46
PM ET
FONTANA, Calif. -- If you didn't know about this Sprint Cup race changing from 500 miles to 400 miles, don't feel bad. Some of the drivers didn't know until they arrived at Auto Club Speedway.
Ryan Newman was caught off guard when asked Friday if his strategy would change for the shorter Pepsi Max 400.
"Is it? Is it a 400?" Newman asked. "Awesome."
Carl Edwards also didn't know, but he didn't think it was awesome.
"I can't believe I didn't know this was a 400-mile race," Edwards said Friday. "I work really hard to be as fit as I can be. We work hard to be prepared for long races. I feel that long races play into my strengths physically, and then I feel that from a handling standpoint and the way the car drives."
Don't classify Sunday's race as a short one. It's 200 laps around the giant 2-mile oval at the Inland Empire track with temperatures expected at 90 degrees.
"This racetrack just seems like one of the hottest we go to sometimes,'' Edwards said. "When the sun is out here, there is no escaping the heat. The hotter and slicker it is suits me and our team."
[+] Enlarge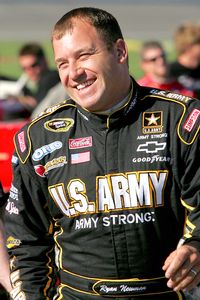 Jerry Markland/Getty ImagesRyan Newman was thrilled to learn Sunday's Cup race is 400 miles long.
Edwards has six top-5s at ACS, but his one victory came in cool conditions in a February race in 2008.
Jamie McMurray, who starts on the pole for the second consecutive time at ACS, said the wide surface has plenty of racing room, but it can be tricky.
"The trick to this place is the seams," he said. "It's really hard to explain, but when the car gets in the seams it feels like water and it's really slick. When you get stuck in them, you can't get out.
"It's almost like you're in a slot and you have to wait till you get to the straightaway to get your car off of it. It will slow your car down a half-second a lap if you get stuck in one of them real bad."
McMurray is talking about the tar that fills the grooves betweens the lanes of the racing surface.
"The key to this place is having a car you can drive across the seams and not get stuck in them," McMurray said. "The cars that handle well can miss the seams and they're faster. The guys whose cars are sliding around a bit more tend to find them."
Jimmie Johnson and the No. 48 Chevy team obviously have figured it out. He has won three of the last four races at ACS. Will 100 fewer miles make a difference for him?
"I think that the race distance at 400 miles is probably better for everyone," said Johnson, who starts ninth Sunday. "I don't have a lot of fears at this track because there's so much room. There are lanes you can use to pass."
Sunday will be the first time at ACS the Cup teams have raced a car with the rear spoiler instead of the wing.
"We've had so much time now with [the spoiler] that we pretty much have a feel for it," Kyle Busch said Friday. "It will be different than what it was in the spring, but our setups have evolved so much from when we were here the last time."
The fall event becomes extinct after Sunday. ACS will lose one of its two Cup events next year. The lone Cup event will take place on March 27. No more Chase races for ACS.
"Obviously, the attendance here hasn't been what everyone hoped it would be," Jeff Burton said Friday. "I think it is a good area for us and being on the West Coast is a good thing.
"I believe we have a lot of race fans out here. I also know the economy around the area is really bad. That has hurt the racetrack a lot. It's hard to say taking a race away is a good thing, but sometimes it is. You end up getting out more people for one race than you had for two races."
Whatever the crowd is Sunday, Johnson said he thinks they could see the best show ever at ACS.
"As a California native, I'm disappointed to hear that it's losing an event,'' Johnson said. "But the 400-mile race should make it more exciting, and restarts here can get pretty wild. It will entertain the viewers on television and the people in the stands. I think it'll be a good race."
August, 25, 2010
08/25/10
1:52
PM ET
As far as the bookmakers in Las Vegas are concerned, Jimmie Johnson remains the man to beat for the Sprint Cup.
Johnson's recent woes on the track haven't dropped him from the top of the betting line in Vegas.
Johnson is ninth in the points standings. He has fallen seven spots after posting finishes of 22nd or worse in five of the last seven races.
But the summer slump hasn't stopped bookmakers from placing Johnson as the favorite to win his fifth consecutive title.
Heading into the open weekend, two races before the start of the Chase, Johnson is listed at 7-to-2 at the Las Vegas Hilton. Kevin Harvick is second at 9-to-2.
[+] Enlarge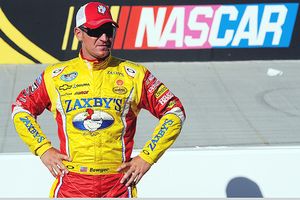 John Harrelson/Getty Images for NASCARClint Bowyer is the least-favored driver in the top 12 by Las Vegas oddmakers, but 20-to-1 isn't too bad.
Why is Johnson favored, you ask? Two reasons. First, Johnson's won four in a row. That alone is a darn good reason to keep him on top.
But there's also a statistical reason. If the Chase started today, Johnson would begin the playoff on top, tied with Denny Hamlin. Both drivers have a series-best five victories. Hamlin is 5-to-1 on the betting line.
Harvick and Kyle Busch, each with three victories, would start the playoff 20 points back. Busch is listed at 5-to-1 with Hamlin.
Jeff Gordon, winless this season but second in the points standings, is next on the betting list at 7-to-1. Rounding out the top six is winless Tony Stewart at 10-to-1.
Kurt Busch, who has two wins and will be the only Dodge driver in the Chase, is 12-to-1.
Greg Biffle, the only other Chase contender with a victory this season, is listed at 15-to-1. Roush Fenway Racing teammate Carl Edwards is slightly better at 12-to-1, and RFR driver Matt Kenseth is 18-to-1.
Jeff Burton, Harvick's teammate at Richard Childress Racing, is also 18-to-1. RCR driver Clint Bowyer, who is hoping to hold on to a 100-point advantage in the 12th-place bubble spot, is the long shot of the Chase boys at 20-to-1.
But 20-to-1 isn't much of a long shot. What it means, at least in the eyes of the bookies, is the 2010 Chase is wide open.
Johnson remains the favorite for now, but not by much. If the Vegas oddsmakers are right, this is going to be a fun Chase to watch.
April, 15, 2010
04/15/10
2:22
PM ET
FORT WORTH, Texas -- Now who would ever have thought Joe Gibbs would be inducted into any hall of fame in Texas?
Or Robert Yates, either, who is attending his first Sprint Cup race since his retirement as a longtime team owner?
[+] Enlarge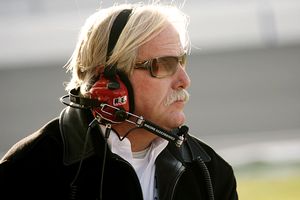 Icon SMIRobert Yates is a legend as a NASCAR owner, and now he's the Bruton Smith Legends Award recipient from the Texas Motorsports Hall of Fame.
Jeff Gordon and Marcos Ambrose also will take the stage Friday night, two men being rewarded for always trying to be good guys. Kyle Busch will get a trophy, too, and you never know what Kyle might say.
The annual Texas Motorsports Hall of Fame dinner always is a special occasion, but this year's honorees could make it the best show ever for the attendees at the Texas Motor Speedway Club Ballroom.
Previous Hall inductees Terry Labonte and Bobby Labonte -- along with inaugural inductee Johnny Rutherford -- plan to attend the gala.
It's also a proud night for the members of the THHoF voting panel. One of our own, longtime motorsports writer John Sturbin, becomes the first media member to earn a spot in the Hall.
And I'm honored to be the man presenting Sturbin (Sturb to us) into his rightful place among the Texas racing elite. I won't reveal all my speech tidbits about Sturb, but this tells you all you need to know:
"My mom loves to tell a story about my first word as a baby," Sturb said. "It wasn't 'Mommy' or 'Daddy.' It was 'car.'"
I doubt Gibbs' first word was "football," but people around North Texas still know him as Coach Gibbs, and not necessarily in a good way. His years as the leader of the Washington Redskins, the hated rival of the Dallas Cowboys, made Gibbs the enemy around these parts.
How ironic that Gibbs now enters the Texas Motorsports Hall for all he's done off the football field as an accomplished NASCAR team owner and a man of great character.
And it will be a Texan presenting Gibbs at the dinner. Norm Miller, CEO of Dallas-based Interstate Batteries -- the longtime sponsor of the No. 18 car at Joe Gibbs Racing -- will do the honors.
It's a night for great NASCAR team owners with Yates receiving the Bruton Smith Legends Award. Yates was a legendary engine builder and a Cup champion as a team owner when Dale Jarrett won the title in 1999. Charlotte Motor Speedway president Marcus Smith, Bruton's son, will present Yates.
Busch will receive the TMS Racer of the Year award for his three victories at Texas last season, sweeping both Nationwide races and winning the November Camping World Truck Series event. Busch has won four consecutive Nationwide races at TMS. ESPN.com motorsport editor K. Lee Davis, a Fort Worth native, will present Busch with his award.
[+] Enlarge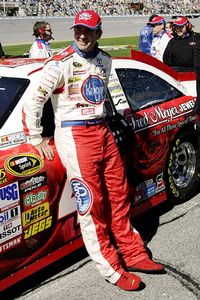 AP Photo/Dave MartinMarcos Ambrose said he's happy to be recognized for his positive approach to NASCAR, as well as the warm reception he's received.
The TMHoF voters, a panel of 20 veteran writers and broadcasters across Texas who cover racing, usually pick one person to win the annual Sportsmanship award. But the vote this year was a dead heat between Gordon and Ambrose, so we decided to honor both of them.
Gordon is receiving two awards: Sportsmanship and the Fan Choice Award, which is determined by an Internet vote by the fans. TMS president Eddie Gossage will present Gordon his Fan Choice Award. Fort Worth Star-Telegram writer Anthony Andro presents Gordon's Sportsmanship Award.
Tad Geschickter, Ambrose's team owner, will present him Friday. Ambrose becomes the first Australian recipient of a TMHoF award.
"I have such a great appreciation for our sport," Ambrose said. "When I came into NASCAR, I promised myself I was going to appreciate every single day and not get mad or angry. I remind myself every day that I'm doing something that millions of kids out there would love to do when they grow up. I am lucky enough to be a driver.
"Sure, you may get disappointed at times, and there are compromises. However, you can never lose sight that there are not many downs when you are a race-car driver. I love what I do. So to be recognized like this for the first time -- especially when I'm a goofy Tasmanian coming from 14,000 miles away -- is pretty awesome."
That tells you all you need to know about why Ambrose earned this recognition.
So this Texas Motorsports Hall of Fame event will run the gamut -- from a famous coach and team owner to a talented newbie from half a world away.
November, 7, 2009
11/07/09
5:25
PM ET
FORT WORTH, Texas -- From the first lap ever turned at this place, Texas Motor Speedway often has made the unexpected a reality.
It began with a multicar crash on the first turn 12 years ago. No one would have guessed Jeff Burton, a fourth-year driver who was winless in his career at the time, would go to Victory Lane in that first race in 1997.
And who would have thought 10 years would pass before Burton became the first driver to win twice at Texas, a track that had 12 different winners before that moment?
[+] Enlarge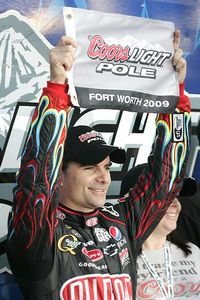 AP Photo/Ralph LauerIt took Sunday's pole-sitter Jeff Gordon 12 years to finally find Victory Lane at Texas.
So don't be surprised if the Dickies 500 on Sunday brings another surprising moment.
Can Kyle Busch become the first man to complete the triple and win all three NASCAR events on the same weekend? He has a shot at it.
Can Carl Edwards escape the winless column of 2009 and post a victory at the track where he swept both Cup events last year? Maybe.
Can Dale Earnhardt Jr. end his 54-race losing streak and win at the place where he earned his first Cup victory nine years ago? Hey, anything's possible.
Or is this Jimmie Johnson's show the rest of the way en route to his historic fourth consecutive championship? That wouldn't surprise a soul.
Jeff Gordon, who starts on the pole Sunday, raced 12 years at TMS before finally earning a victory on the 1.5-mile oval in the April event this year.
Phoenix is the only track where it took longer for him to win, coming 14 years after his first start in the Arizona desert. Gordon has yet to win at Homestead-Miami Speedway, but the Cup series didn't start racing there until 1999.
Now Gordon can become the second consecutive driver to sweep the season races at Texas. Gordon ranks third in the Chase behind Hendrick Motorsports teammates Johnson and Mark Martin, but Texas is his only victory this year.
"This is a tricky track," Gordon said Friday. "The straightaways are very flat here compared to how high-banked the corners are. And those transitions really challenge you. Plus there's some bumps and the corners are fast, but they're tight. The walls come out at you very, very quick. So it's not an easy track."
Gordon said it was the TMS race one year ago when the No. 24 team figured out the best way around the place.
"Last year at this time we were out of it," said Gordon, meaning out of title contention. "It allowed us to sort of do some testing and we tried some things that we hit on and it really seemed to pay off here."
But Gordon has one big difference from the spring race at TMS.
"This is not the same car we had here earlier in the season," he said. "We feel like this is a better car."
Gordon's not the only one with something new this weekend. Kyle Busch has Dave Rogers on the pit box for the first time. Rogers, who was Busch's crew chief in the Nationwide Series, replaced Steve Addington as the crew chief of the No. 18 Toyota.
"Dave and I have a sense of what we need from each other and what we need to talk about," Busch said earlier this week. "It might be a bit of a learning curve for Dave, getting all his paperwork on the new car. But for me, it will be just talking with Dave and trying to get everything going to prepare ourselves for 2010."
A record-setting victory Sunday to sweep the weekend would be a nice way to start things off.
Edwards and Earnhardt would settle for any victory at this point. Edwards was encouraged after posting the second-fastest lap in the final practice Saturday.
"That's the fastest we've been in a long time," Edwards said afterward. "We'll see how it goes. It's 500 miles and there will be a lot of things that change throughout the race, but it feels nice. We've got a fast race car."
Earnhardt won his first Cup start at TMS in his rookie season. He has seven tops-10s at Texas, but hasn't posted a top-10 at TMS in the last three years.
"We've had some good success at Texas," Earnhardt said this week. "It's a fun track. I just like the enthusiasm that the crowd has. It gets me excited."
Johnson is excited about getting a step closer to the championship. A good showing Sunday would give him an excellent shot of clinching the title at Phoenix next weekend.
Johnson has finished first or second in three of the past four TMS events, including second to Gordon in April.
"We've been very competitive the last two years here," Johnson said Friday. "Certainly, we're happy with where we are in the points. But it's not really going to change what we do. We want to win the race."
If he does, TMS will lose its rep of producing the unexpected. If he doesn't? Well, maybe the place has a surprise or two left for everyone.