Category archive:

Brad Keselowski
June, 27, 2013
06/27/13
4:57
PM ET
SPARTA, Ky. -- Churchill Downs might be a little dirtier, and it's ancient compared to Bluegrass State neighbor Kentucky Speedway. But the 1.5-mile oval is downright gnarly compared to most racetracks in NASCAR.
And that's just how most drivers like it. Good drivers tend to want rough and bumpy rather than smooth and untarnished for a racing surface.
"This track really suits me," said Brad Keselowski, who won this race one year ago. "When it's rough, I tend to do better."
The bumpier the track, the less grip it has and the more it brings driver skill into play. Kentucky Speedway is as rough as they come.
"I love how much character that racetrack has," Jimmie Johnson said. "It's so rough. The groove moves around, and you really are just trying to dodge the big swells and bumps to find grip for your race car.
"It's a track I didn't have a lot of success at in the Nationwide Series, or even going there to test before my Cup career really started. We tested there a lot, and I crashed all the time. When the racetrack was back on the [Cup] schedule, I got pretty nervous about things, but I've had a couple of good runs."
Kentucky is one of only four oval tracks where Johnson has yet to win. Of course, this is only his third chance at Kentucky. He was sixth last year and third in the inaugural Kentucky Cup race.
[+] Enlarge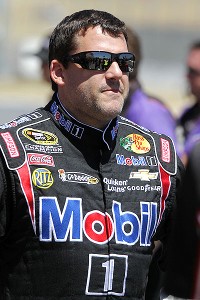 Jerry Markland/Getty ImagesTony Stewart said he's still trying to figure Kentucky Speedway out.
Tony Stewart considers Kentucky one of his two home tracks, along with Indianapolis. Kentucky Speedway is only 65 miles from his hometown of Columbus, Ind. But he failed to post a top-10 finish in the first two Kentucky races.
"We're still figuring it out," Stewart said. "It's got a lot of bumps, so that makes it very challenging. Trying to figure out exactly where to be, where to try to get around some of the bumps, how to get through them better, how to get the car to go through them better -- those are challenges that kind of make it fun, because it's not easy to get around."
All three NASCAR series are racing here this weekend, so the added rubber on the asphalt will supplement the racing groove if wet conditions don't wash it away.
"This track creates a lot of side-by-side racing," Greg Biffle said. "It's flatter than most 1.5-mile ovals and has sweeping corners."
So drivers who consider themselves "wheel men" tend to be the ones who race up front on a track like Kentucky. One of those is Kyle Busch, who won the first Kentucky Cup race in 2011.
Busch and Keselowski are running all three races this weekend because they consider additional track time more important here than at any other track.
"The biggest thing with the extra track time is figuring out the bumps," Kyle said. "It helps if you need your guys to give you a better setup to get through some of those bumps."
Martin Truex Jr., coming off his first victory in six years with his win last weekend at Sonoma, thinks he has a legitimate shot to make it two in a row.
While a road-course win means little on this track, Truex has been at his best this season on the 1.5-mile ovals. He has posted top-10s at all four 1.5-mile oval races this season, including second at Texas, where he led 142 laps.
"But this track is so different," said Truex, who finished eighth at Kentucky last year. "Even though it's a mile and a half, it's unique with the layout and the way it arcs into the corners, but the bumps are the big thing.
"It's just gotten super rough. I guess it's always been rough. They fixed it a few times, and it keeps going back. You have to find ways through the bumps and find ways around them. And that makes it fun to drive."
Allow Blount to be blunt on a few things.
---
NASCAR got a message this week: Loosen up and chill out.
Major penalty reductions came for Joe Gibbs Racing and Penske Racing after NASCAR had basically thrown the book at both organizations.
The JGR reversal Wednesday was a stunner, from a six-race suspension for Jason Ratcliff, Matt Kenseth's crew chief, to only one race. And a huge change to Kenseth's points penalty, from 50 down to 12. He also gets the three Chase bonus points for the win at Kansas reinstated.
This move was the right call, but highly unusual to see the three-person appeals panel (the first level of the NASCAR appeals process) make such a surprising reversal. The one connecting rod that was barely too light (about three grams, the approximate weight of two paper clips) in Kenseth's car was no performance advantage and didn't come from JGR. It was a part from Toyota Racing Development.
Nevertheless, a major penalty revision for any engine violation doesn't happen, until now. It's an indication that NASCAR needs to re-evaluate the severity of some of its punishment decisions.
The JGR decision came one day after chief appellate officer John Middlebrook reduced the suspensions for the Penske Racing team members from six championship races to only two for the rear-suspension violations at Texas.
Losing Ratcliff for only one race is a big help to Kenseth, but losing crew chief Paul Wolfe for only two championship points races instead of six is a much bigger break for Brad Keselowski. Few drivers are as reliant on their crew chief as Keselowski is with Wolfe, arguably the best man on the box in the sport today.
The decision by Middlebrook to reduce the lengths of the suspensions for all the Penske brain trust is much bigger than reducing the lost points or the fines, which he didn't do for Keselowski or Joey Logano's team. The 25-point penalty and the $100,000 hit to each team will remain, but Keselowski and all the Penske guys should be thrilled about the partial reprieve on suspensions.
Middlebrook is proving to be a fair man. When he eliminated most of the penalties on Jimmie Johnson and the No. 48 Chevy team last year after the body violations at Daytona, some people accused him of playing favorites with his old buddy, team owner Rick Hendrick. Nonsense.
Middlebrook carefully studies each appeal and listens intently to the arguments being presented. He is not a shill for NASCAR or any team owner. He simply wants to come to a reasonable conclusion.
Middlebrook is not toeing the party line for NASCAR. Neither did the three-person appeals panel Wednesday on the JGR penalties.
No one can claim NASCAR'S appeals process is a kangaroo court. To the contrary, this week's penalty reductions are a message that NASCAR needs to lighten up on its draconian penalties.
---
No driver has finished on the lead lap of every race this season, which shows how difficult it is to do.
Paul Menard was the only one left until failing to do so Sunday at Talladega. Four drivers have done it in nine of 10 events -- Johnson, Keselowski, Aric Almirola and Menard, but Menard and Almirola are the only drivers in the top 10 who don't have a top-5 finish.
Amirola ranks seventh in the standings after posting four consecutive top-10s, but the one lap he led at Talladega is his only lap led this season. Menard is eighth in the standings with only three laps led.
What does that tell us? Both Almirola and Menard are racing consistently and not making mistakes, but they aren't serious contenders until they can challenge for victories.
---
Kyle Busch is doing things in the opposite fashion of Menard and Almirola. Busch has an average starting position of 6.4, but an average finishing spot of 16.9, a minus-10.5 and the worst ratio of any full-time driver in Cup.
Busch can win races, as he has proven twice this season. But consistency is lacking. Some of it's bad luck and some of it isn't.
The best start/finish among top-10 drivers is Dale Earnhardt Jr. at plus-5.8 (17.6 to 11.8). Carl Edwards (16.1-10.5) and Almirola (20.4-14.8) are plus-5.6.
By the way, Danica Patrick is a plus-5 with an average starting spot of 31.1 and an average finish of 26.1. But the farther back you start, the easier it is to move up.
Take J.J. Yeley, for example. He's at a plus-7.8 (the best among full-time Cup drivers), starting 37.0 and finishing 29.2.
---
Futility, thy name is Kvapil. Travis Kvapil has the fewest points of any driver who has made all 10 starts this season. His average finish is 33.7.
Kvapil ranks 37th in the standings, two spots behind AJ Allmendinger, who has only four starts. Kvapil is the only driver to start all 10 races without finishing on the lead lap.
April, 17, 2013
04/17/13
2:15
PM ET
When Judgment Day came Wednesday, Penske Racing found out NASCAR has no mercy. NASCAR has sent a couple of messages this season for every team to hear:
Do not criticize the new Gen-6, and more importantly, do no tamper with it. Hell hath no fury like a NASCAR judge.
It's no wonder NASCAR didn't fine Brad Keselowski for his angry comments after the Texas race. That would have been equivalent to kicking a dead horse, considering the punishment that was coming.
Other than parking a team for a race, it doesn't get worse than this:
" Drivers Keselowski and Joey Logano docked 25 points each, along with 25 owner points taken from both cars.
" Crew chiefs Paul Wolfe and Todd Gordon suspended six championship races (plus the All-Star Race) and fined $100,000 each.
" Car chiefs and the lead team engineer for both cars also suspended six points races.
" Penske Racing team manager Travis Geisler suspended six points races.
[+] Enlarge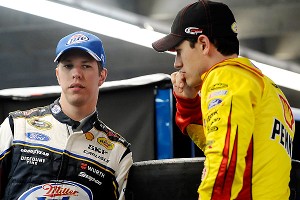 Jared C. Tilton/Getty ImagesPenske Racing teammates Brad Keselowski and Joey Logano got docked 25 championship points each by NASCAR.
In other words, the entire brain trust for both Sprint Cup teams was gone in an instant, a severe punishment for unapproved changes to the rear-end housing on both cars at Texas.
Penske Racing officials immediately sent out a brief statement saying they will appeal. I would hope so. What do they have to lose?
The appeal means everyone keeps working for the moment, but it could be only a temporary reprieve.
NASCAR officials made it clear back in February they wouldn't tolerate any criticism on the new Gen-6 car, fining Denny Hamlin for making disparaging remarks about the car at Phoenix.
And NASCAR made it crystal clear Wednesday it won't tolerate any monkey business when it comes to "pushing the envelope" on the Gen-6. This is one of the harshest penalties ever imposed by the sanctioning body.
Martin Truex Jr. and the No. 56 Toyota team also were penalized Wednesday, but Truex must feel like his team got off light by comparison. Truex was docked six points and crew chief Chad Johnson fined $25,000 for the car being too low in a postrace inspection at Texas.
And Camping World Truck Series veteran Ron Hornaday Jr. also got off relatively easy by avoiding a one-race suspension. Hornaday was docked 25 points and fined $25,000 for deliberately wrecking Darrell Wallace Jr. under caution in Sunday's race at Rockingham.
Kyle Busch fans will howl over that one since Busch was parked for one weekend two years ago when he pulled a similar move on Hornaday at Texas. Hornaday caught a break for previous good behavior.
But the Penske boys were tossed in the NASCAR dungeon in chains. As harsh as it is, the Chase format makes the punishment survivable. Had this happened at the start of the 10-race playoff, game over.
Keselowski can make up the 25 points since it comes long before the Chase starts. It's a little tougher for Logano, because the points reduction would drop him out of the top 10 for now, but not an insurmountable loss.
The real punishment comes in losing the key personnel for both cars. Other than Chad Knaus, who led Jimmie Johnson to five consecutive championships, Wolfe may be the best crew chief in NASCAR today.
Speaking of Knaus, he should send a text to Keselowski and Wolfe that reads: "Welcome to my world, boys. NASCAR has a new champ to pick on."
Few drivers rely on the expertise of their crew chief more than Keselowski does with Wolfe. He's Brad's lifeline.
And any chance of keeping things running smoothly in his absence was eliminated by suspending car chief Jerry Kelley and team engineer Brian Wilson as well.
Logano faces the same fate, just when it appeared he was starting to feel comfortable with his new team. Now both teams will have to fight their way through it.
Until now, inspections had gone relatively smoothly for the Gen-6, so what changed?
Texas was the seventh race of the season in the new car. Teams are starting to feel comfortable with it, and consequently, willing to try more things to make it faster. The more you know, the more you're willing to take a few risks.
No, no, no, boys. Big Brother NASCAR is watching. The Penske punishment essentially tells all the teams, "Don't try it. We will catch you and you will pay."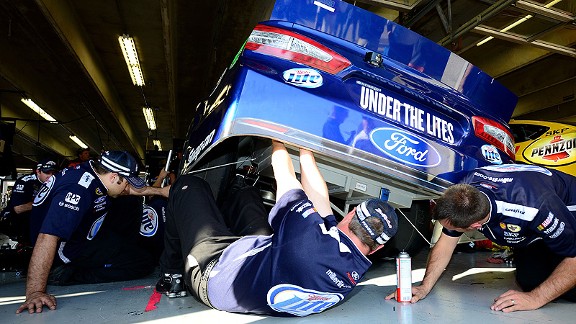 Robert Laberge/Getty Images/Texas Motor SpeedwayThe Miller Lite crew works on the No. 2 Ford after the car failed prerace inspection Saturday at Texas.
March, 7, 2013
03/07/13
8:58
PM ET
LAS VEGAS -- Thou shalt not criticize the Gen-6.
Consider it NASCAR's newest commandment, which Denny Hamlin learned today from his $25,000 fine for daring to see the new car as less than perfect.
"Bow to Gen-6, lowly driver, and do not take its name in vain."
That's the message to all the drivers from NASCAR's comment police, and this time, it's a step too far. NASCAR has to be more thick-skinned than this, but apparently, it isn't.
Hamlin, in a moment of frustration after the Phoenix race, said the Gen-6 isn't any better than the Gen-5. Oh my goodness. Do not compare the most beloved car in NASCAR history (that's the 2013 mantra for the Gen-6) to the most hated car in NASCAR history (the Car of Tomorrow, Generation-5).
Any intelligent, critical comment by a driver will not be tolerated by the ivory tower of NASCAR, as Hamlin found out. Defending Cup champ Brad Keselowski got the same lesson at Daytona after criticizing some of NASCAR's policies in a USA Today article.
Keselowski didn't receive a fine, just a stern private conversation with Brian France and Lesa France Kennedy -- NASCAR's royal brother and sister duo.
Keselowski took it in stride. Hamlin didn't. Based on Hamlin's comment during the test session Thursday at Las Vegas Motor Speedway, Denny is mad as hell and he's not going to take it anymore. No doubt that will result in a new fine.
Hamlin said he won't pay any fine. Good luck with that. He has 10 days to appeal, but a suspension is coming if he loses his appeal -- which he probably will.
A fellow columnist friend of mine brought up a good point today. The second amendment (as in the NRA sponsorship of a Cup race) -- is all good in NASCAR. The first amendment -- drivers speaking their mind -- not so much.
[+] Enlarge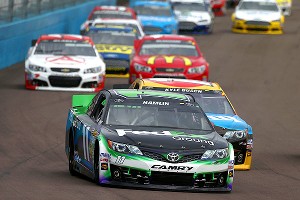 Jonathan Ferrey/Getty ImagesDenny Hamlin was fined $25,000 by NASCAR on Thursday.
Robot training to begin soon for all Cup drivers. Stepford wives will be the instructors.
Look, I've been one of the biggest supporters of the Gen-6. It has so many advantages, starting with the way it looks. And I've said everyone should show some patience before judging how it will race, including drivers.
And for the record, I'm 100 percent in NASCAR's corner on the suspension of Nationwide driver Jeremy Clements. Insensitive racial comments cannot be tolerated in any situation.
But NASCAR has overreacted this time. NASCAR officials should have talked to Hamlin privately and asked him to reserve judgment and try to understand the process before going overboard on critical comments about that car.
No fine, no public message.
Maybe Hamlin will think twice next time. He said it's very hard to make passes in the Gen-6, but he started in the back at Phoenix and finished third. Obviously, he made some passes.
Whether he's right or wrong really isn't the point. NASCAR has made itself look like a lumbering heavyweight who can't take a punch.
It isn't the drivers who need to chill out. It's NASCAR.
February, 20, 2013
02/20/13
3:20
PM ET
DAYTONA BEACH, Fla. -- Before NASCAR kicks off 2013 with the Daytona 500, here are a few interesting statistics that might surprise you:
Bad news for bad Brad: If Brad Keselowski wins the Daytona 500 on Sunday, he'll be the first defending Cup champion in 13 years to accomplish the feat. The last man to do it was Dale Jarrett in 2000, three months after winning the 1999 title.
Bad news for popular Danica: It's also been over a decade since the Daytona 500 pole winner went on to win the race. That also was Jarrett in 2000. Does DJ know something everyone else doesn't?
Menard is No. 1: Yes he is, as far as laps completed. Paul Menard was winless last season and finished 16th in the standings with only one top-5, but he completed more laps than any other driver -- 10,406, or 13,676.386 miles.
Obviously, Menard was on the track a lot. He had only one DNF. No wonder my eyes hurt after seeing that neon yellow Chevy lap after lap.
JJ led almost everything in 2012: Except the one category that counted the most: Winning the championship. But Jimmie Johnson and the No. 48 Chevy team should feel good about their 2013 chances when they look at the stat book.
Five-Time was No. 1 in laps led (1,744), times led (78), races led (26), top-5s (18), top-10s (24) and driver rating (109.5). He also tied for the top spot in victories (5) and poles (4).
So how in the world did Johnson not win the title? He had six DNFs, the most of any driver in the top 20 in the standings.
Expect a close finish Sunday: Restrictor-plate races usually end one of two ways -- a side-by-side finish for the victory or a big wreck that brings out a caution.
Last year's Daytona 500 had the closest finish of the season when Matt Kenseth edged Dale Earnhardt Jr. by .21 of a second. The Talladega spring race was won by Keselowski by .304 of a second over Kyle Busch.
The other two plate races ended under caution because of last-lap crashes.
All that could change this year with the introduction of the "Gen 6" to the series, but expect some craziness at the end to continue.
By the way, 17 of 36 races last year ended with a margin of victory that was less than a second. Nine of those were less than half a second.
The low man on the points stand: That would be Landon Cassill in 2012, a category no one wants to lead in 2013, but someone will. Cassill had the fewest points of 26 drivers who started all 36 Cup events.
He also had fewer points than five drivers who didn't start all 36 events -- Earnhardt, Mark Martin, Regan Smith, Travis Kvapil and Kurt Busch.
Start-and-park perfection: The trophy went to Scott Riggs in 2012. Riggs started 20 events last season. How many did he finish? Zero. He completed 8.2 percent of the laps and made $1.5 million. Nice work if you can get it.
The S&Pers will make a little less this season since NASCAR adjusted the purse money to pay less for the bottom feeders, but it's still good money for running a few laps.
January, 17, 2013
01/17/13
10:17
PM ET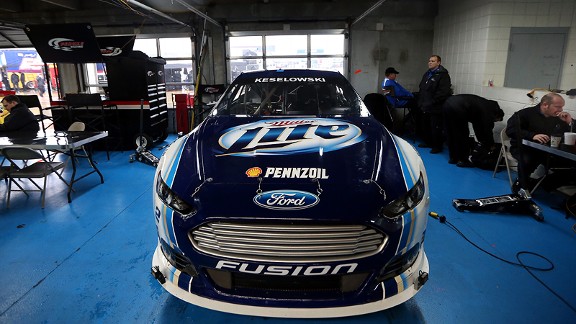 Streeter Lecka/Getty ImagesThe Blue Deuce won the championship with Brad Keselowski behind the wheel last year, but he was driving a Dodge, not a Ford. Keselowski and his Penske Racing team have switched to Fords this year, and a repeat title would be a rare feat.
It's not often a manufacturer inherits a championship team, but such is the case for Ford officials this season. The big question is this: Can everyone involved share the wealth?
Defending Cup champ Brad Keselowski, Ford's new golden boy, hopes so. He also hopes to do something that hasn't been done in 54 years.
You have to go back to 1958 to find the last time a driver won consecutive titles with two different auto manufacturers.
Lee Petty won the 1958 title in an Oldsmobile and the 1959 crown in a Plymouth. But Petty raced 17 events in the 1959 season in an Oldsmobile and ended the season in a Plymouth, which he drove in 27 races.
Buck Baker also won his two championships with different manufacturers -- a Chevrolet in 1957 and a Chrysler (officially) one year earlier. Baker also drove a Ford in four races and a Dodge in 14 others during the 1956 season.
Cale Yarborough was the last NASCAR driver to win back-to-back Cup titles in different makes of cars. He won his second of three consecutive titles in a Chevrolet but won the third championship driving an Oldsmobile in 1978. However, both cars fell under the General Motors banner.
So no driver in NASCAR history has won back-to-back Cup titles driving the full championship season for only one auto manufacturer and the next season for another.
Keselowski could become the first if he takes his No. 2 Ford to the 2013 title after winning his first championship last year in a Dodge. But it will take cooperation and collaboration with Ford's other teams to get it done.
Keselowski admits Penske Racing's move from Dodge to Ford is a big transition. It requires sharing technical information, at some level, with Roush Fenway Racing and Petty Motorsports, the two other Ford organizations.
"Some of that stuff is a work in progress," Keselowski said last week during the test at Daytona. "I think, so far, we all agree to the Ford approach of 'One Ford,' where we are going to share what we can where it's practical to do so.
"Those things are being defined daily as far as what is OK to share and what is not. I don't have great answers for you there. In order for that to work out, there has to be a level of cooperation. I think we all see that. It's just a matter of defining what that level is."
[+] Enlarge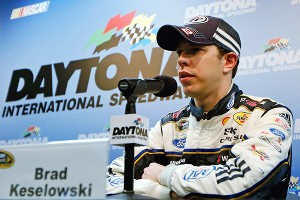 Chris Trotman/Getty Images for NASCARBrad Keselowski is ready and willing to share with his new Ford teammates, once he figures out where the line is.
Penske was the only team for Dodge. Roger Penske has ended his engine-building program to lease Roush-Yates engines this season.
Carl Edwards, coming off a disappointing, winless 2012 season in which he finished 15th in the standings in the No. 99 Ford for Jack Roush, hopes adding Penske's two-car operation (Keselowski and Joey Logano) to the Ford family will help all the Ford drivers.
"I'm looking forward to it and hope we get to share a lot of information," Edwards said. "It would help us a lot. The way Brad ran at the end of last year was spectacular.
"At the end of the day, I hope we have something to give them so they will reciprocate. The more teams you have working together, the more information you have and more ideas you have. It makes things better."
No one knows for certain how it will work out, but Keselowski likes what he sees in Ford officials, from top executives to design engineers to the people sweeping the floors.
"The level of engagement is remarkable," Keselowski said. "It shows the commitment Ford has. I've never experienced that before. It makes me feel very confident that any bit of adversity or any hurdle we have to climb, we can do it, because we have a dedication of resources and top-notch people."
Ford officials inherited the best of the best from 2012. Ford's last Cup title was nine years ago, when Kurt Busch won the inaugural Chase for Roush. That dry spell could end this year if everyone shares the wealth.
January, 8, 2013
01/08/13
1:47
PM ET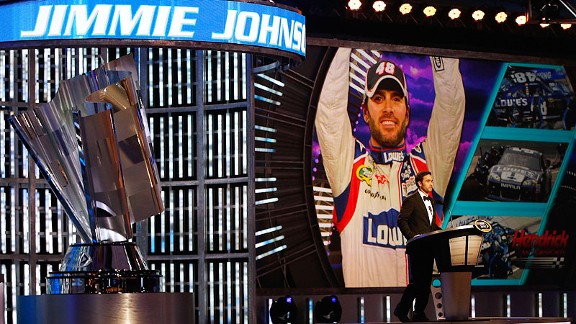 Tom Pennington/Getty ImagesOne Vegas bookmaker has Jimmie Johnson as a 4-1 favorite to win the 2013 Sprint Cup championship.
A well-known online bookmaker has spoken, and Jimmie Johnson is the 2013 favorite to win the Sprint Cup. In the betting game, it's not even close.
Johnson is listed at 4-1 by Bovada (@BovadaLV). Next comes a three-way tie for No. 2 with defending champ Brad Keselowski, Denny Hamlin and Kyle Busch all at 17-2.
Even though Busch failed to make the 2012 Chase, he is viewed as the second-most likely driver to win the 2013 title.
But Johnson is the runaway favorite. Bovada sees JJ as twice as likely to win a sixth championship in 2013 as they do Keselowski winning two in a row or Hamlin or Busch winning a first title.
Fourth on the list is Kasey Kahne at 9-1, followed by three former champions at 12-1 -- Jeff Gordon, Matt Kenseth and Tony Stewart, the 2011 champ.
Carl Edwards, the 2011 runner-up when he tied Stewart for the points total but had fewer wins, gets a decent betting line despite finishing 15th last season and going winless. He's 14-1 along with Dale Earnhardt Jr., Clint Bowyer and Greg Biffle.
Bovada sees Edwards and Dale Jr. just as likely to win the crown this year as Bowyer, who finished second last season.
Martin Truex Jr. is 16-1, and Kevin Harvick has the longest odds among the 2012 Chase drivers at 20-1, probably because he's a lame-duck driver at Richard Childress Racing. Harvick moves to Stewart-Haas Racing in 2014.
If you want to pick a real long shot, Ryan Newman is listed at 50-1 along with Juan Pablo Montoya. Jamie McMurray, Montoya's teammate at Earnhardt Ganassi Racing, is substantially better at 33-1.
If you like Joey Logano's chances in his first year at Penske Racing, you can get him at 40-1.
But Johnson remains the star for this bookmaker. He finished third last season, falling one spot in the final race when he failed to finish due to mechanical problems.
JJ was the 7-2 favorite in November at the Las Vegas Wynn, so bookmakers still love him. Whom are you betting on?
October, 21, 2012
10/21/12
1:50
PM ET
Brad Keselowski is 5-foot-10 and about 155 pounds, maybe, if he just ate a big cheeseburger and fries.
So take a wild guess which professional athlete he compares himself to when asked about his racing skills?
An NFL quarterback. That's right, men who typically outweigh him by more than 50 pounds and are at least 3 or 4 inches taller (excluding 5-11 Seattle rookie Russell Wilson) in most cases.
[+] Enlarge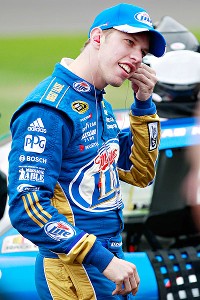 Geoff Burke/Getty ImagesChase leader Brad Keselowski sees similarities between driving a Sprint Cup car and playing quarterback in the NFL.
But Keselowski isn't talking about physical attributes. He's talking about the mental aspects it takes to get the job done for a QB or a NASCAR driver. In Keselowski's case, he means a quarterback who relies on his brains more than his brawn.
"Somebody asked me the closest equivalent to being a race car driver in another sport," Keselowski said. "It makes me think of being an NFL quarterback. There's a skill set of talents to throw the ball and do those things, but a lot of the game is mental and being able to read defenses and things of that nature.
"Some players don't do that very well, but they have so much raw talent they're able to make up for it. Maybe I'm short on raw talent, but I've always relied on being able to read the situation and react accordingly. That's always been when I've had the most success."
Keselowski's theory for racing is simple -- the more you know, the faster you go.
"I subscribe to the belief that knowledge is power," Keselowski said. "And the more knowledge you have, the more powerful you can be. The more knowledge I can have of the situation, the better read I have to call the right audible."
Just like an NFL quarterback. I don't know how many NFL quarterbacks ever carried a briefcase to the job, but Keselowski did.
"Yeah, I was 12 or 13, coming to tracks with my dad [Bob Keselowski]," he said. "Back in the late '90s, having a briefcase was like a fad. I don't know if anyone was here when that was going on or who was around, but everybody had a briefcase in the late '90s in this sport. I just wanted to fit in.
"So I had a briefcase. I remember it quite well. The only thing I really had in it that was racing related was a couple racing books on geometry and certain things about car handling that I would read at night."
And what else did he carry in his briefcase?
"I had stuff like a stick of gum and a CD player,'' he said. "But I felt really cool because I had a briefcase and I was fitting in. All changed to where everybody has got backpacks now, so that's the fad of the decade, I guess."
Keselowski, a Michigan native, is a big Michigan Wolverines football fan. Did he learn his quarterback comparison from watching those college games?
"Well, I don't know if you've watched the last couple seasons," Keselowski said laughing. "They haven't been that great."
Isn't current Michigan quarterback Denard Robinson pretty good?
"Well, he's a raw talent guy, so I respect that about him," Keselowski said in a bit of a backhanded compliment.
And where does Keselowski get most of his QB knowledge?
"I do play a lot of Madden football," he said. "I don't know if that counts for anything."
September, 13, 2012
09/13/12
3:39
PM ET
I don't know about us reading palms or being psychic, but when it comes to predicting the Chase participants, the ESPN.com boys did OK. You can even check it out on the chart at the bottom.
Getting it right on 10 out of 12 isn't so bad. Maybe we're not so dumb after all.
Our overall preseason predictions on the drivers who would make the playoff were 83.3 percent correct. We missed on Carl Edwards (who didn't?) and Kyle Busch.
The guys we didn't predict overall were Clint Bowyer and Martin Truex Jr. Clearly, we underestimated the improvement at Michael Waltrip Racing.
Marty Smith and David Newton outsmarted the rest of us on that one. They picked Bowyer to make the playoff, but he didn't total enough points to make our overall top 12. None of us picked Truex.
AJ Allmendinger was selected as a Chase-qualifier by Ed Hinton and Ryan McGee. Obviously, there were sad circumstances on that one, but he didn't appear headed to a playoff spot before the drug-test downfall.
Newt thought Joey Logano would make the Chase, and he was one victory from being right.
But overall, the seven of us -- K. Lee Davis, Joe Breeze, Smith, Newton, Hinton, McGee and me -- did pretty well.
It remains to be seen whether we get it right on our overall preseason choice as the Sprint Cup champion, Jimmie Johnson. Four of us picked him to win his sixth title: Davis, Breeze, Newton and yours truly. Marty and Easy Ed picked him second. McGee listed JJ third.
Ed selected Brad Keselowski as the 2012 champ, Marty picked Matt Kenseth and McGee chose Kevin Harvick. So we're all still in the running to get it right from our preseason choice.
Surprisingly, none of us picked Edwards to win the championship even though all of us thought he would make the Chase. Maybe we believed in that runner-up jinx stuff.
However, I changed my mind on the champ in my Chase predictions Sunday, listing Denny Hamlin as my selection now to win the title.
K. Lee and Joe are sticking with Johnson to win it all. Ed is staying with Keselowski. Marty is confident Kenseth's lame-duck status won't hurt him a bit, so he's hanging with Matt as the champ.
McGee thinks it's a two-man battle between Hamlin and JJ, but he went with Johnson. And Newt is convinced Gordon has what it takes after watching Jeff's amazing drive through the pack Saturday night to get in the playoff.
That means there's a 41.7 percent chance at least one of us is right. We've picked five different drivers between the seven of us -- three for Johnson and one each for Hamlin, Kenseth, Keselowski and Gordon.
We'll revisit this after Homestead and see if any of us got it right. Bonus points if the guys who stuck with their preseason pick end up with the champ.
Not every driver who received a vote made the top-12 cut. Here are the other drivers who received at least one nod.
March, 23, 2012
03/23/12
6:24
PM ET
FONTANA, Calif. -- If you think Brad Keselowski might have changed his opinion this week on reconfiguring Bristol Motor Speedway, think again.
Keselowski, who won the race at Bristol last weekend, is more adamant than ever about leaving the half-mile oval the way it is.
"I think the racetrack is as good or better as it has ever been," he said Friday. "The whole reconfiguration story doesn't go very far with me. Personally, I think it's irresponsible, misinformed and, at best, self-serving for any driver or media member who goes out there and criticizes the track.
"I don't think that's right. I think there are drivers that struggle there as the track has been reconfigured and have ulterior motives to point the finger at the surface reconfiguration instead of their own teams' performance."
Several drivers were asked Friday if they thought Bristol Motor Speedway owner Bruton Smith should change the track to try to bring about more bumping and banging like the old Bristol.
Keselowski said he wants to call Smith.
"But I never got his cell number,'' Keselowski said. "That's why he hasn't heard from me."
The half-mile oval was repaved and reconfigured in 2007 to add progressive banking, something Smith said he opposes. Dale Earnhardt Jr. would like Smith to give him a call before making a decision.
"There are some drivers he ought to talk to about it," Earnhardt said. "There were some things about that racetrack before that I liked. One of the reasons why it was so good was because the yellow line was about a foot off the apron. That provided grip for the left-front tire.
"Whatever he decides to do, talk to the drivers. We are the ones out there running on it and can provide some insight. We don't have all the answers, but I'm sure we can give him some things they can improve on if that's what they want to do. It's not just the [progressive] banking. It isn't ever just one thing."
Denny Hamlin doesn't think it's possible to make Bristol what it used to be.
"I don't know how they'll do it," Hamlin said. "The old Bristol was the old Bristol because it was old. It's hard to duplicate that. If they're going to repave it, make it asphalt and not concrete."
Kevin Harvick said he doesn't know if Smith can make Bristol what it used to be, but Harvick said he misses it.
"I enjoyed the old Bristol," he said. "I like that rough-and-tumble type of racing. I know a lot of the car owners and some of the drivers don't like that style of racing. That's what made Bristol what it was.
"People don't want to watch cars ride around with no donuts on the doors and no caved-in fenders at Bristol. They don't want to see a 200-lap green-flag run. That's not what they come to Bristol for, and that's why they quit coming."