Category archive:

David Ragan
June, 26, 2010
06/26/10
1:22
PM ET
Jack Roush is looking for something, anything really, that will give his teams a spark and get his Ford drivers in Victory Lane.
Change set-ups, change strategy, change crew chiefs, whatever it takes.
The latest big move is a new crew chief for Matt Kenseth, his third this season.
It isn't desperation. Roush doesn't operate that way. He's the most calculating guy you could ever meet.
Other than Stephen Hawking, you would be hard pressed to find a more technically knowledgeable man than Roush. He can turn one simple question into a five-paragraph answer that sounds like text from an engineering manual.
[+] Enlarge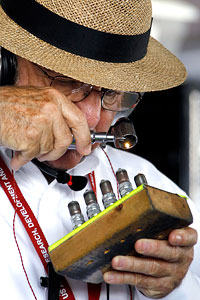 AP Photo/Matt SlocumJack Roush, inspecting spark plugs, would likely be one of the few owners in the garage that really knows what he's looking for.
For example, on Friday, Roush was asked how practice went at New Hampshire.
"We tried to organize for kinematics on the front suspension," he said. "We hoped we would find a solution to the worst problem we've had all year, which is getting the cars to turn in the middle of the corner. I haven't been debriefed by each driver or crew chief, but, by all appearances, we've still got some of the same problem. There has not been an immediate solution."
And that's the short version, folks. But Roush is searching for answers in a winless first-half of the Cup season for the four Roush Fenway Racing drivers -- Kenseth, Carl Edwards, Greg Biffle and David Ragan.
Roush made an executive decision this week in swapping spots with Todd Parrott and Jimmy Fennig, putting Fennig on the pit box with Kenseth. Parrott takes over as the manager of the RFR Research and Development Dept.
"We're continually looking for the best chemistry between driver and crew chief," Roush said. "A crew chief needs to get all the energy that's in the driver and everything the driver recognizes he needs, and sometimes, the things he doesn't recognize he needs."
Obviously, Roush didn't think that was happening with Parrott, who replaced Drew Blickensderfer in February after the Daytona 500.
Kenseth is the highest ranking RFR driver. He's seventh in the standings with four top-5s and eight top-10s. But Roush sees that as underachieving for a driver as skilled as Kenseth.
Roush felt a change was necessary after the No. 17 team had issues in the inspection process last weekend at Sonoma.
"We had difficulty getting through tech and that fell on the crew chief's head," Roush said Friday. "We were a little slow in the garage area. The direction was not well-defined. Except for Matt stepping in and begging forgiveness, we may not have gotten our car in the qualifying line to make the deadline.
"So the combination of the plan not working and the strategies not working as well as they had in the first few races with Todd resulted in our making the decision that the team wasn't where it needed to be."
The truth is things haven't been the same for Kenseth since Robbie Reiser left the No. 17 pit box at the end of 2007 to take over as the general manager at RFR. Kenseth now is on his fourth crew chief since Reiser moved up.
"It does seem like I'm pretty hard on crew chiefs lately, that's for sure," Kenseth said Friday.
Does he want Reiser back?
"Robbie had a chance to come back," Kenseth said. "But the problem is, Robbie wants to do everything. He didn't want to leave his post at the front office. I think he probably would have come and filled in for the rest of the year if he could try to do both, but there just are not enough hours in a day."
So Kenseth will try to make it work with Fennig, who has seen it all from the pit box. Fennig has worked as a crew chief for Bobby Allison, Mark Martin and Kurt Busch, among others, in his 25-year career.
"Matt and I worked together on a Nationwide car a few years ago," Fennig said. "I think we've got a good relationship, so we'll see what happens. Maybe the direction I was heading in R&D will help turn things around. We might try some of that stuff with Matt."
Roush went in a long and detailed explanation of RFR's problems -- simulation issues, aero mapping, front-end geometry, etc.
But the bottom line is the RFR guys need to find a spark.
"I'm sure people wonder how my mind works," Roush said. "It's the same as I look at other folks that are in decision-making positions and wonder how their minds work."