Category archive:

Jeff Gordon
February, 22, 2013
02/22/13
4:20
PM ET
DAYTONA BEACH, Fla. -- You want to know why Danica Patrick matters?
Listen to these stories:
Carl Edwards' daughter, Anne, turns 3 next week.
"Carl brought her over [to Patrick's motor coach] to meet me this week," Patrick said Friday. "I've known since last year that she's a huge fan of mine. Carl said he wanted her to meet me in person because she sees me as some mythical person who doesn't exist."
Anne was wearing green Go Daddy (Patrick's sponsor) shoes when she met Danica.
"A little later, Jimmie Johnson brought his daughter [2-year-old Genevieve] to meet me," Patrick said. "That's very flattering."
Jeff Gordon's daughter, 5-year-old Ella, told her dad she wanted a picture with Patrick in Victory Lane after Patrick won the pole for the Daytona 500. Gordon starts on the front row with Patrick.
Patrick also said she was working out at a gym recently when a man asked her to watch a short video.
"It was his two daughters," she said. "They were young, maybe 2 and 4. Their dad showed them a magazine cover with me on it. He asked them, 'Who is that?' They both said my name. The guy told me, 'I have no idea how they know who you are.' Something about this is impacting kids."
And that's why Danica matters.
The debate about how good a race car driver she is misses the point. Patrick matters because she inspires young girls to reach for the stars and do something most people see only men doing. And she brings people to auto racing who wouldn't have an interest without her presence.
"I have handed out more lug nuts to little girls this week than anyone else," said Tony Gibson, Patrick's crew chief on the No. 10 Chevy. "It's great to see all the little girls in Go Daddy hats and shirts."
The Daytona Cup garage has windows where fans can see the cars and crews. The windows also have a slot where fans can pass a piece of paper and pen to drivers for autographs. And the crews can pass things back, such as lug nuts.
"I take a Sharpie and write '10' on the lug nuts I give to them," Gibson said. "Kids are writing on our window. Seeing all this is really cool for our sport."
And that's why Danica matters.
September, 13, 2012
09/13/12
3:39
PM ET
I don't know about us reading palms or being psychic, but when it comes to predicting the Chase participants, the ESPN.com boys did OK. You can even check it out on the chart at the bottom.
Getting it right on 10 out of 12 isn't so bad. Maybe we're not so dumb after all.
Our overall preseason predictions on the drivers who would make the playoff were 83.3 percent correct. We missed on Carl Edwards (who didn't?) and Kyle Busch.
The guys we didn't predict overall were Clint Bowyer and Martin Truex Jr. Clearly, we underestimated the improvement at Michael Waltrip Racing.
Marty Smith and David Newton outsmarted the rest of us on that one. They picked Bowyer to make the playoff, but he didn't total enough points to make our overall top 12. None of us picked Truex.
AJ Allmendinger was selected as a Chase-qualifier by Ed Hinton and Ryan McGee. Obviously, there were sad circumstances on that one, but he didn't appear headed to a playoff spot before the drug-test downfall.
Newt thought Joey Logano would make the Chase, and he was one victory from being right.
But overall, the seven of us -- K. Lee Davis, Joe Breeze, Smith, Newton, Hinton, McGee and me -- did pretty well.
It remains to be seen whether we get it right on our overall preseason choice as the Sprint Cup champion, Jimmie Johnson. Four of us picked him to win his sixth title: Davis, Breeze, Newton and yours truly. Marty and Easy Ed picked him second. McGee listed JJ third.
Ed selected Brad Keselowski as the 2012 champ, Marty picked Matt Kenseth and McGee chose Kevin Harvick. So we're all still in the running to get it right from our preseason choice.
Surprisingly, none of us picked Edwards to win the championship even though all of us thought he would make the Chase. Maybe we believed in that runner-up jinx stuff.
However, I changed my mind on the champ in my Chase predictions Sunday, listing Denny Hamlin as my selection now to win the title.
K. Lee and Joe are sticking with Johnson to win it all. Ed is staying with Keselowski. Marty is confident Kenseth's lame-duck status won't hurt him a bit, so he's hanging with Matt as the champ.
McGee thinks it's a two-man battle between Hamlin and JJ, but he went with Johnson. And Newt is convinced Gordon has what it takes after watching Jeff's amazing drive through the pack Saturday night to get in the playoff.
That means there's a 41.7 percent chance at least one of us is right. We've picked five different drivers between the seven of us -- three for Johnson and one each for Hamlin, Kenseth, Keselowski and Gordon.
We'll revisit this after Homestead and see if any of us got it right. Bonus points if the guys who stuck with their preseason pick end up with the champ.
Not every driver who received a vote made the top-12 cut. Here are the other drivers who received at least one nod.
August, 19, 2012
08/19/12
5:50
PM ET
BROOKLYN, Mich. -- The Pure Michigan 400 had some shocking moments Sunday, including a verbal feud between Hendrick Motorsports teammates Jeff Gordon and Dale Earnhardt Jr.
"Tell the f------ 88 he can thank me later for not wrecking him," Gordon said on his radio during the race. "That was f------ stupid."
Earnhardt had moved in front of Gordon midway through the race with a pass Gordon felt was a little risky. But Earnhardt was shocked when he heard Gordon's reaction.
"What's the deal with the 24?" Earnhardt said on his radio after passing Gordon. "Does he have a problem with me?"
A team member told Earnhardt that Gordon said he should have wrecked him.
"Wrecked me?!" Earnhardt yelled. "He was slower than me. I don't know what I did, but I'm sorry if I did something."
Team owner Rick Hendrick sided with Earnhardt: "Man, you didn't do anything. Just drive that thing to the front."
Earnhardt finished fourth. Gordon finished a disappointing 28th after an engine failure, but later talked about the incident in the garage.
"He took me four-wide, then slid up in front of me in Turn 2," Gordon said of Earnhardt's pass. "I had to check up and it could have wrecked all of us.
"It wasn't the smartest thing to do, especially to a teammate. But he chose to do it and it all worked out. I don't care who does it, I'm going to show my displeasure if they do something like that."
June, 21, 2012
06/21/12
4:26
PM ET
Before taking that first sip of Merlot this weekend, here are five interesting thoughts to ponder as NASCAR heads to the road course at Sonoma:
1. Biggest misnomer: Road-course ringers. The term insinuates that you are the hired gun who can win, but ringers don't win road-course events in Sprint Cup. Full-time Cup drivers win these races.
The ringer is a road-course specialist that some teams hire just to race on the two road-course tracks at Sonoma and Watkins Glen. For example, Brian Simo, a veteran sports car racer, is driving in the No. 30 Toyota this weekend.
But every Cup winner at Sonoma since NASCAR started racing there in 1989 has been a full-time Cup competitor. The same is true for The Glen, and those races date back to 1957.
2. Not the road-course star he used to be: Jeff Gordon. Many fans view Gordon as one of the all-time greats in NASCAR on road courses. It was true, but not so much lately.
Gordon has nine road-course victories -- five at Sonoma and four at Watkins Glen. But Gordon hasn't won on a road course in six years. His last victory at Sonoma was in 2006. He hasn't won at The Glen in 11 years.
That means he never has won a road-course event in the Car of Tomorrow, which first came to the road races in 2007.
It doesn't mean he can't win Sunday. I think he can. Gordon has posted six consecutive top-10s at Sonoma, including second last year. But he's not the dominating road-course racer he used to be.
3. A team that doesn't win much can win here Sunday: Richard Petty Motorsports. Two of the three victories by Petty-owned cars in the past four seasons have come on road courses -- Kasey Kahne at Sonoma in 2009 and Marcos Ambrose at Watkins Glen last year.
Ambrose is one of the favorites to win Sunday. And The King might even go rogue and take another quick sip of wine (which he did when Kahne won) if Ambrose goes to Victory Lane.
4. Bad news for Kurt Busch: Repeat winners here are rarer than a Napa Valley penguin. Even if Kurt still drove for Penske, his chances of repeating as the Sonoma winner wouldn't be good, historically speaking.
The last repeat winner on the 12-turn, 2-mile track was 12 years ago -- Jeff Gordon in 1999 and 2000. In fact, Gordon is the only driver ever to win back-to-back at Sonoma.
5. Nameless is a good thing: It's just Sonoma now, not Infineon. The Infineon sponsorship for the track has ended. So it's not Infineon Raceway now.
For the longest time I didn't even know what Infineon was. It's a German semiconductor manufacturer, if you're wondering.
And the track isn't Sonoma Raceway. It's just Sonoma.
I like that. This track is synonymous with the California wine country. And Sonoma says it perfectly. That's all you need. But they do have a cute little catchphrase that goes under the Sonoma logo: Think Outside the Oval.
Thanks, I will. And I might do a little wine tasting this weekend while I'm at it.
December, 7, 2010
12/07/10
9:13
PM ET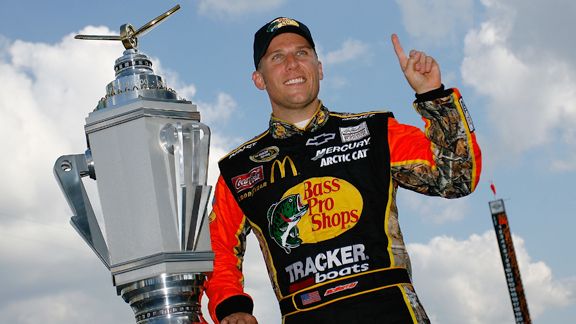 Jason Smith/Getty ImagesJamie McMurray may well be celebrating after the Daytona 500 and Brickyard 400 again in 2011, but if he does, you can bet he makes the Chase this time.
Some things are going to change for NASCAR in 2011. Things you saw in 2010 will not repeat next season.
Did anyone really think we would see Jeff Gordon and Jeff Burton do their weak Ali-Frazier impression on the track at Texas?
That's one example of things you won't see again in 2011, at least not from those two unlikely combatants. Here's a list of other things that took place in 2010, but aren't happening in 2011:
Dale Earnhardt Jr. finishing 21st in the Cup standings: Junior will crack the top 20 next season and possibly contend for the Chase, which won't be too tough if the playoff is expanded to 15 drivers.
Steve Letarte on the pit box and moving to the No. 48 shop will make Earnhardt competitive again.
A driver winning both the Daytona 500 and the Brickyard 400 without making the Chase: That bizarre quirk happened for Jamie McMurray in 2010, but Halley's Comet will make another pass by Earth before that scenario comes around a second time.
Roush Fenway Racing failing to contend for the Cup title: RFR put three drivers in the 2010 Chase, but never seriously contended for the championship and didn't win a race until August.
It was clear by the end of the season that Jack's boys had figured things out and the new Ford engine was strong. Carl Edwards won the last two races and teammates Greg Biffle and Matt Kenseth will join him as title contenders in 2011.
The blindingly ugly front splitter: Like a teenager finally getting the steel removed from his mouth, the braces on the splitter will be gone and the overall look for the front of the cars becomes much smoother and more stylish.
Jeff Gordon going winless for a season: Not with Alan Gustafson calling the shots. Gordon will return to Victory Lane in 2011 and seriously contend for a fifth championship.
A full-time Cup driver winning the Nationwide title: Not officially, anyway. A real Nationwide driver will win it in 2011 because of rules changes coming soon that will keep the Cup big boys from racing for the crown in Nationwide.
However, Edwards or Brad Keselowski still could win the most races and unofficially tally the most points if they run all the Nationwide races as planned.
And a former Cup regular could win the title if Elliott Sadler gets it done while racing full-time in Kevin Harvick's Nationwide car.
A pothole during the Daytona 500: Daytona has shiny new pavement that will be smooth as glass. Drivers will get a first test next week, but the new asphalt could make a big difference in how things look for restrictor-plate wildness in the season-opener on the 2.5-mile oval.
[+] Enlarge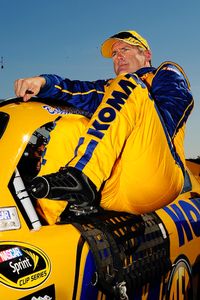 Rusty Jarrett/NASCAR/Getty ImagesThere will be better days ahead for Bobby Labonte.
Bobby Labonte having to start and park: It was sad watching the former Cup champion forced to sometimes make meaningless laps and go to the garage. But he'll have a real ride in 2011 and a chance for some decent finishes with the No. 47 Toyota for JTG/Daugherty Racing.
Richard Petty Motorsports trying to survive week to week: After the financial crash of George Gillett's empire, Petty managed to regain control of the team by finding new investors and placing RPM on solid footing in what will be a new-and-improved two-car operation with A.J. Allmendinger and Marcos Ambrose.
Two Cup races at Fontana: Auto Club Speedway has one Cup race next year, which comes in March. Hopefully, most of the seats will be filled for the first time in a long time.
The Chase opener in New Hampshire: The playoff starts at Chicagoland Speedway in 2011, adding another 1.5-mile oval to the Chase.
A Sunday afternoon race at Texas in April: For the first time, the spring Cup race at Texas Motor Speedway will be a Saturday night show.
Jimmie Johnson winning the Cup championship: Five-Time won't become Six-Time in 2011. Too many other teams and drivers are nipping at his heels now. No one stays on top forever, although it's hard to remember the last time someone besides JJ won this thing.
August, 25, 2010
08/25/10
1:52
PM ET
As far as the bookmakers in Las Vegas are concerned, Jimmie Johnson remains the man to beat for the Sprint Cup.
Johnson's recent woes on the track haven't dropped him from the top of the betting line in Vegas.
Johnson is ninth in the points standings. He has fallen seven spots after posting finishes of 22nd or worse in five of the last seven races.
But the summer slump hasn't stopped bookmakers from placing Johnson as the favorite to win his fifth consecutive title.
Heading into the open weekend, two races before the start of the Chase, Johnson is listed at 7-to-2 at the Las Vegas Hilton. Kevin Harvick is second at 9-to-2.
[+] Enlarge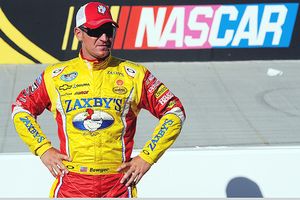 John Harrelson/Getty Images for NASCARClint Bowyer is the least-favored driver in the top 12 by Las Vegas oddmakers, but 20-to-1 isn't too bad.
Why is Johnson favored, you ask? Two reasons. First, Johnson's won four in a row. That alone is a darn good reason to keep him on top.
But there's also a statistical reason. If the Chase started today, Johnson would begin the playoff on top, tied with Denny Hamlin. Both drivers have a series-best five victories. Hamlin is 5-to-1 on the betting line.
Harvick and Kyle Busch, each with three victories, would start the playoff 20 points back. Busch is listed at 5-to-1 with Hamlin.
Jeff Gordon, winless this season but second in the points standings, is next on the betting list at 7-to-1. Rounding out the top six is winless Tony Stewart at 10-to-1.
Kurt Busch, who has two wins and will be the only Dodge driver in the Chase, is 12-to-1.
Greg Biffle, the only other Chase contender with a victory this season, is listed at 15-to-1. Roush Fenway Racing teammate Carl Edwards is slightly better at 12-to-1, and RFR driver Matt Kenseth is 18-to-1.
Jeff Burton, Harvick's teammate at Richard Childress Racing, is also 18-to-1. RCR driver Clint Bowyer, who is hoping to hold on to a 100-point advantage in the 12th-place bubble spot, is the long shot of the Chase boys at 20-to-1.
But 20-to-1 isn't much of a long shot. What it means, at least in the eyes of the bookies, is the 2010 Chase is wide open.
Johnson remains the favorite for now, but not by much. If the Vegas oddsmakers are right, this is going to be a fun Chase to watch.
August, 6, 2010
08/06/10
4:02
PM ET
WATKINS GLEN, N.Y. -- Kurt Busch says he's no pretty boy, not like those drivers at Hendrick Motorsports.
"The Hendrick guys are pretty boys," Busch said Friday.
That response came when Busch was asked about the personality side versus the racing side of the sport. He said the Hendrick drivers get the magazine covers.
I'm guessing that's the first time 51-year-old grizzled veteran Mark Martin has ever been lumped in the pretty-boy category, although I'm sure Busch was referring to Jimmie Johnson, Jeff Gordon and Dale Earnhardt Jr.
[+] Enlarge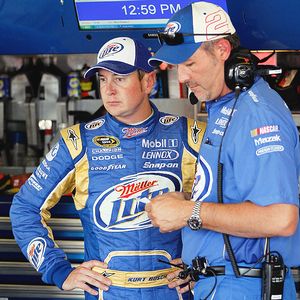 Kevin C. Cox/Getty ImagesKurt Busch doesn't seem very happy with his Hendrick Motorsports rivals, and Jimmie Johnson in particular.
And Busch added this little dig at the newest member of the Hendrick clan.
"Even if I had a shot at the [No.] 5 car, pretty boy Kasey Kahne got picked over me," Busch said.
Busch's disdain for the handsome gentlemen at Hendrick was obvious. And Johnson is No. 1 on his dislike-list after getting punted by JJ last week at Pocono.
Johnson said he called Busch on Monday to explain he didn't bump him intentionally in the incident that caused a big wreck and led to Elliott Sadler's dangerous crash.
Johnson also said they joked on the phone. Busch wasn't laughing Friday.
"We've been wrecked by Johnson quite a few times," Busch said. "He says it's not intentionally. Johnson and I are fine, but it's tough when it's three [wrecked cars] against nothing out there."
Johnson wants to settle any differences with Busch, saying: "I hope everything goes away. I have nothing against him."
Johnson left the media center Friday just as Busch was arriving. And Busch had a message for Johnson.
"I asked him, 'Do I need a dust pan and a broom to clean up your mess?' ''
April, 19, 2010
04/19/10
6:27
PM ET
FORT WORTH, Texas -- Jeff Gordon said he was "disappointed" with Jimmie Johnson. Gordon also said this about Johnson on the radio during the race: "He must want to be treated different from everybody else."
Johnson wasn't thrilled with Gordon, either.
"I'm equally disappointed in him," Johnson said. "At one point he was just on my bumper, pushing me through [the] corner. I was saying, 'Man, just get off my ass so I can accelerate.'"
Well, well. So much for the overly polite praise between these two. Clearly, even friends and teammates get mad at each other sometimes.
Gordon and Johnson had the two best cars on the track most of the day in the Samsung Mobile 500, racing side by side Monday and trading spots for the lead several times.
But things got dicey with 94 laps to go when the two cars came off Turn 4. Gordon got under Johnson after tapping his bumper, forcing Johnson up the track.
As Gordon was going by, Johnson veered to the left and slammed into Gordon's door panel. The collision caused Johnson's fender to rub into his left front tire, eventually cutting the tire.
"I don't know," Gordon said. "He was really loose. I got to him and got underneath him. He was just too loose and my car was too good. I guess he thought I was being too aggressive and he just drove into my door. He also ran into the back of me [earlier in the race] for no reason."
Johnson went on to finish second behind Denny Hamlin. Gordon was involved in a nine-car crash after a restart with 17 laps to go. He finished 31st.
"When you have a car like I had today, you're not teammates or friends," Gordon said. "You've just got to race hard.
"I'm disappointed, but I'll get over it and so will he. We'll talk about it. It's the competitors coming out in us, not anything against one another.''
Johnson agreed.
"This is gonna happen in racing whether you're teammates or not," Johnson said. "Sometimes you get irritated. We've had this issue in the past. Sometimes you have good communication and sometimes it's bad.
"But don't let your headline writers say 'Trouble at Hendrick.' I don't think it's a big deal."
Neither does Chad Knaus, Johnson's crew chief.
"They're just racing hard," Knaus said. "That stuff happens. You want a couple of stallions out there, not a couple of old mares. That's why both those guys are four-time champions."
April, 15, 2010
04/15/10
2:22
PM ET
FORT WORTH, Texas -- Now who would ever have thought Joe Gibbs would be inducted into any hall of fame in Texas?
Or Robert Yates, either, who is attending his first Sprint Cup race since his retirement as a longtime team owner?
[+] Enlarge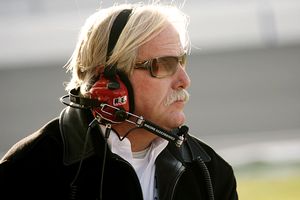 Icon SMIRobert Yates is a legend as a NASCAR owner, and now he's the Bruton Smith Legends Award recipient from the Texas Motorsports Hall of Fame.
Jeff Gordon and Marcos Ambrose also will take the stage Friday night, two men being rewarded for always trying to be good guys. Kyle Busch will get a trophy, too, and you never know what Kyle might say.
The annual Texas Motorsports Hall of Fame dinner always is a special occasion, but this year's honorees could make it the best show ever for the attendees at the Texas Motor Speedway Club Ballroom.
Previous Hall inductees Terry Labonte and Bobby Labonte -- along with inaugural inductee Johnny Rutherford -- plan to attend the gala.
It's also a proud night for the members of the THHoF voting panel. One of our own, longtime motorsports writer John Sturbin, becomes the first media member to earn a spot in the Hall.
And I'm honored to be the man presenting Sturbin (Sturb to us) into his rightful place among the Texas racing elite. I won't reveal all my speech tidbits about Sturb, but this tells you all you need to know:
"My mom loves to tell a story about my first word as a baby," Sturb said. "It wasn't 'Mommy' or 'Daddy.' It was 'car.'"
I doubt Gibbs' first word was "football," but people around North Texas still know him as Coach Gibbs, and not necessarily in a good way. His years as the leader of the Washington Redskins, the hated rival of the Dallas Cowboys, made Gibbs the enemy around these parts.
How ironic that Gibbs now enters the Texas Motorsports Hall for all he's done off the football field as an accomplished NASCAR team owner and a man of great character.
And it will be a Texan presenting Gibbs at the dinner. Norm Miller, CEO of Dallas-based Interstate Batteries -- the longtime sponsor of the No. 18 car at Joe Gibbs Racing -- will do the honors.
It's a night for great NASCAR team owners with Yates receiving the Bruton Smith Legends Award. Yates was a legendary engine builder and a Cup champion as a team owner when Dale Jarrett won the title in 1999. Charlotte Motor Speedway president Marcus Smith, Bruton's son, will present Yates.
Busch will receive the TMS Racer of the Year award for his three victories at Texas last season, sweeping both Nationwide races and winning the November Camping World Truck Series event. Busch has won four consecutive Nationwide races at TMS. ESPN.com motorsport editor K. Lee Davis, a Fort Worth native, will present Busch with his award.
[+] Enlarge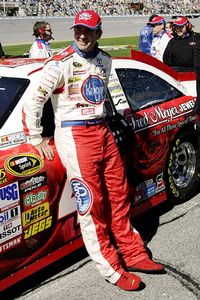 AP Photo/Dave MartinMarcos Ambrose said he's happy to be recognized for his positive approach to NASCAR, as well as the warm reception he's received.
The TMHoF voters, a panel of 20 veteran writers and broadcasters across Texas who cover racing, usually pick one person to win the annual Sportsmanship award. But the vote this year was a dead heat between Gordon and Ambrose, so we decided to honor both of them.
Gordon is receiving two awards: Sportsmanship and the Fan Choice Award, which is determined by an Internet vote by the fans. TMS president Eddie Gossage will present Gordon his Fan Choice Award. Fort Worth Star-Telegram writer Anthony Andro presents Gordon's Sportsmanship Award.
Tad Geschickter, Ambrose's team owner, will present him Friday. Ambrose becomes the first Australian recipient of a TMHoF award.
"I have such a great appreciation for our sport," Ambrose said. "When I came into NASCAR, I promised myself I was going to appreciate every single day and not get mad or angry. I remind myself every day that I'm doing something that millions of kids out there would love to do when they grow up. I am lucky enough to be a driver.
"Sure, you may get disappointed at times, and there are compromises. However, you can never lose sight that there are not many downs when you are a race-car driver. I love what I do. So to be recognized like this for the first time -- especially when I'm a goofy Tasmanian coming from 14,000 miles away -- is pretty awesome."
That tells you all you need to know about why Ambrose earned this recognition.
So this Texas Motorsports Hall of Fame event will run the gamut -- from a famous coach and team owner to a talented newbie from half a world away.
November, 7, 2009
11/07/09
5:25
PM ET
FORT WORTH, Texas -- From the first lap ever turned at this place, Texas Motor Speedway often has made the unexpected a reality.
It began with a multicar crash on the first turn 12 years ago. No one would have guessed Jeff Burton, a fourth-year driver who was winless in his career at the time, would go to Victory Lane in that first race in 1997.
And who would have thought 10 years would pass before Burton became the first driver to win twice at Texas, a track that had 12 different winners before that moment?
[+] Enlarge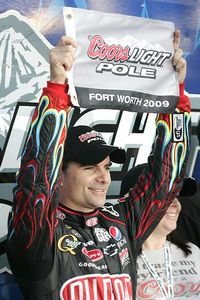 AP Photo/Ralph LauerIt took Sunday's pole-sitter Jeff Gordon 12 years to finally find Victory Lane at Texas.
So don't be surprised if the Dickies 500 on Sunday brings another surprising moment.
Can Kyle Busch become the first man to complete the triple and win all three NASCAR events on the same weekend? He has a shot at it.
Can Carl Edwards escape the winless column of 2009 and post a victory at the track where he swept both Cup events last year? Maybe.
Can Dale Earnhardt Jr. end his 54-race losing streak and win at the place where he earned his first Cup victory nine years ago? Hey, anything's possible.
Or is this Jimmie Johnson's show the rest of the way en route to his historic fourth consecutive championship? That wouldn't surprise a soul.
Jeff Gordon, who starts on the pole Sunday, raced 12 years at TMS before finally earning a victory on the 1.5-mile oval in the April event this year.
Phoenix is the only track where it took longer for him to win, coming 14 years after his first start in the Arizona desert. Gordon has yet to win at Homestead-Miami Speedway, but the Cup series didn't start racing there until 1999.
Now Gordon can become the second consecutive driver to sweep the season races at Texas. Gordon ranks third in the Chase behind Hendrick Motorsports teammates Johnson and Mark Martin, but Texas is his only victory this year.
"This is a tricky track," Gordon said Friday. "The straightaways are very flat here compared to how high-banked the corners are. And those transitions really challenge you. Plus there's some bumps and the corners are fast, but they're tight. The walls come out at you very, very quick. So it's not an easy track."
Gordon said it was the TMS race one year ago when the No. 24 team figured out the best way around the place.
"Last year at this time we were out of it," said Gordon, meaning out of title contention. "It allowed us to sort of do some testing and we tried some things that we hit on and it really seemed to pay off here."
But Gordon has one big difference from the spring race at TMS.
"This is not the same car we had here earlier in the season," he said. "We feel like this is a better car."
Gordon's not the only one with something new this weekend. Kyle Busch has Dave Rogers on the pit box for the first time. Rogers, who was Busch's crew chief in the Nationwide Series, replaced Steve Addington as the crew chief of the No. 18 Toyota.
"Dave and I have a sense of what we need from each other and what we need to talk about," Busch said earlier this week. "It might be a bit of a learning curve for Dave, getting all his paperwork on the new car. But for me, it will be just talking with Dave and trying to get everything going to prepare ourselves for 2010."
A record-setting victory Sunday to sweep the weekend would be a nice way to start things off.
Edwards and Earnhardt would settle for any victory at this point. Edwards was encouraged after posting the second-fastest lap in the final practice Saturday.
"That's the fastest we've been in a long time," Edwards said afterward. "We'll see how it goes. It's 500 miles and there will be a lot of things that change throughout the race, but it feels nice. We've got a fast race car."
Earnhardt won his first Cup start at TMS in his rookie season. He has seven tops-10s at Texas, but hasn't posted a top-10 at TMS in the last three years.
"We've had some good success at Texas," Earnhardt said this week. "It's a fun track. I just like the enthusiasm that the crowd has. It gets me excited."
Johnson is excited about getting a step closer to the championship. A good showing Sunday would give him an excellent shot of clinching the title at Phoenix next weekend.
Johnson has finished first or second in three of the past four TMS events, including second to Gordon in April.
"We've been very competitive the last two years here," Johnson said Friday. "Certainly, we're happy with where we are in the points. But it's not really going to change what we do. We want to win the race."
If he does, TMS will lose its rep of producing the unexpected. If he doesn't? Well, maybe the place has a surprise or two left for everyone.