Category archive:

Mark Martin
February, 20, 2013
02/20/13
3:20
PM ET
DAYTONA BEACH, Fla. -- Before NASCAR kicks off 2013 with the Daytona 500, here are a few interesting statistics that might surprise you:
Bad news for bad Brad: If Brad Keselowski wins the Daytona 500 on Sunday, he'll be the first defending Cup champion in 13 years to accomplish the feat. The last man to do it was Dale Jarrett in 2000, three months after winning the 1999 title.
Bad news for popular Danica: It's also been over a decade since the Daytona 500 pole winner went on to win the race. That also was Jarrett in 2000. Does DJ know something everyone else doesn't?
Menard is No. 1: Yes he is, as far as laps completed. Paul Menard was winless last season and finished 16th in the standings with only one top-5, but he completed more laps than any other driver -- 10,406, or 13,676.386 miles.
Obviously, Menard was on the track a lot. He had only one DNF. No wonder my eyes hurt after seeing that neon yellow Chevy lap after lap.
JJ led almost everything in 2012: Except the one category that counted the most: Winning the championship. But Jimmie Johnson and the No. 48 Chevy team should feel good about their 2013 chances when they look at the stat book.
Five-Time was No. 1 in laps led (1,744), times led (78), races led (26), top-5s (18), top-10s (24) and driver rating (109.5). He also tied for the top spot in victories (5) and poles (4).
So how in the world did Johnson not win the title? He had six DNFs, the most of any driver in the top 20 in the standings.
Expect a close finish Sunday: Restrictor-plate races usually end one of two ways -- a side-by-side finish for the victory or a big wreck that brings out a caution.
Last year's Daytona 500 had the closest finish of the season when Matt Kenseth edged Dale Earnhardt Jr. by .21 of a second. The Talladega spring race was won by Keselowski by .304 of a second over Kyle Busch.
The other two plate races ended under caution because of last-lap crashes.
All that could change this year with the introduction of the "Gen 6" to the series, but expect some craziness at the end to continue.
By the way, 17 of 36 races last year ended with a margin of victory that was less than a second. Nine of those were less than half a second.
The low man on the points stand: That would be Landon Cassill in 2012, a category no one wants to lead in 2013, but someone will. Cassill had the fewest points of 26 drivers who started all 36 Cup events.
He also had fewer points than five drivers who didn't start all 36 events -- Earnhardt, Mark Martin, Regan Smith, Travis Kvapil and Kurt Busch.
Start-and-park perfection: The trophy went to Scott Riggs in 2012. Riggs started 20 events last season. How many did he finish? Zero. He completed 8.2 percent of the laps and made $1.5 million. Nice work if you can get it.
The S&Pers will make a little less this season since NASCAR adjusted the purse money to pay less for the bottom feeders, but it's still good money for running a few laps.
November, 1, 2012
11/01/12
4:13
PM ET
While we all contemplate who will win a close championship battle between Jimmie Johnson and Brad Keselowski, let me give a little love to a few non-Chasers.
Topping the list is Kyle Busch. Rowdy has posted five top-10s, including four top-5s, in the seven Chase races.
Give him credit for acting like a pro and showing some class when he probably could have punted Johnson to win in the final laps at Martinsville last weekend.
"He's a five-time champion for a reason," Busch said of Johnson after the race. "I was getting into [Turn] 1 and got to his rear bumper. I didn't want to move him out of the way."
Busch knows Johnson is running for the title. It was not the time or place for the bump and run, and it will pay dividends if the situation is reversed in the future.
Joey Logano is another Chase outsider having a strong run down the stretch. Logano started the Chase with three consecutive top-10s and has four in the seven playoff races. The crazy last lap at Talladega, where he ended up 32nd, caused his only finish worse than 19th.
It bodes well in two ways. First, it's a positive sign for Roger Penske that Logano can get the job done next season when he moves into the No. 22 Ford. Second, it's great news for Matt Kenseth that he is taking over a No. 20 Toyota team at Joe Gibbs Racing that is capable of contending for the title.
Both Logano and Busch have more top-10s in the Chase than JGR teammate Denny Hamlin, who fell out of title contention with a 33rd-place finish at Martinsville. Busch's average finish in the Chase is 11.4, compared to 12.4 for Hamlin.
The car that some people may have overlooked is the one with three drivers -- the No. 55 Toyota at Michael Waltrip Racing. Mark Martin and Brian Vickers have combined for four top-10s in the Chase, but that doesn't tell the whole story.
It appeared Waltrip was headed to victory at Talladega before Tony Stewart tried to block him on the last lap and started the big one at the end.
Martin was third at Dover and sixth at Charlotte. Vickers was ninth at New Hampshire and eighth at Martinsville.
A lot of the credit goes to crew chief Rodney Childers. He has done a remarkable job keeping the car running up front with three drivers, all of whom do things differently and want different setups.
The No. 55 is 14th in owner points this season with 15 top-10s. The same trio will share the driving duties on the 55 next season, but you have to wonder how good that car could be with the same driver at the wheel every week.
January, 24, 2011
01/24/11
4:36
PM ET
CHARLOTTE, N.C. -- The day started with an entrance by the Energizer Bunny. The afternoon session ended with a new energized Tony Stewart.
Earnhardt Ganassi Racing got things started to open the annual NASCAR Media Tour with a luncheon followed by a bus trip to Stewart-Haas Racing.
Here are a few opening-day highlights and lowlights:
Funniest moment: The Energizer Bunny, banging his drum and heading to the stage during the EGR luncheon. Energizer Batteries has been a sponsor of Chip Ganassi's race teams for 16 years.
Funny quote: Ryan Newman, one of the many new fathers among the NASCAR drivers: "Now there's a big influx of mass-production of kids. And some guys are doubling up. It changes the conversation in the garage from car set-ups to baby cribs."
He said what?: Felix Sabates, partner with Ganassi at EGR: "I asked Juan [Pablo Montoya] today, 'Do they have extradition in Venezuela and Columbia. He said, 'Why?' I said, 'Well, I haven't gotten through my divorce settlement, so I may need to be extradited to Columbia.' "
Best story: Sabates explaining the close relationship Dale Earnhardt had with Bill France Jr.
"Bill had a lot of respect for Earnhardt,'' Sabates said. "He had a radio so he could talk to Earnhardt during races. Bill's [radio] name was Captain Jack.
"If drivers were worried about debris in Turn 3, Bill would ask Earnhardt on the radio, 'Is there anything in Turn 3? Earnhardt would say, 'No Captain Jack. It's good.'
"And Earnhardt never once took advantage of that situation. Bill knew he would tell him the truth. But if Earnhardt was two laps down, they talked about fishing."
[+] Enlarge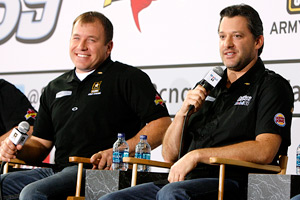 HHP ImagesRyan Newman and Tony Stewart proved to be entertaining on Monday for different reasons.
Today's stunner: The new chiseled look of Tony Stewart. OK, chiseled is a slight exaggeration, but he does looks fit.
Smoke has gone to a five-meal-a-day program instead of two meals a day. Five small meals, with some salad tossed in, as opposed to two big meals.
Mark Martin was Stewart's inspiration, but Stewart isn't eating Martin's diet of goji berries and other weird stuff.
"I still like my Burger Kings and pizza and chili,'' Stewart said. "But eating only twice a day is bad for you."
So does Stewart have a workout routine?
"Well, not really," Stewart said. "I used my left hand for the volume on the remote and my right hand for the channel."
Today's non-stunner: Teresa Earnhardt was not in attendance for the Earnhardt Ganassi Racing presentation.
Happiest guy: Chip Ganassi, who celebrated a big NFL victory back in his hometown Sunday: "If you guys catch me yawning it's because I was at a football game last night in Pittsburgh."
The flattest moment: NASCAR broadcaster Larry McReynolds going off script at the end of the Earnhardt Ganassi Racing program to chastise the media and tell everyone to write "positive" stories.
Most surprising comment: Jamie McMurray, who won the Daytona 500 and the Brickyard 400 in 2010, saying what his favorite moment was last season:
"Other than the birth of my son, it was walking in the media center at Charlotte [after winning in October]," McMurray said. "Everybody just looked at me and like, 'Oh, it's Jamie.' That was the coolest feeling ever that you guys weren't shocked I was in there."
No interest in Indy: Former Indy 500 winner Juan Pablo Montoya doesn't care how much bonus money is offered to win the Indy 500 and Coca-Cola 600 on the same day, he wouldn't do it.
"It would be a nightmare," Montoya said. "I race 39 weekends a year with Cup and the 24 Hours [of Daytona]. Add another month for Indy and I'd be looking for a new family. I don't have to prove myself there. I'm happy where I am."
August, 6, 2010
08/06/10
4:02
PM ET
WATKINS GLEN, N.Y. -- Kurt Busch says he's no pretty boy, not like those drivers at Hendrick Motorsports.
"The Hendrick guys are pretty boys," Busch said Friday.
That response came when Busch was asked about the personality side versus the racing side of the sport. He said the Hendrick drivers get the magazine covers.
I'm guessing that's the first time 51-year-old grizzled veteran Mark Martin has ever been lumped in the pretty-boy category, although I'm sure Busch was referring to Jimmie Johnson, Jeff Gordon and Dale Earnhardt Jr.
[+] Enlarge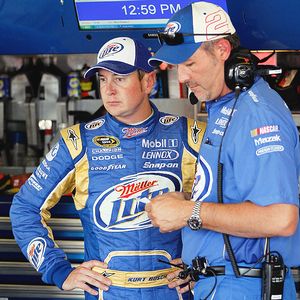 Kevin C. Cox/Getty ImagesKurt Busch doesn't seem very happy with his Hendrick Motorsports rivals, and Jimmie Johnson in particular.
And Busch added this little dig at the newest member of the Hendrick clan.
"Even if I had a shot at the [No.] 5 car, pretty boy Kasey Kahne got picked over me," Busch said.
Busch's disdain for the handsome gentlemen at Hendrick was obvious. And Johnson is No. 1 on his dislike-list after getting punted by JJ last week at Pocono.
Johnson said he called Busch on Monday to explain he didn't bump him intentionally in the incident that caused a big wreck and led to Elliott Sadler's dangerous crash.
Johnson also said they joked on the phone. Busch wasn't laughing Friday.
"We've been wrecked by Johnson quite a few times," Busch said. "He says it's not intentionally. Johnson and I are fine, but it's tough when it's three [wrecked cars] against nothing out there."
Johnson wants to settle any differences with Busch, saying: "I hope everything goes away. I have nothing against him."
Johnson left the media center Friday just as Busch was arriving. And Busch had a message for Johnson.
"I asked him, 'Do I need a dust pan and a broom to clean up your mess?' ''
November, 7, 2009
11/07/09
5:25
PM ET
FORT WORTH, Texas -- From the first lap ever turned at this place, Texas Motor Speedway often has made the unexpected a reality.
It began with a multicar crash on the first turn 12 years ago. No one would have guessed Jeff Burton, a fourth-year driver who was winless in his career at the time, would go to Victory Lane in that first race in 1997.
And who would have thought 10 years would pass before Burton became the first driver to win twice at Texas, a track that had 12 different winners before that moment?
[+] Enlarge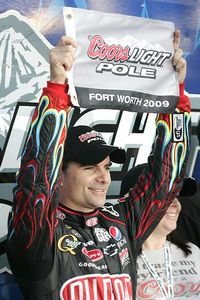 AP Photo/Ralph LauerIt took Sunday's pole-sitter Jeff Gordon 12 years to finally find Victory Lane at Texas.
So don't be surprised if the Dickies 500 on Sunday brings another surprising moment.
Can Kyle Busch become the first man to complete the triple and win all three NASCAR events on the same weekend? He has a shot at it.
Can Carl Edwards escape the winless column of 2009 and post a victory at the track where he swept both Cup events last year? Maybe.
Can Dale Earnhardt Jr. end his 54-race losing streak and win at the place where he earned his first Cup victory nine years ago? Hey, anything's possible.
Or is this Jimmie Johnson's show the rest of the way en route to his historic fourth consecutive championship? That wouldn't surprise a soul.
Jeff Gordon, who starts on the pole Sunday, raced 12 years at TMS before finally earning a victory on the 1.5-mile oval in the April event this year.
Phoenix is the only track where it took longer for him to win, coming 14 years after his first start in the Arizona desert. Gordon has yet to win at Homestead-Miami Speedway, but the Cup series didn't start racing there until 1999.
Now Gordon can become the second consecutive driver to sweep the season races at Texas. Gordon ranks third in the Chase behind Hendrick Motorsports teammates Johnson and Mark Martin, but Texas is his only victory this year.
"This is a tricky track," Gordon said Friday. "The straightaways are very flat here compared to how high-banked the corners are. And those transitions really challenge you. Plus there's some bumps and the corners are fast, but they're tight. The walls come out at you very, very quick. So it's not an easy track."
Gordon said it was the TMS race one year ago when the No. 24 team figured out the best way around the place.
"Last year at this time we were out of it," said Gordon, meaning out of title contention. "It allowed us to sort of do some testing and we tried some things that we hit on and it really seemed to pay off here."
But Gordon has one big difference from the spring race at TMS.
"This is not the same car we had here earlier in the season," he said. "We feel like this is a better car."
Gordon's not the only one with something new this weekend. Kyle Busch has Dave Rogers on the pit box for the first time. Rogers, who was Busch's crew chief in the Nationwide Series, replaced Steve Addington as the crew chief of the No. 18 Toyota.
"Dave and I have a sense of what we need from each other and what we need to talk about," Busch said earlier this week. "It might be a bit of a learning curve for Dave, getting all his paperwork on the new car. But for me, it will be just talking with Dave and trying to get everything going to prepare ourselves for 2010."
A record-setting victory Sunday to sweep the weekend would be a nice way to start things off.
Edwards and Earnhardt would settle for any victory at this point. Edwards was encouraged after posting the second-fastest lap in the final practice Saturday.
"That's the fastest we've been in a long time," Edwards said afterward. "We'll see how it goes. It's 500 miles and there will be a lot of things that change throughout the race, but it feels nice. We've got a fast race car."
Earnhardt won his first Cup start at TMS in his rookie season. He has seven tops-10s at Texas, but hasn't posted a top-10 at TMS in the last three years.
"We've had some good success at Texas," Earnhardt said this week. "It's a fun track. I just like the enthusiasm that the crowd has. It gets me excited."
Johnson is excited about getting a step closer to the championship. A good showing Sunday would give him an excellent shot of clinching the title at Phoenix next weekend.
Johnson has finished first or second in three of the past four TMS events, including second to Gordon in April.
"We've been very competitive the last two years here," Johnson said Friday. "Certainly, we're happy with where we are in the points. But it's not really going to change what we do. We want to win the race."
If he does, TMS will lose its rep of producing the unexpected. If he doesn't? Well, maybe the place has a surprise or two left for everyone.
November, 4, 2009
11/04/09
1:30
PM ET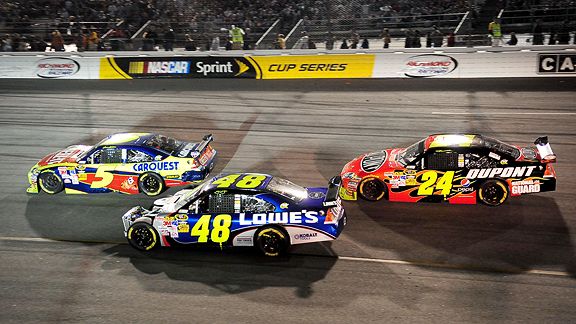 Mark J. Rebilas/US PresswireWith Jimmie Johnson, bottom, poised to win the title, Mark Martin, left, in second and Jeff Gordon third in the standings, Hendrick Motorsports could have the first 1-2-3 finish in Sprint Cup history.
Jimmie Johnson is almost assured of an unprecedented fourth consecutive Sprint Cup title, but Hendrick Motorsports has another dominance record it can achieve.
Rick Hendrick can become the first team owner in NASCAR history to sweep the top three spots in the standings.
With three races remaining, Hendrick drivers hold down first, second and third with Johnson, Mark Martin and Jeff Gordon, respectively.
Juan Pablo Montoya, who drives for Earnhardt Ganassi Racing, has the best shot to break up the party. He's fourth, 47 points behind Gordon.
Tony Stewart is fifth, 40 points behind Montoya, but technically, Stewart also is a Hendrick guy. His Stewart Haas Racing team shares a technical alliance with Hendrick Motorsports, using Hendrick chassis and engines.
If Stewart passes Montoya, Hendrick cars would be four-for-four at the top. Hendrick is the only organization to claim the top two spots in the standings since the modern era began in 1972.
Terry Labonte won the 1996 championship when teammate Jeff Gordon finished second. Gordon also was second to Johnson in 2007.
Multi-car teams were rare back in the day, but a triple sweep almost happened in 1956. Buck Baker won the title driving for legendary car owner Carl Kiekhaefer. Teammate Speedway Thompson finished third.
Herb Thomas, who was second in the standings that year, drove a third Kiekhaefer Dodge for more than half the season. But Thomas ended the year in a Chevrolet he owned.
Chevrolet drivers hold the top five spots in the standings heading to Texas Motor Speedway this weekend. The last time the top five drivers ended the year in Chevrolets was 1980.