Category archive:

Danica Patrick
February, 22, 2013
02/22/13
4:20
PM ET
DAYTONA BEACH, Fla. -- You want to know why Danica Patrick matters?
Listen to these stories:
Carl Edwards' daughter, Anne, turns 3 next week.
"Carl brought her over [to Patrick's motor coach] to meet me this week," Patrick said Friday. "I've known since last year that she's a huge fan of mine. Carl said he wanted her to meet me in person because she sees me as some mythical person who doesn't exist."
Anne was wearing green Go Daddy (Patrick's sponsor) shoes when she met Danica.
"A little later, Jimmie Johnson brought his daughter [2-year-old Genevieve] to meet me," Patrick said. "That's very flattering."
Jeff Gordon's daughter, 5-year-old Ella, told her dad she wanted a picture with Patrick in Victory Lane after Patrick won the pole for the Daytona 500. Gordon starts on the front row with Patrick.
Patrick also said she was working out at a gym recently when a man asked her to watch a short video.
"It was his two daughters," she said. "They were young, maybe 2 and 4. Their dad showed them a magazine cover with me on it. He asked them, 'Who is that?' They both said my name. The guy told me, 'I have no idea how they know who you are.' Something about this is impacting kids."
And that's why Danica matters.
The debate about how good a race car driver she is misses the point. Patrick matters because she inspires young girls to reach for the stars and do something most people see only men doing. And she brings people to auto racing who wouldn't have an interest without her presence.
"I have handed out more lug nuts to little girls this week than anyone else," said Tony Gibson, Patrick's crew chief on the No. 10 Chevy. "It's great to see all the little girls in Go Daddy hats and shirts."
The Daytona Cup garage has windows where fans can see the cars and crews. The windows also have a slot where fans can pass a piece of paper and pen to drivers for autographs. And the crews can pass things back, such as lug nuts.
"I take a Sharpie and write '10' on the lug nuts I give to them," Gibson said. "Kids are writing on our window. Seeing all this is really cool for our sport."
And that's why Danica matters.
March, 22, 2012
03/22/12
3:05
PM ET
FONTANA, Calif. -- A few interesting things that might happen this weekend at Auto Club Speedway:
First awkward moment: When the No. 48 Chevy rolls into the inspection area Friday morning -- sort of like taking your free-pass gold card into the forbidden zone.
No C-post jokes allowed. No high-fiving by 48 crew guys in front of the inspectors. And no team shirts that read: John Middlebrook For President.
Bad crowd comparisons: A half-full Bristol Motor Speedway this past weekend still is more people than you probably will see at Fontana on Sunday, but empty seats at ACS won't be headline news because it isn't unusual.
Nevertheless, some people will say NASCAR should stop racing at Fontana because it can't sell out one Cup event a year. Not going to happen.
NASCAR races at ACS because it's in the second-largest market in the country. It's good for sponsors and driver appearances to spend a few days in SoCal. No one will admit it, but the number of people who actually attend the event is a secondary consideration.
A Danica improvement: Danica Patrick should be better than the first two times she raced at ACS, which isn't saying much. She finished 31st, three laps down, in her first Nationwide race at Fontana in February 2010. Patrick finished 30th after a crash later that year at ACS, but she was running 14th before the accident late in the race. She needs a top-10, something she hasn't done yet this season.
A fifth consecutive Nationwide race without a Cup winner: A seemingly impossible thought before the season started, but it could happen. Only three Cup regulars are on the entry list at Fontana -- Brad Keselowski, Joey Logano and Kyle Busch.
Granted, one of those three easily could win. Busch won it last year at ACS, but he was in Joe Gibbs Racing equipment then. Kyle's in his own car now, and that hasn't looked so hot.
The cream to rise to the top Sunday: The past nine winners (and 11 of the past 12) were drivers who made the 2011 Chase. And the past nine winners also were guys who finished in the top six last season. Cup champions have won fourteen of 22 Cup races at Fontana.
Bad luck for the Lap 1 leader: Note to pole winner: You may want to back off on that first lap. Here's the weird stat of the week. No driver has ever won the ACS Cup race if he led the first lap of the event.
Bad luck for Joe Gibbs Racing: Fontana is the only track where JGR is winless in Cup. What makes that seem so crazy is the fact that a JGR driver has won the past seven Nationwide races at ACS.
Rick Hendrick gets that elusive 200th victory: The Hendrick Motorsports quartet has gone 10 consecutive Cup races (dating back to last season) without a win. But Hendrick's drivers have won nine of 22 races at ACS, including four of the past eight by Jimmie Johnson.
Second awkward moment: Postrace inspection if Johnson wins it. Under that scenario, crew chief Chad Knaus may want to take a restroom break before heading over to the room of doom. That inspection might take awhile.
March, 6, 2012
03/06/12
3:38
PM ET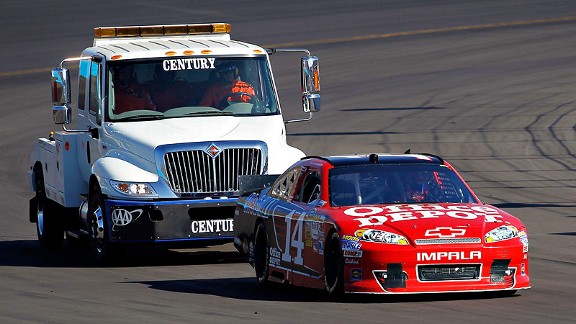 Todd Warshaw/Getty ImagesTony Stewart needed a little help to make it to his pit after his car wouldn't restart on Sunday.
Carburetors, electronic fuel injection, whatever, fuel-mileage races are here to stay.
Sunday's Sprint Cup race at Phoenix came down to which team could milk its fuel cell, and the new EFI system, to the checkered flag.
Denny Hamlin made it and won. Kevin Harvick didn't make it and lost. And Greg Biffle could have made it a little farther than he thought.
Biffle finished third, but was a little ticked that he didn't catch Harvick for second as Harvick coasted across the finish line.
"With about 20 laps to go, [crew chief Matt Puccia] panicked, to say the least," Biffle said Sunday after the race. "He kept telling me, 'Slow down. Slow down.' Then with four laps to go, he sounded desperate. So I backed off a little more.
"Then the 29 [Harvick] runs out. So my guys are yelling, 'Try to pass him!' I'm like, 'Well, a little late now guys. You should have told me that a lap ago.' I missed catching [Harvick] by about 100 feet. And I made it around the cool down lap with no flicker of fuel pressure, so I know I had at least one more lap."
Don't get the wrong idea. Biffle wasn't mad at Puccia. He loves the guy. But everyone is learning what they can and can't do with EFI.
Tony Stewart learned you can't just turn the engine off under caution (a longtime fuel-saving technique) because the motor might not re-fire. His didn't.
Harvick learned you can seemingly run dry, as he did with half a lap to go, and the engine will still run a little longer.
"You really have a little bit more of a cushion," Harvick said. "It knocks the engine down to minimum RPMs like it's on a rev limiter, but it will keep running."
EFI fuel limitations are a learning process for everyone, but just as it was with carburetors, it's still an inexact science. Hopefully, it always will be.
Not knowing the exact moment the engine will conk out is a good thing. It adds drama at the end of races.
For the moment, it's even more drama than it was with the carburetors because the teams don't know for sure how the engine will react using EFI.
Darian Grubb, the crew chief who figured it out right Sunday for Hamlin, knows he easily would have been on the opposite end of things.
"I'm going to knock on wood somewhere," Grubb said. "I feel like we have a good understanding of [EFI] but it's still a new system. You're always going to have that doubt in the back of your mind."
Not fun for the guy on the pit box, but pretty intense for everyone watching, no matter how the gas gets fed to the engine.
February, 16, 2012
02/16/12
11:45
AM ET
DAYTONA BEACH, Fla. -- Unless you were at the front of the scrum Thursday, not an easy thing to do in that frenzied crowd, you couldn't see what all the fuss was about.
But if you'd been paying attention the past few months, you didn't have to guess.
Danica Patrick -- the media day darling at Daytona.
"If I hadn't experienced all the media craziness here before, it might have been a little overwhelming," Patrick said. "But I know how it works here and how to organize things. And let's not forget I've been in the Indy 500, which is one of the biggest races in the world, if not the biggest."
Patrick is all NASCAR now, beginning her first full season in stock cars after two years of splitting time between her IndyCar Series schedule and a partial Nationwide Series schedule. She's racing the full Nationwide season this year, along with 10 Sprint Cup races.
And the media can't get enough of her. In all my years of covering NASCAR, and all the media days of the past, I've never seen that many people hanging on every word of one driver, including anyone named Earnhardt.
Patrick fully realizes that part of the attention comes from her celebrity status outside of racing, along with the fact that she's an attractive woman.
"If there's a pretty girl, it seems like [reporters] don't know how to describe her except being sexy," Patrick said. "That has such a negative connotation. You don't frame it like that for a guy, or even talk about it. But it seems like for female athletes that are pretty, they only know how to describe them in a sexual way.
"I don't care, but I wonder why we can't talk about it in a different way and use other words for it. It makes it somewhat negatively twisted. Discuss it some way without the word sex in it."
Well, the fact that she makes those Go Daddy commercials laced with sexual innuendo doesn't help, but Patrick is here to race. And she's better at that than many people think.
Patrick is 10 days away from racing in her first Daytona 500. Does she think she can win it?
"Yeah," she said with no hesitation. "There's a little bit more luck involved in the Daytona 500 just because of the style of racing it is. Things have to fall your way and you have to stay out of trouble that might not have been of your making."
She's right. Restrictor-plate races at Daytona and Talladega are events that almost anyone in the field can win.
"Let's face it," she said. "Great drivers don't always have great races at these big speedways because it depends on so many other factors, like tandem racing and pack racing and an accident you can't miss.
"I have a fast car, but it's going to take some good breaks. I have to be patient. It would be nice to stay up near the front because you are less likely to get in an accident. But luck plays a big factor."
The first lucky break for Patrick came when she got a guaranteed spot in the field, thanks to NASCAR rules that allow the shady practice of swapping championship points with other teams.
No way NASCAR or Tony Stewart (her new Sprint Cup team owner) were going to take a chance on Patrick not qualifying for the biggest race of the season.
And it doesn't hurt having the defending Cup champion as your boss.
"Tony likes to have fun and I like to have fun," Patrick said. "I guess that's a really dumb thing to say. We all like to have fun. Tony doesn't drink wine, so I'll have to tune him in to that. But we have the same crazy sense of humor. We both enjoy the banter and joking around."
Until race day comes, then it's all business. Patrick's first goal is to get off to a good start this season.
"It's like being in school," she said. "You get a couple of bad grades right off the bat and it seems you can't get out of that hole. You want to start well. If things go well at the beginning, it seems you can hang around up there."
Patrick spent two years racing part time in NASCAR and trying to decide if it was right for her. One thing surprised her that influenced her decision to leave open-wheel racing.
"What surprised me the most is how much I truly enjoy driving these cars," she said. "That's sound cheesy, I'm sure, but I never thought I would like driving these cars as much as I do."
Sam Hornish Jr., an old rival in the IndyCar Series, also is racing full time in the Nationwide Series this year. The two drivers started battling each other as kids in go karts.
Hornish was across the room, almost alone in his interview session, while Patrick was talking. She had a quick message for Hornish.
"Oh, boy," she said. "I've got fenders now, Sammy."
July, 2, 2011
07/02/11
8:05
PM ET
DAYTONA BEACH, Fla. -- If you had any doubts about Danica Patrick coming to NASCAR full time next year, put them out of your mind.
Regardless of what she says publicly, she's coming. Considering what she did Friday night at Daytona, her management team should go ahead and make the announcement now while the engine is hot.
Patrick was four laps away from officially becoming NASCAR's first female superstar, although some would say she already is. But she came darn close to winning the Nationwide race, which would have made her the first woman to win a major NASCAR event.
She couldn't have picked a better time to have her best showing. Yes, she has posted a better finish (she was 10th Friday after a last-lap crash and fourth earlier this year at Las Vegas), but this one was her "wow" moment for everyone watching.
Patrick led 13 laps Friday in a thrilling show of tandem racing at its best, and she got out front without using fuel strategy or pit strategy or any other excuse you want to bring up.
She did it the same way everyone else did it, mastering the pairs-racing skills necessary to take the lead. Patrick caught a break early in the race when Tony Stewart was in position to push her in the two-by-two show.
[+] Enlarge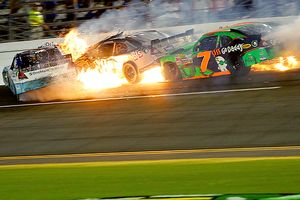 Geoff Burke/Getty Images Danica Patrick finished 10th in Friday's Nationwide race after getting caught up in a last-lap crash.
Coincidence? Maybe not.
Stewart may have wanted to give a little training session to the woman who could become a driver for his Sprint Cup team in the future. Stewart has said he would love to have her at Stewart-Haas Racing.
Although she continues to say she hasn't made a decision, Patrick is expected to move to NASCAR full time next season in the Nationwide Series before going full time to Cup in 2013. And SHR appears to be a good fit.
On Friday night, Patrick learned quickly the things she needed to do as the driver being pushed. She got to the lead with Stewart on Lap 24 of the 100-lap event and led five times for a total of 13 laps.
Patrick led more laps Friday night than her previous 18 Nationwide starts combined, which was five laps.
After she and Stewart got separated later in the race, Patrick proved she could get to the front without Stewart's help. JR Motorsports teammate Aric Almirola pushed her to the lead with 42 laps to go.
But the moment that got the crowd on its feet came with less than five laps to go when Almirola pushed her to the lead coming out of Turn 2 and heading down the backstretch.
"Let's go ... fast here," Patrick told Almirola on the radio. "We just need to catch this group and go by them. We're doing the right thing here. You just follow my ass, OK?"
Spoken like a true NASCAR driver. Maybe the only mistake was they made their move too soon. Stewart pushed Sadler back by her one lap later. Joey Logano would win it in wild finish.
Patrick tried to make another move forward on the outside but brushed the wall when things got three-wide. She was moving up again before a last-lap pileup, as is becoming the norm in the restrictor-plate races.
As Mike Wallace slid up the track heading for the finish line, Patrick was outside and lost her connection to Almirola. He tapped her left rear quarter panel, causing Patrick's car to turn down the track, and the wrecking was on.
Nothing new there for a plate-track finish, but it didn't take away from an impressive performance by Patrick.
"I kept it straight and kept my foot in it," Patrick said about the wreck. "We were going for broke."
Patrick loves this stuff and she's getting better at it. So what's the holdup on announcing the move?
The only possible hiccup was the changing situation at GoDaddy.com, Patrick's primary sponsor in racing. GoDaddy was sold Friday to the KKR investment firm for $2.25 billion.
Elizabeth Driscoll, vice president of public relations for GoDaddy.com, said Saturday that the sale will not change the company's commitment to Patrick's racing career.
Patrick is GoDaddy's signature spokesperson and big part of the company's success. Regardless of who owns it, continuing that relationship seems the logical decision.
Friday night's effort didn't hurt. Patrick was a few laps away from having the same number of wins in NASCAR, after only 19 races, as she has in seven seasons of the Indy-car racing.
So what does that tell you?
See ya, IndyCar Series. Time to move on to a bigger pot of gold.
So go ahead and tell us, Danica. The time is right.
March, 5, 2011
03/05/11
6:47
PM ET
LAS VEGAS -- Anyone who says Danica Patrick had her best NASCAR finish Saturday because of fuel mileage is dead wrong.
Patrick made history with her fourth-place finish, the best ever for a woman in a national NASCAR event.
That record stood for 62 years. Sara Christian finished fifth at Pittsburgh in 1949 during NASCAR's inaugural season.
Patrick is the first woman to lead a lap at Indianapolis and Daytona, the first woman to win a major open-wheel event and the first woman to finish in the top four in a NASCAR touring-series race.
And don't say she lucked out. She earned what she got Saturday in the Sam's Town 300 Nationwide Series race.
True, she wasn't going to finish fourth if not for some of the drivers ahead of her having to pit for fuel in the final laps. But Patrick probably was headed for a top-10 without the fuel-mileage situation.
"We worked so hard on the car this weekend," Patrick said after the race. "We went from loose to tight with the same setup at times. But we had a lot of practice time, which was good."
Crew chief Tony Eury Jr. wasn't a bit surprised at what he saw Saturday.
"We knew going in she was capable of finishing in the top 15 this year," Eury said. "But if we got everything right on the car, we could finish in the top 10 with this girl really easily. I would have been upset if we didn't finish in the top 10 today."
Patrick took her lumps last year in her NASCAR debut, but she clearly has made significant improvement this year.
She finished a career-best 14th at Daytona and briefly led the race when Clint Bowyer pushed her to the front. She was a surprising 17th last week at Phoenix, a difficult 1-mile flat oval where she finished 32nd last November.
Patrick expected better results this season and she has delivered.
"I was hoping for a top-10 today," said Patrick, who started 22nd in the No. 7 Chevrolet. "That was my secret goal, but we got a top-5."
She did it the hard way after getting caught a lap down while pitting under green just before a caution came out.
"We missed those Lucky Dogs [a pass onto the lead lap for the first car a lap down on a caution] three times and finally got it," Patrick said. "Then at the end, I asked Tony to take a big swing at it and he did. And it worked, even though I was sliding in the turns at the end."
Patrick has benefited immensely this season from having veteran NASCAR driver Johnny Benson as her driving coach at JR Motorsports.
ESPN analyst Andy Petree, a long-time crew chief who knows a thing or two about drivers, had this to say about Patrick's performance Saturday: "She drove an incredible race, in my opinion."
There's only one problem. She isn't racing enough to keep her momentum going.
Patrick returns to IndyCar soon and now will race in only one Nationwide event a month until the final three races of the season. She's competing in only 12 of 34 Nationwide races.
That's a shame, because Patrick is talented enough to figure this out and become a legitimate stock-car racer with more seat time.
She has to make a difficult decision this year about her future. Her contract is up with Michael Andretti's IndyCar team.
No doubt the last three weeks have encouraged her to make the move full-time to NASCAR in 2012, but she'll have to do it with only 25 Nationwide races under her belt.
Here's the bottom line: Patrick is much more than just a pretty face. She's a racer, but she needs more races on her NASCAR résumé to get where she wants to go.
August, 16, 2010
08/16/10
5:36
PM ET
Halfway through Danica Patrick's first-year jump into NASCAR, the numbers don't look good. In fact, they're pitiful.
In six starts, her average finish is 30.5 and her average starting spot is 29th. She has not finished on the lead lap in any event. Her best finish was 24th at Chicagoland Speedway last month.
And this in a car (the No. 7 Chevrolet) and with a team (JR Motorsports) capable of finishing much better.
The only glimmer of hope so far is she finished better than where she started in four of the six races. She finished six spots ahead of where she started on Saturday at Michigan (27th from 33rd) but still ended up four laps down.
It's impossible to make a valid assessment after six races, but that's the point. This never will work with Patrick doing it on a part-time basis. It's like asking someone to become a scratch golfer by playing nine holes once a month.
Patrick's Nationwide schedule will pick up when the IndyCar Series season ends in early October. This NASCAR experiment also has hurt her IndyCar performance.
Patrick is on the way to her worst IndyCar season since she finished 12th as a rookie in 2005. She's 11th in the standings after finishing fifth last year.
Seven races remain on her 2010 Nationwide schedule: Dover, Fontana, Charlotte, Gateway, Texas, Phoenix and Homestead.
She needs to show some real improvement in the fall for people to believe Patrick has any chance of making NASCAR a viable option beyond 2010.
February, 8, 2010
02/08/10
9:02
AM ET
DAYTONA BEACH, Fla. -- Using a baseball analogy, Danica Patrick is going from one impressive showing in a Class A game to a Triple-A league in one week.
That sounds pretty imposing. Actually, it's much worse.
The reality is Patrick is going from a weak Class A league to a Triple-A game with almost all big leaguers in the lineup.
That gives you some idea of the jump Patrick is making to race in the Nationwide Series event at Daytona on Saturday (1 p.m. ET, ESPN2).
And that's why the people around her were hesitant at first to commit to having her race in the Daytona show.
"It's pretty much a [Sprint] Cup race," Kelley Earnhardt, Patrick's boss at JR Motorsports, said during the media tour. "So many Cup drivers will be in it, Dale [Earnhardt] Jr., Tony Stewart and many others. She knows how important it is for her to have the respect of the other drivers."
Patrick earned some respect with her remarkable showing in the ARCA event Saturday night at Daytona, finishing sixth after almost crashing and working her way back to the front in the final laps.
Most observers came away from that race believing Patrick greatly exceeded expectations. It all but forced JR Motorsports to put Patrick in the Nationwide race this weekend.
This isn't just any old Nationwide race. It's probably is the most difficult Nationwide event of the season.
Many of the best drivers in Sprint Cup will compete in the race. They are pros at knowing how to use the draft in a high-speed restrictor-plate event in which the cars are bumping and banging on every lap.
Patrick got her feet wet in that style of stock car racing last weekend, but ARCA is not NASCAR, and it's certainly not a Daytona Nationwide event.
Patrick is on top of the world at the moment after her impressive showing in her stock car debut. Expectations for her first NASCAR race were high enough before that event. Now they're through the roof.
Back to the baseball analogy: Danica doubled off the wall in her first Class A at-bat. But she's playing in The Show now, so don't expect the same results.
If she brings the car home in one piece and finishes in the top 20, tip your hat to her and realize she made an equally impressive effort in a much tougher game.
October, 9, 2009
10/09/09
7:42
PM ET
FONTANA, Calif. -- All-in or not at all.
That's the message Juan Pablo Montoya and Jimmie Johnson had for Danica Patrick and her plan to give NASCAR a shot.
Patrick is hoping to work out a deal with JR Motorsports to run a few Nationwide races next season while continuing to race full-time in the IndyCar Series.
"I wouldn't be doing both cars, to be honest with you," Montoya said Friday. "That's my advice. The cars are so different. You will get comfortable [in the Nationwide car] and then go to the other thing, and every time you come back will be like night and day."
Johnson, who was listening when Montoya gave his opinion on Patrick's plan, shook his head in agreement.
"I think that's a valid point," Johnson said. "The overall thing she needs to accomplish is getting seat time. That's everything in learning these cars and these tracks. She may have raced at some of these tracks, but not in a closed-body vehicle. So it boils down to seat time."
One successful Sprint Cup driver made his NASCAR start while continuing to race Indy cars. Tony Stewart ran nine Nationwide races in 1996 and five Nationwide races in 1997 when he won the IRL championship.
Stewart raced 22 Nationwide events for Joe Gibbs Racing in 1998 while running the full IRL schedule before moving full-time to Cup in 1999.
Patrick visited the Stewart-Haas Racing shop earlier this year. Stewart was impressed with her attitude toward making the move to NASCAR.
"I know that she's serious about it," Stewart said last month at Atlanta. "I don't think she has some misguided idea that it's going to be easy. She wants to do it the right way."
Carl Edwards said Patrick shouldn't expect too much too soon.
"As far as advice to Danica, I guess the biggest thing would just be patience," Edwards said Friday. "The races are very long and the competition is so close that if you go out there and get impatient or try too hard, that's a surefire way to disaster.
"It's just patience. It will take time no matter how good someone is. I think coming from another discipline to this, that's a huge step."
Johnson thought Patrick should try to drive anything with a body on it, and accept the fact that she's going to have some accidents.
"Hit some walls," Johnson said. "Tear up equipment, make mistakes. You have to go through that. You can't shortcut it. It doesn't matter if you're Juan Pablo from F1 or the guy from the local short track. You have to go though those experiences to learn."