Category archive:

Jeff Burton
August, 30, 2011
08/30/11
2:57
PM ET
Brad Keselowski is a plus-14. Jeff Burton is a minus-17.
That's where both drivers stand, opposite ends of the spectrum from each other and drastically different from how they ranked one year ago.
With two-thirds of the Sprint Cup season complete, two races before the Chase, it's a good place to compare how drivers have moved up or fallen back from this point in 2010.
It will surprise no one now that Keselowski is the biggest gainer since last year. It sure didn't look that way eight weeks into this season. Keselowski was 28th after a 36th-place finish at Richmond.
Can you guess who has made the second-biggest jump so far this season?
None other than Dale Earnhardt Jr. He was 18th at this point in 2010, nine spots below where he is now. But his finishes near the front haven't changed much. Earnhardt has three top-5s compared to two top-5s after Bristol last year. And he's still winless.
[+] Enlarge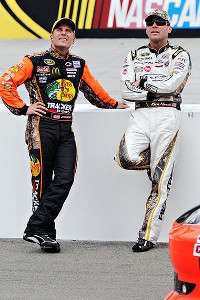 John Harrelson/Getty ImagesJamie McMurray, left, and Kevin Harvick are both behind last year's pace, but McMurray is way off, sitting in 26th in the standings right now after being 13th at this point in 2010.
"I would love to get [a win] out of the way," Earnhardt said at Bristol. "But we're just going to keep trying to do what we can do and control our race car and drive the best we can and see what happens."
No. 3 on the upward mobility chart also might surprise you. It's AJ Allmendinger, who has improved eight spots (22nd to 14th) from a year ago.
The change is attributable to fewer bad finishes instead of more good ones. Allmendinger has one top-5, the same as one year ago, and only one more top-10 (five compared to four).
Ryan Newman also is a plus-8, ranking seventh now compared to 15th after 24 races last season.
So Keselowski is the only driver to make a double-digit improvement over the last 12 months, but three drivers have suffered through double-digit drops this season.
Burton tops the depressing list with easily the most surprising fall off in Cup, going from seventh and a Chase lock last season to 24th and no hope of making the playoffs this year.
Burton has not ranked better than 20th at any point this season. But the No. 31 Chevy team has shown some improvement since Luke Lambert took over as crew chief.
"I have a completely different environment around me right now," Burton said last week.
Lambert is the youngest crew chief in Cup at 28. Maybe a little youthful enthusiasm is helping. Burton's ninth-place showing at Watkins Glen was his first top-10 of the season. His 15th-place finish at Bristol gave him back-to-back top-15s for the first time this year.
This isn't much consolation for Burton, but Richard Childress Racing doesn't have any improvement in its three drivers who raced at RCR in 2010. Kevin Harvick led the standings and now he's fifth, but he has the same number of wins with three. Bowyer is in the same spot as a year ago in 12th.
Jamie McMurray is another big-drop driver in 2011, going from 13th a year ago to 26th now. That means McMurray has no chance of benefiting from the so-called McMurray Rule, the change this year to make the final two Chase spots based on victories as long as the driver is in the top 20.
His two pre-Chase wins last year (in two of the biggest events at Daytona and Indy) would have gotten him in the playoff under the new rules. McMurray is winless this year, but also hasn't come close to racing as well overall as 2010, when he had seven top-5s after 24 races. Now he has two.
But both drivers are down at Earnhardt-Ganassi Racing. Juan Pablo Montoya is four spots worse than a year ago, 23rd now compared to 19th in 2010.
David Reutimann is the other double-digit downer this season. He was 17th a year ago with five top-5s. Now he's 28th with one top-5.
October, 9, 2010
10/09/10
1:46
PM ET
FONTANA, Calif. -- If you didn't know about this Sprint Cup race changing from 500 miles to 400 miles, don't feel bad. Some of the drivers didn't know until they arrived at Auto Club Speedway.
Ryan Newman was caught off guard when asked Friday if his strategy would change for the shorter Pepsi Max 400.
"Is it? Is it a 400?" Newman asked. "Awesome."
Carl Edwards also didn't know, but he didn't think it was awesome.
"I can't believe I didn't know this was a 400-mile race," Edwards said Friday. "I work really hard to be as fit as I can be. We work hard to be prepared for long races. I feel that long races play into my strengths physically, and then I feel that from a handling standpoint and the way the car drives."
Don't classify Sunday's race as a short one. It's 200 laps around the giant 2-mile oval at the Inland Empire track with temperatures expected at 90 degrees.
"This racetrack just seems like one of the hottest we go to sometimes,'' Edwards said. "When the sun is out here, there is no escaping the heat. The hotter and slicker it is suits me and our team."
[+] Enlarge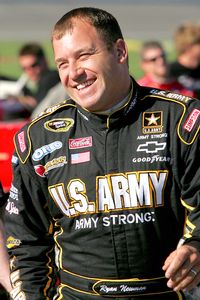 Jerry Markland/Getty ImagesRyan Newman was thrilled to learn Sunday's Cup race is 400 miles long.
Edwards has six top-5s at ACS, but his one victory came in cool conditions in a February race in 2008.
Jamie McMurray, who starts on the pole for the second consecutive time at ACS, said the wide surface has plenty of racing room, but it can be tricky.
"The trick to this place is the seams," he said. "It's really hard to explain, but when the car gets in the seams it feels like water and it's really slick. When you get stuck in them, you can't get out.
"It's almost like you're in a slot and you have to wait till you get to the straightaway to get your car off of it. It will slow your car down a half-second a lap if you get stuck in one of them real bad."
McMurray is talking about the tar that fills the grooves betweens the lanes of the racing surface.
"The key to this place is having a car you can drive across the seams and not get stuck in them," McMurray said. "The cars that handle well can miss the seams and they're faster. The guys whose cars are sliding around a bit more tend to find them."
Jimmie Johnson and the No. 48 Chevy team obviously have figured it out. He has won three of the last four races at ACS. Will 100 fewer miles make a difference for him?
"I think that the race distance at 400 miles is probably better for everyone," said Johnson, who starts ninth Sunday. "I don't have a lot of fears at this track because there's so much room. There are lanes you can use to pass."
Sunday will be the first time at ACS the Cup teams have raced a car with the rear spoiler instead of the wing.
"We've had so much time now with [the spoiler] that we pretty much have a feel for it," Kyle Busch said Friday. "It will be different than what it was in the spring, but our setups have evolved so much from when we were here the last time."
The fall event becomes extinct after Sunday. ACS will lose one of its two Cup events next year. The lone Cup event will take place on March 27. No more Chase races for ACS.
"Obviously, the attendance here hasn't been what everyone hoped it would be," Jeff Burton said Friday. "I think it is a good area for us and being on the West Coast is a good thing.
"I believe we have a lot of race fans out here. I also know the economy around the area is really bad. That has hurt the racetrack a lot. It's hard to say taking a race away is a good thing, but sometimes it is. You end up getting out more people for one race than you had for two races."
Whatever the crowd is Sunday, Johnson said he thinks they could see the best show ever at ACS.
"As a California native, I'm disappointed to hear that it's losing an event,'' Johnson said. "But the 400-mile race should make it more exciting, and restarts here can get pretty wild. It will entertain the viewers on television and the people in the stands. I think it'll be a good race."
August, 25, 2010
08/25/10
1:52
PM ET
As far as the bookmakers in Las Vegas are concerned, Jimmie Johnson remains the man to beat for the Sprint Cup.
Johnson's recent woes on the track haven't dropped him from the top of the betting line in Vegas.
Johnson is ninth in the points standings. He has fallen seven spots after posting finishes of 22nd or worse in five of the last seven races.
But the summer slump hasn't stopped bookmakers from placing Johnson as the favorite to win his fifth consecutive title.
Heading into the open weekend, two races before the start of the Chase, Johnson is listed at 7-to-2 at the Las Vegas Hilton. Kevin Harvick is second at 9-to-2.
[+] Enlarge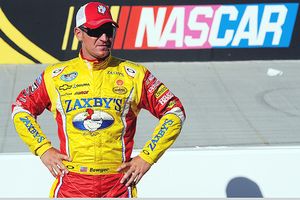 John Harrelson/Getty Images for NASCARClint Bowyer is the least-favored driver in the top 12 by Las Vegas oddmakers, but 20-to-1 isn't too bad.
Why is Johnson favored, you ask? Two reasons. First, Johnson's won four in a row. That alone is a darn good reason to keep him on top.
But there's also a statistical reason. If the Chase started today, Johnson would begin the playoff on top, tied with Denny Hamlin. Both drivers have a series-best five victories. Hamlin is 5-to-1 on the betting line.
Harvick and Kyle Busch, each with three victories, would start the playoff 20 points back. Busch is listed at 5-to-1 with Hamlin.
Jeff Gordon, winless this season but second in the points standings, is next on the betting list at 7-to-1. Rounding out the top six is winless Tony Stewart at 10-to-1.
Kurt Busch, who has two wins and will be the only Dodge driver in the Chase, is 12-to-1.
Greg Biffle, the only other Chase contender with a victory this season, is listed at 15-to-1. Roush Fenway Racing teammate Carl Edwards is slightly better at 12-to-1, and RFR driver Matt Kenseth is 18-to-1.
Jeff Burton, Harvick's teammate at Richard Childress Racing, is also 18-to-1. RCR driver Clint Bowyer, who is hoping to hold on to a 100-point advantage in the 12th-place bubble spot, is the long shot of the Chase boys at 20-to-1.
But 20-to-1 isn't much of a long shot. What it means, at least in the eyes of the bookies, is the 2010 Chase is wide open.
Johnson remains the favorite for now, but not by much. If the Vegas oddsmakers are right, this is going to be a fun Chase to watch.
FORT WORTH, Texas -- A Monday NASCAR doubleheader happens about as often as a volcano in Iceland causes worldwide travel delays.
I guess the timing was right. For the second time in three races, rain forced NASCAR to race on Monday, but ticket holders at Texas Motor Speedway have a rare opportunity if they can stick around one more day.
But this is only the second time that Cup and Nationwide have run a Monday doubleheader. The first time was February 2008 at Auto Club Speedway in Fontana, Calif., but that wasn't 800 miles of racing. Part of the Cup race was run the previous night.
TMS has suffered through some weather-related issues in the past, but this marks only the second time since the track opened in 1997 that the Cup event was postponed until Monday.
That was in 2002, when the majority of fans with tickets decided to take Monday off. A crowd of more than 150,000 returned and watched Matt Kenseth win the race.
Don't expect 150,000 to show up this time, but it should be a decent crowd because of the two-for-one opportunity and the rare chance to see 800 miles of racing.
"Every ticket is good for both races," TMS president Eddie Gossage said Sunday after the postponement. "If you have a Nationwide ticket, you can come to the Cup race, and the Cup tickets are good for the Nationwide race."
That could cause some conflicts. People will have the same seat for different races: "Excuse me, sir, you're in my seat."
If they're being polite, that's resolvable. If not, watch out. Because the Cup race starts at noon ET, beer consumption probably won't factor into the compromise options, thankfully.
"I think it will be fine," Gossage said. "There'll be plenty of seats for people just to move over a few spots."
Gossage said he wanted to do what was best for all the fans who sat in a constant light drizzle Sunday. That's why NASCAR and TMS called it a day at 3:30 p.m. local time.
"It was going to take three hours to dry the track," Gossage said. "But the weather forecasters said the mist would continue to 7 or 8 p.m. We didn't feel it was fair to make all those people continue to wait. We felt the fan-friendly thing to do was to pull the plug."
Gossage admits it's a major financial drain to have to race both events on Monday.
"It cost us $15,000 an hour to open the gates here," he said. "It sucks, but what can you do?"
Look for NASCAR to throw a competition caution early in the Cup race Monday for the teams to check tires and make adjustments. Practice was rained out Saturday, so the Cup drivers haven't been on the track since Friday.
It's a major guessing game for the first spoiler race on a 1.5-mile oval.
April, 17, 2010
04/17/10
4:56
PM ET
FORT WORTH, Texas -- Kasey Kahne is saying all the right things. He wants to finish this season on a high note.
Kahne is an honorable guy. I'm sure he means it. Kahne will do everything in his power to get the No. 9 Ford in the Chase and leave Richard Petty Motorsports with good feelings all around before leaving for greener pastures at Hendrick Motorsports.
Finishing well is the plan, but historically speaking, lame-duck teams rarely do well. It's just human nature. For the crew and everyone working on the car, it's hard to have the same zeal for your job when you're unsure if you'll have a job soon.
Jeff Burton was honest enough to say that lame-duck situations are difficult to overcome.
"They've got to be looking at their other options and they've got to be looking at other opportunities,'' Burton said Friday. "And Kasey's got to be paying attention to not only what he's doing now, but what he's going to be doing in the future.
"I just think as hard as you try and as hard as you say you're going to be as good, it's difficult because it's a distraction."
It's a little like a husband and wife agreeing to an amicable split, but deciding to live in the same house until the divorce is final.
If any team can stay focused on the moment, Burton believes Kahne's team is the one.
"I think Kasey's in a little different situation," Burton said. "The group that's with Kasey has been with him for a long time. I think that they respect Kasey and they understand the situation Kasey is in.
"With [crew chief] Kenny Francis being there, I think they have a good rapport with each other and the team has a good rapport with the both of them. I think that's going to help. I just don't view that group as being bitter or upset about it. I may be wrong about that, but I believe it."
So Burton thinks the team has a chance to post some strong performances the rest of this season, but it's never easy when a group is breaking up.
"Kasey is going to continue to work hard," Burton said. "His car owner's going to continue to work hard, but you also have to be looking at the future."
Kahne went to dinner with his Richard Petty Motorsports team in Texas to tell them he will do everything he can to make the rest of this year productive.
"I want us to enjoy ourselves and win races," Kahne said. "And I still feel like we have a shot at the Chase."
Kahne ranks 26th in the Cup standings with two top-10s in the first seven races. But he made the Chase last year and finished 10th in the playoff.
"I've had six and a half years with those guys and we've had a great run," he said. "I have a lot of friends there and a lot of people that I really enjoy working with. Until this year, I'd never looked at another shop. I'd never been inside another building. But sometimes you just need some change and you need something different."
Something different starts next year. For now, he hopes to end this year with something good for the No. 9 team.
November, 12, 2009
11/12/09
5:09
PM ET
AVONDALE, Ariz. -- Maybe you haven't noticed, but Richard Childress Racing is improving. And Sunday's race could gauge just how far RCR has come.
Everyone at RCR is disappointed about the organization's lackluster results in 2009, no victories this season and failing to place a driver in the Chase for the first time.
But things are looking up. The Dickies 500 at Texas Motor Speedway last weekend was the first time in more than a year that RCR had three drivers finish in the top 10 on the same day.
[+] Enlarge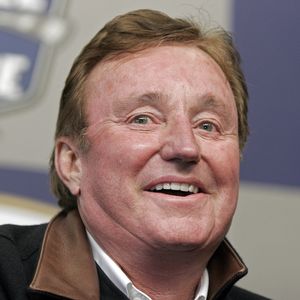 AP Photo/Bob JordanRichard Childress has been scrambling to put his Sprint Cup teams on more competitive footing.
Fuel strategy played a part in how things sorted out at the end, but the Childress boys ran well all day.
Kevin Harvick's fifth-place showing was his best finish in the last two months. Clint Bowyer was seventh, his fourth top-10 in the eight Chase races. And Jeff Burton finished ninth in his backup car after wrecking the primary car in practice two days earlier.
"What a heck of a run by our team," Burton said after the race. "These guys fought hard after we had to load up our primary No. 31 Chevy. Todd [Berrier, crew chief] did a great job dialing in our backup for the race."
The TMS event was the first time RCR had three top-10s in a race since the Dover fall event last year. The cars are more competitive and the guys on the pit box are making smart decisions at key moments.
"Our car was tight all day," Bowyer said after the TMS race. "But Shane [Wilson, crew chief] made a call to short pit for fuel in order to make it to the end. The cards fell in our favor and it was another good result."
The four RCR drivers, including Casey Mears, have posted 11 top-10s in the eight Chase races. At least one RCR driver has finished in the top 10 in each of the last five races.
But this weekend is a big test. RCR was awful at Phoenix in April. Burton was the only RCR drivers to finish on the lead lap, and he was 15th. Mears ended up 20th, Bowyer was 26th and Harvick was 30th.
"Yeah, that's when we knew we needed to start doing some work on our cars," Harvick said earlier this week. "What made it really evident was that we actually ran 30th.
"It wasn't like something happened to put us back there, like contact with another car or brushing the wall. Then I could see us running back there."
It was only the eighth race of the season, but Harvick and everyone else at RCR knew they had serious problems, and those problems weren't solvable overnight.
A week later, Childress announced that Harvick and Mears were swapping crews. It was the first of many changes that have transpired this season for the RCR teams.
Harvick says he's leaving after his contract expires next year. RCR may go back to three cars next season because Jack Daniel's is leaving as the sponsor of the No. 07 Chevy, so Mears probably is out of a ride.
But the last few weeks have been encouraging for the RCR folks. The results have improved dramatically and all signs point to a possible resurgence in 2010.
June, 19, 2009
06/19/09
5:15
PM ET
SONOMA, Calif. -- What's wrong with
Richard Childress
Racing?
It's a question I get on every chat, and in e-mails I receive almost daily. Fans want to know what the heck is going on at RCR.
Of course, if the RCR folks knew the answer to that question, they would fix it. But Jeff Burton gave some detailed insight about the problem Friday.
"The brunt of it is we didn't do a good job this past winter," Burton said. "We didn't prepare well, and now we're behind. We all have different problems, but fundamentally, you look at the speed chart on most Fridays and we're not in the top 10."
Burton said it isn't a horsepower issue.
"On the engine side, we're making enough power," he said. "But we don't go through the corner as well as the competition because we have less handling. That's the problem."
The first step in correcting a problem is understanding what the problem is. So can RCR get it corrected soon?
"There is no magic wand to wave to make it all better," Burton said. "But we are not in panic mode. It's important in this situation not to panic by trying to play Pin the Tail on the Donkey. Everyone is working hard to get better. You just immediately get on it and address it."
Burton is the only RCR driver in the top 12 (barely) entering the Toyota/SaveMart 350 this weekend. Burton is 12th, only three points ahead of David Reutimann.
Clint Bowyer ranks 16th, and Casey Mears is 21st. But the real shocker is Kevin Harvick in 23rd.
"Kevin is concerned, the same as we all are about where we're at," Burton said. "But Kevin has handled it in a positive manner. Everybody is on pins and needles. Our sponsors know we should be better, and Richard knows we should be better. It's been disappointing."
All three drivers who were at RCR last year are worse off than they were one year ago. Burton ranked second in the standings last June. Harvick was 10th, Bowyer 12th.
Whatever handling issues RCR has had on the ovals this season, it might be a non-factor this weekend on the Sonoma road course. Bowyer finished fourth here last year. Harvick was second in 2007, one spot ahead of Burton.
"It's a little bit of a stressful weekend because it's so easy to make a mistake here," Burton said. "You have a bunch of different agendas out there. Some people here race only a couple of times a year, so they have nothing to lose.
"For us, you have to measure the risk. My strategy is to survive it."
Come to think of it, that's the overall strategy at RCR for the moment.