Category archive:

Denny Hamlin
March, 25, 2013
03/25/13
3:58
PM ET
If you're blaming Joey Logano for Denny Hamlin's broken back, you need to think again.
Hamlin has an L1 compression fracture now because he hit a concrete wall head-on that didn't have the SAFER barrier in front of it.
It's absolutely inexcusable, after almost a decade of SAFER barrier use by NASCAR, that a car still can slam into a concrete wall that doesn't have the collapsible barrier in front of it.
But it happened to Hamlin on Sunday on the final lap with a vicious crash into an inside wall at Auto Club Speedway that didn't have the SAFER barrier in place.
When will all these speedways learn that any concrete wall, no matter where it is around the track, endangers the lives of drivers if the wall doesn't have the SAFER barrier in place?
Does someone have to die before this situation changes?
Frankly, all these tracks have been lucky it hasn't happened. Changes to the cars, along with head-and-neck restraints, have prevented serious injuries in many severe crashes, just as the SAFER barrier has.
But it's Russian roulette to have any exposed concrete wall, which likely caused Hamlin's injury Sunday.
No one can say for sure the SAFER barrier would have prevented Hamlin's back fracture. But the odds of him coming out of it without a back fracture would have improved dramatically had his car hit the collapsible wall.
Some fans are placing all the blame on Logano for what they see as an inappropriate payback move at the end of Sunday's race.
The two drivers were going all-out to win the race at the end. Had the situation between the two of them been more cordial, maybe the sheet-metal banging at the end wouldn't have happened. But maybe it would have since both drivers wanted to win.
Logano made a comment about Hamlin he shouldn't have made afterward: "He probably shouldn't have done what he did last week [wrecking Logano at Bristol], so that's what he gets," Logano said.
When Logano made the statement, he didn't know Hamlin was injured.
But it isn't like Logano went out and hunted down Hamlin to get even. They were side by side on the last lap, battling to take the checkered flag.
Hamlin may miss several races because of his injury, and it could cost him a spot in the Chase.
Hopefully, that won't happen. If it does, don't blame Logano. Blame the track for not having the SAFER barrier in front of the concrete wall.
March, 7, 2013
03/07/13
8:58
PM ET
LAS VEGAS -- Thou shalt not criticize the Gen-6.
Consider it NASCAR's newest commandment, which Denny Hamlin learned today from his $25,000 fine for daring to see the new car as less than perfect.
"Bow to Gen-6, lowly driver, and do not take its name in vain."
That's the message to all the drivers from NASCAR's comment police, and this time, it's a step too far. NASCAR has to be more thick-skinned than this, but apparently, it isn't.
Hamlin, in a moment of frustration after the Phoenix race, said the Gen-6 isn't any better than the Gen-5. Oh my goodness. Do not compare the most beloved car in NASCAR history (that's the 2013 mantra for the Gen-6) to the most hated car in NASCAR history (the Car of Tomorrow, Generation-5).
Any intelligent, critical comment by a driver will not be tolerated by the ivory tower of NASCAR, as Hamlin found out. Defending Cup champ Brad Keselowski got the same lesson at Daytona after criticizing some of NASCAR's policies in a USA Today article.
Keselowski didn't receive a fine, just a stern private conversation with Brian France and Lesa France Kennedy -- NASCAR's royal brother and sister duo.
Keselowski took it in stride. Hamlin didn't. Based on Hamlin's comment during the test session Thursday at Las Vegas Motor Speedway, Denny is mad as hell and he's not going to take it anymore. No doubt that will result in a new fine.
Hamlin said he won't pay any fine. Good luck with that. He has 10 days to appeal, but a suspension is coming if he loses his appeal -- which he probably will.
A fellow columnist friend of mine brought up a good point today. The second amendment (as in the NRA sponsorship of a Cup race) -- is all good in NASCAR. The first amendment -- drivers speaking their mind -- not so much.
[+] Enlarge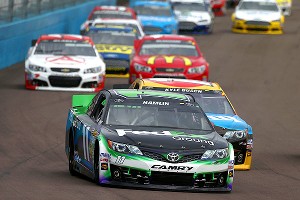 Jonathan Ferrey/Getty ImagesDenny Hamlin was fined $25,000 by NASCAR on Thursday.
Robot training to begin soon for all Cup drivers. Stepford wives will be the instructors.
Look, I've been one of the biggest supporters of the Gen-6. It has so many advantages, starting with the way it looks. And I've said everyone should show some patience before judging how it will race, including drivers.
And for the record, I'm 100 percent in NASCAR's corner on the suspension of Nationwide driver Jeremy Clements. Insensitive racial comments cannot be tolerated in any situation.
But NASCAR has overreacted this time. NASCAR officials should have talked to Hamlin privately and asked him to reserve judgment and try to understand the process before going overboard on critical comments about that car.
No fine, no public message.
Maybe Hamlin will think twice next time. He said it's very hard to make passes in the Gen-6, but he started in the back at Phoenix and finished third. Obviously, he made some passes.
Whether he's right or wrong really isn't the point. NASCAR has made itself look like a lumbering heavyweight who can't take a punch.
It isn't the drivers who need to chill out. It's NASCAR.
January, 8, 2013
01/08/13
1:47
PM ET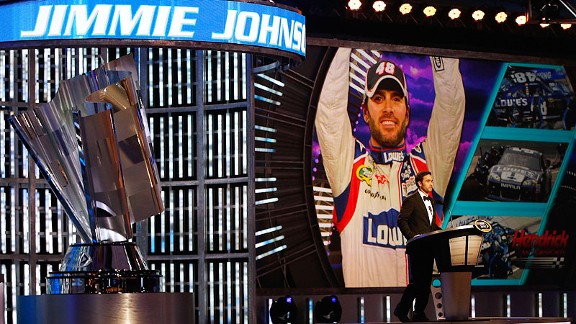 Tom Pennington/Getty ImagesOne Vegas bookmaker has Jimmie Johnson as a 4-1 favorite to win the 2013 Sprint Cup championship.
A well-known online bookmaker has spoken, and Jimmie Johnson is the 2013 favorite to win the Sprint Cup. In the betting game, it's not even close.
Johnson is listed at 4-1 by Bovada (@BovadaLV). Next comes a three-way tie for No. 2 with defending champ Brad Keselowski, Denny Hamlin and Kyle Busch all at 17-2.
Even though Busch failed to make the 2012 Chase, he is viewed as the second-most likely driver to win the 2013 title.
But Johnson is the runaway favorite. Bovada sees JJ as twice as likely to win a sixth championship in 2013 as they do Keselowski winning two in a row or Hamlin or Busch winning a first title.
Fourth on the list is Kasey Kahne at 9-1, followed by three former champions at 12-1 -- Jeff Gordon, Matt Kenseth and Tony Stewart, the 2011 champ.
Carl Edwards, the 2011 runner-up when he tied Stewart for the points total but had fewer wins, gets a decent betting line despite finishing 15th last season and going winless. He's 14-1 along with Dale Earnhardt Jr., Clint Bowyer and Greg Biffle.
Bovada sees Edwards and Dale Jr. just as likely to win the crown this year as Bowyer, who finished second last season.
Martin Truex Jr. is 16-1, and Kevin Harvick has the longest odds among the 2012 Chase drivers at 20-1, probably because he's a lame-duck driver at Richard Childress Racing. Harvick moves to Stewart-Haas Racing in 2014.
If you want to pick a real long shot, Ryan Newman is listed at 50-1 along with Juan Pablo Montoya. Jamie McMurray, Montoya's teammate at Earnhardt Ganassi Racing, is substantially better at 33-1.
If you like Joey Logano's chances in his first year at Penske Racing, you can get him at 40-1.
But Johnson remains the star for this bookmaker. He finished third last season, falling one spot in the final race when he failed to finish due to mechanical problems.
JJ was the 7-2 favorite in November at the Las Vegas Wynn, so bookmakers still love him. Whom are you betting on?
September, 13, 2012
09/13/12
3:39
PM ET
I don't know about us reading palms or being psychic, but when it comes to predicting the Chase participants, the ESPN.com boys did OK. You can even check it out on the chart at the bottom.
Getting it right on 10 out of 12 isn't so bad. Maybe we're not so dumb after all.
Our overall preseason predictions on the drivers who would make the playoff were 83.3 percent correct. We missed on Carl Edwards (who didn't?) and Kyle Busch.
The guys we didn't predict overall were Clint Bowyer and Martin Truex Jr. Clearly, we underestimated the improvement at Michael Waltrip Racing.
Marty Smith and David Newton outsmarted the rest of us on that one. They picked Bowyer to make the playoff, but he didn't total enough points to make our overall top 12. None of us picked Truex.
AJ Allmendinger was selected as a Chase-qualifier by Ed Hinton and Ryan McGee. Obviously, there were sad circumstances on that one, but he didn't appear headed to a playoff spot before the drug-test downfall.
Newt thought Joey Logano would make the Chase, and he was one victory from being right.
But overall, the seven of us -- K. Lee Davis, Joe Breeze, Smith, Newton, Hinton, McGee and me -- did pretty well.
It remains to be seen whether we get it right on our overall preseason choice as the Sprint Cup champion, Jimmie Johnson. Four of us picked him to win his sixth title: Davis, Breeze, Newton and yours truly. Marty and Easy Ed picked him second. McGee listed JJ third.
Ed selected Brad Keselowski as the 2012 champ, Marty picked Matt Kenseth and McGee chose Kevin Harvick. So we're all still in the running to get it right from our preseason choice.
Surprisingly, none of us picked Edwards to win the championship even though all of us thought he would make the Chase. Maybe we believed in that runner-up jinx stuff.
However, I changed my mind on the champ in my Chase predictions Sunday, listing Denny Hamlin as my selection now to win the title.
K. Lee and Joe are sticking with Johnson to win it all. Ed is staying with Keselowski. Marty is confident Kenseth's lame-duck status won't hurt him a bit, so he's hanging with Matt as the champ.
McGee thinks it's a two-man battle between Hamlin and JJ, but he went with Johnson. And Newt is convinced Gordon has what it takes after watching Jeff's amazing drive through the pack Saturday night to get in the playoff.
That means there's a 41.7 percent chance at least one of us is right. We've picked five different drivers between the seven of us -- three for Johnson and one each for Hamlin, Kenseth, Keselowski and Gordon.
We'll revisit this after Homestead and see if any of us got it right. Bonus points if the guys who stuck with their preseason pick end up with the champ.
Not every driver who received a vote made the top-12 cut. Here are the other drivers who received at least one nod.
September, 9, 2011
09/09/11
12:41
PM ET
RICHMOND, VA. -- Fourteen drivers enter the final Chase qualifying race Saturday night still uncertain about their playoff status.
Here's my take on the odds of whether they stay in or get in after the 400-lap show on the Richmond short track.
First, the three drivers inside the Chase cutoff who haven't clinched a spot:
[+] Enlarge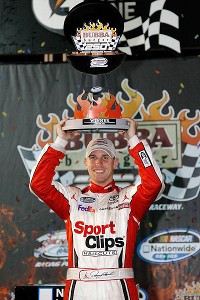 Todd Warshaw/Getty ImagesYou've got to like Denny Hamlin's chances Saturday night at Richmond, where he's won the past two September Cup series races and the April 2011 Nationwide race.
• Dale Earnhardt Jr. -- Odds he falls out: 30-1. Earnhardt is ninth in the standings, 25 points ahead of 11th-place Brad Keselowski (who has clinched a spot with three wins). Junior is in if he finishes 20th or better, even if Keselowski wins.
• Tony Stewart -- Odds he falls out: 25-1. Stewart is 10th, the final points-qualifying spot, 23 points ahead of Keselowski. He is in if he finishes 18th or better. He's done that in 12 of his past 13 Richmond starts.
• Denny Hamlin -- Odds he falls out: 15-1. He holds down the final wild-card spot with one victory and is 12th in the standings.
Wild-card ties are decided on points. AJ Allmendinger (13th) and Clint Bowyer (14th) are winless, but might pass Hamlin in the standings if they win. Allmendinger is 11 points behind Hamlin and Bowyer is 12 points back.
A win by Paul Menard would knock out Hamlin. Menard would have two victories. Marcos Ambrose and David Ragan can get a second victory Saturday, but they also need to gain enough points to move into the top 20. Only drivers ranked in the top 20 are eligible for a wild-card spot.
Eleven drivers are outside the Chase but still have a chance to get in. All the winless drivers still eligible could get in by winning if Keselowski moves up to the top 10 without winning. Highly unlikely.
Here are the odds, otherwise:
• Paul Menard -- Odds he gets in: 15-1. The best shot of anyone, even though he's 20th in the standings. Win and he's in. Since he's one of 15 guys who have won this year, he has a shot, but not a good shot
• Clint Bowyer -- Odds he gets in: 20-1. Bowyer is one point below Allmendinger in the standings, but he won at Richmond in 2008. If he wins Saturday, he needs Hamlin to finish outside the top 10.
• Marcos Ambrose -- Odds he gets in: 25-1. A win probably would do it if he makes up the seven points on Menard he needs to get in the top 20. But Ambrose never has won on an oval track.
• AJ Allmendinger -- Odds he gets in: 30-1. AJ. Needs to win, something he has yet to do in Cup. But one of the themes this season has been first-time winners. Maybe AJ will be the next one at the best possible time.
• Greg Biffle -- Odds he gets in: 50-1. Biffle is 15th and winless, so he needs to win the race and hope Hamlin has a terrible night. Biffle is 28 points behind Hamlin and each position in a race is worth one point.
• David Ragan -- Odds he gets in: 50-1. A victory would give Ragan his second win, but he also has to make up 20 points on Menard to get back in the top 20.
• Martin Truex Jr. -- Odds he gets in: 60-1. Pretty much the same scenario as Biffle, except Truex (16th) is five points behind Biffle.
• Kasey Kahne -- Odds he gets in: 100-1. Kahne (17th) is winless and 42 points behind Hamlin. A driver can make up a maximum of 47 points in one race. You get the picture.
• Joey Logano -- Odds he gets in: 200-1. Logano (18th) has to win, lead the most laps and have Hamlin finish last.
• Mark Martin -- Odds to get in: 1,000-1. Talk about a long shot. Martin (19th) has one chance: Win and have Keselowski move into the top 10 without winning. Good luck with that.
• Juan Pablo Montoya -- Odds he gets in: 1,010-1. The same boat as Martin, but JPM also has to make up seven points to get back in the top 20.
August, 20, 2011
08/20/11
12:24
PM ET
BROOKLYN, Mich. -- Denny Hamlin and the No. 11 Toyota team had a choice to make.
Take a bold move and change engine programs four races before the Chase, or stick with the in-house engine shop at Joe Gibbs Racing and hope for the best.
Hamlin and crew chief Mike Ford opted for the change, believing it was the safer choice of the two. Hamlin is using a Toyota Racing Development engine this weekend instead of a JGR motor.
[+] Enlarge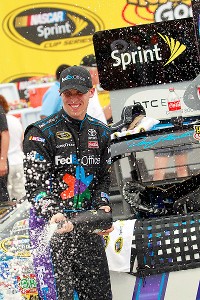 Tom Pennington/Getty ImagesDenny Hamlin, who won the June race at Michigan with a Joe Gibbs Racing motor, said changing engine programs four races before the Chase "was the right thing to do."
Hamlin is on the Chase bubble as a wild-card qualifier, 12th in the standings with one win. He needs another victory to solidify his spot, but more importantly, he needs to finish the next four races.
Engine failures have plagued the JGR program this season. It's a risk Hamlin can't afford to take.
"We felt like [TRD] has worked out a lot of reliability issues," Hamlin said Friday. "If we were going to make the Chase, we could not afford DNFs [did not finish] because of engine failures.
"And on top of that, we couldn't afford to keep starting in the back every week because of engine failures. We started in the back, I think, four times because of blown engines. That's just too hard to overcome, especially with as hard as it is today to win a race."
Michigan is the only place where Hamlin has won this season, a surprise for a driver who won eight times in 2010. So switching engine programs this weekend was a big step for a team in the Chase danger zone.
"But you have to look at how we got there," crew chief Mike Ford said Friday. "There's a reason we're on the bubble."
Ford is talking about the engine failures that have hurt Hamlin this season. Gibbs and TRD are merging engine programs in 2012, so this is a first step in the new partnership.
JGR teammate Kyle Busch, who leads the points standings and has three victories, questioned the No. 11 team's move Friday.
"Why those guys decided to change, I don't know," Busch said. "Whether it relates to any hard feelings back at JGR, I'm not sure. For us in the 18 team, we're staying committed to our guys and our engine department this year."
Hamlin outqualified his two teammates with JGR engines. Hamlin starts fourth Sunday, Busch starts 17th and Joey Logano starts 23rd. But Busch was the best JGR car in the final practice Saturday. He had the second-quickest lap of the session. Hamlin was 11th and Logano was 23rd.
Hamlin said the move to TRD motors was no easy task. The engines don't mount in the cars the same way as the JGR motors.
"There was a lot of work that had to be done to get this engine imported into our car," Hamlin said. "You have to understand, this is a big favor to ask a manufacturer to provide engines for us for the rest of the year. It's a lot of manpower and a lot of extra work for everyone."
Ford said the TRD engines are better on fuel mileage, and this is a track where fuel strategy often wins the race. But TRD engines are winless this season. The Gibbs engines have four victories in 2011.
A victory could secure Hamlin's place in the Chase, but a blown engine could end his chances. Whatever happens, Hamlin said he won't second-guess the decision.
"I was behind it 100 percent," he said. "I felt like it was the right thing to do."
April, 1, 2011
04/01/11
9:58
AM ET
Winning a PGA tournament means a lot more than winning a Sprint Cup race -- monetarily speaking, that is. But it's sure worth a lot more to be bad in Cup than it is in golf.
Allow me to explain. Let's compare the purse from last weekend's Auto Club 400 at Fontana to the purse from the Arnold Palmer Invitational last weekend in Orlando.
The total amount paid is similar -- $5.7 million at Fontana to $6 million at the PGA event. But the way the money is distributed among the competitors is drastically different.
Success brings a much bigger reward for a professional golfer. Martin Laird, who won at Orlando, earned $1.08 million. Kevin Harvick, who won the race at Fontana, received only $331,961.
Laird earned 18 percent of the total purse. Harvick received only 5.8 percent of the purse.
The top 11 finishers in the PGA event earned 52.6 percent of the purse compared to 33.6 percent of the purse for the top 11 finishers at Fontana.
The golfers who tied for 11th at Orlando received $162,000. Greg Biffle, who finished 11th at Fontana, received $108,675. That's not a huge difference, so it proves the winner in Cup is the guy not getting his fair share compared to golf.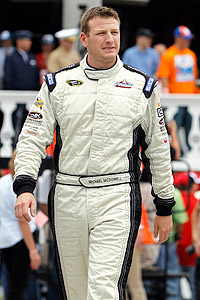 AP Photo/Matt Slocum)Michael McDowell took home a pretty good payday for finishing last at Fontana.
The second-place finisher in a PGA tourney also takes home a much larger check. Orlando runner-up Steve Marino earned $648,000. Jimmie Johnson claimed $240,786 for finishing second to Harvick.
However, a bad day in Cup is a money train compared to a bad tournament for a golfer.
Michael McDowell, who raced all of 32 laps of the 200-lap race at Fontana before calling it a day and finishing 43rd, got a check for $75,769. The guys who tied for 43rd in Palmer's tourney received only $23,400.
A 43rd-place finish in the PGA event was worth less than half of 1 percent of the total purse. But finishing 43rd in Fontana was worth triple the amount of money by comparison.
And one other thing: The golfers who placed 43rd at Orlando had to finish the entire event.
This better explains why NASCAR has start-and-park competitors. Too much money is paid at the bottom of the field and not enough at the top.
The PGA tournament paid 72 golfers out of its $6 million purse, but the bottom half of the field received only $234,000, about 4 percent. The bottom 21 spots of the Cup race at Fontana received about $1.8 million or 31 percent of the purse.
And I won't even try to explain the fact Denny Hamlin, who finished 39th, earned $123,880, while Dale Earnhardt Jr., who finished 12th, received $101,325. It's about contingency awards and bonuses, but that doesn't happen in golf. The person who finishes ahead of you will earn more money, as it should be.
In the Palmer event, the winner received 46 times as much money as the golfers who tied for 43rd.
Going by points, Harvick's advantage over McDowell was almost the same. Harvick received 47 times as many points as McDowell (47 points to 1 point), but only 4.4 times as much money.
Shouldn't the purse distribution be more in line with the championship points earned?
One thing drivers often say is that giving more points or paying more money to the winner won't make them race any harder. Everyone is racing as hard as he can (except start-and-parkers, of course) to try to win.
Isn't the same thing true in the PGA? Every golfer is trying his best to win, but the person who does win earns a much larger reward.
Granted, it costs more for a race team to show up and compete (we'll use that term loosely for start-and-parkers) than it does a pro golfer to compete in a PGA event.
But NASCAR still should give a bigger financial reward to the driver and team that wins the race, and far less of a financial incentive for the team that finishes last.
October, 2, 2010
10/02/10
5:58
PM ET
KANSAS CITY, Kan. -- Picture this scenario. It's the last lap Sunday at Kansas Speedway and Carl Edwards is two car lengths behind the leader heading into Turn 3.
Are you getting a sense of déjà vu? You should.
So what does Edwards do? Go all-out to win or play it safe?
"If there is a giant risk to win this race that might cost us the championship, I would have to go for the championship," Edwards said.
Say what? That's not how we remember it in 2008, in the most dramatic moment ever on this 1.5-mile oval.
Entering Turn 3 of the last lap, Edwards gunned it and turned left down the track inside of Jimmie Johnson. Edwards zoomed by Johnson heading to Turn 4, but it came at a price.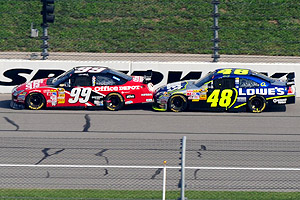 Mark J. Rebilas/US PresswireCarl Edwards was able to get past Jimmie Johnson on the final lap of the Kansas race in 2008, but he wasn't able to stay there.
The momentum and angle of the banzai move caused the car to slide back up the banking toward the wall. Edwards slammed into the wall, but kept control of the car as they headed down the frontstretch for the last time.
Johnson was shocked at what he saw, but kept his cool and easily slid underneath the No. 99 Ford and back into the lead, winning the race over Edwards by three car lengths.
"I was so in awe of how far he drove it in," Johnson said. "I watched him pound the wall and get back in the gas and thought, 'Man, he's serious about this win. I'd better get back in the gas myself.' "
Chase points be damned, Edwards decided to go for broke then. It didn't work out, but he was the hero of the day to his home-track fans. He gambled on trying to win, even if it meant wrecking and finishing 25th.
That was then, this is now. Things change.
"If I felt we weren't in a position to win [the title], I would probably go take some pretty big risks," Edwards said. "I feel like we are in a position to do it, so right now I am focused on that."
It's not an easy decision considering how much Edwards loves this place. He grew up just two hours away in Columbia, Mo.
"If I had to pick a race to win, this is the race I would pick over the Daytona 500 or the Brickyard 400," Edwards said Friday. "I'm not saying that because I'm sitting here [in the Kansas Speedway media center]. It's the truth."
The emotions of the moment can get the best of Edwards at times on the track. We saw that earlier this year when he deliberately wrecked Brad Keselowski twice in retaliation moves.
In the heat of the moment, Edwards will go over the edge to do what he deems necessary, whether it's for a chance to get even or a chance to win.
Edwards won't take a win-at-all-costs attitude on Sunday because he's convinced he can win the Chase.
If anyone can win the championship without winning a race, Edwards is the guy. He has nine top-10s over the last 11 races for an average finish of 6.0. That's better than the 6.8 Johnson averaged when he won the Chase last year.
Edwards' worse finish since July was 12th, but he still has ground to make up. He's sixth in the Chase standings, 73 points behind leader Denny Hamlin.
Kansas is the track at which he can make that up. Edwards has four top-10s in the last five races here, and he finished second earlier this year at Chicagoland Speedway, the track with the most similarities to Kansas.
The Chicagoland car isn't the car crew chief Bob Osborne elected to race this weekend.
"We have the car we ran at Indy and Michigan," Osborne said. "It was a new car at Indy, and we've had success with it [seventh at Indy and third at Michigan in August] both times it has run this year. We hope to come out of Kansas with at least a top-5 finish."
And possibly a victory, but not if the risk outweighs the reward.
"I never thought of that as a reasonable thing to do until that moment," Edwards said of his 2008 gamble. "The idea of being able to win here was big. But at this point in my career, I want that championship trophy. I want to see what that feels like."
August, 25, 2010
08/25/10
1:52
PM ET
As far as the bookmakers in Las Vegas are concerned, Jimmie Johnson remains the man to beat for the Sprint Cup.
Johnson's recent woes on the track haven't dropped him from the top of the betting line in Vegas.
Johnson is ninth in the points standings. He has fallen seven spots after posting finishes of 22nd or worse in five of the last seven races.
But the summer slump hasn't stopped bookmakers from placing Johnson as the favorite to win his fifth consecutive title.
Heading into the open weekend, two races before the start of the Chase, Johnson is listed at 7-to-2 at the Las Vegas Hilton. Kevin Harvick is second at 9-to-2.
[+] Enlarge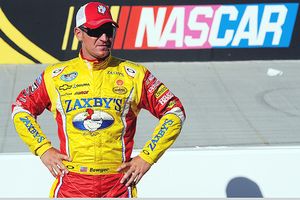 John Harrelson/Getty Images for NASCARClint Bowyer is the least-favored driver in the top 12 by Las Vegas oddmakers, but 20-to-1 isn't too bad.
Why is Johnson favored, you ask? Two reasons. First, Johnson's won four in a row. That alone is a darn good reason to keep him on top.
But there's also a statistical reason. If the Chase started today, Johnson would begin the playoff on top, tied with Denny Hamlin. Both drivers have a series-best five victories. Hamlin is 5-to-1 on the betting line.
Harvick and Kyle Busch, each with three victories, would start the playoff 20 points back. Busch is listed at 5-to-1 with Hamlin.
Jeff Gordon, winless this season but second in the points standings, is next on the betting list at 7-to-1. Rounding out the top six is winless Tony Stewart at 10-to-1.
Kurt Busch, who has two wins and will be the only Dodge driver in the Chase, is 12-to-1.
Greg Biffle, the only other Chase contender with a victory this season, is listed at 15-to-1. Roush Fenway Racing teammate Carl Edwards is slightly better at 12-to-1, and RFR driver Matt Kenseth is 18-to-1.
Jeff Burton, Harvick's teammate at Richard Childress Racing, is also 18-to-1. RCR driver Clint Bowyer, who is hoping to hold on to a 100-point advantage in the 12th-place bubble spot, is the long shot of the Chase boys at 20-to-1.
But 20-to-1 isn't much of a long shot. What it means, at least in the eyes of the bookies, is the 2010 Chase is wide open.
Johnson remains the favorite for now, but not by much. If the Vegas oddsmakers are right, this is going to be a fun Chase to watch.
August, 1, 2009
08/01/09
12:42
PM ET
LONG POND, Pa. -- It wasn't exactly a Joe Namath moment, but
Denny Hamlin
walked into the Pocono Raceway media center Friday, sat down and calmly made a confident prediction.
"I expect to win this weekend," Hamlin said. "I know my race car here. I think it's as good here as any [car]."
Considering Hamlin hasn't gone to Victory Lane in more than a year, that's quite a gutsy call. But Hamlin has his reasons for optimism.
[+] Enlarge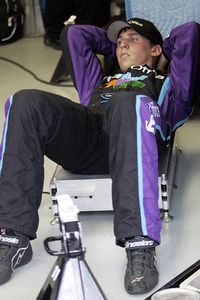 AP Photo/Tom StrattmanDenny Hamlin has plenty of time before Sunday's race to contemplate his bold prediction.
This is Hamlin's house. In seven starts on the 2.5-mile triangle, Hamlin has two victories and five top-10s. He swept the two Pocono races as a rookie in 2006.
Hamlin finished sixth or better in his first five Pocono starts, but the last two events here haven't gone his way.
Hamlin finished 23rd in the August 2008 race at Pocono, then ended up 38th in the June race after a fuel pump failure caused him to take the No. 11 Toyota to the garage for repairs early in the race.
Surprisingly, that's one reason he has high expectations for Sunday.
"We spent most of that race as a test session for this one," Hamlin said. "We had our problems early and were 20 laps down when we got back out there. So we just worked on different stuff and fine-tuned for what I thought we needed when we came back."
Hamlin is convinced he learned some things in June that will benefit him Sunday.
"We have a good shot at it because we had an extra test session in the first [Pocono] race this year," Hamlin said.
The extra data will help, but Hamlin always believes he can win at Pocono.
"Yeah, I think so," he said. "Every driver has four or five races every year that they say, 'Man, I can go there and I know I can win. No matter what, I can win those races.'''
Pocono tops that list for Hamlin, who ranks sixth in the Cup standings. He shows up at Pennsylvania, sticks his chest out and has a "beat-me-if-you-can" attitude. The Hendrick Motorsports stable, including Stewart-Haas Racing, are up to the challenge.
Tony Stewart wrecked Saturday in practice and went to a backup car. He'll start in the back, but that didn't stop him from winning at Pocono in June.
Jimmie Johnson topped the final practice session Friday and Mark Martin was third. Martin has six runner-up finishes at Pocono, but is winless here in 45 career starts.
"This has been a really good racetrack for me, performance-wise," Martin said. "It's a surprise that we haven't won because we've run so well so many times. I'm pretty optimistic we'll have a strong effort come Sunday."
Martin is confident, but not like Hamlin, who was 16th in the final practice. Hamlin will be surprised if he doesn't win.
"We're definitely better than what we have been here in the past," Hamlin said. "I think our car is pretty good."