Category archive:

Marcos Ambrose
June, 21, 2012
06/21/12
4:26
PM ET
Before taking that first sip of Merlot this weekend, here are five interesting thoughts to ponder as NASCAR heads to the road course at Sonoma:
1. Biggest misnomer: Road-course ringers. The term insinuates that you are the hired gun who can win, but ringers don't win road-course events in Sprint Cup. Full-time Cup drivers win these races.
The ringer is a road-course specialist that some teams hire just to race on the two road-course tracks at Sonoma and Watkins Glen. For example, Brian Simo, a veteran sports car racer, is driving in the No. 30 Toyota this weekend.
But every Cup winner at Sonoma since NASCAR started racing there in 1989 has been a full-time Cup competitor. The same is true for The Glen, and those races date back to 1957.
2. Not the road-course star he used to be: Jeff Gordon. Many fans view Gordon as one of the all-time greats in NASCAR on road courses. It was true, but not so much lately.
Gordon has nine road-course victories -- five at Sonoma and four at Watkins Glen. But Gordon hasn't won on a road course in six years. His last victory at Sonoma was in 2006. He hasn't won at The Glen in 11 years.
That means he never has won a road-course event in the Car of Tomorrow, which first came to the road races in 2007.
It doesn't mean he can't win Sunday. I think he can. Gordon has posted six consecutive top-10s at Sonoma, including second last year. But he's not the dominating road-course racer he used to be.
3. A team that doesn't win much can win here Sunday: Richard Petty Motorsports. Two of the three victories by Petty-owned cars in the past four seasons have come on road courses -- Kasey Kahne at Sonoma in 2009 and Marcos Ambrose at Watkins Glen last year.
Ambrose is one of the favorites to win Sunday. And The King might even go rogue and take another quick sip of wine (which he did when Kahne won) if Ambrose goes to Victory Lane.
4. Bad news for Kurt Busch: Repeat winners here are rarer than a Napa Valley penguin. Even if Kurt still drove for Penske, his chances of repeating as the Sonoma winner wouldn't be good, historically speaking.
The last repeat winner on the 12-turn, 2-mile track was 12 years ago -- Jeff Gordon in 1999 and 2000. In fact, Gordon is the only driver ever to win back-to-back at Sonoma.
5. Nameless is a good thing: It's just Sonoma now, not Infineon. The Infineon sponsorship for the track has ended. So it's not Infineon Raceway now.
For the longest time I didn't even know what Infineon was. It's a German semiconductor manufacturer, if you're wondering.
And the track isn't Sonoma Raceway. It's just Sonoma.
I like that. This track is synonymous with the California wine country. And Sonoma says it perfectly. That's all you need. But they do have a cute little catchphrase that goes under the Sonoma logo: Think Outside the Oval.
Thanks, I will. And I might do a little wine tasting this weekend while I'm at it.
April, 15, 2010
04/15/10
2:22
PM ET
FORT WORTH, Texas -- Now who would ever have thought Joe Gibbs would be inducted into any hall of fame in Texas?
Or Robert Yates, either, who is attending his first Sprint Cup race since his retirement as a longtime team owner?
[+] Enlarge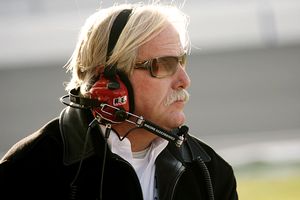 Icon SMIRobert Yates is a legend as a NASCAR owner, and now he's the Bruton Smith Legends Award recipient from the Texas Motorsports Hall of Fame.
Jeff Gordon and Marcos Ambrose also will take the stage Friday night, two men being rewarded for always trying to be good guys. Kyle Busch will get a trophy, too, and you never know what Kyle might say.
The annual Texas Motorsports Hall of Fame dinner always is a special occasion, but this year's honorees could make it the best show ever for the attendees at the Texas Motor Speedway Club Ballroom.
Previous Hall inductees Terry Labonte and Bobby Labonte -- along with inaugural inductee Johnny Rutherford -- plan to attend the gala.
It's also a proud night for the members of the THHoF voting panel. One of our own, longtime motorsports writer John Sturbin, becomes the first media member to earn a spot in the Hall.
And I'm honored to be the man presenting Sturbin (Sturb to us) into his rightful place among the Texas racing elite. I won't reveal all my speech tidbits about Sturb, but this tells you all you need to know:
"My mom loves to tell a story about my first word as a baby," Sturb said. "It wasn't 'Mommy' or 'Daddy.' It was 'car.'"
I doubt Gibbs' first word was "football," but people around North Texas still know him as Coach Gibbs, and not necessarily in a good way. His years as the leader of the Washington Redskins, the hated rival of the Dallas Cowboys, made Gibbs the enemy around these parts.
How ironic that Gibbs now enters the Texas Motorsports Hall for all he's done off the football field as an accomplished NASCAR team owner and a man of great character.
And it will be a Texan presenting Gibbs at the dinner. Norm Miller, CEO of Dallas-based Interstate Batteries -- the longtime sponsor of the No. 18 car at Joe Gibbs Racing -- will do the honors.
It's a night for great NASCAR team owners with Yates receiving the Bruton Smith Legends Award. Yates was a legendary engine builder and a Cup champion as a team owner when Dale Jarrett won the title in 1999. Charlotte Motor Speedway president Marcus Smith, Bruton's son, will present Yates.
Busch will receive the TMS Racer of the Year award for his three victories at Texas last season, sweeping both Nationwide races and winning the November Camping World Truck Series event. Busch has won four consecutive Nationwide races at TMS. ESPN.com motorsport editor K. Lee Davis, a Fort Worth native, will present Busch with his award.
[+] Enlarge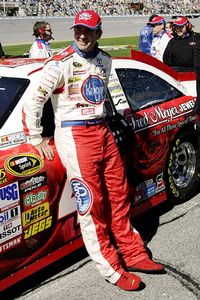 AP Photo/Dave MartinMarcos Ambrose said he's happy to be recognized for his positive approach to NASCAR, as well as the warm reception he's received.
The TMHoF voters, a panel of 20 veteran writers and broadcasters across Texas who cover racing, usually pick one person to win the annual Sportsmanship award. But the vote this year was a dead heat between Gordon and Ambrose, so we decided to honor both of them.
Gordon is receiving two awards: Sportsmanship and the Fan Choice Award, which is determined by an Internet vote by the fans. TMS president Eddie Gossage will present Gordon his Fan Choice Award. Fort Worth Star-Telegram writer Anthony Andro presents Gordon's Sportsmanship Award.
Tad Geschickter, Ambrose's team owner, will present him Friday. Ambrose becomes the first Australian recipient of a TMHoF award.
"I have such a great appreciation for our sport," Ambrose said. "When I came into NASCAR, I promised myself I was going to appreciate every single day and not get mad or angry. I remind myself every day that I'm doing something that millions of kids out there would love to do when they grow up. I am lucky enough to be a driver.
"Sure, you may get disappointed at times, and there are compromises. However, you can never lose sight that there are not many downs when you are a race-car driver. I love what I do. So to be recognized like this for the first time -- especially when I'm a goofy Tasmanian coming from 14,000 miles away -- is pretty awesome."
That tells you all you need to know about why Ambrose earned this recognition.
So this Texas Motorsports Hall of Fame event will run the gamut -- from a famous coach and team owner to a talented newbie from half a world away.