March, 7, 2013
03/07/13
8:58
PM ET
LAS VEGAS -- Thou shalt not criticize the Gen-6.
Consider it NASCAR's newest commandment, which Denny Hamlin learned today from his $25,000 fine for daring to see the new car as less than perfect.
"Bow to Gen-6, lowly driver, and do not take its name in vain."
That's the message to all the drivers from NASCAR's comment police, and this time, it's a step too far. NASCAR has to be more thick-skinned than this, but apparently, it isn't.
Hamlin, in a moment of frustration after the Phoenix race, said the Gen-6 isn't any better than the Gen-5. Oh my goodness. Do not compare the most beloved car in NASCAR history (that's the 2013 mantra for the Gen-6) to the most hated car in NASCAR history (the Car of Tomorrow, Generation-5).
Any intelligent, critical comment by a driver will not be tolerated by the ivory tower of NASCAR, as Hamlin found out. Defending Cup champ Brad Keselowski got the same lesson at Daytona after criticizing some of NASCAR's policies in a USA Today article.
Keselowski didn't receive a fine, just a stern private conversation with Brian France and Lesa France Kennedy -- NASCAR's royal brother and sister duo.
Keselowski took it in stride. Hamlin didn't. Based on Hamlin's comment during the test session Thursday at Las Vegas Motor Speedway, Denny is mad as hell and he's not going to take it anymore. No doubt that will result in a new fine.
Hamlin said he won't pay any fine. Good luck with that. He has 10 days to appeal, but a suspension is coming if he loses his appeal -- which he probably will.
A fellow columnist friend of mine brought up a good point today. The second amendment (as in the NRA sponsorship of a Cup race) -- is all good in NASCAR. The first amendment -- drivers speaking their mind -- not so much.
[+] Enlarge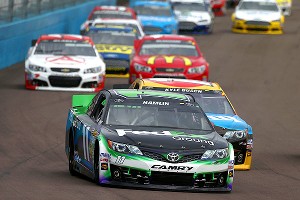 Jonathan Ferrey/Getty ImagesDenny Hamlin was fined $25,000 by NASCAR on Thursday.
Robot training to begin soon for all Cup drivers. Stepford wives will be the instructors.
Look, I've been one of the biggest supporters of the Gen-6. It has so many advantages, starting with the way it looks. And I've said everyone should show some patience before judging how it will race, including drivers.
And for the record, I'm 100 percent in NASCAR's corner on the suspension of Nationwide driver Jeremy Clements. Insensitive racial comments cannot be tolerated in any situation.
But NASCAR has overreacted this time. NASCAR officials should have talked to Hamlin privately and asked him to reserve judgment and try to understand the process before going overboard on critical comments about that car.
No fine, no public message.
Maybe Hamlin will think twice next time. He said it's very hard to make passes in the Gen-6, but he started in the back at Phoenix and finished third. Obviously, he made some passes.
Whether he's right or wrong really isn't the point. NASCAR has made itself look like a lumbering heavyweight who can't take a punch.
It isn't the drivers who need to chill out. It's NASCAR.
February, 22, 2013
02/22/13
4:20
PM ET
DAYTONA BEACH, Fla. -- You want to know why Danica Patrick matters?
Listen to these stories:
Carl Edwards' daughter, Anne, turns 3 next week.
"Carl brought her over [to Patrick's motor coach] to meet me this week," Patrick said Friday. "I've known since last year that she's a huge fan of mine. Carl said he wanted her to meet me in person because she sees me as some mythical person who doesn't exist."
Anne was wearing green Go Daddy (Patrick's sponsor) shoes when she met Danica.
"A little later, Jimmie Johnson brought his daughter [2-year-old Genevieve] to meet me," Patrick said. "That's very flattering."
Jeff Gordon's daughter, 5-year-old Ella, told her dad she wanted a picture with Patrick in Victory Lane after Patrick won the pole for the Daytona 500. Gordon starts on the front row with Patrick.
Patrick also said she was working out at a gym recently when a man asked her to watch a short video.
"It was his two daughters," she said. "They were young, maybe 2 and 4. Their dad showed them a magazine cover with me on it. He asked them, 'Who is that?' They both said my name. The guy told me, 'I have no idea how they know who you are.' Something about this is impacting kids."
And that's why Danica matters.
The debate about how good a race car driver she is misses the point. Patrick matters because she inspires young girls to reach for the stars and do something most people see only men doing. And she brings people to auto racing who wouldn't have an interest without her presence.
"I have handed out more lug nuts to little girls this week than anyone else," said Tony Gibson, Patrick's crew chief on the No. 10 Chevy. "It's great to see all the little girls in Go Daddy hats and shirts."
The Daytona Cup garage has windows where fans can see the cars and crews. The windows also have a slot where fans can pass a piece of paper and pen to drivers for autographs. And the crews can pass things back, such as lug nuts.
"I take a Sharpie and write '10' on the lug nuts I give to them," Gibson said. "Kids are writing on our window. Seeing all this is really cool for our sport."
And that's why Danica matters.
February, 20, 2013
02/20/13
3:20
PM ET
DAYTONA BEACH, Fla. -- Before NASCAR kicks off 2013 with the Daytona 500, here are a few interesting statistics that might surprise you:
Bad news for bad Brad: If Brad Keselowski wins the Daytona 500 on Sunday, he'll be the first defending Cup champion in 13 years to accomplish the feat. The last man to do it was Dale Jarrett in 2000, three months after winning the 1999 title.
Bad news for popular Danica: It's also been over a decade since the Daytona 500 pole winner went on to win the race. That also was Jarrett in 2000. Does DJ know something everyone else doesn't?
Menard is No. 1: Yes he is, as far as laps completed. Paul Menard was winless last season and finished 16th in the standings with only one top-5, but he completed more laps than any other driver -- 10,406, or 13,676.386 miles.
Obviously, Menard was on the track a lot. He had only one DNF. No wonder my eyes hurt after seeing that neon yellow Chevy lap after lap.
JJ led almost everything in 2012: Except the one category that counted the most: Winning the championship. But Jimmie Johnson and the No. 48 Chevy team should feel good about their 2013 chances when they look at the stat book.
Five-Time was No. 1 in laps led (1,744), times led (78), races led (26), top-5s (18), top-10s (24) and driver rating (109.5). He also tied for the top spot in victories (5) and poles (4).
So how in the world did Johnson not win the title? He had six DNFs, the most of any driver in the top 20 in the standings.
Expect a close finish Sunday: Restrictor-plate races usually end one of two ways -- a side-by-side finish for the victory or a big wreck that brings out a caution.
Last year's Daytona 500 had the closest finish of the season when Matt Kenseth edged Dale Earnhardt Jr. by .21 of a second. The Talladega spring race was won by Keselowski by .304 of a second over Kyle Busch.
The other two plate races ended under caution because of last-lap crashes.
All that could change this year with the introduction of the "Gen 6" to the series, but expect some craziness at the end to continue.
By the way, 17 of 36 races last year ended with a margin of victory that was less than a second. Nine of those were less than half a second.
The low man on the points stand: That would be Landon Cassill in 2012, a category no one wants to lead in 2013, but someone will. Cassill had the fewest points of 26 drivers who started all 36 Cup events.
He also had fewer points than five drivers who didn't start all 36 events -- Earnhardt, Mark Martin, Regan Smith, Travis Kvapil and Kurt Busch.
Start-and-park perfection: The trophy went to Scott Riggs in 2012. Riggs started 20 events last season. How many did he finish? Zero. He completed 8.2 percent of the laps and made $1.5 million. Nice work if you can get it.
The S&Pers will make a little less this season since NASCAR adjusted the purse money to pay less for the bottom feeders, but it's still good money for running a few laps.
January, 28, 2013
01/28/13
2:07
PM ET
After 12 full seasons as a Sprint Cup driver, Elliott Sadler made the unusual move of leaving Cup in 2011 to become a full-time Nationwide Series driver. He was the title runner-up the past two seasons.
Obviously, it worked out well, but it also made him a bit of a trendsetter.
After five years in Cup, Regan Smith is running full time for JR Motorsports this season in the Nationwide Series. Brian Vickers is back in the series full time for the first time since he won the title in 2003. Sam Hornish Jr. is racing his second consecutive full season in Nationwide after three full years in Cup.
"Maybe I set an example by coming back and competing for a championship," Sadler said during last week's NASCAR media tour in Charlotte, N.C. "Now we're seeing a lot of other guys doing it, like Sam, Regan and my teammate, Brian."
Sadler moved from Richard Childress Racing to Joe Gibbs Racing this season to run one of two full-time Nationwide cars for JGR. Vickers will drive the other one.
Sadler was asked who he thought was his biggest competition for the championship.
"Vickers is, by far," Sadler said.
Sadler didn't know Vickers was standing right behind him when he said it.
"Oh, never mind," Sadler said when he saw Vickers. "Scratch all that."
"Too late," Vickers said.
NASCAR made a rule change two years ago that a driver had to declare in which series he wanted to run for a championship. It was a move that eliminated full-time Cup drivers from winning the Nationwide title, which happened for five consecutive season before the rule was changed.
"When they first changed the rules, no one knew whether it was going to help the series or hurt the series," Sadler said. "But now that it's had time to marinate, it's clearly helped the series.
"It made it healthier. It made the Nationwide people happier to have their own drivers winning the title and their own brand. It's brought different sponsors and more sponsors in. It's a win-win. Everybody in NASCAR has to be happy with it."
January, 17, 2013
01/17/13
10:17
PM ET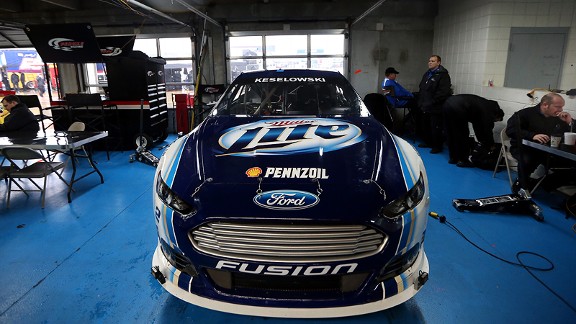 Streeter Lecka/Getty ImagesThe Blue Deuce won the championship with Brad Keselowski behind the wheel last year, but he was driving a Dodge, not a Ford. Keselowski and his Penske Racing team have switched to Fords this year, and a repeat title would be a rare feat.
It's not often a manufacturer inherits a championship team, but such is the case for Ford officials this season. The big question is this: Can everyone involved share the wealth?
Defending Cup champ Brad Keselowski, Ford's new golden boy, hopes so. He also hopes to do something that hasn't been done in 54 years.
You have to go back to 1958 to find the last time a driver won consecutive titles with two different auto manufacturers.
Lee Petty won the 1958 title in an Oldsmobile and the 1959 crown in a Plymouth. But Petty raced 17 events in the 1959 season in an Oldsmobile and ended the season in a Plymouth, which he drove in 27 races.
Buck Baker also won his two championships with different manufacturers -- a Chevrolet in 1957 and a Chrysler (officially) one year earlier. Baker also drove a Ford in four races and a Dodge in 14 others during the 1956 season.
Cale Yarborough was the last NASCAR driver to win back-to-back Cup titles in different makes of cars. He won his second of three consecutive titles in a Chevrolet but won the third championship driving an Oldsmobile in 1978. However, both cars fell under the General Motors banner.
So no driver in NASCAR history has won back-to-back Cup titles driving the full championship season for only one auto manufacturer and the next season for another.
Keselowski could become the first if he takes his No. 2 Ford to the 2013 title after winning his first championship last year in a Dodge. But it will take cooperation and collaboration with Ford's other teams to get it done.
Keselowski admits Penske Racing's move from Dodge to Ford is a big transition. It requires sharing technical information, at some level, with Roush Fenway Racing and Petty Motorsports, the two other Ford organizations.
"Some of that stuff is a work in progress," Keselowski said last week during the test at Daytona. "I think, so far, we all agree to the Ford approach of 'One Ford,' where we are going to share what we can where it's practical to do so.
"Those things are being defined daily as far as what is OK to share and what is not. I don't have great answers for you there. In order for that to work out, there has to be a level of cooperation. I think we all see that. It's just a matter of defining what that level is."
[+] Enlarge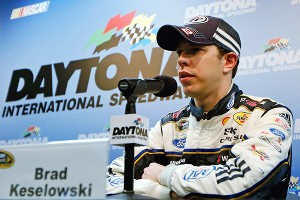 Chris Trotman/Getty Images for NASCARBrad Keselowski is ready and willing to share with his new Ford teammates, once he figures out where the line is.
Penske was the only team for Dodge. Roger Penske has ended his engine-building program to lease Roush-Yates engines this season.
Carl Edwards, coming off a disappointing, winless 2012 season in which he finished 15th in the standings in the No. 99 Ford for Jack Roush, hopes adding Penske's two-car operation (Keselowski and Joey Logano) to the Ford family will help all the Ford drivers.
"I'm looking forward to it and hope we get to share a lot of information," Edwards said. "It would help us a lot. The way Brad ran at the end of last year was spectacular.
"At the end of the day, I hope we have something to give them so they will reciprocate. The more teams you have working together, the more information you have and more ideas you have. It makes things better."
No one knows for certain how it will work out, but Keselowski likes what he sees in Ford officials, from top executives to design engineers to the people sweeping the floors.
"The level of engagement is remarkable," Keselowski said. "It shows the commitment Ford has. I've never experienced that before. It makes me feel very confident that any bit of adversity or any hurdle we have to climb, we can do it, because we have a dedication of resources and top-notch people."
Ford officials inherited the best of the best from 2012. Ford's last Cup title was nine years ago, when Kurt Busch won the inaugural Chase for Roush. That dry spell could end this year if everyone shares the wealth.
January, 10, 2013
01/10/13
1:19
PM ET
The NASCAR voters are newbies in the process of picking inductees for its Hall of Fame, but the baseball writers could learn a thing or two from them these days about selecting new members.
No one was deemed worthy of selection into the Baseball Hall of Fame after Wednesday's vote totals were revealed from the Baseball Writers' Association of America (BBWAA).
Not one living candidate among all the exceptional men who have played the game. This is a system that no longer works and desperately needs changing.
I am a former member of the BBWAA who covered the Houston Astros for the Houston Post and the Houston Chronicle. Craig Biggio and Jeff Bagwell, two men who fell short of induction this time, are players I covered for a good portion of their careers.
Biggio appeared on 68.2 percent of the 569 ballots. Had he been running for president, he would have won in a landslide of historic proportions. But for the Hall of Fame, that's not good enough.
A player has to appear on 75 percent of the ballots to get in. It's hard to get 75 percent of a group of people to agree they like puppies.
Biggio is one of the best second basemen ever to play the game, a seven-time All-Star who also made it as a catcher. I could list many reasons for his induction, but I need just one: He is the only player in baseball history with more than 3,000 hits, over 600 doubles, over 400 stolen bases and more than 250 home runs.
[+] Enlarge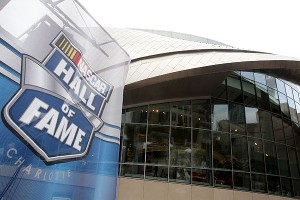 Streeter Lecka/Getty ImagesThe NASCAR Hall of Fame voting system isn't perfect, but its selection process is light-years ahead of baseball's.
But he didn't make it in with this incredibly flawed and stodgy voting process that needed revising long ago. Biggio will get in, probably next year, but he was left out this time because some voters don't consider him a "first-ballot" Hall of Famer.
How ridiculously petty. Either you're a Hall of Famer or you're not, and Biggio is, without question.
A couple of top candidates this year were tainted by baseball's steroid era -- namely Barry Bonds and Roger Clemens. The BBWAA was sending a message, saying cheaters aren't welcome.
OK, but Biggio is as clean as they come, a person of utmost integrity and moral standards throughout his career. I watched him take the field for many games with an injury that would have caused some players to miss half a season.
Wouldn't it have been nice to induct a man who stands for everything that's good about the game?
And isn't it tragic that baseball has an induction process that kept it from happening?
NASCAR does things differently. It's not perfect by any means, but it is far better than baseball's archaic system. Almost any sports hall of fame process is better than baseball's.
NASCAR's Hall has only 53 voters; one is a combined fan vote. The voters include respected writers, broadcasters and industry leaders, along with former team owners, drivers and crew chiefs.
One of them is award-winning writer Jim Pedley, managing editor of racintoday.com and a former writer for the Boston Globe, Fort Worth Star-Telegram and Kansas City Star.
"We all sit in a room together and talk it out," Pedley said of the selection process for the NASCAR Hall of Fame. "It's about a four-hour debate. Like everyone else, I come in with my preconceived notion of inductees, but after the debate, I've always been talked into a candidate or talked out of one. We don't all agree, but I think it's a good process."
NASCAR automatically selects five inductees each year. A set number per year is questionable, but that may change in the future after many of the deserving candidates have made it in. Only 20 people have been inducted.
However, it won't have a year when no one is inducted.
The BBWAA voting does not include broadcasters. Legendary Los Angeles Dodgers broadcaster Vin Scully doesn't have a vote, along with many other longtime baseball broadcasting giants -- Jon Miller, Milo Hamilton (now retired), etc.
And what about former players?
"I am a firm believer that part of the voting contingent should include the men who played the game," ESPN's "Baseball Tonight" host Karl Ravech tweeted Wednesday. "What better judge can there be on a Hall of Fame player than the men who competed against them?"
Ravech should be a voter, as well.
"Having been blessed to watch parts of virtually every baseball game played, five nights a week for the last 18 years, I feel qualified to opine,'' Ravech tweeted.
Ravech agrees the voting process needs repair: "The system by which it is determined who is inducted begs for some reform."
BBWAA members must have 10 consecutive years in the organization to vote. A member can vote until he or she dies, even if that voter hasn't seen a game in many years. The list has many voters who rarely cover the sport, if at all.
For the most part, they get it right, but majority vote isn't enough.
Five former players this year were on more than 50 percent of the ballots -- Biggio, Jack Morris (67.7 percent), Bagwell (59.6 percent), Mike Piazza (57.8 percent) and Tim Raines (52.2 percent).
All five should have made it in this year. All five are worthy of induction.
Wouldn't that have been a wonderful Hall of Fame induction ceremony this summer in Cooperstown?
And wouldn't that have been a better message to send than saying no one belongs there this year?
January, 8, 2013
01/08/13
1:47
PM ET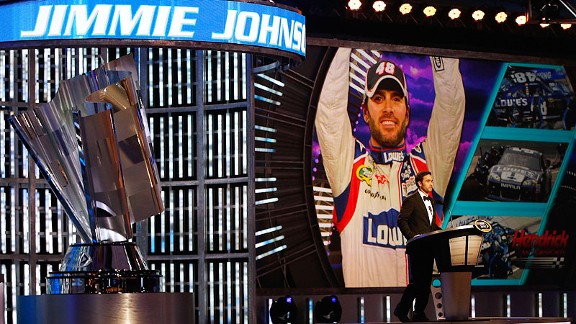 Tom Pennington/Getty ImagesOne Vegas bookmaker has Jimmie Johnson as a 4-1 favorite to win the 2013 Sprint Cup championship.
A well-known online bookmaker has spoken, and Jimmie Johnson is the 2013 favorite to win the Sprint Cup. In the betting game, it's not even close.
Johnson is listed at 4-1 by Bovada (@BovadaLV). Next comes a three-way tie for No. 2 with defending champ Brad Keselowski, Denny Hamlin and Kyle Busch all at 17-2.
Even though Busch failed to make the 2012 Chase, he is viewed as the second-most likely driver to win the 2013 title.
But Johnson is the runaway favorite. Bovada sees JJ as twice as likely to win a sixth championship in 2013 as they do Keselowski winning two in a row or Hamlin or Busch winning a first title.
Fourth on the list is Kasey Kahne at 9-1, followed by three former champions at 12-1 -- Jeff Gordon, Matt Kenseth and Tony Stewart, the 2011 champ.
Carl Edwards, the 2011 runner-up when he tied Stewart for the points total but had fewer wins, gets a decent betting line despite finishing 15th last season and going winless. He's 14-1 along with Dale Earnhardt Jr., Clint Bowyer and Greg Biffle.
Bovada sees Edwards and Dale Jr. just as likely to win the crown this year as Bowyer, who finished second last season.
Martin Truex Jr. is 16-1, and Kevin Harvick has the longest odds among the 2012 Chase drivers at 20-1, probably because he's a lame-duck driver at Richard Childress Racing. Harvick moves to Stewart-Haas Racing in 2014.
If you want to pick a real long shot, Ryan Newman is listed at 50-1 along with Juan Pablo Montoya. Jamie McMurray, Montoya's teammate at Earnhardt Ganassi Racing, is substantially better at 33-1.
If you like Joey Logano's chances in his first year at Penske Racing, you can get him at 40-1.
But Johnson remains the star for this bookmaker. He finished third last season, falling one spot in the final race when he failed to finish due to mechanical problems.
JJ was the 7-2 favorite in November at the Las Vegas Wynn, so bookmakers still love him. Whom are you betting on?
December, 7, 2012
12/07/12
3:54
PM ET
If you are looking for a couple of things to ponder in the offseason, here are two big ones that should get your attention.
The new car will be a new world for NASCAR. And Matt Kenseth may do something that hasn't been done in more than 30 years.
Both topics are good conversation items as you look ahead to the 2013 season when it kicks off on Feb. 24 with the Daytona 500.
1) The new Cup car: First, let's have a collective "Amen" to the end of the COT. The Car of Tomorrow now is the COY -- the Car of Yesterday. I'm confident the vast majority of fans will give a "Hallelujah" to its ending.
[+] Enlarge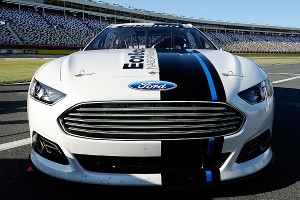 Jared C. Tilton/Getty Images for NASCARFans will find out soon how the 2013 Ford Fusion and the other new Sprint Cup cars work on the track.
Most fans never liked it from the beginning with its ugly rear wing (which later was eliminated) and its boxy appearance. But let's give credit where credit is due. The COT is the safest race car ever built.
Its larger greenhouse, centered driver's seat and extended crush panels all helped produced a car that without question saved lives and greatly reduced injuries.
All those improvements remain a part of the new car, which for the first time in a long time, looks like a real car, one you might drive off the showroom floor.
That aspect alone makes this car far better than the COT. The nose and the tail of the cars are similar to the actual production models, something that hasn't been true in Cup for three decades.
Manufacturers like it and fans will, as well. But it will take more than a pretty face for fans to fall in love with these cars. The key question is whether it will race better than the COT.
NASCAR officials are confident that it will. After a year of accumulating testing data on the cars, NASCAR finally gave the teams the initial rules package for 2013. The rules were distributed to the Cup teams Dec. 5.
The teams will test the rules package at Charlotte next week (Dec. 11-12), Daytona next month (Jan. 10-12) and then Charlotte again the next week (Jan. 17-18) before the season begins.
The goal is to make it easier to run side by side and easier to pass by eliminating some of the problems with aero push, a wave of air that makes it difficult for the trailing car to get beside the lead car even if the trailing car is faster.
If it doesn't limit aero push, teams can make adjustments to the car, a gigantic difference to the rules under the COT model. Adjustments to the body have been almost non-existent in recent seasons.
The old idea was to make the cars the same and cut down on cheating, but crew chiefs were frustrated, feeling it went too far by limiting creativity and ingenuity.
NASCAR officials want to open things up a little with the new car. And that could lead to some old-school complaining about Chevy being better than Ford or Toyota being better than Chevy, and so on.
That's not necessarily a bad thing. A little more infighting among manufacturers and teams makes things more interesting.
The truth is no one really knows yet how the car will race and how much leeway NASCAR will allow on adjustments. It's probably a moving target that will change as teams and officials learn more about it.
Whatever happens, it's bound to be more exciting and more fun to watch than the COT was.
2) Matt Kenseth: He will try to accomplish something that hasn't been done in 32 years. Kenseth wants to become the first driver since Darrell Waltrip in 1981 to win the title in his first year with a new organization.
[+] Enlarge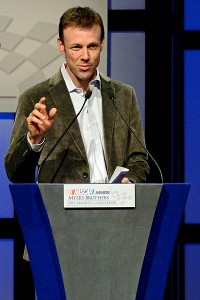 Jeff Bottari/Getty Images for NASCARWill Matt Kenseth be a title contender in 2013?
Waltrip won his first Cup championship in 1981, his first season driving for Junior Johnson's team and the first of back-to-back titles for Waltrip. He left DiGard Motorsports to race for Johnson.
Kenseth left Roush Fenway Racing, where he won the 2003 title, to join Joe Gibbs Racing and drive the No. 20 Toyota. That car hasn't made the Chase since 2008, when Tony Stewart was the driver and Greg Zipadelli was the crew chief.
So winning the title in his first season driving the 20 is asking a lot, but if anyone can do it, Kenseth can. Experience could be the difference. He turns 41 in March, racing in his 14th Sprint Cup season.
It also depends on how Kenseth and crew chief Jason Ratcliff interact. No doubt Kenseth can tell Ratcliff things to improve the car that 22-year-old Joey Logano couldn't do consistently.
Kenseth's composed nature and lead-by-example style should rub off on JGR teammates Kyle Busch and Denny Hamlin, making the entire organization better.
The 2013 Cup season will have a lot of interesting changes to contemplate. But a new car with a retro look, and hopefully, racier results, along with a big-name driver trying to achieve a rare feat, are a good place to start.
November, 11, 2012
11/11/12
7:29
PM ET
Jimmie Johnson crashed, Clint Bowyer and Jeff Gordon -- and their crews -- got into a fight and then things really got interesting at Phoenix International Raceway on Sunday. Brad Keselowski is your new Sprint Cup points leader with one race to go, Kevin Harvick won the AdvoCare 500, and cars were flying backward and on fire across the finish line. It was a day that will be long remembered and argued about.
November, 10, 2012
11/10/12
4:09
PM ET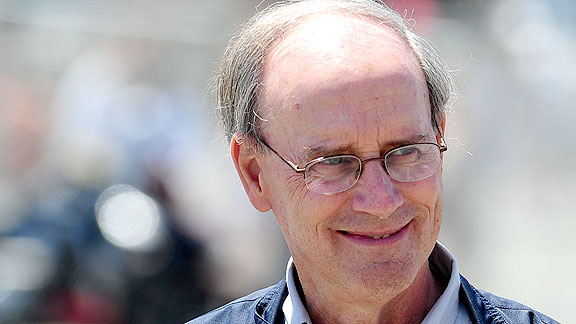 Mark J. Rebilas/US PresswireIf you came to an NHRA event with Bob Frey on the microphone, you knew all you needed to know before the day was done.
POMONA, Calif. -- If you have listened to or watched an auto racing event a time or two over the past 40 years, I can just about guarantee Paul Page has guided you, entertained you, informed you and enriched the moment more times than you realize.
If you have attended an NHRA event in this century, Bob Frey has done everything in his power to increase your enjoyment as you listened to him describe the action.
Page and Frey are working their final NHRA event this weekend. Whether you are sitting at home and watching on TV or sitting in the stands and watching these hot rods rumble, believe me, you are going to miss them.
Few broadcasters in history have done more in motorsports than Page. Calling people "a legend" is an overused term these days, but in this case, it fits.
I can't begin to list all his accomplishments here, but he has worked major racing events for NBC, ABC and ESPN in his distinguished career. His work on the Indianapolis 500 in 1988 and 1989 was a big part of ABC earning a Sports Emmy for Outstanding Live Sports Special.
"I've been very lucky," Page said Saturday. "The other day, I was actually trying to list all the motorsports I've done -- Formula One, Moto GP, Supercross, Motocross, snowmobiles, NASCAR, IndyCar and NHRA. That's a list."
Now at age 66, Page is moving on. He isn't sure how he will feel at the end of the Auto Club Finals on Sunday.
"I don't know," he said. "When it's done and I hear the words, 'That's a wrap,' it's going to be weird taking the headset off and putting it down. But there are other things down the road, like my movie debut."
"Turbo," a DreamWorks animated film about a snail who wants to race, opens next summer.
"I'm the booth announcer," Page said. "I might have a new future in movies.
"But seriously, I'm gonna miss this. The participants and the crowd are just so friendly. I was walking through the pits getting some notes Friday, and so many people came up and said hello and told me they were going to miss me. I think I teared up once or twice."
[+] Enlarge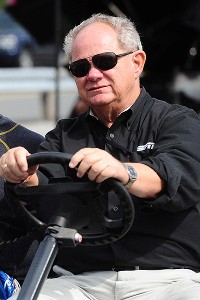 Mark J. Rebilas/US PresswirePaul Page has called nearly every form of racing for NBC, ABC and ESPN.
Why wouldn't he? Broadcasting motorsports has been his life for five decades. Fans should shed a few tears over Page and Frey ending their careers.
If you want to know exactly what Frey did for the NHRA over the years, here's your answer:
You might have attended a drag racing event with little or no knowledge of what was happening, but if you sat in the grandstands for one qualifying session of any NHRA race, you felt like you were an expert.
Frey did that for thousands of spectators over the years with his silky-smooth voice and casual style, announcing the event as if he was sitting on a couch in your living room and having some nachos.
He made enthusiastic fans out of many first-time observers, while spinning a tale that the biggest gearhead at the track could appreciate. That is Bob's gift.
"That's a real compliment," Frey said Saturday. "That's what I try to do. If I accomplished that, I reached my goal. I've always tried to entertain and inform. I'm not a gearhead. I never changed my oil or changed a spark plug.
"But I hope my legacy is fans came to an event and were entertained and had fun because I was there."
Frey, 65, started announcing drag racing events when he was 18 back in his home state of New Jersey.
"Bob Frey's gift is he loves the sport," said Jerry Archambeault, the NHRA vice president of communications. "That's why he's able to enlighten the new fan and educate the hard-core fans. He will be greatly missed.
"I know there are [sportsman class] racers who come up to Bob and ask him, 'Can you call my run?' They love him.''
Like Page, Frey isn't sure how he will feel when it ends Sunday.
"It's been a very nice weekend, but it's bittersweet,'' Frey said. "None of this will sink in probably until the Winternationals next February. It's funny because my wife wanted to do something at home for the holidays with the kids and the grandkids.
"But my daughter said, 'Why not do it the weekend of the Winternationals? Dad will probably be miserable that weekend.' So we're having a party that weekend."
Frey plans to attend a few NHRA events when he can. So does Page.
"I'll be around," Page said. "If you come to Indy for the U.S. Nationals, or Chicago or Norwalk [NHRA events], you might see an old drunk guy in the stands that looks very much like me."