Plan B for Vickers? Space travel, of course
February, 7, 2009
02/07/09
4:32
PM ET
Some people believe 2009 will be the breakout year for Brian Vickers, the veteran driver for a Red Bull Racing Team that keeps improving.
But a few people close to Vickers must wonder how different his life would have turned out if he had followed his scholastic abilities.
[+] Enlarge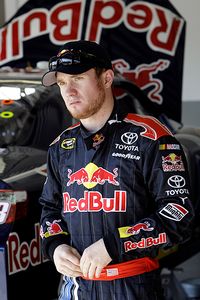 AP Photo/John RaouxBrian Vickers was valedictorian at his high school with a whopping 4.43 grade-point average.
Vickers was the valedictorian of Trinity High School in North Carolina in 2002. He had a 4.43 grade-point average (on a scale of 4.0) despite spending most of his non-class time at a racetrack.
Vickers qualified for the Nationwide event at Lowe's Motors Speedway on a Friday in May, rushed home to attend his high school graduation, and drove back to the speedway to compete in the race Saturday afternoon. He finished 26th that day, but won the series championship the following season.
Vickers also missed his high school prom because he was racing at Bristol that night.
So what would Vickers be doing if he had taken the academic route instead of the racing route? Becoming an astronaut was his first choice.
"That's definitely something I've always been fascinated with," Vickers said Thursday in Daytona Beach, Fla. "It's something I've always wanted to be involved in -- so-called rocket science. I think the perspective of actually going into space is what always intrigued me the most.
"I took engineering classes when they were available in school and always enjoyed engineering. There's something about exploring the unknown, and exploring space, that always intrigued me when I was younger."
Vickers continues to explore the unknown, pushing a four-wheel machine to the limit and making a lot more money than he would have as an astronaut.
"Obviously, people wondered why I decided to drive race cars," Vickers said. "But I had been racing cars for many years, through high school and before, so it wasn't a big surprise."
Vickers remains a bit of a Renaissance man with varied interest, including world travel. He spent part of his offseason in Europe doing charity work for Red Bull.
"I enjoy traveling and experiencing new things and new cultures," he said. "I've traveled a lot over the years and have been very fortunate. I've seen a lot of stuff and met a lot of people. This year I was in Austria and Germany.
"I also like Europe because of its architectural history and the things that have taken place there over time that have a lot to do with history. America has history, but it's measured in hundreds of years, and theirs is in thousands of years."
His favorite place to visit in the States is New York City, but he doesn't just go to see the sights.
"Wherever I go, I want to experience the local culture," Vickers said. "I want to experience what they experience, the way they live their lives and the things they believe in and why they believe in them. It's amazing what the world has to offer if you just go look."