Texas the real wild card in Chase for the Cup
November, 7, 2009
11/07/09
5:25
PM ET
FORT WORTH, Texas -- From the first lap ever turned at this place, Texas Motor Speedway often has made the unexpected a reality.
It began with a multicar crash on the first turn 12 years ago. No one would have guessed Jeff Burton, a fourth-year driver who was winless in his career at the time, would go to Victory Lane in that first race in 1997.
And who would have thought 10 years would pass before Burton became the first driver to win twice at Texas, a track that had 12 different winners before that moment?
[+] Enlarge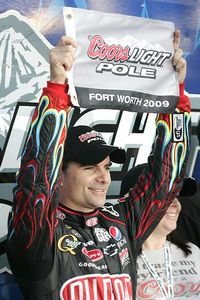 AP Photo/Ralph LauerIt took Sunday's pole-sitter Jeff Gordon 12 years to finally find Victory Lane at Texas.
So don't be surprised if the Dickies 500 on Sunday brings another surprising moment.
Can Kyle Busch become the first man to complete the triple and win all three NASCAR events on the same weekend? He has a shot at it.
Can Carl Edwards escape the winless column of 2009 and post a victory at the track where he swept both Cup events last year? Maybe.
Can Dale Earnhardt Jr. end his 54-race losing streak and win at the place where he earned his first Cup victory nine years ago? Hey, anything's possible.
Or is this Jimmie Johnson's show the rest of the way en route to his historic fourth consecutive championship? That wouldn't surprise a soul.
Jeff Gordon, who starts on the pole Sunday, raced 12 years at TMS before finally earning a victory on the 1.5-mile oval in the April event this year.
Phoenix is the only track where it took longer for him to win, coming 14 years after his first start in the Arizona desert. Gordon has yet to win at Homestead-Miami Speedway, but the Cup series didn't start racing there until 1999.
Now Gordon can become the second consecutive driver to sweep the season races at Texas. Gordon ranks third in the Chase behind Hendrick Motorsports teammates Johnson and Mark Martin, but Texas is his only victory this year.
"This is a tricky track," Gordon said Friday. "The straightaways are very flat here compared to how high-banked the corners are. And those transitions really challenge you. Plus there's some bumps and the corners are fast, but they're tight. The walls come out at you very, very quick. So it's not an easy track."
Gordon said it was the TMS race one year ago when the No. 24 team figured out the best way around the place.
"Last year at this time we were out of it," said Gordon, meaning out of title contention. "It allowed us to sort of do some testing and we tried some things that we hit on and it really seemed to pay off here."
But Gordon has one big difference from the spring race at TMS.
"This is not the same car we had here earlier in the season," he said. "We feel like this is a better car."
Gordon's not the only one with something new this weekend. Kyle Busch has Dave Rogers on the pit box for the first time. Rogers, who was Busch's crew chief in the Nationwide Series, replaced Steve Addington as the crew chief of the No. 18 Toyota.
"Dave and I have a sense of what we need from each other and what we need to talk about," Busch said earlier this week. "It might be a bit of a learning curve for Dave, getting all his paperwork on the new car. But for me, it will be just talking with Dave and trying to get everything going to prepare ourselves for 2010."
A record-setting victory Sunday to sweep the weekend would be a nice way to start things off.
Edwards and Earnhardt would settle for any victory at this point. Edwards was encouraged after posting the second-fastest lap in the final practice Saturday.
"That's the fastest we've been in a long time," Edwards said afterward. "We'll see how it goes. It's 500 miles and there will be a lot of things that change throughout the race, but it feels nice. We've got a fast race car."
Earnhardt won his first Cup start at TMS in his rookie season. He has seven tops-10s at Texas, but hasn't posted a top-10 at TMS in the last three years.
"We've had some good success at Texas," Earnhardt said this week. "It's a fun track. I just like the enthusiasm that the crowd has. It gets me excited."
Johnson is excited about getting a step closer to the championship. A good showing Sunday would give him an excellent shot of clinching the title at Phoenix next weekend.
Johnson has finished first or second in three of the past four TMS events, including second to Gordon in April.
"We've been very competitive the last two years here," Johnson said Friday. "Certainly, we're happy with where we are in the points. But it's not really going to change what we do. We want to win the race."
If he does, TMS will lose its rep of producing the unexpected. If he doesn't? Well, maybe the place has a surprise or two left for everyone.