Some questions just won't get an honest answer
January, 17, 2010
01/17/10
2:51
PM ET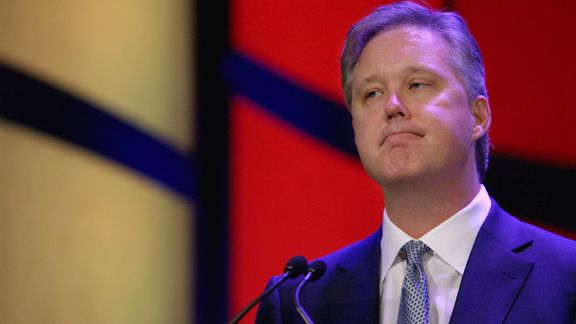 Chris Trotman/NASCAR/Getty ImagesGive Brian France credit: He and NASCAR are trying to make rules changes to improve Sprint Cup racing. But don't expect him to say it's probably just a shot in the dark.
Three things you won't hear said this week during the annual NASCAR Media Tour:
1) NASCAR chairman Brian France: "We don't know if these changes will work, but we're going for it to try to shake things up."
2) Richard Petty and George Gillett: "This is our last shot."
3) Lance McGrew: "Can I make this guy good again? I don't know."
They may think it, but they won't say it.
As always, unbridled optimism will be the dominant theme on the media tour, which starts Monday in the Charlotte area and continues through Thursday.
Every team is equal in January. Every driver thinks he can win. Every crew chief thinks his guys have worked harder than everyone else to improve. Every team owner believes his operation is on the rise.
Some of that gung-ho attitude toward 2010 will pay off. Some of it won't.
But the things people say on the tour, and what they really think, aren't always the same. You have to cut through all the spin.
The thoughts listed above are what these people may be thinking (but won't reveal) as they make their case this week for the upcoming season.
Let's start at the top.
1) NASCAR and France will formally announce this week the plan to replace the rear wing of the Cup car with a spoiler, similar to what was on the previous version of the car.
The goal is to give the car more balance, front to back, and therefore, improve side-by-side racing. No one knows for sure if it will work. Wind tunnel tests and track tests will come before the switch takes place, probably in March.
Whether it works or not, NASCAR officials are doing this for you. It's what most fans want to see -- a willingness by NASCAR to alter the car and try to make it better.
This is a big first step. Many fans didn't like the wing. It's ugly, they say. A spoiler also is a retro move to make this car look a little more like the old one.
NASCAR officials also will make changes at the restrictor-plate tracks and relax the rules, letting the drivers drive and police themselves a little more.
The bump-drafting restrictions, smaller plates and yellow-line rules stifled competition, and in many cases, didn't make the racing safer.
These changes aren't likely to make things safer, either, but it might improve the racing. Again, no one really knows, but NASCAR is trying to appease the fans and improve the show.
2) For the second consecutive year, Richard Petty Motorsports is merging with another team. Last year it was Evernham Motorsports, which is owned by Gillett. This time, it's Yates Racing, which has a partnership with Roush Fenway Racing.
[+] Enlarge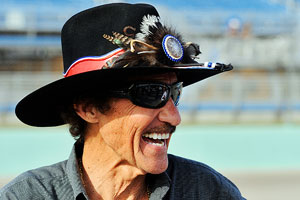 John Harrelson/Getty ImagesRichard Petty needs his latest merger to work well or this could be his last shot at the big time.
So RPM moves from Dodge to Ford engines. Aligning with Roush should help, but a lot of things have changed for Petty, Gillett and the Yates organization over the last two seasons.
They will tell us this merger is a great move. But can they put all the pieces together and make this work? It's not a Hail Mary pass, but it is third-and-10 with the game on the line.
All four drivers for the new RPM -- Kasey Kahne, AJ Allmendinger, Elliott Sadler and Paul Menard -- are in the fold only for 2010. Keeping Kahne (and the Budweiser sponsorship) is the top priority, but not likely to happen.
If Kahne leaves, RPM needs to show enough to keep the other people in place. This is it. This move has to work.
3) McGrew is a smart guy, smart enough to know he has one of the most important tasks in NASCAR: helping Dale Earnhardt Jr. become a contender again.
McGrew isn't alone in the endeavor. An entire regiment of Hendrick Motorsports experts are on a mission to get it done. But as the returning crew chief for the No. 88 Chevy, McGrew is the focal point of the effort.
McGrew will say he's confident this year will be better. But deep down, he has to wonder if he can find that spark to bring Earnhardt back.
If he does, McGrew goes to the top of the heap in the Cup garage as a leader and motivator. He becomes an Angelo Dundee (Muhammad Ali's legendary trainer) of motor sports.
This week's tour talk is about hoping for the best. But the real story sometimes is about trying to avoid the worst.