Knaus, Gustafson not going anywhere
April, 30, 2010
04/30/10
2:05
PM ET
RICHMOND, Va. -- For those of you hoping something would break up the
Jimmie Johnson
/Chad Knaus dynamic duo, get ready for a disappointment.
Knaus has agreed to a contract extension that will keep him as the crew chief for the No. 48 Chevrolet through the end of Johnson's contract in 2015.
[+] Enlarge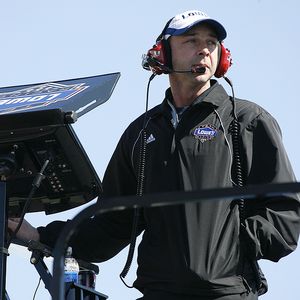 AP Photo/Glenn SmithChad Knaus on working with four-time defending champ Jimmie Johnson: "The 48 is where my heart and soul is."
And Alan Gustafson, crew chief for Mark Martin and the No. 5 Chevy, also agreed to a contract extension at Hendrick Motorsports.
Knaus isn't going anywhere. Gustafson is staying at Hendrick, but his future position is a guess for now.
Knaus, 38, has guided Johnson to four consecutive Cup championships. Gustafson, 34, helped Martin finish second in the 2009 standings.
Johnson was happy to hear the news, but he wasn't surprised.
"Chad and I made a promise to each other long ago,'' Johnson said. "As long as I was driving this car, he would be my crew chief."
Knaus said his deal is to remain at Hendrick, but he confirmed he's staying on the 48 pit box.
"The 48 is where my heart and soul is," Knaus said. "I enjoy working with Jimmie and the whole team, and it's going to stay."
Gustafson received a four-year extension with his new deal.
"As far I am concerned, I am going to retire there," Gustafson said about Hendrick Motorsports. "I love Rick Hendrick and everything he's done for me. No matter what it is, what role I need to fill to help make this team be most successful, that is what I will do."
Gustafson's future role is a bit in question with Kasey Kahne signing to take over for Martin in 2012. Kahne has said he hopes to bring crew chief Kenny Francis with him when he leaves Richard Petty Motorsports.
Gustafson said he hopes to stay with the No. 5 Chevy team.
"I have been here [part of the No. 5 team] for 11 years," Gustafson said. "It's something I have put a lot of effort into and take a lot of pride in. I've been with those guys a long time, and I want to be with them for a long time in the future.
"But who knows where it's going to go or where the future goes. I don't know. All I am saying is I am going to do whatever I have to do to help keep this company successful.
Gustafson was asked if he would consider working as the crew chief for Dale Earnhardt Jr.
"If that's what Mr. Hendrick and the management at Hendrick Motorsports deems to be the best fit for the company, yes,'' Gustafson said.
Knaus said he doesn't plan on being a crew chief forever.
"Crew chief years are about like dog years," Knaus said. "So I'm thinking I'm about 97 years old. In five more years of crew-chiefing, I'm pretty sure I'll be about done by then."