Nationwide needs its own Chase format
June, 22, 2010
06/22/10
1:25
PM ET
NASCAR should do the right thing and give the Nationwide Series a Chase format with one important rule: No Cup drivers allowed.
Unless Justin Allgaier can pull off a miraculous effort in the second half of the season, a full-time Sprint Cup driver is going to win the Nationwide Series title for the fifth consecutive year.
Brad Keselowski has a 237-point lead on Carl Edwards, both of whom are Cup regulars. Allgaier is third, a distant 415 points behind Keselowski, followed by two more Cup drivers -- Kyle Busch and Paul Menard.
When will the insanity end? Albert Pujols isn't going to hit 50 home runs in Memphis. Tim Lincecum isn't going to win 20 games in Fresno.
That's what we have in the Nationwide Series now, stars playing in a league where they don't belong. And in this case, it's worse because they usually have equipment better than the drivers they are racing against.
[+] Enlarge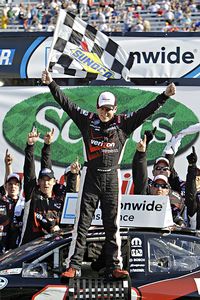 AP Photo/Chuck BurtonJustin Allgaier became one of those rare Nationwide Series-only drivers to break through and win earlier this season.
The Nationwide-only drivers deserve better. Since NASCAR has no intention of limiting participation of Cup regulars in the series, the simple way to solve the problem is have a championship playoff involving Nationwide-only drivers.
No Cup driver ranked in the top 35 in points in that series would be eligible for the Nationwide Chase. But the format would need some other changes from the one used in Cup.
First, seeding drivers based on victories wouldn't work. Nationwide-only drivers rarely win races. The Cuppers dominate the win column.
Allgaier is the only Nationwide driver with a victory this season, so drivers should start the playoff based on the season points standings.
That presents another little problem. Only 15 drivers have started all 15 Nationwide races this season, and three of those are Cup drivers. So a 12-man field for the playoff might be too many.
A better plan is eight drivers for the final eight races. This also would create an interesting battle for the final qualifying spot in the races leading up to the playoff.
A Nationwide Chase is a great way to add attention to the series and bring much-needed exposure to Nationwide-only drivers and their sponsors. It also could bring sponsorship to a team that makes the playoff, but doesn't have full sponsorship.
A playoff without the Cup guys might limit their participation. If they know going in they can't win the championship, maybe they won't run the full schedule.
And a Cup team owner racing in the Nationwide Series would have incentive to put a developmental driver in the car if the owner knows a Cup driver can't win the title.
There is no downside here. It's the right thing to do for everyone involved in the series, except the Cup bullies, of course.