Edwards not looking for any crazy moves
October, 2, 2010
10/02/10
5:58
PM ET
KANSAS CITY, Kan. -- Picture this scenario. It's the last lap Sunday at Kansas Speedway and Carl Edwards is two car lengths behind the leader heading into Turn 3.
Are you getting a sense of déjà vu? You should.
So what does Edwards do? Go all-out to win or play it safe?
"If there is a giant risk to win this race that might cost us the championship, I would have to go for the championship," Edwards said.
Say what? That's not how we remember it in 2008, in the most dramatic moment ever on this 1.5-mile oval.
Entering Turn 3 of the last lap, Edwards gunned it and turned left down the track inside of Jimmie Johnson. Edwards zoomed by Johnson heading to Turn 4, but it came at a price.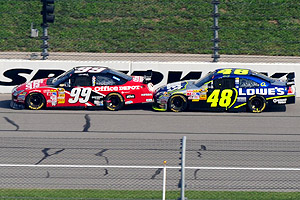 Mark J. Rebilas/US PresswireCarl Edwards was able to get past Jimmie Johnson on the final lap of the Kansas race in 2008, but he wasn't able to stay there.
The momentum and angle of the banzai move caused the car to slide back up the banking toward the wall. Edwards slammed into the wall, but kept control of the car as they headed down the frontstretch for the last time.
Johnson was shocked at what he saw, but kept his cool and easily slid underneath the No. 99 Ford and back into the lead, winning the race over Edwards by three car lengths.
"I was so in awe of how far he drove it in," Johnson said. "I watched him pound the wall and get back in the gas and thought, 'Man, he's serious about this win. I'd better get back in the gas myself.' "
Chase points be damned, Edwards decided to go for broke then. It didn't work out, but he was the hero of the day to his home-track fans. He gambled on trying to win, even if it meant wrecking and finishing 25th.
That was then, this is now. Things change.
"If I felt we weren't in a position to win [the title], I would probably go take some pretty big risks," Edwards said. "I feel like we are in a position to do it, so right now I am focused on that."
It's not an easy decision considering how much Edwards loves this place. He grew up just two hours away in Columbia, Mo.
"If I had to pick a race to win, this is the race I would pick over the Daytona 500 or the Brickyard 400," Edwards said Friday. "I'm not saying that because I'm sitting here [in the Kansas Speedway media center]. It's the truth."
The emotions of the moment can get the best of Edwards at times on the track. We saw that earlier this year when he deliberately wrecked Brad Keselowski twice in retaliation moves.
In the heat of the moment, Edwards will go over the edge to do what he deems necessary, whether it's for a chance to get even or a chance to win.
Edwards won't take a win-at-all-costs attitude on Sunday because he's convinced he can win the Chase.
If anyone can win the championship without winning a race, Edwards is the guy. He has nine top-10s over the last 11 races for an average finish of 6.0. That's better than the 6.8 Johnson averaged when he won the Chase last year.
Edwards' worse finish since July was 12th, but he still has ground to make up. He's sixth in the Chase standings, 73 points behind leader Denny Hamlin.
Kansas is the track at which he can make that up. Edwards has four top-10s in the last five races here, and he finished second earlier this year at Chicagoland Speedway, the track with the most similarities to Kansas.
The Chicagoland car isn't the car crew chief Bob Osborne elected to race this weekend.
"We have the car we ran at Indy and Michigan," Osborne said. "It was a new car at Indy, and we've had success with it [seventh at Indy and third at Michigan in August] both times it has run this year. We hope to come out of Kansas with at least a top-5 finish."
And possibly a victory, but not if the risk outweighs the reward.
"I never thought of that as a reasonable thing to do until that moment," Edwards said of his 2008 gamble. "The idea of being able to win here was big. But at this point in my career, I want that championship trophy. I want to see what that feels like."