Shorter California race means more drama?
October, 9, 2010
10/09/10
1:46
PM ET
FONTANA, Calif. -- If you didn't know about this Sprint Cup race changing from 500 miles to 400 miles, don't feel bad. Some of the drivers didn't know until they arrived at Auto Club Speedway.
Ryan Newman was caught off guard when asked Friday if his strategy would change for the shorter Pepsi Max 400.
"Is it? Is it a 400?" Newman asked. "Awesome."
Carl Edwards also didn't know, but he didn't think it was awesome.
"I can't believe I didn't know this was a 400-mile race," Edwards said Friday. "I work really hard to be as fit as I can be. We work hard to be prepared for long races. I feel that long races play into my strengths physically, and then I feel that from a handling standpoint and the way the car drives."
Don't classify Sunday's race as a short one. It's 200 laps around the giant 2-mile oval at the Inland Empire track with temperatures expected at 90 degrees.
"This racetrack just seems like one of the hottest we go to sometimes,'' Edwards said. "When the sun is out here, there is no escaping the heat. The hotter and slicker it is suits me and our team."
[+] Enlarge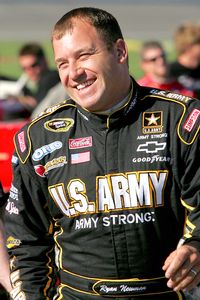 Jerry Markland/Getty ImagesRyan Newman was thrilled to learn Sunday's Cup race is 400 miles long.
Edwards has six top-5s at ACS, but his one victory came in cool conditions in a February race in 2008.
Jamie McMurray, who starts on the pole for the second consecutive time at ACS, said the wide surface has plenty of racing room, but it can be tricky.
"The trick to this place is the seams," he said. "It's really hard to explain, but when the car gets in the seams it feels like water and it's really slick. When you get stuck in them, you can't get out.
"It's almost like you're in a slot and you have to wait till you get to the straightaway to get your car off of it. It will slow your car down a half-second a lap if you get stuck in one of them real bad."
McMurray is talking about the tar that fills the grooves betweens the lanes of the racing surface.
"The key to this place is having a car you can drive across the seams and not get stuck in them," McMurray said. "The cars that handle well can miss the seams and they're faster. The guys whose cars are sliding around a bit more tend to find them."
Jimmie Johnson and the No. 48 Chevy team obviously have figured it out. He has won three of the last four races at ACS. Will 100 fewer miles make a difference for him?
"I think that the race distance at 400 miles is probably better for everyone," said Johnson, who starts ninth Sunday. "I don't have a lot of fears at this track because there's so much room. There are lanes you can use to pass."
Sunday will be the first time at ACS the Cup teams have raced a car with the rear spoiler instead of the wing.
"We've had so much time now with [the spoiler] that we pretty much have a feel for it," Kyle Busch said Friday. "It will be different than what it was in the spring, but our setups have evolved so much from when we were here the last time."
The fall event becomes extinct after Sunday. ACS will lose one of its two Cup events next year. The lone Cup event will take place on March 27. No more Chase races for ACS.
"Obviously, the attendance here hasn't been what everyone hoped it would be," Jeff Burton said Friday. "I think it is a good area for us and being on the West Coast is a good thing.
"I believe we have a lot of race fans out here. I also know the economy around the area is really bad. That has hurt the racetrack a lot. It's hard to say taking a race away is a good thing, but sometimes it is. You end up getting out more people for one race than you had for two races."
Whatever the crowd is Sunday, Johnson said he thinks they could see the best show ever at ACS.
"As a California native, I'm disappointed to hear that it's losing an event,'' Johnson said. "But the 400-mile race should make it more exciting, and restarts here can get pretty wild. It will entertain the viewers on television and the people in the stands. I think it'll be a good race."