Hunter's gift was NASCAR love, knowledge
October, 30, 2010
10/30/10
12:19
PM ET
TALLADEGA, Ala. -- Most NASCAR fans didn't know Jim Hunter. That's a shame.
For those who did, consider yourself lucky. No, consider yourself privileged.
I certainly do.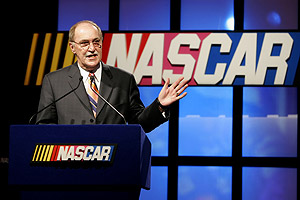 AP Photo/Chuck BurtonWhen NASCAR wanted to present its side of the story, Jim Hunter was the man to do it.
When people have asked me about Hunter over the years, this is how I've described him:
If you know someone who hates NASCAR, put him in a room with Hunter for 30 minutes and that person will walk out loving NASCAR.
I kid you not. In fact, I watched him do it, more than once.
NASCAR lost a giant Friday night, a man who was a dedicated historian of its cherished past and an unapologetic believer in its future.
His official title of vice president of corporate communications doesn't come close to explaining who he was and what he meant to the sport. For most of his 71 years, NASCAR was his mission in life.
As a newspaper reporter, a speedway chief (I say chief because Hunter would hate being called an executive), an author and, finally, as NASCAR's voice, Hunter was the first person anyone went to when they wanted to know something about stock-car racing.
"Quite honestly, I don't know what to say about Jim Hunter that would even begin to describe him," said Grant Lynch, chairman of Talladega Superspeedway. "He was just a larger than life figure in our sport."
Hunter -- by the way, no one called him Jim -- was one of those rare individuals who made you feel like you were his best friend 10 minutes after he met you. And my goodness, could that man spin a tale.
Talking to Jim about NASCAR was like entering a time machine and being transported back to that moment. He could describe an incident in 1965 as easily as he could dinner two days ago.
Jim was a tremendous help to me in research for my book, especially the chapter on drivers from yesteryear. When he told me tales of Curtis Turner or Fireball Roberts, it was like those two men were sitting in the room with us.
And Hunter never feared giving you his honest opinion: "Turner was the best driver I ever saw," he once told me. "He could do things in a race car that just weren't human. And sometimes he did things off the track that weren't quite human."
No one knew more about NASCAR than Hunter. And no one was better at expressing it with feeling than he was.
Hunter also was a talented writer. His book on David Pearson, "21 Forever," is a must read for any NASCAR fan.
Like Pearson, Hunter was a proud South Carolina native. He played baseball and football for the University of South Carolina, an undersized running back who plunged forward without fear.
It's the same way he approached his job as an ambassador for NASCAR. He did it as NASCAR's director of administration, a public relations director here at Talladega and later back home as the president for his beloved Darlington Raceway.
But when things got rough and NASCAR officials needed a voice of reason to calm the storm, it was Hunter they called. After Dale Earnhardt's death in the 2001 Daytona 500, NASCAR brought Hunter back to its Daytona Beach headquarters to be its top spokesman.
Everyone respected Hunter and Bill France Jr. knew it.
Hunter had other joys in his life: his beloved Gamecocks, his passion for golf, his wife Ann (a marriage of 48 years) and his children and grandchildren.
But he will be remembered as the man who championed this sport like no one else.
Jim loved NASCAR, but his true gift was his ability to make you love it, too.