Nationwide changes are coming
November, 20, 2010
11/20/10
4:18
PM ET
CORAL GABLES, Fla. -- Change is coming to the Nationwide Series, but you'll have to wait until January to hear officially what those changes are.
So let me tell you the big change that everyone in the garage knows is coming:
Sprint Cup drivers will not be eligible to race for the Nationwide championship in 2011.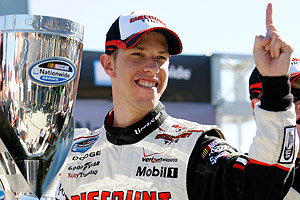 AP Photo/Tony GutierrezBrad Keselowski likely won't be allowed to run for the Nationwide title next year.
Allow me to express my feelings on this decision:
Hallelujah!
It's long overdue, but this is the right thing to make this series what it needs to be and was meant to be -- a developmental league that brings name recognition for future Cup stars, not current Cup stars.
NASCAR chairman Brian France discussed the issue Friday at Homestead-Miami Speedway, not wanting to reveal too much. But change is coming.
"We want the Nationwide Series to have its own identity," France said. "We want to make sure we are developing more stars. The idea is to see the Nationwide Series be more like what college football is for the NFL."
Great, except NFL players don't go back and play a few games for their alma maters.
NASCAR is different, obviously, and Cup drivers always have competed in the feeder series. That's OK. People want to see it.
But Cup drivers shouldn't compete in every Nationwide event and run for the championship, something that never happened until five years ago.
The Nationwide Series morphed into a glorified practice race for Cup regulars. Nationwide-only drivers trying to learn the ropes had no chance of competing on equal footing. They also couldn't find rides.
The Nationwide races had too many Cup stars using Cup crews and racing in equipment prepared by Cup teams. Cup drivers won 33 of 35 events this season.
Brad Keselowski is the fifth consecutive full-time Cup competitor to win the Nationwide crown.
That won't happen next year, at least not someone racing full time in the 2011 Cup season.
But the champ could be a former Cup driver. Elliott Sadler will race a full Nationwide schedule for Kevin Harvick Inc., but he won't race full time in Cup.
NASCAR probably will have a rule that drivers can compete for only one championship among the top three series. Drivers will need to declare which title they want to race for before the season begins.
At least two Cup drivers don't like it -- Carl Edwards and Keselowski -- because of their own selfish interests. Both drivers plan to run the entire Nationwide schedule again in 2011.
Edwards and team owner Jack Roush still are looking for additional sponsors, which is more difficult to obtain if he can't run for the title. That also could have a bearing on Keselowski's sponsorship deal with Discount Tire.
Too bad. What's best for Edwards and Keselowski in this case is not what's best for the series. If this change costs a few Cup drivers and teams some money, so be it.
Edwards' and Keselowski's decision to race every Nationwide event next season appears deliberately defiant, as if to say, "We can be the real champion no matter what the rules are."
It's wrong and shouldn't be allowed, but NASCAR has no intention of limiting the number of events a driver can race.
But a Cup regular won't win the title and neither will his sponsor. You want to win the championship? Sponsor a Nationwide-only driver. You'll be glad you did.
Team owners need to get used to telling sponsors, "We would love to have you on our Nationwide car, but you can't have a Cup driver running for the championship."
Some sponsors may walk away. Many won't.
However, sponsors can get an up-and-comer who is making a name for himself at the Triple-A level.
If fewer Cup drivers compete in Nationwide events, more Nationwide-only drivers will win races. The more they run up front and win races, the bigger names they become and the more popular they become with fans.
Drivers like Justin Allgaier, Trevor Bayne and others would become fan favorites.
That's what the Nationwide Series needs instead of Cup stars stealing all the glory.