JJ was great, but Brees deserves AP honor
December, 17, 2010
12/17/10
5:32
PM ET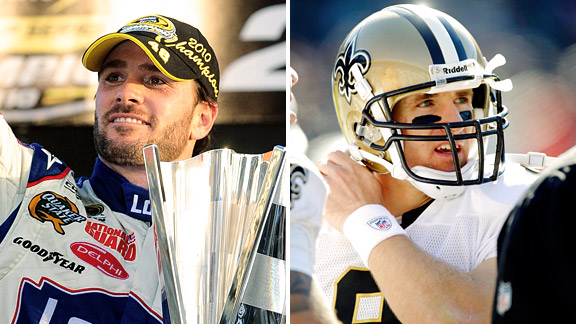 US PresswireJimmie Johnson and Drew Brees were both big winners in 2010, but only one of them could be the Male Athlete of the Year
Jimmie Johnson is No. 2.
Man, I haven't said that in a long time. In this particular case, it's accurate. Johnson finished second in voting for the Male Athlete of the Year by the Associated Press.
New Orleans Saints quarterback Drew Brees, who led his team to a Super Bowl victory, was a clear winner.
And as much as it will irritate some NASCAR fans to hear it, the voters got it right.
Many NASCAR followers, even some who aren't Johnson fans, won't like it. They will insist Johnson deserved to win it two years in a row after earning his fifth consecutive Cup championship in 2010.
The truth is Johnson was lucky to win it once, not that he doesn't deserve it. But no other race car driver had won the award, which started in 1931, until Johnson claimed it last year.
That leaves out some pretty darn good racers, folks such as A.J. Foyt, Richard Petty, Dale Earnhardt and Mario Andretti. None of them was recognized for this award by the news organizations that make up AP's membership.
That tells you how difficult it is for a racer to win it over athletes in other sports, so Johnson and the NASCAR Nation should be thankful he won it in 2009. It was 0-for-78 for motorsports before Johnson's victory last year.
Major League Baseball players have dominated the award, winning it 25 times. The last MLB player to win it was Barry Bonds in 2001. Obviously, that tainted victory doomed baseball for the rest of the decade.
Of the 176 ballots this year, Brees received 48 votes to Johnson's 31. Boxer Manny Pacquiao was third with 21 votes, Phillies pitcher Roy Halladay got 17 votes and Eagles quarterback Michael Vick (the big surprise of the top 5) received 10 votes.
Some will say the 2010 vote doesn't make sense. If Johnson was good enough to win as a four-time Cup champ, why isn't he good enough as Mr. Five-Time?
It depends on the competition. Brees took a team that never had played in the Super Bowl, a team that didn't have a stadium to play in a few years ago, and beat the powerful Indianapolis Colts.
That's only part of the reason Brees won. He helped bring a city back from the Katrina disaster, spending countless hours out in the community helping others. His foundation raised more than $6 million that helped rebuild the city.
Yes, Johnson also has a worthy foundation, which has given over $3.5 million to charity in Johnson's five championship seasons. He deserves tremendous praise for what he has accomplished on and off the track, but Brees was the right choice this time.
If JJ becomes "Six-Time" next year, the 2011 vote might turn out differently and a racecar driver might beat the odds again.