Nationwide Series shake-up long overdue
January, 11, 2011
01/11/11
12:52
PM ET
Carl Edwards will not win the Nationwide Series championship this year. Defending champ Brad Keselowski won't either, nor will any other Sprint Cup driver unless he wants to give up his chance at the Cup title.
NASCAR reportedly has taken a big step in the right direction by telling drivers they can race for only one series championship. Each driver must indicate in which series he plans to race for the title before the season starts.
[+] Enlarge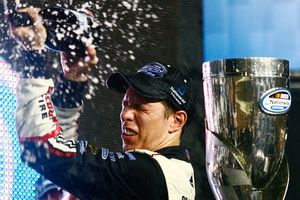 Jason Smith/NASCAR/Getty ImagesBrad Keselowski won the 2010 Nationwide Series championship, but a reported rule change would prevent him from repeating in 2011.
Consequently, it appears the days of full-time Cup drivers winning the Nationwide crown are over. A Cup regular has won the Nationwide title the past five seasons, something that never happened before 2006.
The new rule would give Nationwide-only drivers a chance to gain more recognition and attention. It also would discourage Cup stars from racing in all the Nationwide events, although Edwards and Keselowski both still plan to do so this year.
That could create some problems. With no limit on the number of Nationwide events in which Cup drivers can compete, Cup drivers still will win most of the Nationwide events.
They won't earn any points and can't win the title, but it's possible the series could have a winless champion in 2011 while a Cup driver like Kyle Busch could win 10 races or more.
In the long run, Cup drivers may compete in fewer Nationwide events because sponsors won't have as much incentive to back them. If a sponsor knows going in that Edwards can't win the title, the sponsor might back off.
If that's the case, so be it. It's a temporary financial loss for the betterment of the series. Sponsors will start backing the Nationwide-only drivers when they become better known as championship contenders.
People often say the Nationwide Series needs the Cup stars to help put fans in the stands. Fans want to see the drivers they know.
It's flawed logic. If drivers like Justin Allgaier, Steve Wallace and Trevor Bayne were winning races and competing for the title, they would become better known and build a bigger following.
That hasn't happened in recent years because Cup stars have dominated the series, making it little more than a Cup practice session. This also has hindered the development of young drivers, whose seat time is limited because Cup regulars are in many of the Nationwide cars.
The reported rule change would give the Nationwide Series a chance to move back to what it was meant to be, a Triple-A feeder league where up-and-coming drivers make a name for themselves.
It also was a league where teams that didn't have the money to race at the Cup level could race competitively in Nationwide, formerly known as the Busch Series.
The increased involvement by Cup teams in the series has made it more difficult for underfunded teams to compete, but the new ruling will force Cup team owners to use more Nationwide-only drivers in the series.
Bobby Labonte, Dale Earnhardt Jr., Matt Kenseth, Brian Vickers and Greg Biffle all are examples of drivers who won Nationwide titles before they became full-time Cup drivers.
Cup regulars were competing in the Nationwide series those years, but they weren't running the full Nationwide schedule.
Hopefully, any rule change will lead to better opportunities for young drivers and discourage Cup stars from racing full-time in a league where they don't belong.