PGA payout better than NASCAR's
April, 1, 2011
04/01/11
9:58
AM ET
Winning a PGA tournament means a lot more than winning a Sprint Cup race -- monetarily speaking, that is. But it's sure worth a lot more to be bad in Cup than it is in golf.
Allow me to explain. Let's compare the purse from last weekend's Auto Club 400 at Fontana to the purse from the Arnold Palmer Invitational last weekend in Orlando.
The total amount paid is similar -- $5.7 million at Fontana to $6 million at the PGA event. But the way the money is distributed among the competitors is drastically different.
Success brings a much bigger reward for a professional golfer. Martin Laird, who won at Orlando, earned $1.08 million. Kevin Harvick, who won the race at Fontana, received only $331,961.
Laird earned 18 percent of the total purse. Harvick received only 5.8 percent of the purse.
The top 11 finishers in the PGA event earned 52.6 percent of the purse compared to 33.6 percent of the purse for the top 11 finishers at Fontana.
The golfers who tied for 11th at Orlando received $162,000. Greg Biffle, who finished 11th at Fontana, received $108,675. That's not a huge difference, so it proves the winner in Cup is the guy not getting his fair share compared to golf.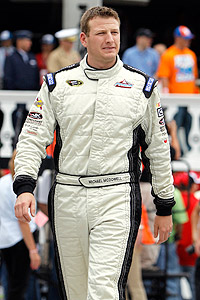 AP Photo/Matt Slocum)Michael McDowell took home a pretty good payday for finishing last at Fontana.
The second-place finisher in a PGA tourney also takes home a much larger check. Orlando runner-up Steve Marino earned $648,000. Jimmie Johnson claimed $240,786 for finishing second to Harvick.
However, a bad day in Cup is a money train compared to a bad tournament for a golfer.
Michael McDowell, who raced all of 32 laps of the 200-lap race at Fontana before calling it a day and finishing 43rd, got a check for $75,769. The guys who tied for 43rd in Palmer's tourney received only $23,400.
A 43rd-place finish in the PGA event was worth less than half of 1 percent of the total purse. But finishing 43rd in Fontana was worth triple the amount of money by comparison.
And one other thing: The golfers who placed 43rd at Orlando had to finish the entire event.
This better explains why NASCAR has start-and-park competitors. Too much money is paid at the bottom of the field and not enough at the top.
The PGA tournament paid 72 golfers out of its $6 million purse, but the bottom half of the field received only $234,000, about 4 percent. The bottom 21 spots of the Cup race at Fontana received about $1.8 million or 31 percent of the purse.
And I won't even try to explain the fact Denny Hamlin, who finished 39th, earned $123,880, while Dale Earnhardt Jr., who finished 12th, received $101,325. It's about contingency awards and bonuses, but that doesn't happen in golf. The person who finishes ahead of you will earn more money, as it should be.
In the Palmer event, the winner received 46 times as much money as the golfers who tied for 43rd.
Going by points, Harvick's advantage over McDowell was almost the same. Harvick received 47 times as many points as McDowell (47 points to 1 point), but only 4.4 times as much money.
Shouldn't the purse distribution be more in line with the championship points earned?
One thing drivers often say is that giving more points or paying more money to the winner won't make them race any harder. Everyone is racing as hard as he can (except start-and-parkers, of course) to try to win.
Isn't the same thing true in the PGA? Every golfer is trying his best to win, but the person who does win earns a much larger reward.
Granted, it costs more for a race team to show up and compete (we'll use that term loosely for start-and-parkers) than it does a pro golfer to compete in a PGA event.
But NASCAR still should give a bigger financial reward to the driver and team that wins the race, and far less of a financial incentive for the team that finishes last.