This is a hard Indy 500 to handicap
May, 19, 2011
05/19/11
6:05
PM ET
The 100th-anniversary Indianapolis 500 will have an unusual quirk that hasn't happened in more than a quarter of a century.
This year's Indy 500 will be the first oval-track race of the season, the first time that has occurred since 1985.
It adds a little mystery to this year's event since all four previous races this season were run on road or street courses, a much different discipline than oval-track racing.
Drivers who haven't looked good on the road/street venues (Danica Patrick, for example) might run well at Indy. Patrick is 15th in the standings with an average finish of 14.7. But she has five top-10s at Indy with an average finish of 8.5.
On the flip side -- drivers who have excelled on the road courses this year (Oriol Servia, who ranks third in the standings) might struggle on the 2.5-mile rectangle at the Brickyard.
Servia has finished ninth or better in his four starts this season, but he doesn't have a top-10 in his two Indy 500 starts. Nevertheless, Servia is confident heading into Pole Day on Saturday.
"The good thing about Indy is we test here for so many days that you can take your time to get used to the particulars of the track without rushing things," Servia said. "And I'm entering the race this time with a team [Newman/Haas Racing] that has a lot of experience at this track, but has not gotten the biggest prize yet.
[+] Enlarge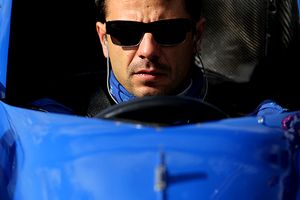 Nick Laham/Getty ImagesOriol Servia says he likes his chances with his new team.
"The other years here, we knew going in that we were at a clear disadvantage to our competitors. This time it's not that way. We know we have a real shot at winning this thing."
But you can't take the 2011 results and transfer them to what might happen at Indy, and this year, you don't even have another oval race to use as a comparison.
Even so, other ovals aren't a good comparison to the Brickyard, one of the most unique layouts in racing. It has four 90-degree turns, which are relatively flat, and two long, narrow straightaways.
Whether it's an oval or road course, races before the Indy 500 in any given season aren't a good predictor of who might win on Memorial Day weekend.
From 1981 through 1993, the winner at Indy was going to Victory Lane for the first time that season. Since 1994, only six of 17 Indy 500 winners had a victory in an earlier event that year.
It has happened four times in the past 10 Indy 500s -- Helio Castroneves in 2001 and 2002, Dan Wheldon in 2005 and Scott Dixon in 2008.
Of the three winners so far this season -- Dario Franchitti, Will Power and Mike Conway -- Franchitti is the only Indy 500 winner.
Power and Conway still have a lot to prove on ovals. Power, the runner-up to Franchitti for the championship last year, has 11 career victories, but his only oval win came at Las Vegas in a CART event in 2007.
Conway's best oval finish was eighth at Iowa in 2009. But he missed most of last season after crashing near the end of the Indy 500, suffering fractures in his back and left leg.
The good news for Conway now is he's driving for Andretti Autosport, a team that has won two Indy 500s in the past six years.
That gives him a fighting chance against Team Penske and Chip Ganassi Racing, the dominant teams that have won eight of the past 11 Indy 500s.
If you are looking for a trend to pick a winner, that's the one. Penske has three-time Indy 500 winner Castroneves; Ganassi has previous winners Franchitti and Dixon.
The past four Indy 500s were won by those three drivers -- Castroneves in 2009, Dixon in 2008 and Franchitti (with Andretti in 2007 and Ganassi last year).
But trying to pick a winner off the 2011 results probably isn't the best way to go about it.