Danica Patrick has her 'wow' moment
July, 2, 2011
07/02/11
8:05
PM ET
DAYTONA BEACH, Fla. -- If you had any doubts about Danica Patrick coming to NASCAR full time next year, put them out of your mind.
Regardless of what she says publicly, she's coming. Considering what she did Friday night at Daytona, her management team should go ahead and make the announcement now while the engine is hot.
Patrick was four laps away from officially becoming NASCAR's first female superstar, although some would say she already is. But she came darn close to winning the Nationwide race, which would have made her the first woman to win a major NASCAR event.
She couldn't have picked a better time to have her best showing. Yes, she has posted a better finish (she was 10th Friday after a last-lap crash and fourth earlier this year at Las Vegas), but this one was her "wow" moment for everyone watching.
Patrick led 13 laps Friday in a thrilling show of tandem racing at its best, and she got out front without using fuel strategy or pit strategy or any other excuse you want to bring up.
She did it the same way everyone else did it, mastering the pairs-racing skills necessary to take the lead. Patrick caught a break early in the race when Tony Stewart was in position to push her in the two-by-two show.
[+] Enlarge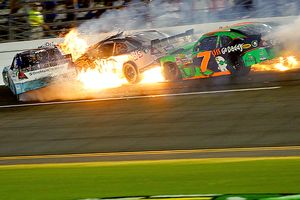 Geoff Burke/Getty Images Danica Patrick finished 10th in Friday's Nationwide race after getting caught up in a last-lap crash.
Coincidence? Maybe not.
Stewart may have wanted to give a little training session to the woman who could become a driver for his Sprint Cup team in the future. Stewart has said he would love to have her at Stewart-Haas Racing.
Although she continues to say she hasn't made a decision, Patrick is expected to move to NASCAR full time next season in the Nationwide Series before going full time to Cup in 2013. And SHR appears to be a good fit.
On Friday night, Patrick learned quickly the things she needed to do as the driver being pushed. She got to the lead with Stewart on Lap 24 of the 100-lap event and led five times for a total of 13 laps.
Patrick led more laps Friday night than her previous 18 Nationwide starts combined, which was five laps.
After she and Stewart got separated later in the race, Patrick proved she could get to the front without Stewart's help. JR Motorsports teammate Aric Almirola pushed her to the lead with 42 laps to go.
But the moment that got the crowd on its feet came with less than five laps to go when Almirola pushed her to the lead coming out of Turn 2 and heading down the backstretch.
"Let's go ... fast here," Patrick told Almirola on the radio. "We just need to catch this group and go by them. We're doing the right thing here. You just follow my ass, OK?"
Spoken like a true NASCAR driver. Maybe the only mistake was they made their move too soon. Stewart pushed Sadler back by her one lap later. Joey Logano would win it in wild finish.
Patrick tried to make another move forward on the outside but brushed the wall when things got three-wide. She was moving up again before a last-lap pileup, as is becoming the norm in the restrictor-plate races.
As Mike Wallace slid up the track heading for the finish line, Patrick was outside and lost her connection to Almirola. He tapped her left rear quarter panel, causing Patrick's car to turn down the track, and the wrecking was on.
Nothing new there for a plate-track finish, but it didn't take away from an impressive performance by Patrick.
"I kept it straight and kept my foot in it," Patrick said about the wreck. "We were going for broke."
Patrick loves this stuff and she's getting better at it. So what's the holdup on announcing the move?
The only possible hiccup was the changing situation at GoDaddy.com, Patrick's primary sponsor in racing. GoDaddy was sold Friday to the KKR investment firm for $2.25 billion.
Elizabeth Driscoll, vice president of public relations for GoDaddy.com, said Saturday that the sale will not change the company's commitment to Patrick's racing career.
Patrick is GoDaddy's signature spokesperson and big part of the company's success. Regardless of who owns it, continuing that relationship seems the logical decision.
Friday night's effort didn't hurt. Patrick was a few laps away from having the same number of wins in NASCAR, after only 19 races, as she has in seven seasons of the Indy-car racing.
So what does that tell you?
See ya, IndyCar Series. Time to move on to a bigger pot of gold.
So go ahead and tell us, Danica. The time is right.