Denny Hamlin's engine swap a bold move
August, 20, 2011
08/20/11
12:24
PM ET
BROOKLYN, Mich. -- Denny Hamlin and the No. 11 Toyota team had a choice to make.
Take a bold move and change engine programs four races before the Chase, or stick with the in-house engine shop at Joe Gibbs Racing and hope for the best.
Hamlin and crew chief Mike Ford opted for the change, believing it was the safer choice of the two. Hamlin is using a Toyota Racing Development engine this weekend instead of a JGR motor.
[+] Enlarge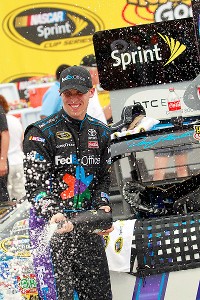 Tom Pennington/Getty ImagesDenny Hamlin, who won the June race at Michigan with a Joe Gibbs Racing motor, said changing engine programs four races before the Chase "was the right thing to do."
Hamlin is on the Chase bubble as a wild-card qualifier, 12th in the standings with one win. He needs another victory to solidify his spot, but more importantly, he needs to finish the next four races.
Engine failures have plagued the JGR program this season. It's a risk Hamlin can't afford to take.
"We felt like [TRD] has worked out a lot of reliability issues," Hamlin said Friday. "If we were going to make the Chase, we could not afford DNFs [did not finish] because of engine failures.
"And on top of that, we couldn't afford to keep starting in the back every week because of engine failures. We started in the back, I think, four times because of blown engines. That's just too hard to overcome, especially with as hard as it is today to win a race."
Michigan is the only place where Hamlin has won this season, a surprise for a driver who won eight times in 2010. So switching engine programs this weekend was a big step for a team in the Chase danger zone.
"But you have to look at how we got there," crew chief Mike Ford said Friday. "There's a reason we're on the bubble."
Ford is talking about the engine failures that have hurt Hamlin this season. Gibbs and TRD are merging engine programs in 2012, so this is a first step in the new partnership.
JGR teammate Kyle Busch, who leads the points standings and has three victories, questioned the No. 11 team's move Friday.
"Why those guys decided to change, I don't know," Busch said. "Whether it relates to any hard feelings back at JGR, I'm not sure. For us in the 18 team, we're staying committed to our guys and our engine department this year."
Hamlin outqualified his two teammates with JGR engines. Hamlin starts fourth Sunday, Busch starts 17th and Joey Logano starts 23rd. But Busch was the best JGR car in the final practice Saturday. He had the second-quickest lap of the session. Hamlin was 11th and Logano was 23rd.
Hamlin said the move to TRD motors was no easy task. The engines don't mount in the cars the same way as the JGR motors.
"There was a lot of work that had to be done to get this engine imported into our car," Hamlin said. "You have to understand, this is a big favor to ask a manufacturer to provide engines for us for the rest of the year. It's a lot of manpower and a lot of extra work for everyone."
Ford said the TRD engines are better on fuel mileage, and this is a track where fuel strategy often wins the race. But TRD engines are winless this season. The Gibbs engines have four victories in 2011.
A victory could secure Hamlin's place in the Chase, but a blown engine could end his chances. Whatever happens, Hamlin said he won't second-guess the decision.
"I was behind it 100 percent," he said. "I felt like it was the right thing to do."