Burton tops list of biggest 2011 losers
August, 30, 2011
08/30/11
2:57
PM ET
Brad Keselowski is a plus-14. Jeff Burton is a minus-17.
That's where both drivers stand, opposite ends of the spectrum from each other and drastically different from how they ranked one year ago.
With two-thirds of the Sprint Cup season complete, two races before the Chase, it's a good place to compare how drivers have moved up or fallen back from this point in 2010.
It will surprise no one now that Keselowski is the biggest gainer since last year. It sure didn't look that way eight weeks into this season. Keselowski was 28th after a 36th-place finish at Richmond.
Can you guess who has made the second-biggest jump so far this season?
None other than Dale Earnhardt Jr. He was 18th at this point in 2010, nine spots below where he is now. But his finishes near the front haven't changed much. Earnhardt has three top-5s compared to two top-5s after Bristol last year. And he's still winless.
[+] Enlarge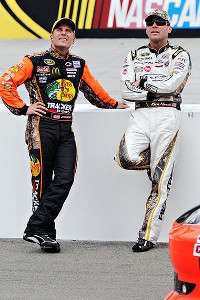 John Harrelson/Getty ImagesJamie McMurray, left, and Kevin Harvick are both behind last year's pace, but McMurray is way off, sitting in 26th in the standings right now after being 13th at this point in 2010.
"I would love to get [a win] out of the way," Earnhardt said at Bristol. "But we're just going to keep trying to do what we can do and control our race car and drive the best we can and see what happens."
No. 3 on the upward mobility chart also might surprise you. It's AJ Allmendinger, who has improved eight spots (22nd to 14th) from a year ago.
The change is attributable to fewer bad finishes instead of more good ones. Allmendinger has one top-5, the same as one year ago, and only one more top-10 (five compared to four).
Ryan Newman also is a plus-8, ranking seventh now compared to 15th after 24 races last season.
So Keselowski is the only driver to make a double-digit improvement over the last 12 months, but three drivers have suffered through double-digit drops this season.
Burton tops the depressing list with easily the most surprising fall off in Cup, going from seventh and a Chase lock last season to 24th and no hope of making the playoffs this year.
Burton has not ranked better than 20th at any point this season. But the No. 31 Chevy team has shown some improvement since Luke Lambert took over as crew chief.
"I have a completely different environment around me right now," Burton said last week.
Lambert is the youngest crew chief in Cup at 28. Maybe a little youthful enthusiasm is helping. Burton's ninth-place showing at Watkins Glen was his first top-10 of the season. His 15th-place finish at Bristol gave him back-to-back top-15s for the first time this year.
This isn't much consolation for Burton, but Richard Childress Racing doesn't have any improvement in its three drivers who raced at RCR in 2010. Kevin Harvick led the standings and now he's fifth, but he has the same number of wins with three. Bowyer is in the same spot as a year ago in 12th.
Jamie McMurray is another big-drop driver in 2011, going from 13th a year ago to 26th now. That means McMurray has no chance of benefiting from the so-called McMurray Rule, the change this year to make the final two Chase spots based on victories as long as the driver is in the top 20.
His two pre-Chase wins last year (in two of the biggest events at Daytona and Indy) would have gotten him in the playoff under the new rules. McMurray is winless this year, but also hasn't come close to racing as well overall as 2010, when he had seven top-5s after 24 races. Now he has two.
But both drivers are down at Earnhardt-Ganassi Racing. Juan Pablo Montoya is four spots worse than a year ago, 23rd now compared to 19th in 2010.
David Reutimann is the other double-digit downer this season. He was 17th a year ago with five top-5s. Now he's 28th with one top-5.