Odds favor Earnhardt, Stewart, Hamlin
September, 9, 2011
09/09/11
12:41
PM ET
RICHMOND, VA. -- Fourteen drivers enter the final Chase qualifying race Saturday night still uncertain about their playoff status.
Here's my take on the odds of whether they stay in or get in after the 400-lap show on the Richmond short track.
First, the three drivers inside the Chase cutoff who haven't clinched a spot:
[+] Enlarge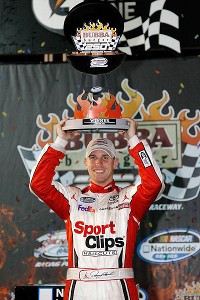 Todd Warshaw/Getty ImagesYou've got to like Denny Hamlin's chances Saturday night at Richmond, where he's won the past two September Cup series races and the April 2011 Nationwide race.
• Dale Earnhardt Jr. -- Odds he falls out: 30-1. Earnhardt is ninth in the standings, 25 points ahead of 11th-place Brad Keselowski (who has clinched a spot with three wins). Junior is in if he finishes 20th or better, even if Keselowski wins.
• Tony Stewart -- Odds he falls out: 25-1. Stewart is 10th, the final points-qualifying spot, 23 points ahead of Keselowski. He is in if he finishes 18th or better. He's done that in 12 of his past 13 Richmond starts.
• Denny Hamlin -- Odds he falls out: 15-1. He holds down the final wild-card spot with one victory and is 12th in the standings.
Wild-card ties are decided on points. AJ Allmendinger (13th) and Clint Bowyer (14th) are winless, but might pass Hamlin in the standings if they win. Allmendinger is 11 points behind Hamlin and Bowyer is 12 points back.
A win by Paul Menard would knock out Hamlin. Menard would have two victories. Marcos Ambrose and David Ragan can get a second victory Saturday, but they also need to gain enough points to move into the top 20. Only drivers ranked in the top 20 are eligible for a wild-card spot.
Eleven drivers are outside the Chase but still have a chance to get in. All the winless drivers still eligible could get in by winning if Keselowski moves up to the top 10 without winning. Highly unlikely.
Here are the odds, otherwise:
• Paul Menard -- Odds he gets in: 15-1. The best shot of anyone, even though he's 20th in the standings. Win and he's in. Since he's one of 15 guys who have won this year, he has a shot, but not a good shot
• Clint Bowyer -- Odds he gets in: 20-1. Bowyer is one point below Allmendinger in the standings, but he won at Richmond in 2008. If he wins Saturday, he needs Hamlin to finish outside the top 10.
• Marcos Ambrose -- Odds he gets in: 25-1. A win probably would do it if he makes up the seven points on Menard he needs to get in the top 20. But Ambrose never has won on an oval track.
• AJ Allmendinger -- Odds he gets in: 30-1. AJ. Needs to win, something he has yet to do in Cup. But one of the themes this season has been first-time winners. Maybe AJ will be the next one at the best possible time.
• Greg Biffle -- Odds he gets in: 50-1. Biffle is 15th and winless, so he needs to win the race and hope Hamlin has a terrible night. Biffle is 28 points behind Hamlin and each position in a race is worth one point.
• David Ragan -- Odds he gets in: 50-1. A victory would give Ragan his second win, but he also has to make up 20 points on Menard to get back in the top 20.
• Martin Truex Jr. -- Odds he gets in: 60-1. Pretty much the same scenario as Biffle, except Truex (16th) is five points behind Biffle.
• Kasey Kahne -- Odds he gets in: 100-1. Kahne (17th) is winless and 42 points behind Hamlin. A driver can make up a maximum of 47 points in one race. You get the picture.
• Joey Logano -- Odds he gets in: 200-1. Logano (18th) has to win, lead the most laps and have Hamlin finish last.
• Mark Martin -- Odds to get in: 1,000-1. Talk about a long shot. Martin (19th) has one chance: Win and have Keselowski move into the top 10 without winning. Good luck with that.
• Juan Pablo Montoya -- Odds he gets in: 1,010-1. The same boat as Martin, but JPM also has to make up seven points to get back in the top 20.