Tony Stewart aims to rewrite Chase history
September, 27, 2011
09/27/11
9:43
AM ET
Greg Biffle was winless entering the 2008 Chase, but he made the playoff in the ninth position.
Tony Stewart was winless entering the 2011 Chase, but he made the playoff in the ninth position.
Biffle won the first two races of the 2008 Chase. Stewart has won the first two races of the 2011 Chase.
Sound familiar?
But here's the part that Stewart doesn't want to repeat: Biffle didn't win in the final eight races of 2008 and finished third in the championship.
Biffle's average finish in the last eight events was 11.25. Not bad, but not near enough to catch Jimmie Johnson. Biffle finished 217 points back in the old points system.
[+] Enlarge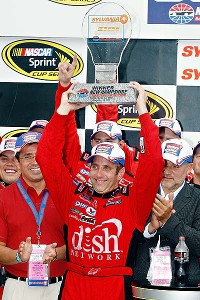 Jason Smith/Getty ImagesGreg Biffle won the first two races of the 2008 Chase but ended up third in the final Cup standings.
Stewart could fare better for several reasons. Biffle has yet to win a Cup title. Stewart has won two, including one in the Chase in 2005.
Stewart leads the standings after his two victories. Biffle never led the 2008 standings. Even after his two victories, he was 10 points behind leader Carl Edwards with eight races to go. Johnson was tied with Biffle after two Chase races.
Stewart's first victory this year came on a 1.5-mile oval at Chicagoland Speedway. Four more intermediate ovals are left in the Chase. Kansas Speedway, where the Cup teams race Oct. 9, is a limited-banked oval almost identical to Chicagoland.
Biffle's second win in 2008 came at Dover, a high-banked, 1-mile oval that isn't like any other track in the Chase. Of the final eight tracks in 2008, Biffle had won previously at four of them, including three wins at Homestead-Miami Speedway.
Stewart has won at all eight remaining tracks for a total of 12 victories, including two each at Dover, Kansas, Martinsville and Homestead.
Stewart and the No. 14 Chevy team also have done their homework this year and learned how to win fuel-mileage races, something that wasn't as necessary in 2008 for Biffle as it is in 2011 for Stewart. It will happen again.
Stewart had fuel left in the tank two weeks in a row when others near the front ran dry. Clint Bowyer was leading Sunday at New Hampshire when his engine sputtered and Stewart zoomed by him, the complete opposite of what happened between those two drivers one year ago.
"We actually were two laps to the good at the end this time," said Darian Grubb, Stewart's crew chief, after the race. "I pushed the window from the run before longer than most people and pitted two laps later than the 33 [Bowyer] to make sure I had a little bit of a cushion. And Tony did a great job saving when he needed to."
Stewart has momentum on his side, but so did Biffle, and it wasn't enough.
"That race car doesn't know anything about momentum," Stewart said Sunday. "It knows what you put in it. It knows how we drive it. It doesn't know stats. It doesn't know anything other than just what's put in it.
"Momentum deals with people. It's not just these first two races of the Chase. It was the two weeks leading before it, too. We haven't finished outside the top seven now in the last four weeks. That's huge for us. It's huge for our guys."
Stewart had 11 top-10s entering the 2011 Chase, same as Biffle in 2008. But Biffle had eight top-5s compared to three for Stewart in the regular season.
"Up to the Chase, we couldn't do anything right," Stewart said Sunday. "We couldn't get it clicking. We couldn't get through all the bad luck. It seemed like every week something would happen and we'd have to try to dig ourselves out of a hole the rest of the day. I'm hoping and praying that we're through that bad string now, and things are going to click the next eight weeks."
It appears Stewart is in a better position to capitalize on his early Chase success than Biffle was three years ago. However, Stewart might need another break down the stretch.
Here's the key question: Can a driver who is leasing engines from another organization beat that organization if it still has its own driver (or drivers) in contention for the title at the end?
Stewart-Haas Racing leases engines for Hendrick Motorsports. Everyone involved will tell you there is absolutely no difference in motors between the ones Johnson, Jeff Gordon and Dale Earnhardt Jr. are using in the Chase and the ones Stewart and SHR teammate Ryan Newman are using in the playoff races.
Maybe so, but it will be interesting to watch if Stewart and one or more of the Hendrick drivers are fighting for the championship in November.