Making the Chase should be easier in 2012
January, 10, 2012
01/10/12
11:52
AM ET
Making the Chase in the upcoming Sprint Cup season will be a little easier than it was last year. The reason is simple -- less competition.
As it stands now, a full-time driver on a competitive Cup team has a better than 50-50 shot of making the 2012 Chase. I count 23 cars/drivers that have a realistic shot of making the playoff.
And that's stretching it, but here's where the 23 come from -- four at Hendrick Motorsports, three each at Roush Fenway Racing, Joe Gibbs Racing and Richard Childress Racing, and two each at Stewart Haas Racing, Penske Racing, Michael Waltrip Racing, Earnhardt Ganassi Racing and Richard Petty Motorsports.
[+] Enlarge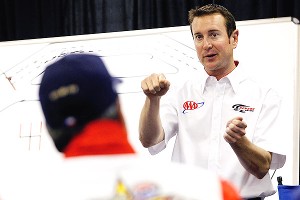 Tom Pennington/Getty ImagesSure, Kurt Busch has the talent to make the Chase, but he probably doesn't have the equipment.
That doesn't count every full-time driver. For example, it doesn't count Bobby Labonte, Regan Smith or even Kurt Busch. Count them if you wish, but I don't see them in equipment capable of making the Chase.
The reduction in quality teams means a driver's chances of making the playoff are better than ever.
Teams and sponsors come and go in NASCAR. It always has been that way. It's the nature of the business.
However, this is a little different. NASCAR probably has weathered the worst of the economic downturn, but all indications are tough times continue for the sport.
Red Bull and its two cars are gone. So is one car from RCR and one from Roush as far as full-time competition in Cup.
These cars weren't start-and-parks. All four cars/teams were serious competitors. Three of the four won a race in 2011. All four ranked in the top 25.
So for those remaining, "Gentlemen, start your engines." Your chances of making the 2012 Chase look pretty good.
---
The sponsor woes also trickle down to the lower series. Rusty Wallace having to shut down his two-car operation was a major blow to the Nationwide Series.
[+] Enlarge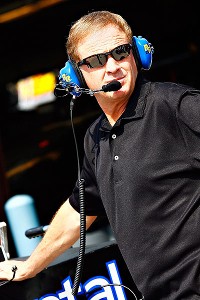 Jason Smith/Getty ImagesRusty Wallace didn't put Sprint Cup regulars in his Nationwide Series cars, he tried to develop drivers, including his son Steve. With the shuttering of the team, the Nationwide Series took another blow.
It isn't because Wallace -- an analyst with ESPN -- is a huge name or that he had a great team. It's because Wallace tried to do things the right way with Nationwide regulars instead of Cup stars.
Teams affiliated with Cup operations dominate the series, and that is why losing Wallace's team is so disappointing.
One team that is doing it right is JR Motorsports. Dale Earnhardt Jr. hired 20-year-old Cole Whitt to replace Aric Almirola in the No. 88 Chevy. Whitt had a future at Red Bull while racing in the Camping World Truck Series last year, but Red Bull's demise left him wondering about his future.
It's good to see Earnhardt give him a shot. This is what should happen in the Nationwide Series but rarely does these days.
Granted, it's easier to get sponsors when the team owner's name is Earnhardt. It's also easy to sign a Nationwide regular when her name is Danica Patrick, the other driver for JR Motorsports in 2012.
Even with Cup affiliation at Roush Fenway Racing, defending Nationwide Series champ Ricky Stenhouse Jr. doesn't have sponsorship yet to run the full season.
Stenhouse will run the Daytona 500 in the No. 6 Ford for Roush. The car doesn't have sponsorship, either, but it will get it. Plenty of companies are willing to put their name on the hood in a one-race deal for the biggest event of the year.
---
Good teams get better by hiring good people. Rick Hendrick wasn't able to persuade Darian Grubb to return to Hendrick Motorsports, but Hendrick has added three men who will improve the organization's enormous depth.
Jay Frye, who was the general manager at Red Bull and did all he could to try to find a buyer for the organization, returns to Hendrick this season. Frye is well respected in the industry and will work as a consultant for Hendrick, the man Frye calls his mentor.
Hendrick also has added Larry Carter from Rusty Wallace's team. Carter, a former crew chief for Wallace and others, worked as the GM for Wallace's Nationwide team. He brings a wealth of experience to Hendrick.
It also helps to have Kenny Francis on board as Kasey Kahne's crew chief. Francis is a rarity because he has worked as a crew chief for all four auto manufacturers in the sport.
With technology being of ever-increasing importance in NASCAR, more brainpower leads to more success.