Fuel injection not ending fuel-mileage races
March, 6, 2012
03/06/12
3:38
PM ET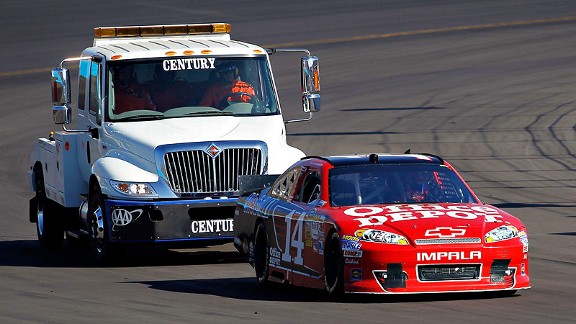 Todd Warshaw/Getty ImagesTony Stewart needed a little help to make it to his pit after his car wouldn't restart on Sunday.
Carburetors, electronic fuel injection, whatever, fuel-mileage races are here to stay.
Sunday's Sprint Cup race at Phoenix came down to which team could milk its fuel cell, and the new EFI system, to the checkered flag.
Denny Hamlin made it and won. Kevin Harvick didn't make it and lost. And Greg Biffle could have made it a little farther than he thought.
Biffle finished third, but was a little ticked that he didn't catch Harvick for second as Harvick coasted across the finish line.
"With about 20 laps to go, [crew chief Matt Puccia] panicked, to say the least," Biffle said Sunday after the race. "He kept telling me, 'Slow down. Slow down.' Then with four laps to go, he sounded desperate. So I backed off a little more.
"Then the 29 [Harvick] runs out. So my guys are yelling, 'Try to pass him!' I'm like, 'Well, a little late now guys. You should have told me that a lap ago.' I missed catching [Harvick] by about 100 feet. And I made it around the cool down lap with no flicker of fuel pressure, so I know I had at least one more lap."
Don't get the wrong idea. Biffle wasn't mad at Puccia. He loves the guy. But everyone is learning what they can and can't do with EFI.
Tony Stewart learned you can't just turn the engine off under caution (a longtime fuel-saving technique) because the motor might not re-fire. His didn't.
Harvick learned you can seemingly run dry, as he did with half a lap to go, and the engine will still run a little longer.
"You really have a little bit more of a cushion," Harvick said. "It knocks the engine down to minimum RPMs like it's on a rev limiter, but it will keep running."
EFI fuel limitations are a learning process for everyone, but just as it was with carburetors, it's still an inexact science. Hopefully, it always will be.
Not knowing the exact moment the engine will conk out is a good thing. It adds drama at the end of races.
For the moment, it's even more drama than it was with the carburetors because the teams don't know for sure how the engine will react using EFI.
Darian Grubb, the crew chief who figured it out right Sunday for Hamlin, knows he easily would have been on the opposite end of things.
"I'm going to knock on wood somewhere," Grubb said. "I feel like we have a good understanding of [EFI] but it's still a new system. You're always going to have that doubt in the back of your mind."
Not fun for the guy on the pit box, but pretty intense for everyone watching, no matter how the gas gets fed to the engine.