Matt Hagan had a blast (sort of) at zMax
April, 19, 2012
04/19/12
4:54
PM ET
Matt Hagan's exploding Funny Car has gone viral. And Hagan is receiving far more attention for blowing up than he did for winning the NHRA championship last year.
The ESPN video of Hagan's incredible exploding car has been seen by 19 million people worldwide via television and the Internet, according to Don Schumacher Racing officials.
The car went kaboom during qualifying for the Four-Wide Nationals last weekend at zMax Dragway in Concord, N.C.
If you haven't seen it, take a look. It's a shocker as racing car explosions go, even topping Juan Pablo Montoya's jet dryer collision in the Daytona 500 earlier this year that caused a towering firebomb.
Hagan has made appearances this week on "Good Morning America" and the "Today Show." He had a TV interview with the BBC on Thursday morning. Hagan said he was told the video of his accident was the second-most viewed item on the BBC website behind the story about Dick Clark's death.
[+] Enlarge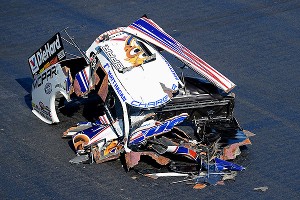 Mark J. Rebilas/US PresswireThis crumpled heap is what was left of the body of Matt Hagan's Funny Car after an explosion during qualifying at zMax Dragway on Friday the 13th.
"It has blown me away how much attention this has gotten," Hagan said Thursday from his cattle farm in Christiansburg, Va. "I even have a friend in Australia who called me and said, 'Hey, man, I saw you on the news here.'"
Hagan was about halfway down the track when the engine in his Dodge Charger exploded, virtually disintegrating the body of the car. The firebomb was caused by a $36 broken valve spring getting into one of the cylinders, which destroyed a $75,000 race car.
Along with the stunning explosion, Hagan's reaction as he exits the car has helped make the video such an Internet sensation.
Instead of being happy he was still alive and unhurt, Hagan was furious about the failure. As he climbs out of the cockpit, he grabs a metal plate (about the only piece of the car body left near him) and slams it down on the track.
"I react to things, so that explosion really pissed me off," Hagan said. "I put my emotions on my sleeves sometimes and they caught me doing it on that one.
"It's just been such a frustrating year for us. We're coming off the world championship, but we've struggled this year. I know our car is better than that."
So what was the metal piece he grabbed and abused?
"It was a carbon-fiber shield that protects our hands," Hagan said. "I was climbing out of the car and I saw it hanging there. I thought, 'Well, this is a hunk of junk,' so I grabbed it and spiked it."
Hagan has experienced three car explosions in the four-wide event (the only NHRA race in which four cars race at the same time instead of two) over the past three seasons.
The zMax Dragway officials now have renamed Lane 2 as Matt Hagan Way, but it isn't because of last week's explosion.
"I set the NHRA record [322.27 mph] in that lane last fall with the first 3-second pass in a Funny Car [3.995 seconds]," Hagan said. "So that lane is either going to win for me or kill me, I guess. Next time I go to the four-wide event, I'm gonna wear two firesuits."
Hagan, 29, can joke about it now, but he realizes professional drag racing is a dangerous business.
"That type of thing is [a] way of life out here," Hagan said. "Every run we make is death-defying stuff. It's 8,000 horsepower at more than 300 mph. You roll the dice every time because you are driving a time bomb."
Hagan failed to qualify for the zMax event, something that doesn't happen in NASCAR for its top drivers because they have a guaranteed spot in each race.
In the NHRA every driver shows up every week with no guarantees. Sometimes the top guys fail to make the show. But in this case, Hagan's sponsor received far more attention than it would have had he qualified and won the event.
"It's not what we want to do, obviously," Hagan said about blowing up and failing to qualify. "But this attention is good for our sport and my sponsor, Aaron's. But I don't want to do it again."