Dale Earnhardt Jr. a winless champion?
May, 3, 2012
05/03/12
10:15
AM ET
How would you feel about a winless champion in NASCAR? And what if that champion was Dale Earnhardt Jr.?
Even in an era with increased emphasis (still not enough) on winning, a driver could win the Sprint Cup championship without winning a race.
At the quarter pole of the 2012 season, winless Earnhardt is only five points behind Greg Biffle for the top spot in the standings.
[+] Enlarge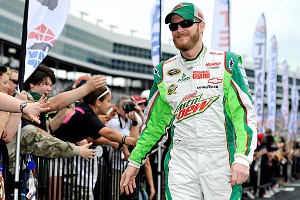 Jerome Miron/US PresswireWin or lose, Dale Earnhardt Jr. remains the most popular driver in NASCAR.
Earnhardt is one of five drivers in the top 10 who haven't won through the first nine races. The others are Martin Truex Jr., Jimmie Johnson, Kevin Harvick and Carl Edwards.
I'll take a wild guess and say that your feelings on a winless champ would vary greatly depending on who did it.
Junior? No problem. He is NASCAR's most popular driver, even though readers who comment on our stories love to rip him. But media attention would reach a Tim Tebow- or Jeremy Lin-type frenzy if Earnhardt was heading toward a championship down the playoff stretch, regardless of whether he won a race.
However, take almost anyone else and make that driver a winless champion, and many fans (along with many reporters) would scream for a new points system. Edwards was one point short of being a one-win champion last year.
A one-win champ was a factor in starting the Chase playoff system after Matt Kenseth won the last pre-Chase title with one victory in 2003.
Kurt Busch won the first Chase with only three victories for the season, but every champion since 2005 has won at least five races, including last year, when Tony Stewart became the first driver to win five Chase races.
The closest any driver has come to a winless championship in the Chase era was Harvick in 2008, when he was a distant fourth, 276 points behind champ Johnson.
But it's not impossible, even though winless drivers start the Chase below the drivers who have won races. Each victory is worth three points, so even if the man on top has five wins, a 15-point deficit isn't much to make up for the driver who starts the playoff without a win.
It's 15 spots in one race, not counting bonus points -- one for leading a lap, one for leading the most laps and three for winning.
So what are the odds of seeing a winless champ? Not good, but I would say the chances of it are better than two guys finishing the season tied for the top spot in the points, which we saw last year.
For those of you who predict Earnhardt never will win again, I disagree, but you could be right. He also could win the title while fulfilling your prediction.