IndyCar Series at Texas a good fit for all
August, 22, 2012
08/22/12
3:01
PM ET
After a lot of tough talking, posturing and threats of ending a great relationship, everyone involved did the right thing in the end.
Cooler and wiser heads prevailed, enabling the IndyCar Series to return to Texas Motor Speedway in 2013, which was announced Tuesday.
"Both sides realized it's best for all of us if IndyCar continues to race here," TMS president Eddie Gossage said. "I really love IndyCar racing and I'm glad we worked it out."
Gossage doesn't have a signed agreement with the league but has a verbal agreement with INDYCAR CEO Randy Bernard.
[+] Enlarge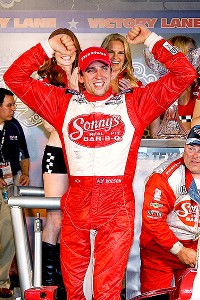 Chris Graythen/Getty ImagesSurprise winner Justin Wilson ended a 46-race winless streak June 9 at Texas Motor Speedway.
"That's not unusual," Gossage said of the contract situation. "One year we actually signed the agreement the day of the race. In this case, we just have a few minor items to complete, but we've agreed of the important points."
There still is a faction within the IndyCar Series that doesn't want to race on high-speed, high-banked ovals like Texas. The movement to eliminate these types of tracks started after Dan Wheldon's death at Las Vegas Motor Speedway in October 2011.
The track was blamed, wrongly in my opinion, instead of many other factors that led to that tragic day -- too many cars, too many inexperienced drivers, safety issues with an aging race car (which was replaced this year), etc.
But IndyCar needs tracks like Texas that produce exciting racing in major markets. It never made sense for a series based on the most famous high-speed oval in the world -- the Indianapolis Motor Speedway -- to contemplate eliminating other high-speed ovals.
There never has been a fatality in an IndyCar event at Texas Motor Speedway since the series started racing at there in 1997. But some drivers, including three-time Indy 500 winner Dario Franchitti, had concerns about tracks such as Texas that produce high speeds in tight packs of cars.
However, the new DW12 chassis has eliminated some of those problems. The race at TMS in June didn't have the tight packs, but still had good racing with lots of passing.
And the bodywork behind the rear wheel of the new car makes it difficult for a car to become airborne by running up on the car in front, which is what happened in Wheldon's accident.
The car changes and the successful 2012 race at TMS were enough to convince most of the drivers and team owners that IndyCar needed to continue racing at TMS, which for years has been the second-most successful event on its schedule to the Indy 500.
Some issues remain for both sides. Gossage doesn't like it that IndyCar will race a street event in Houston next year in October. He feels it encroaches on his fan base, even though Houston is 250 miles south of Fort Worth.
And many IndyCar drivers want to see changes in the catch-fencing at high-speed ovals, moving the support poles outside the fencing or going to a Plexiglas-type structure, similar to what is used in hockey arenas.
"There is no scientific research to prove any of these things is better than what we have now,'' Gossage said. "When there is we can talk about it."
Gossage said earlier this year that IndyCar would not return to TMS if the sanctioning fee went up and the negative talk about the facility continued by some people in the series. The talk stopped, at least publicly, and the fees were worked out.
"But that's not really why this got done," Gossage said. "What did it for me were all the calls I received from drivers and team owners in the series who told me they wanted to race here. They told me not to listen to the naysayers. Most people in IndyCar wanted to race at Texas."
So IndyCar will be back where it belongs next year at Texas Motor Speedway. And hopefully, that's true for many years to come.