Hamlin not backing down now
September, 21, 2012
09/21/12
2:41
PM ET
LOUDON, N.H. -- If Denny Hamlin's bold prediction to win Sunday comes true, he'll have to do it from the 32nd-starting spot.
Hamlin called his shot and stood by it (sort of) Friday, but qualifying poorly didn't help.
After running out of gas at Chicagoland Speedway and finishing 16th last weekend in the Chase opener, Hamlin made this post on Twitter: "This is 1 week of 10. We will win next week."
OK. Hamlin is a confident guy. And he's not afraid to be bold.
"I guess he enjoys pressure, because that certainly places a lot of pressure on you," said Chase driver Clint Bowyer. "Who knows? But I'm going to call his bluff."
[+] Enlarge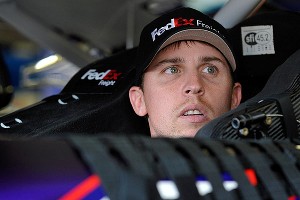 Rainier Ehrhardt/Getty ImagesDenny Hamlin isn't shying away from his prediction he will win Sunday at New Hampshire.
The other Chase drivers didn't seem to care much about Hamlin's prediction.
"Some people are like that and it works out really well for them," Matt Kenseth said Friday. "It builds confidence and all that. I've just never been like that. I like to try to do it first or else I just end up disappointed. I'm one of those guys that really doesn't like to make predictions, especially winning ones."
Five-time Sprint Cup champion Jimmie Johnson certainly has accomplished enough in his career to do a little boasting, so would he ever predict a victory?
"I don't know," he said Friday. "I haven't yet. In a team atmosphere and getting guys fired up, I'm not against it. You certainly put yourself out on a limb and draw attention to yourself if it doesn't happen. If you do it, you look like a superhero."
And if you don't? Hamlin doesn't really care. He didn't completely back down from the comment when asked about it Friday.
"I'm just confident we can win," Hamlin said before qualifying. "It's no different than the other Chase races. It's nothing more than that. I was just, 'Hey, we'll get 'em next week.' People were taking it a little further."
Earlier in the day, Hamlin told Speed TV: "If I don't believe I can come to a track and win, I'm not gonna go. But there are so many variables that go into winning -- parts and elements in this type racing that you can't control. All we can do is control our mistakes and improve."
A mistake on fuel mileage at the end of the race cost Hamlin a strong finish at Chicagoland.
"It was a simple mistake," Hamlin said. "I make mistakes all the time, but people don't see it. That one got magnified and cost us 11 or 12 spots."
Hamlin had the fastest lap in practice Friday, which is why his slow qualifying lap was so surprising. He doesn't think one boo-boo will keep him from winning the championship, and it certainly won't stop him from trying to win this race.
"I think we're peaking at the right time," Hamlin said. "I feel like we can win a lot of races. If we do or we don't, we'll do the best we can."