Keselowski not your typical quarterback
October, 21, 2012
10/21/12
1:50
PM ET
Brad Keselowski is 5-foot-10 and about 155 pounds, maybe, if he just ate a big cheeseburger and fries.
So take a wild guess which professional athlete he compares himself to when asked about his racing skills?
An NFL quarterback. That's right, men who typically outweigh him by more than 50 pounds and are at least 3 or 4 inches taller (excluding 5-11 Seattle rookie Russell Wilson) in most cases.
[+] Enlarge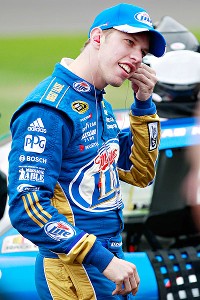 Geoff Burke/Getty ImagesChase leader Brad Keselowski sees similarities between driving a Sprint Cup car and playing quarterback in the NFL.
But Keselowski isn't talking about physical attributes. He's talking about the mental aspects it takes to get the job done for a QB or a NASCAR driver. In Keselowski's case, he means a quarterback who relies on his brains more than his brawn.
"Somebody asked me the closest equivalent to being a race car driver in another sport," Keselowski said. "It makes me think of being an NFL quarterback. There's a skill set of talents to throw the ball and do those things, but a lot of the game is mental and being able to read defenses and things of that nature.
"Some players don't do that very well, but they have so much raw talent they're able to make up for it. Maybe I'm short on raw talent, but I've always relied on being able to read the situation and react accordingly. That's always been when I've had the most success."
Keselowski's theory for racing is simple -- the more you know, the faster you go.
"I subscribe to the belief that knowledge is power," Keselowski said. "And the more knowledge you have, the more powerful you can be. The more knowledge I can have of the situation, the better read I have to call the right audible."
Just like an NFL quarterback. I don't know how many NFL quarterbacks ever carried a briefcase to the job, but Keselowski did.
"Yeah, I was 12 or 13, coming to tracks with my dad [Bob Keselowski]," he said. "Back in the late '90s, having a briefcase was like a fad. I don't know if anyone was here when that was going on or who was around, but everybody had a briefcase in the late '90s in this sport. I just wanted to fit in.
"So I had a briefcase. I remember it quite well. The only thing I really had in it that was racing related was a couple racing books on geometry and certain things about car handling that I would read at night."
And what else did he carry in his briefcase?
"I had stuff like a stick of gum and a CD player,'' he said. "But I felt really cool because I had a briefcase and I was fitting in. All changed to where everybody has got backpacks now, so that's the fad of the decade, I guess."
Keselowski, a Michigan native, is a big Michigan Wolverines football fan. Did he learn his quarterback comparison from watching those college games?
"Well, I don't know if you've watched the last couple seasons," Keselowski said laughing. "They haven't been that great."
Isn't current Michigan quarterback Denard Robinson pretty good?
"Well, he's a raw talent guy, so I respect that about him," Keselowski said in a bit of a backhanded compliment.
And where does Keselowski get most of his QB knowledge?
"I do play a lot of Madden football," he said. "I don't know if that counts for anything."