NHRA fans will miss Page, Frey
November, 10, 2012
11/10/12
4:09
PM ET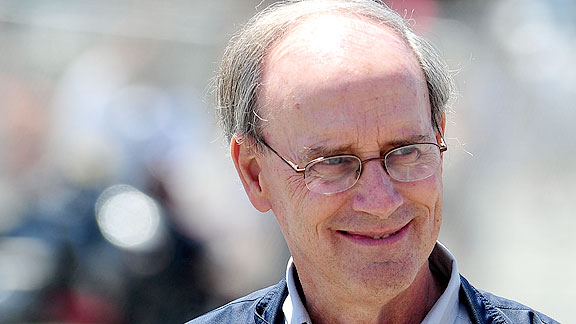 Mark J. Rebilas/US PresswireIf you came to an NHRA event with Bob Frey on the microphone, you knew all you needed to know before the day was done.
POMONA, Calif. -- If you have listened to or watched an auto racing event a time or two over the past 40 years, I can just about guarantee Paul Page has guided you, entertained you, informed you and enriched the moment more times than you realize.
If you have attended an NHRA event in this century, Bob Frey has done everything in his power to increase your enjoyment as you listened to him describe the action.
Page and Frey are working their final NHRA event this weekend. Whether you are sitting at home and watching on TV or sitting in the stands and watching these hot rods rumble, believe me, you are going to miss them.
Few broadcasters in history have done more in motorsports than Page. Calling people "a legend" is an overused term these days, but in this case, it fits.
I can't begin to list all his accomplishments here, but he has worked major racing events for NBC, ABC and ESPN in his distinguished career. His work on the Indianapolis 500 in 1988 and 1989 was a big part of ABC earning a Sports Emmy for Outstanding Live Sports Special.
"I've been very lucky," Page said Saturday. "The other day, I was actually trying to list all the motorsports I've done -- Formula One, Moto GP, Supercross, Motocross, snowmobiles, NASCAR, IndyCar and NHRA. That's a list."
Now at age 66, Page is moving on. He isn't sure how he will feel at the end of the Auto Club Finals on Sunday.
"I don't know," he said. "When it's done and I hear the words, 'That's a wrap,' it's going to be weird taking the headset off and putting it down. But there are other things down the road, like my movie debut."
"Turbo," a DreamWorks animated film about a snail who wants to race, opens next summer.
"I'm the booth announcer," Page said. "I might have a new future in movies.
"But seriously, I'm gonna miss this. The participants and the crowd are just so friendly. I was walking through the pits getting some notes Friday, and so many people came up and said hello and told me they were going to miss me. I think I teared up once or twice."
[+] Enlarge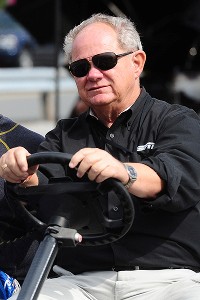 Mark J. Rebilas/US PresswirePaul Page has called nearly every form of racing for NBC, ABC and ESPN.
Why wouldn't he? Broadcasting motorsports has been his life for five decades. Fans should shed a few tears over Page and Frey ending their careers.
If you want to know exactly what Frey did for the NHRA over the years, here's your answer:
You might have attended a drag racing event with little or no knowledge of what was happening, but if you sat in the grandstands for one qualifying session of any NHRA race, you felt like you were an expert.
Frey did that for thousands of spectators over the years with his silky-smooth voice and casual style, announcing the event as if he was sitting on a couch in your living room and having some nachos.
He made enthusiastic fans out of many first-time observers, while spinning a tale that the biggest gearhead at the track could appreciate. That is Bob's gift.
"That's a real compliment," Frey said Saturday. "That's what I try to do. If I accomplished that, I reached my goal. I've always tried to entertain and inform. I'm not a gearhead. I never changed my oil or changed a spark plug.
"But I hope my legacy is fans came to an event and were entertained and had fun because I was there."
Frey, 65, started announcing drag racing events when he was 18 back in his home state of New Jersey.
"Bob Frey's gift is he loves the sport," said Jerry Archambeault, the NHRA vice president of communications. "That's why he's able to enlighten the new fan and educate the hard-core fans. He will be greatly missed.
"I know there are [sportsman class] racers who come up to Bob and ask him, 'Can you call my run?' They love him.''
Like Page, Frey isn't sure how he will feel when it ends Sunday.
"It's been a very nice weekend, but it's bittersweet,'' Frey said. "None of this will sink in probably until the Winternationals next February. It's funny because my wife wanted to do something at home for the holidays with the kids and the grandkids.
"But my daughter said, 'Why not do it the weekend of the Winternationals? Dad will probably be miserable that weekend.' So we're having a party that weekend."
Frey plans to attend a few NHRA events when he can. So does Page.
"I'll be around," Page said. "If you come to Indy for the U.S. Nationals, or Chicago or Norwalk [NHRA events], you might see an old drunk guy in the stands that looks very much like me."