New car, Kenseth worth pondering
December, 7, 2012
12/07/12
3:54
PM ET
If you are looking for a couple of things to ponder in the offseason, here are two big ones that should get your attention.
The new car will be a new world for NASCAR. And Matt Kenseth may do something that hasn't been done in more than 30 years.
Both topics are good conversation items as you look ahead to the 2013 season when it kicks off on Feb. 24 with the Daytona 500.
1) The new Cup car: First, let's have a collective "Amen" to the end of the COT. The Car of Tomorrow now is the COY -- the Car of Yesterday. I'm confident the vast majority of fans will give a "Hallelujah" to its ending.
[+] Enlarge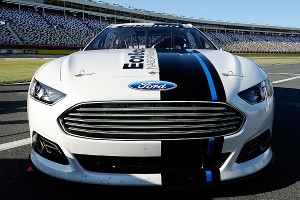 Jared C. Tilton/Getty Images for NASCARFans will find out soon how the 2013 Ford Fusion and the other new Sprint Cup cars work on the track.
Most fans never liked it from the beginning with its ugly rear wing (which later was eliminated) and its boxy appearance. But let's give credit where credit is due. The COT is the safest race car ever built.
Its larger greenhouse, centered driver's seat and extended crush panels all helped produced a car that without question saved lives and greatly reduced injuries.
All those improvements remain a part of the new car, which for the first time in a long time, looks like a real car, one you might drive off the showroom floor.
That aspect alone makes this car far better than the COT. The nose and the tail of the cars are similar to the actual production models, something that hasn't been true in Cup for three decades.
Manufacturers like it and fans will, as well. But it will take more than a pretty face for fans to fall in love with these cars. The key question is whether it will race better than the COT.
NASCAR officials are confident that it will. After a year of accumulating testing data on the cars, NASCAR finally gave the teams the initial rules package for 2013. The rules were distributed to the Cup teams Dec. 5.
The teams will test the rules package at Charlotte next week (Dec. 11-12), Daytona next month (Jan. 10-12) and then Charlotte again the next week (Jan. 17-18) before the season begins.
The goal is to make it easier to run side by side and easier to pass by eliminating some of the problems with aero push, a wave of air that makes it difficult for the trailing car to get beside the lead car even if the trailing car is faster.
If it doesn't limit aero push, teams can make adjustments to the car, a gigantic difference to the rules under the COT model. Adjustments to the body have been almost non-existent in recent seasons.
The old idea was to make the cars the same and cut down on cheating, but crew chiefs were frustrated, feeling it went too far by limiting creativity and ingenuity.
NASCAR officials want to open things up a little with the new car. And that could lead to some old-school complaining about Chevy being better than Ford or Toyota being better than Chevy, and so on.
That's not necessarily a bad thing. A little more infighting among manufacturers and teams makes things more interesting.
The truth is no one really knows yet how the car will race and how much leeway NASCAR will allow on adjustments. It's probably a moving target that will change as teams and officials learn more about it.
Whatever happens, it's bound to be more exciting and more fun to watch than the COT was.
2) Matt Kenseth: He will try to accomplish something that hasn't been done in 32 years. Kenseth wants to become the first driver since Darrell Waltrip in 1981 to win the title in his first year with a new organization.
[+] Enlarge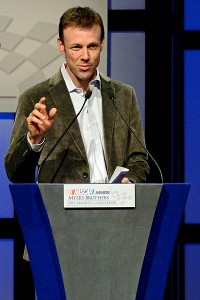 Jeff Bottari/Getty Images for NASCARWill Matt Kenseth be a title contender in 2013?
Waltrip won his first Cup championship in 1981, his first season driving for Junior Johnson's team and the first of back-to-back titles for Waltrip. He left DiGard Motorsports to race for Johnson.
Kenseth left Roush Fenway Racing, where he won the 2003 title, to join Joe Gibbs Racing and drive the No. 20 Toyota. That car hasn't made the Chase since 2008, when Tony Stewart was the driver and Greg Zipadelli was the crew chief.
So winning the title in his first season driving the 20 is asking a lot, but if anyone can do it, Kenseth can. Experience could be the difference. He turns 41 in March, racing in his 14th Sprint Cup season.
It also depends on how Kenseth and crew chief Jason Ratcliff interact. No doubt Kenseth can tell Ratcliff things to improve the car that 22-year-old Joey Logano couldn't do consistently.
Kenseth's composed nature and lead-by-example style should rub off on JGR teammates Kyle Busch and Denny Hamlin, making the entire organization better.
The 2013 Cup season will have a lot of interesting changes to contemplate. But a new car with a retro look, and hopefully, racier results, along with a big-name driver trying to achieve a rare feat, are a good place to start.