Baseball HOF system needs a tuneup
January, 10, 2013
01/10/13
1:19
PM ET
The NASCAR voters are newbies in the process of picking inductees for its Hall of Fame, but the baseball writers could learn a thing or two from them these days about selecting new members.
No one was deemed worthy of selection into the Baseball Hall of Fame after Wednesday's vote totals were revealed from the Baseball Writers' Association of America (BBWAA).
Not one living candidate among all the exceptional men who have played the game. This is a system that no longer works and desperately needs changing.
I am a former member of the BBWAA who covered the Houston Astros for the Houston Post and the Houston Chronicle. Craig Biggio and Jeff Bagwell, two men who fell short of induction this time, are players I covered for a good portion of their careers.
Biggio appeared on 68.2 percent of the 569 ballots. Had he been running for president, he would have won in a landslide of historic proportions. But for the Hall of Fame, that's not good enough.
A player has to appear on 75 percent of the ballots to get in. It's hard to get 75 percent of a group of people to agree they like puppies.
Biggio is one of the best second basemen ever to play the game, a seven-time All-Star who also made it as a catcher. I could list many reasons for his induction, but I need just one: He is the only player in baseball history with more than 3,000 hits, over 600 doubles, over 400 stolen bases and more than 250 home runs.
[+] Enlarge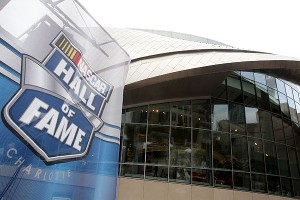 Streeter Lecka/Getty ImagesThe NASCAR Hall of Fame voting system isn't perfect, but its selection process is light-years ahead of baseball's.
But he didn't make it in with this incredibly flawed and stodgy voting process that needed revising long ago. Biggio will get in, probably next year, but he was left out this time because some voters don't consider him a "first-ballot" Hall of Famer.
How ridiculously petty. Either you're a Hall of Famer or you're not, and Biggio is, without question.
A couple of top candidates this year were tainted by baseball's steroid era -- namely Barry Bonds and Roger Clemens. The BBWAA was sending a message, saying cheaters aren't welcome.
OK, but Biggio is as clean as they come, a person of utmost integrity and moral standards throughout his career. I watched him take the field for many games with an injury that would have caused some players to miss half a season.
Wouldn't it have been nice to induct a man who stands for everything that's good about the game?
And isn't it tragic that baseball has an induction process that kept it from happening?
NASCAR does things differently. It's not perfect by any means, but it is far better than baseball's archaic system. Almost any sports hall of fame process is better than baseball's.
NASCAR's Hall has only 53 voters; one is a combined fan vote. The voters include respected writers, broadcasters and industry leaders, along with former team owners, drivers and crew chiefs.
One of them is award-winning writer Jim Pedley, managing editor of racintoday.com and a former writer for the Boston Globe, Fort Worth Star-Telegram and Kansas City Star.
"We all sit in a room together and talk it out," Pedley said of the selection process for the NASCAR Hall of Fame. "It's about a four-hour debate. Like everyone else, I come in with my preconceived notion of inductees, but after the debate, I've always been talked into a candidate or talked out of one. We don't all agree, but I think it's a good process."
NASCAR automatically selects five inductees each year. A set number per year is questionable, but that may change in the future after many of the deserving candidates have made it in. Only 20 people have been inducted.
However, it won't have a year when no one is inducted.
The BBWAA voting does not include broadcasters. Legendary Los Angeles Dodgers broadcaster Vin Scully doesn't have a vote, along with many other longtime baseball broadcasting giants -- Jon Miller, Milo Hamilton (now retired), etc.
And what about former players?
"I am a firm believer that part of the voting contingent should include the men who played the game," ESPN's "Baseball Tonight" host Karl Ravech tweeted Wednesday. "What better judge can there be on a Hall of Fame player than the men who competed against them?"
Ravech should be a voter, as well.
"Having been blessed to watch parts of virtually every baseball game played, five nights a week for the last 18 years, I feel qualified to opine,'' Ravech tweeted.
Ravech agrees the voting process needs repair: "The system by which it is determined who is inducted begs for some reform."
BBWAA members must have 10 consecutive years in the organization to vote. A member can vote until he or she dies, even if that voter hasn't seen a game in many years. The list has many voters who rarely cover the sport, if at all.
For the most part, they get it right, but majority vote isn't enough.
Five former players this year were on more than 50 percent of the ballots -- Biggio, Jack Morris (67.7 percent), Bagwell (59.6 percent), Mike Piazza (57.8 percent) and Tim Raines (52.2 percent).
All five should have made it in this year. All five are worthy of induction.
Wouldn't that have been a wonderful Hall of Fame induction ceremony this summer in Cooperstown?
And wouldn't that have been a better message to send than saying no one belongs there this year?